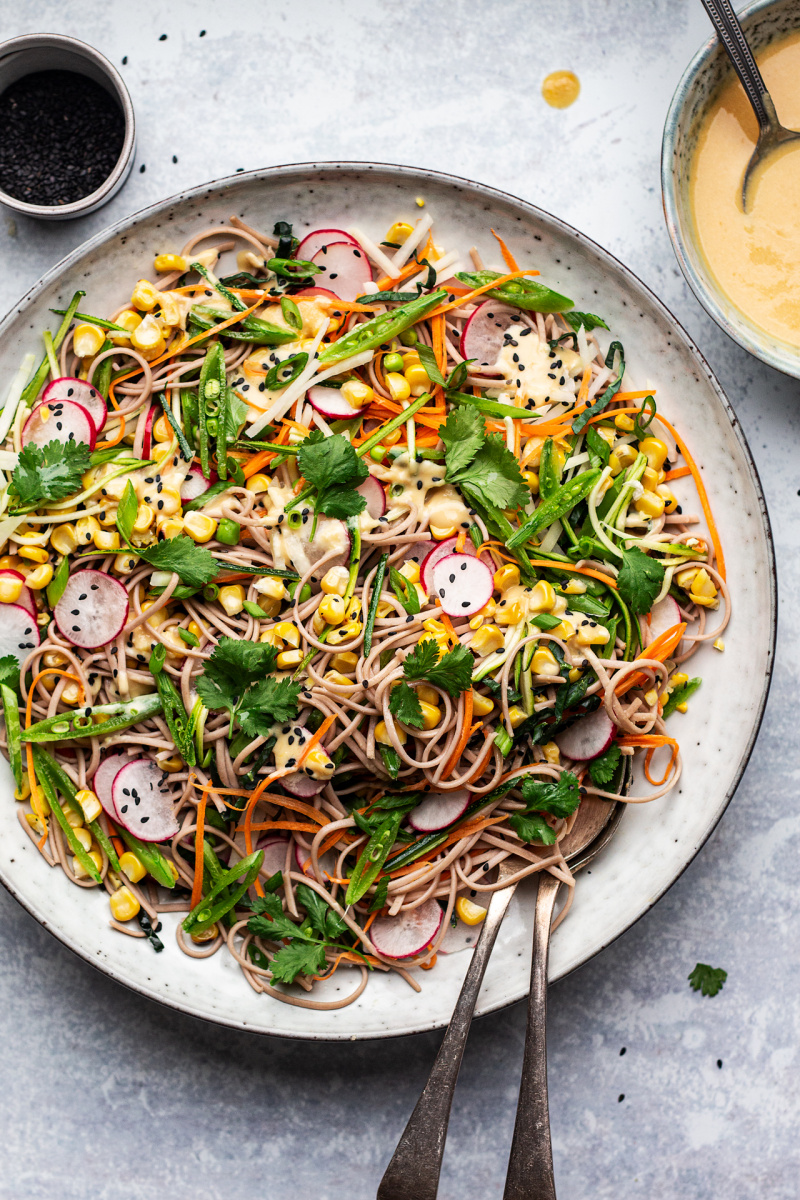 Happy hump day everyone! It's been a true hump day for me here. If you follow me on Instagram, you'll know that I opened a can of worms. I had a feeling that this will become a much bigger thing that I anticipated and I agonised over whether I should breach the subject or not, but I just could not let this one go.
What happened was I basically called out one of the very big (much bigger than myself) vegan bloggers on Instagram for literally copying my entire recipe and basically presenting it as hers on her blog. I've seen her sail way too close to the line before, but said nothing, chucked it down to coincidence as these things do happen sometimes and you obviously don't want to accuse someone without being absolutely sure they wronged you.
Most recipe developers do go through the same thought process when developing new recipes that's for sure and especially when a recipe is a classic and naturally vegan (in other words, it requires little to no invention), it is not uncommon that two recipes end up looking fairly alike, but still every cook has a distinctive style and idiosyncratic preferences that usually show up in the final product. Some other recipes that require a great deal of invention and tinkering prior to their release – like this peanut butter mousse that I did ages ago and have seen copied verbatim since or vegan custard tarts – are much easier to claim as yours.
Here – although the recipe itself is not ground breaking – the case was pretty cut and dry. All of the ingredients, their quantities and the instructions were basically identical. I called her out and suddenly other bloggers came out of the woodwork with the same issue I was having. I did not even have to name her on a bloggers' forum for someone to guess whom I was talking about. It now turns out that some of the stolen recipes have made it into her third (!!) cookbook that is about to be published. This is a serious theft and so things are tense and her abusive reaction hasn't exactly helped things.
I guess that like in any industry, there are people who do this for the love of creativity, food and animals (we obviously all have to earn a living as it is not a sustainable thing to do otherwise) but there is also plenty of cynical people who in a near robotic-like manner copy other peoples' work in an attempt to dominate social media, SEO and get as insanely rich and famous as possible. Nothing wrong with being ambitious and wanting money and / or fame, but stepping on others is not okay.
So as you can imagine it was a hectic day yesterday and I spent most of it replying to lovely messages of support, which I was overwhelmed by and very grateful for and therefore today's recipe is rather uncomplicated 😉 . I made a delicious soba noodle salad, full of crunchy seasonal vegetables including lots of sweet, charred corn which I just love combined with this aromatic orange and miso dressing.
The dish requires hardly any cooking, but it makes for a substantial and satisfying main meal or starter. You can make it even more filling by adding some delicious tofu to it. This recipe (which is the one that was stolen from me btw) would do nicely or a simpler one that does not require 3 plates and messy hands 😉 . Enjoy!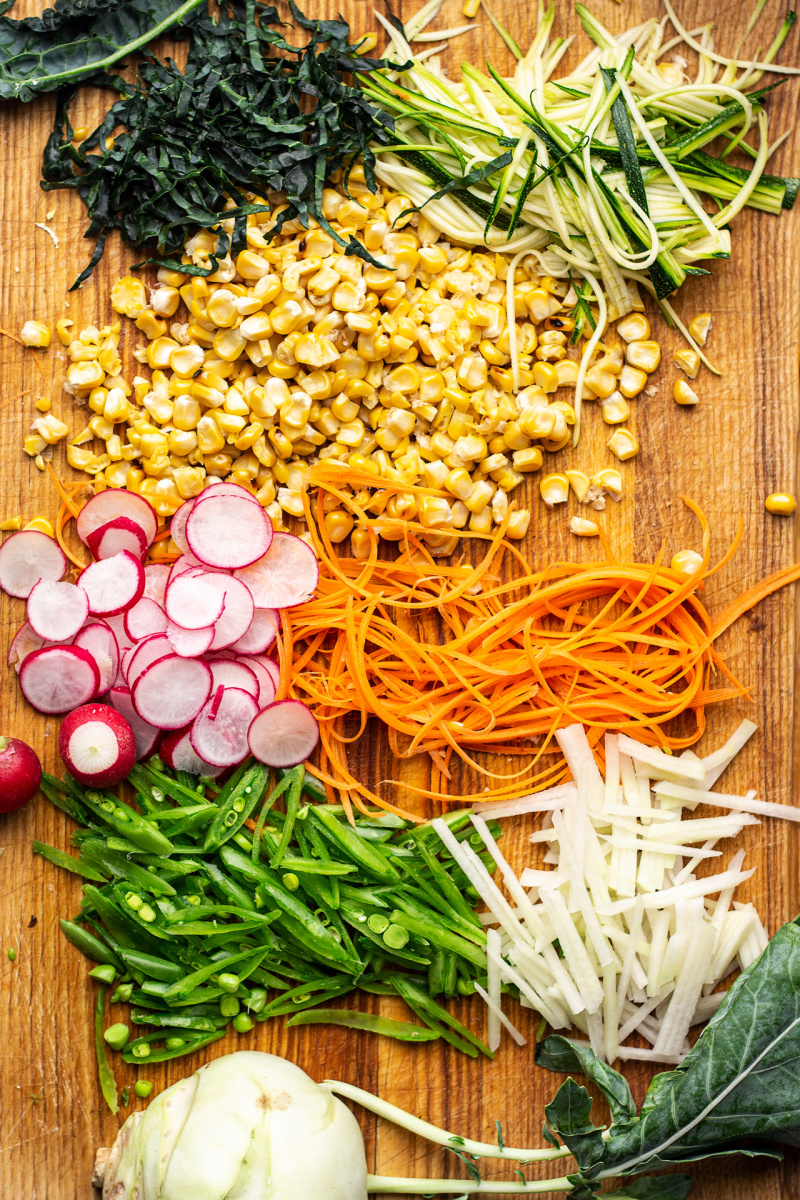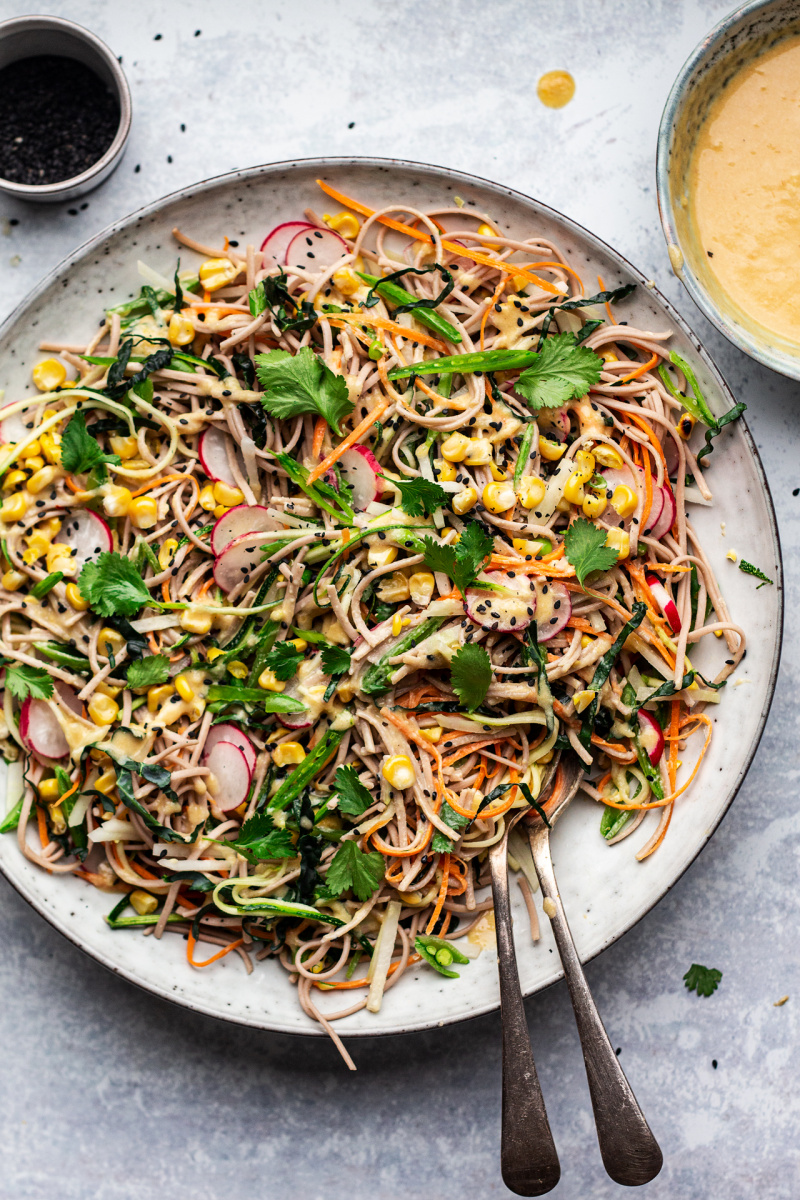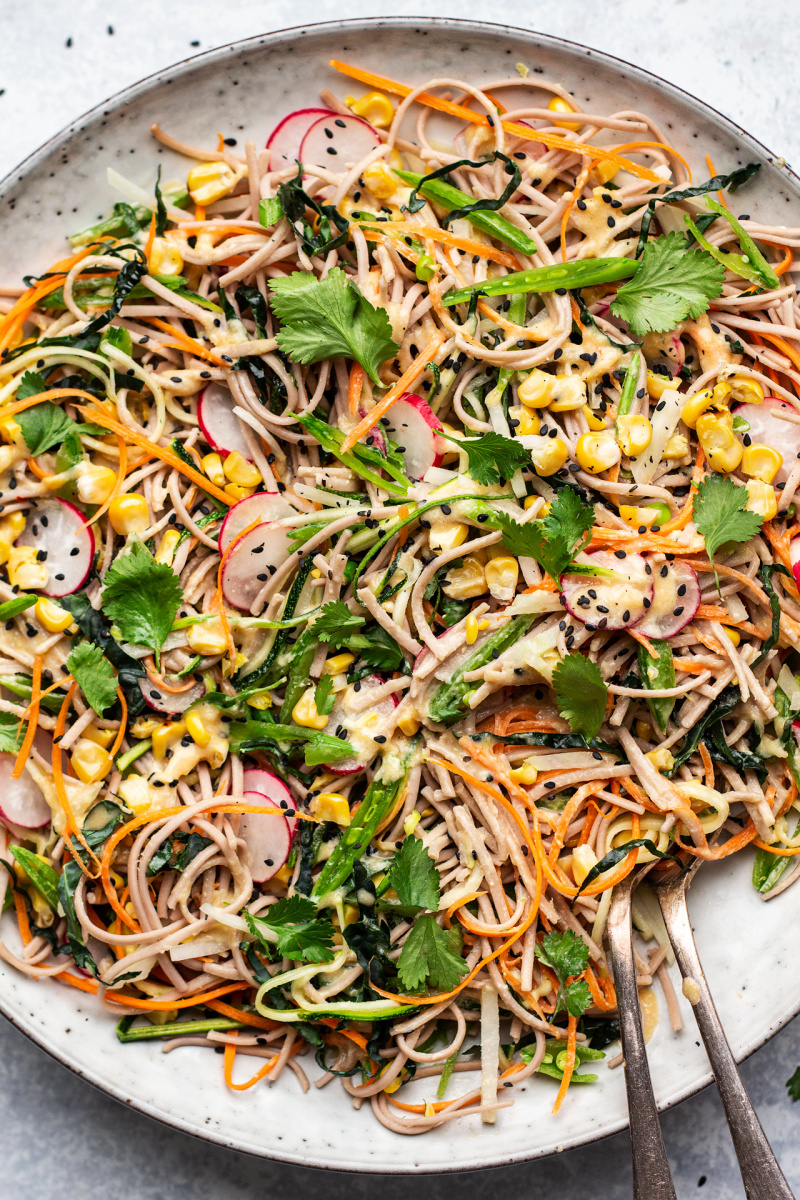 SALAD
2 ears of corn or 1 cup tinned corn
1 tsp neutral tasting oil (skip if oil-free)
200 g / 7 oz buckwheat soba noodles (GF certified if gluten-intolerant)
2 lacinato kale leaves, massaged and chopped thinly
50 g / 1¾ oz sugar snaps, sliced thinly across
1 carrot, peeled and julienned
8 radishes, sliced thinly
1 small zucchini, julienned
¼ kohlrabi, cut into matchsticks
2 spring onions / scallions, green parts only, thinly sliced
small bunch of fresh coriander, chopped
black sesame seeds, to decorate
DRESSING
30 ml / 2 tbsp white / shiro miso paste
1 tbsp cashew butter or tahini (or neutral tasting oil for nut / seed-free version)
60 ml / ¼ cup freshly squeezed orange juice
1 tbsp lime juice
2 tsp maple syrup
1 tbsp toasted sesame oil (for oil free version use more nut / seed butter)
1-2 tsp finely grated ginger
1 small garlic clove, finely grated
1/8 tsp white (or black) pepper
a pinch of chilli (optional)
METHOD
Heat up a griddle pan on a low heat. Brush the corn with a small amount of oil and place on the preheated griddle pan. Grill, turning every few minutes, until cooked and lightly charred all over. Once cool, shave the kernels off with a sharp knife.
Bring a pot of water to the boil and cook your soba noodles as per packet instructions. They overcook easily so I tend to err on the side of caution and cook them for a little less, say 4 minutes (even if the packet says 5).
While the noodles are cooking, prepare a big bowl of cold water. Once the noodles are done, drain them, immediately rinse them under a cold tap and then dump them in a bowl of cold water. It arrests the cooking process and stops the noodles from getting all sticky. Drain and stir a teaspoon of sesame oil through them to keep them nicely separate (skip if not using oil).
Combine all of the salad ingredients together in a large bowl, drizzle with the dressing and decorate with fresh coriander and sesame seeds.
If you want to make this salad more substantial, why not add my sesame coated tofu or simple baked tofu.
DRESSING
Combine miso paste and cashew butter / tahini in a small bowl. Slowly add in all of the wet ingredients stirring the whole time to make sure the dressing has no lumps.
Season with ginger, garlic, white pepper and chilli if using. If you use cashew butter that is a bit thicker, you may want to add a drop of water (or more orange juice) to achieve the right – pourable yet thick – consistency.
NOTES