It's this time of the year again – as soon as you step outside you get bombarded with various reminders that's it's almost Xmas. I ventured out to the city centre this week in search of fine piping nozzles and I came home a little down, I must admit. Although I thought I was prepared for the Xmas frenzy, seeing the high street awash with cheap, mass produced trinkets that we have all been brainwashed to buy and which end up in a landfill as soon as we move on to the next commercialised occasion has made me feel really, really low.
The amount of 'stuff' that no one really needs screaming out to you from every shopping window is dizzying and mind-boggling and it feels like it is on an ever growing scale despite the constant environmental crises happening left, right and centre. We are still far too detached from the fact that this mindless consumerism is killing our planet and is bringing us no happiness at all and I don't know what will it take to get us to take notice. End of the world, I guess, but it will be too late by then…
We are going to Poland for Xmas and at my suggestion we are doing away with Xmas presents completely this year cos we all have enough stuff, cos no matter how hard you try you always end up with unwanted gifts cluttering your home at best and because we all know there is no Santa by now so we can roll with this. It felt like I was being a bit of a grumpy old Grinch but everybody was relieved cos let's face it Xmas shopping is a chore. I love giving presents and I am totally up for giving thoughtful and / or homemade gifts, but it's buying stuff to just tick a box that I can't get behind.
So speaking of homemade presents, gifting little parcels of homemade cookies is a nice present, I think. These soft vegan gingerbread cookies are really easy to make and fun to decorate too. I am not going to win any icing competitions for my effort, but they are nice enough to look at plus they fill your house with the most amazing Xmassy scent, so they will get everybody in the Xmas spirit without the need for tinsel or Xmas crackers 😉 .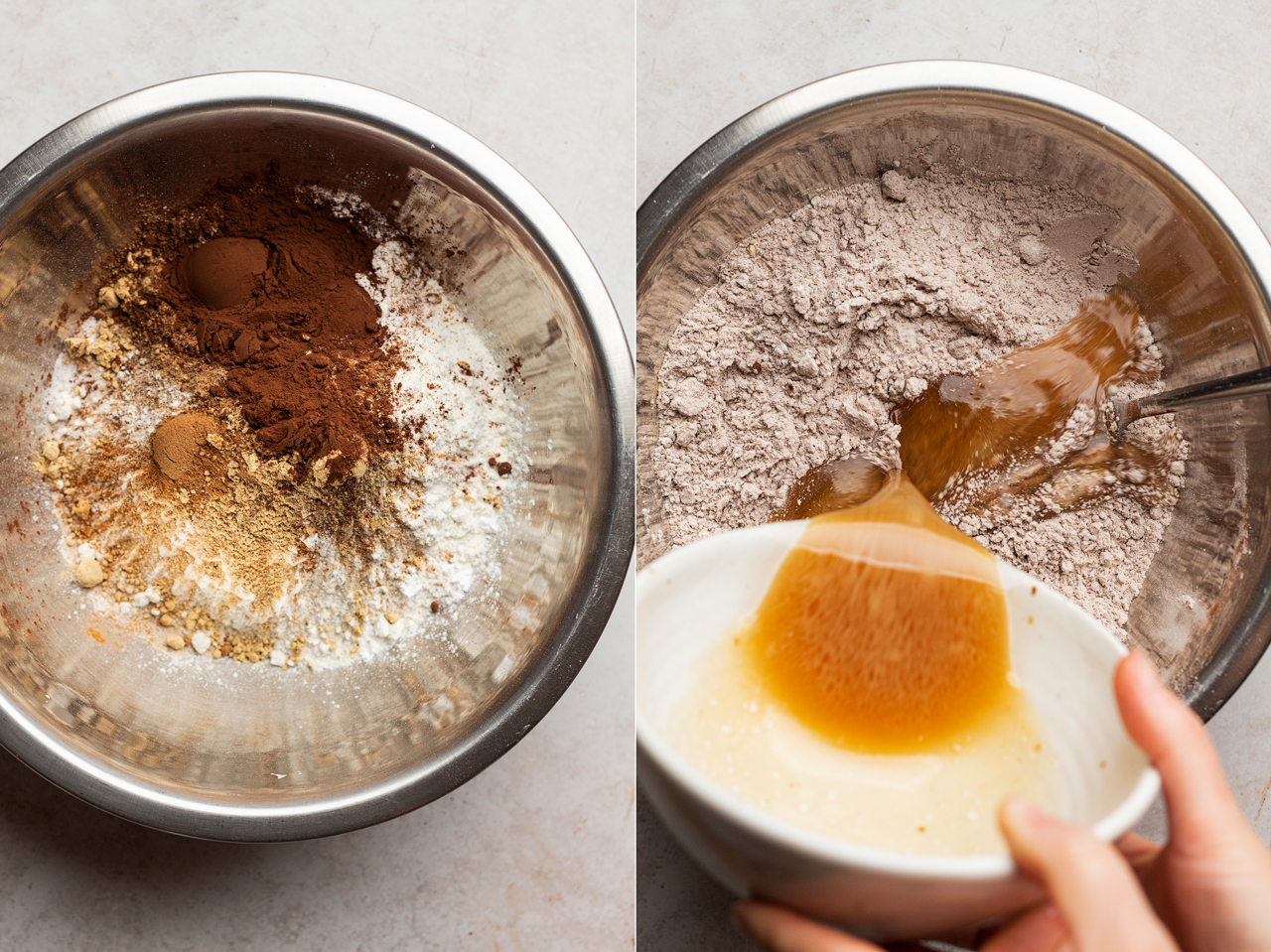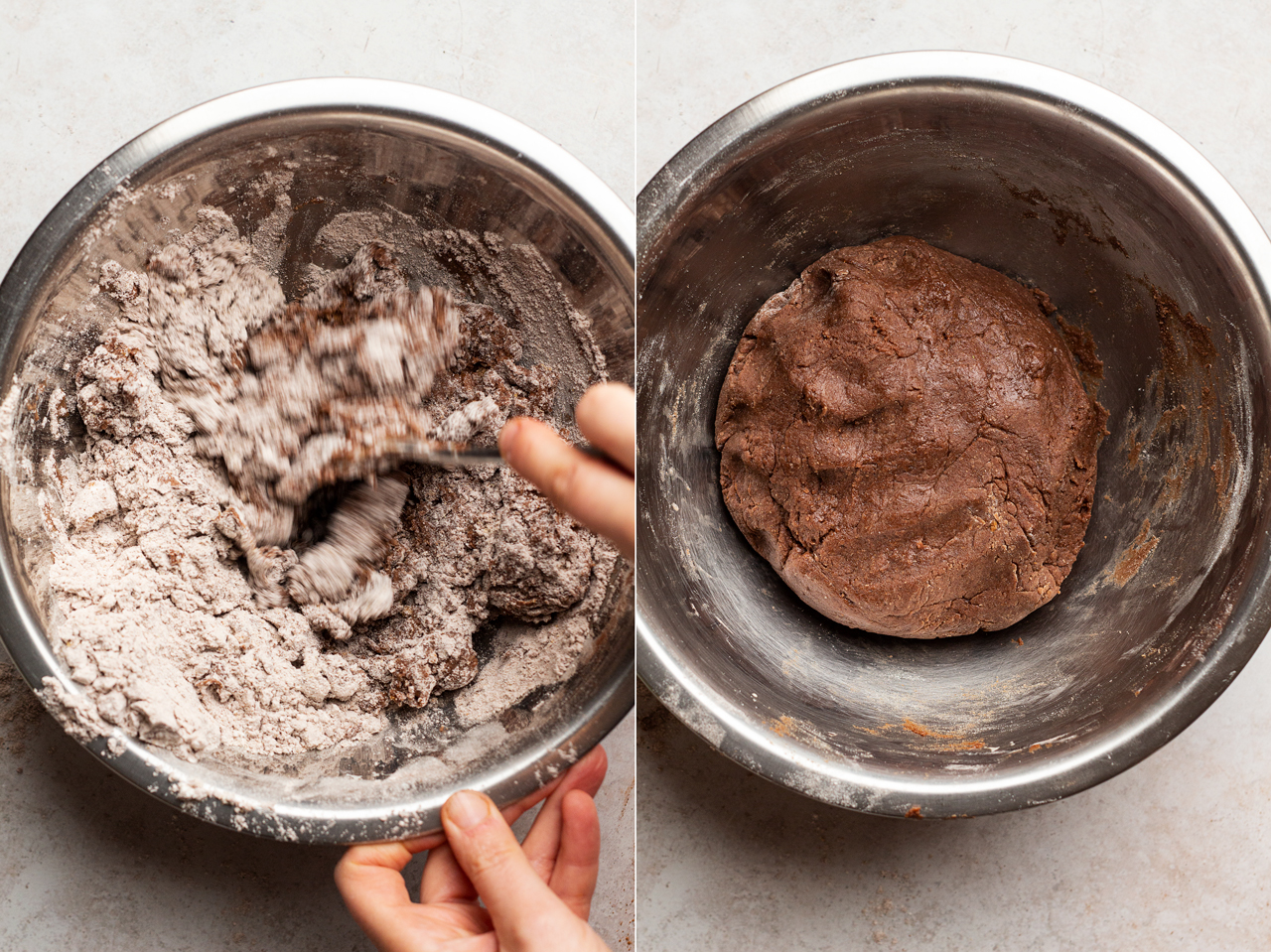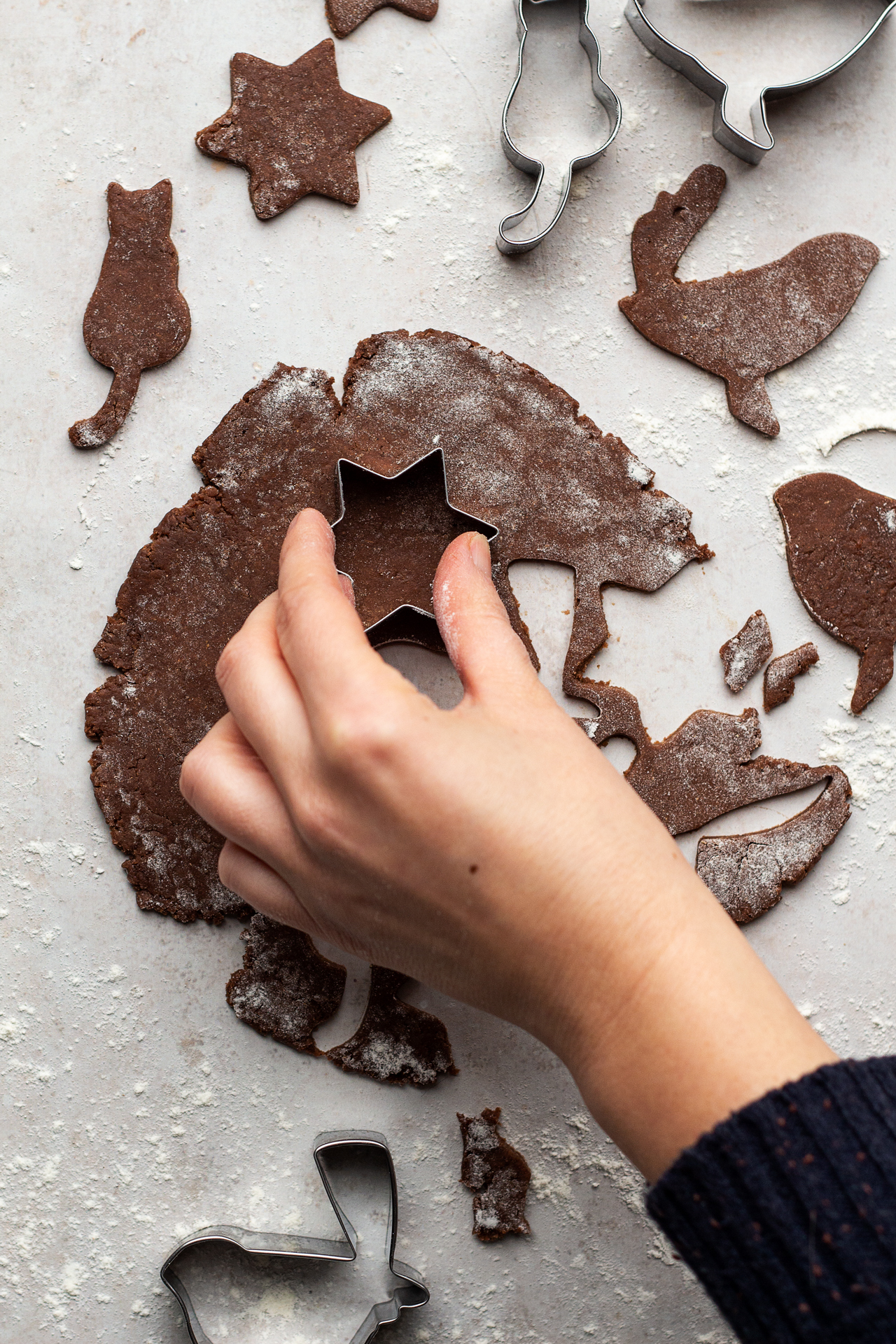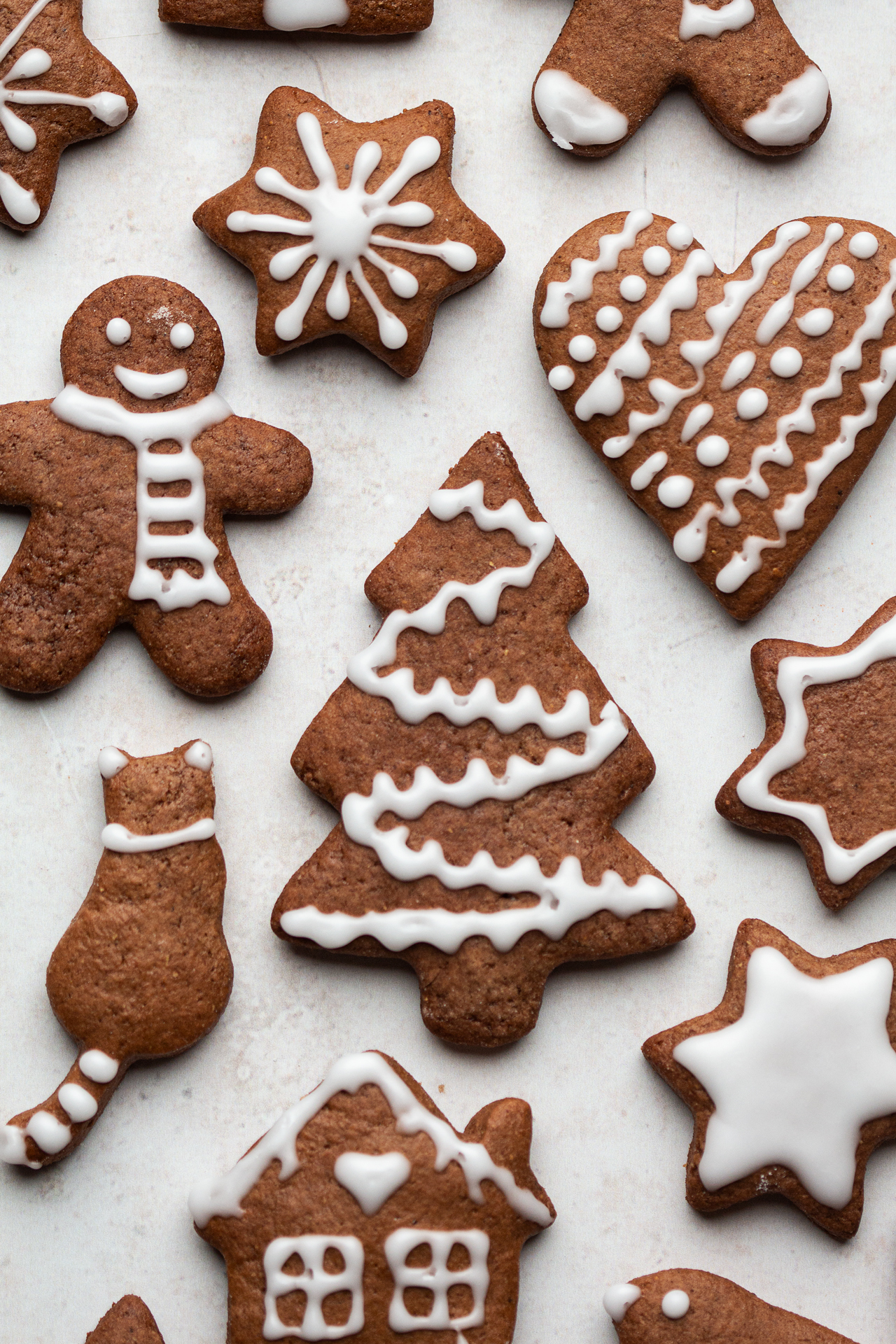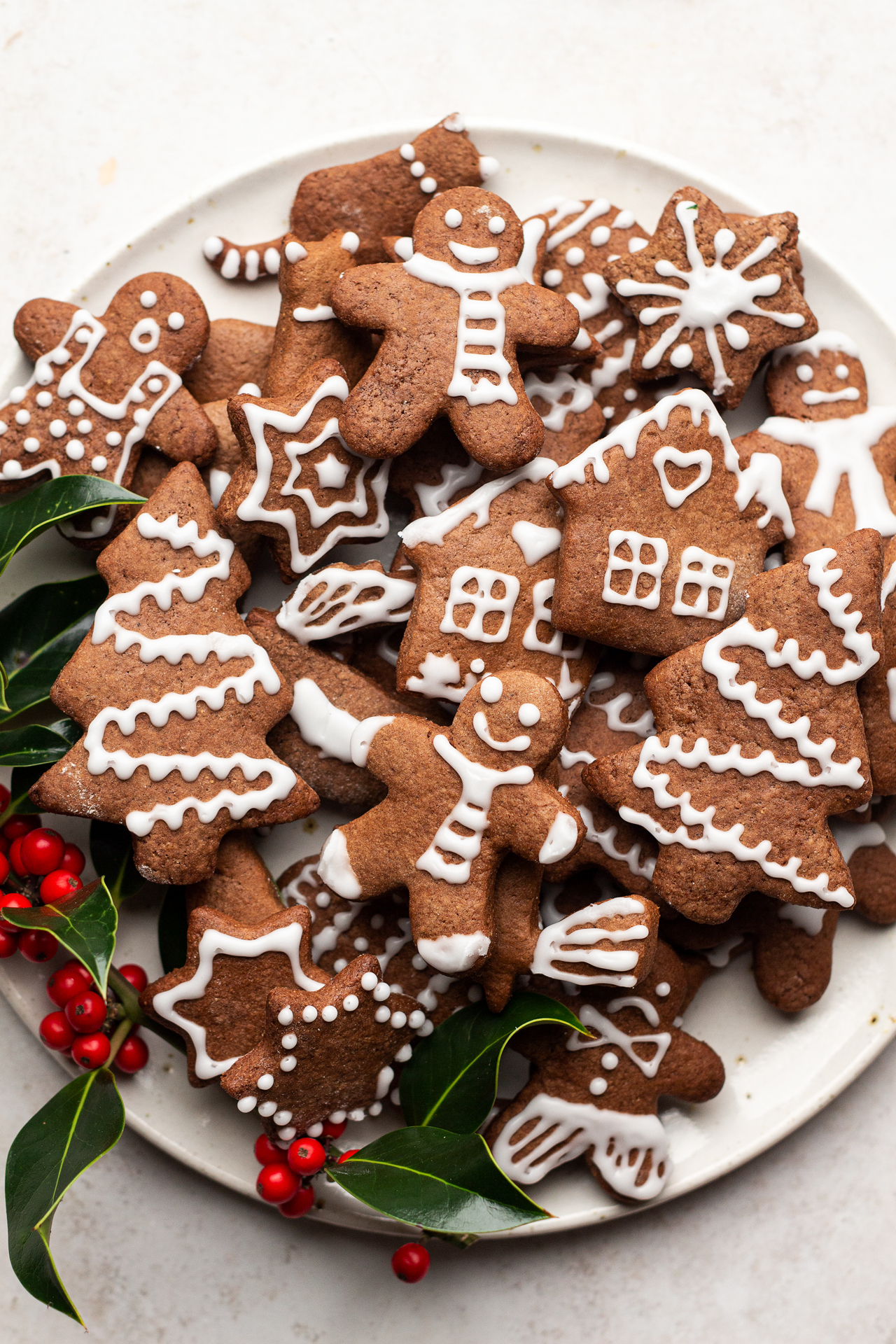 250 g / 2 cups all purpose flour OR a tried and tested GF flour mix (I use this one)
50g – 100g / ¼ – ½ cup sugar*, coconut sugar for refined sugar-free version
1 tsp instant yeast
¾ tsp baking soda
½ tsp baking powder
2 tbsp quality cocoa powder
1½ tsp ground cinnamon
1½ tsp ground ginger
½ tsp ground cardamom
¼ tsp ground nutmeg
1/8 tsp ground cloves
¼ tsp fine sea salt
50 g / 60 ml / ¼ cup melted refined coconut oil or other neutral tasting oil
60 ml / ¼ cup smooth (not chunky!) applesauce**
120 ml / ½ cup maple syrup
ICING
125 g / 1 cup icing sugar
water
METHOD
Mix all the dry ingredients in a large bowl.
Stir all the wet ingredients (the last three) together in another bowl.
Stir wet ingredients into the dry ones until loosely combined, then knead the dough gently together.
Divide the dough in half and refrigerate it for 30 minutes.
Before you are about to take the dough out of the fridge, set the oven to 175° C / 350° F and line two baking trays with a piece of baking paper.
After resting, take the first portion of the dough out of the fridge. Give it a few minutes to bring it to room temperature. Roll it out (gently pressing with a rolling pin) on a lightly floured surface. For softer gingerbread cookies. roll the dough out quite thick (about 5 mm / 0.2″) and cut the cookies out of it with cookie cutters. If you want the cookies to be crunchy, roll them out a bit thinner and bake them for longer.
Arrange the cookies on the prepared baking trays. You don't need to leave a lot of space between them as they don't expand much. Group similar size cookies together so that they cook in the same time. Bake small cookies for about 7-8 minutes and larger for 9-10 minutes. The longer you bake them for the crispier (and less soft and chewy) they will turn out, so adjust the baking time to your preference.
To make the icing, mix icing sugar with a very small amount of water (about 1 tbsp) until you obtain a thick sugar paste.
Place your icing into a small plastic or pastry bag. Push it all into one corner and cut a tiny bit off that corner with a pair of scissors. Start with a small hole and make it bigger if necessary. Apply the icing by squeezing the icing through the hole. Allow the icing to solidify before piling the biscuits on a plate or storing them in a box.
NOTES
 *I used 50 g / ¼ cup sugar and, especially with icing, they were sweet enough for me. Duncan prefers them a little sweeter so please adjust the amount of sugar to your liking. I used 25 g dark and 25 g light muscovado sugar.
**I blended my homemade applesauce super smooth in my blender first. It's not necessary, but you definitely do not want chunks of apple in it before adding to the dough.
If you are after crispier gingerbreads, check out this earlier recipe of mine.