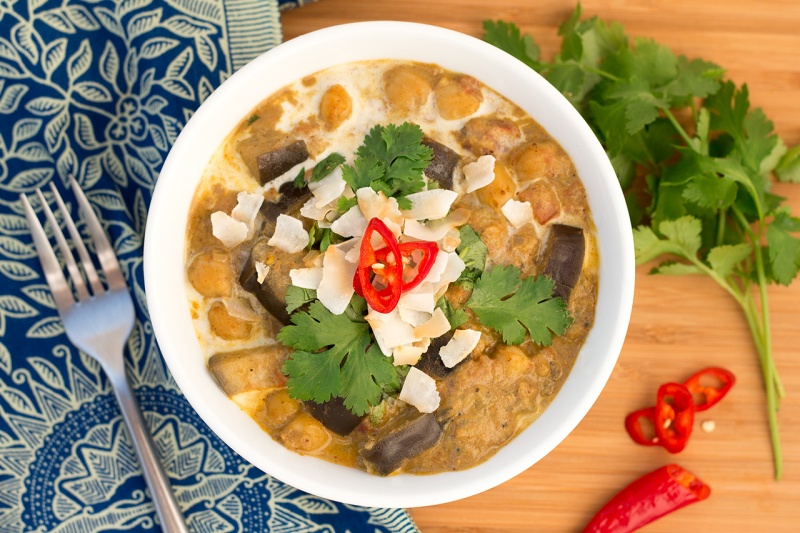 This has been a long long winter as far as Greek island winters go. Last year was our first winter on the island and we couldn't believe what these guys here call winter. The weather was stunning most of the time with a few ferocious storms thrown in for good measure, but you don't mind a few storms when you can get some tan in the middle of January! I remember it very well as both Duncan and I were racing in a local 10 km race and it was almost 20° C.
This year was very different. We've had so many storms that I've lost count and they were all very angry, each one angrier than the last. The most recent one lasted two days and had wind gusts reaching 50 miles per hour. It felt like the house was going to blow down. We bolted all the doors and windows and didn't leave the house for two days eating lots of curry to warm up.
This South Indian coconut curry is my favourite kind of curry. A lingering chilli kick is contrasted by soothing coconut that runs throughout the dish. It uses quite a few spices to achieve its complex flavour, but don't panic, you probably have most of them at the back of your cupboard.
I made a handy diagram for you (below) showing all the spices you need at a glance. They'll transform any humble dish into an addictive one. If you are missing any of the spices, go and get them. If I managed to get them here, on a tiny Greek island in the middle of Aegean then I'm sure they sell them somewhere where you live too. In terms of vegetables, I used my two favourites – chickpeas and aubergine, but I'm sure that other veg should work equally well.
My recipe is based on this great recipe for Southern Indian Chana Masala . Both Duncan and myself fell in love with these flavours and I wanted to share my discovery with you.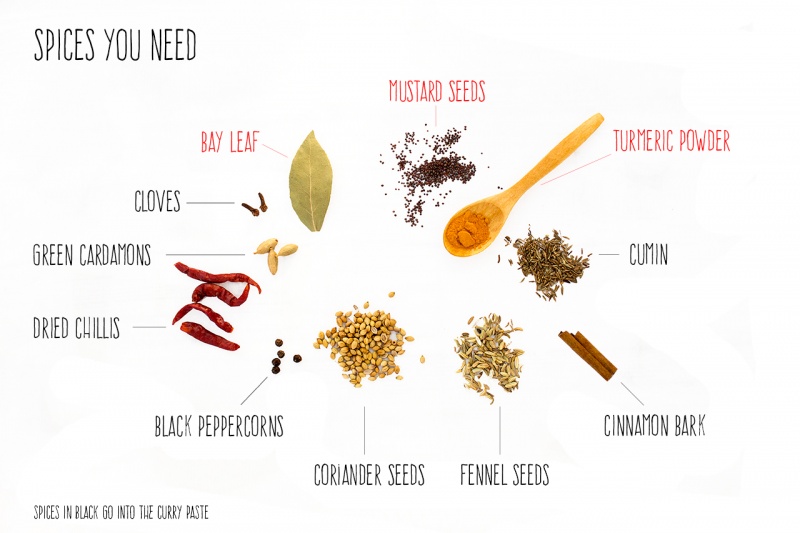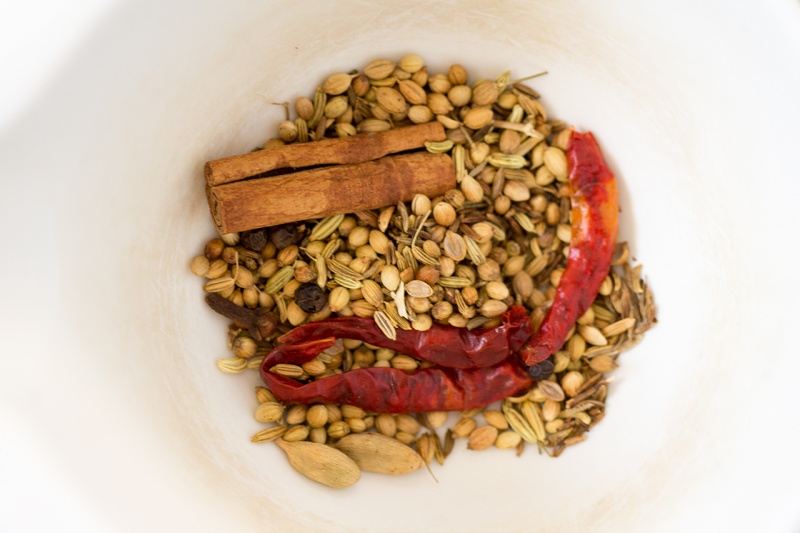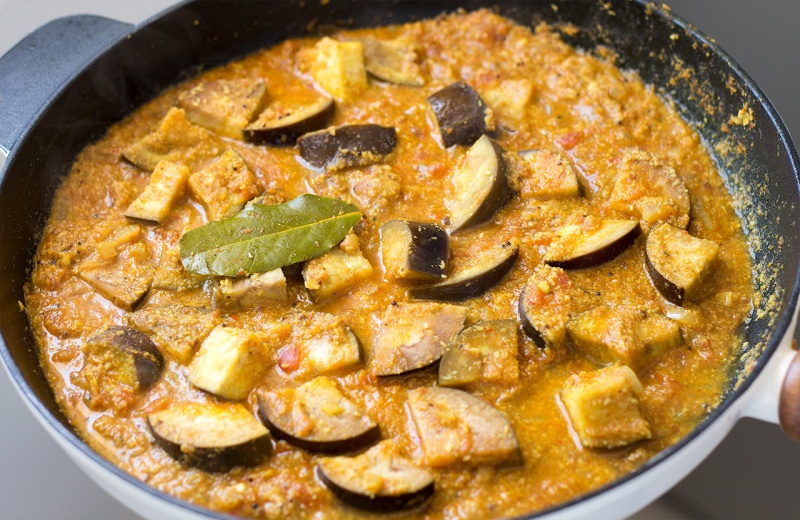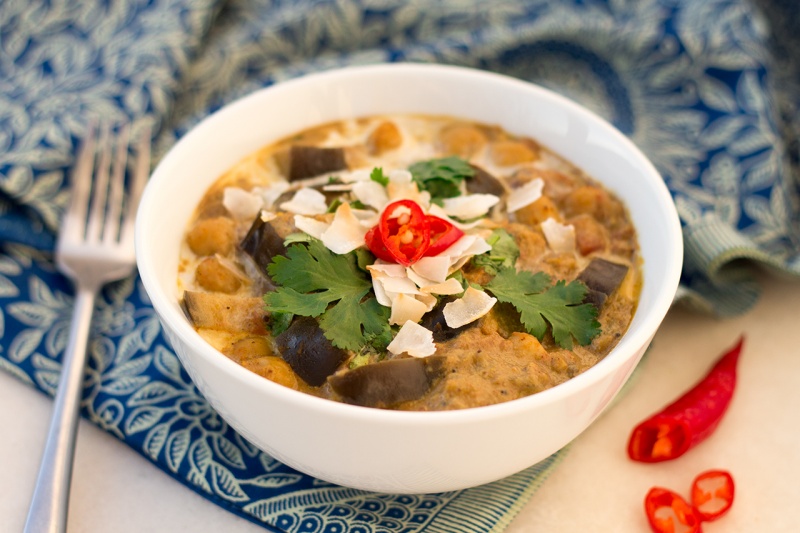 CURRY PASTE INGREDIENTS
1 inch / 2.5 cm cinnamon bark
½ tbsp fennel seeds
½ tbsp cumin seeds
1 tbsp coriander seeds
3-5 dry chillies (depends on your preference and type of chilli)
2 cloves
3 green cardamon pods
5 black peppercorns
½ cup desiccated coconut
REMAINING INGREDIENTS
2 tbsp vegetable oil
½ tsp mustard seeds
1 medium onion, finely diced
2 garlic cloves, pressed
1 tsp grated ginger
1 large tomato, skinned and diced
½ tsp ground turmeric
1 bay leaf
1 aubergine, cut into slices and then quarters
¾ cup full fat coconut milk
1 cup / 160 g cooked chickpeas (½ cup dry)
1 level tsp salt
2 tbsp lime juice
chopped coriander, to serve
METHOD
Heat up a dry pan or skillet. Put all the paste spices in and gently dry roast them until fragrant. Remove from heat, set aside.
In the same pan, gently roast grated coconut until it turns golden – be sure to stir it often as it burns quickly.
In a pestle and mortar* (or a spice grinder if you have one) pound all the curry paste spices until you get a powder. Add in roasted coconut and pound some more. Add ½ cup / 120 ml water to make it into a paste. Set aside.

Heat up 2 tbsp of oil in a pan and gently fry mustard seeds until they start crackling.
Add in finely diced onion and fry until translucent.
Add in grated ginger and pressed garlic and fry them off gently stirring the whole time. Fry until raw garlic smell goes away.
Add finely chopped tomato, turmeric, bay leaf and fry for a few minutes until the tomato flesh disintegrates.
Add in curry paste, fry it gently until the oil starts leaving the sides of the paste.
Add in 1 cup / 240 ml water and aubergine pieces. Put the lid on, cook aubergine in the curry broth until it is soft (about 10 mins).
Add in coconut milk and cooked chickpeas to warm them through. Season with salt and lime juice. Let the sauce simmer gently so that it thickens a bit.
Serve with cooked rice and/or some vegan naan bread.
NOTES
This recipe is based on a recipe for South Indian Chana Masala from
this fabulous blog
*If you don't have a spice grinder, an old-fashioned pestle and mortar works very well too. One obvious difference is that with a spice grinder your paste will be finer. If you use pestle and mortar there will be a few stubborn bits that will be too hard to turn into power (bits of tough chilli skins and cardamon skins). Simply discard them before adding in roasted coconut and water.