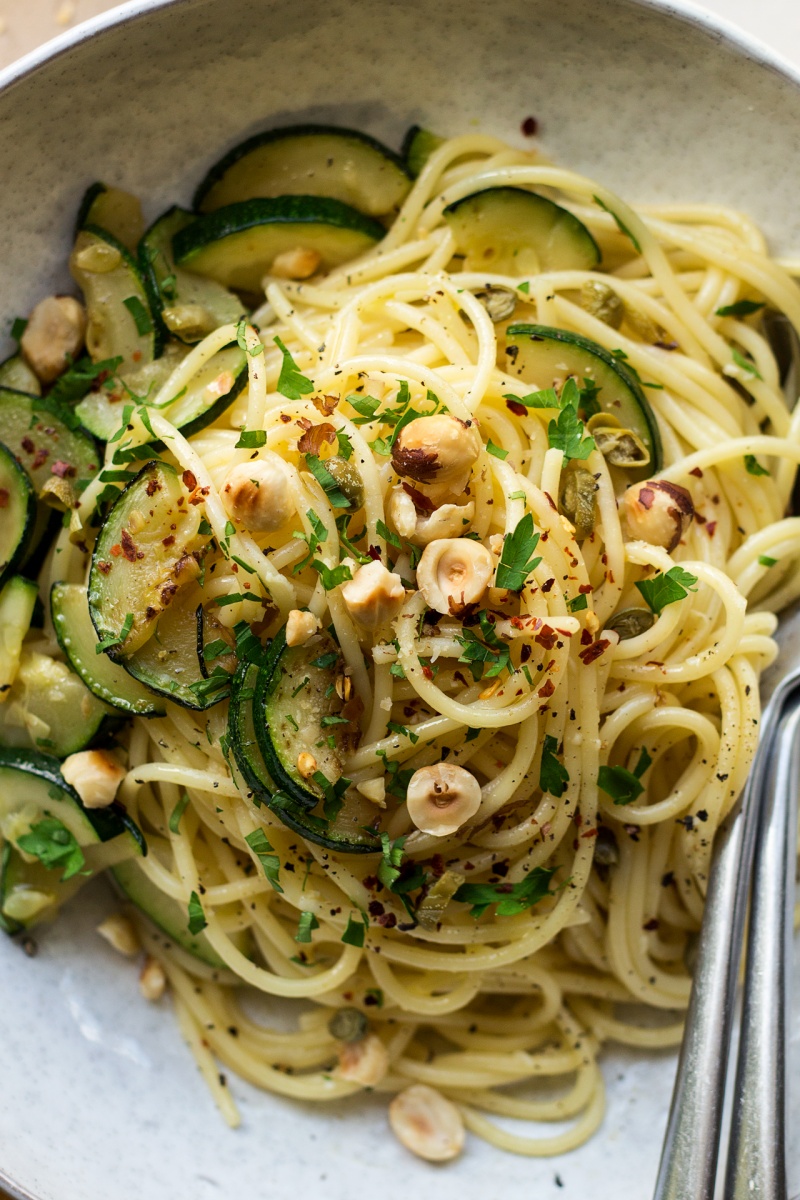 Hope you guys have had a good start to the week? Since flying back home on Friday, I've not managed to do much other than to half unpack my suitcase, put a wash on, go for a run and make up for lost time with Duncan and Tina. The two of them bonded and have become an even more adorable duo since I've gone away. They now have a daily ritual whereby Tina sits herself on her chaise lounge (haha, not really, it's a scratching toy we got her but when you put it on its side it's a bit like a cat-size chaise lounge), arches her back and keeps on looking expectantly at Duncan until he gets the message and starts an elaborate back massage session. They are hilarious and adorable and I am beginning to feel like a gooseberry at times 😉 .
Even though I've been home for a few days now, my head is still in a bit of a post-holiday haze. I am sure you know the feeling! Work seems alien and as there is no one who tells me what to do, I'm still struggling to regain my pre-holiday focus. I find myself procrastinating and ambling.
Yesterday, I was supposed to cook and shoot today's recipe, but I could not make up my mind as to what to cook. By way of procrastination, I went out to town and bought ingredients for four entirely different recipes and then got really confused and undecided. Finally, I decided to go with a simple pasta today, aimed at people looking for a fast and delicious meal to make after work. It's my take on an Italian classic that my lovely brother cooked for me when I was staying with him and his girlfriend – spaghetti aglio e olio.
It's easy and quick to make and really tasty, yet very versatile. If you are busy, keep things simple and only just make the base recipe. If you want something a little more elaborate or, like me, cannot have a meal that does not feature at least one vegetable, add a thing or two. Either way, this simple Italian classic is naturally and effortlessly vegan, full of flavour and can be ready in as little as 10 minutes flat, which could be a real life saver if, for example, you've just come back from a run in the cold.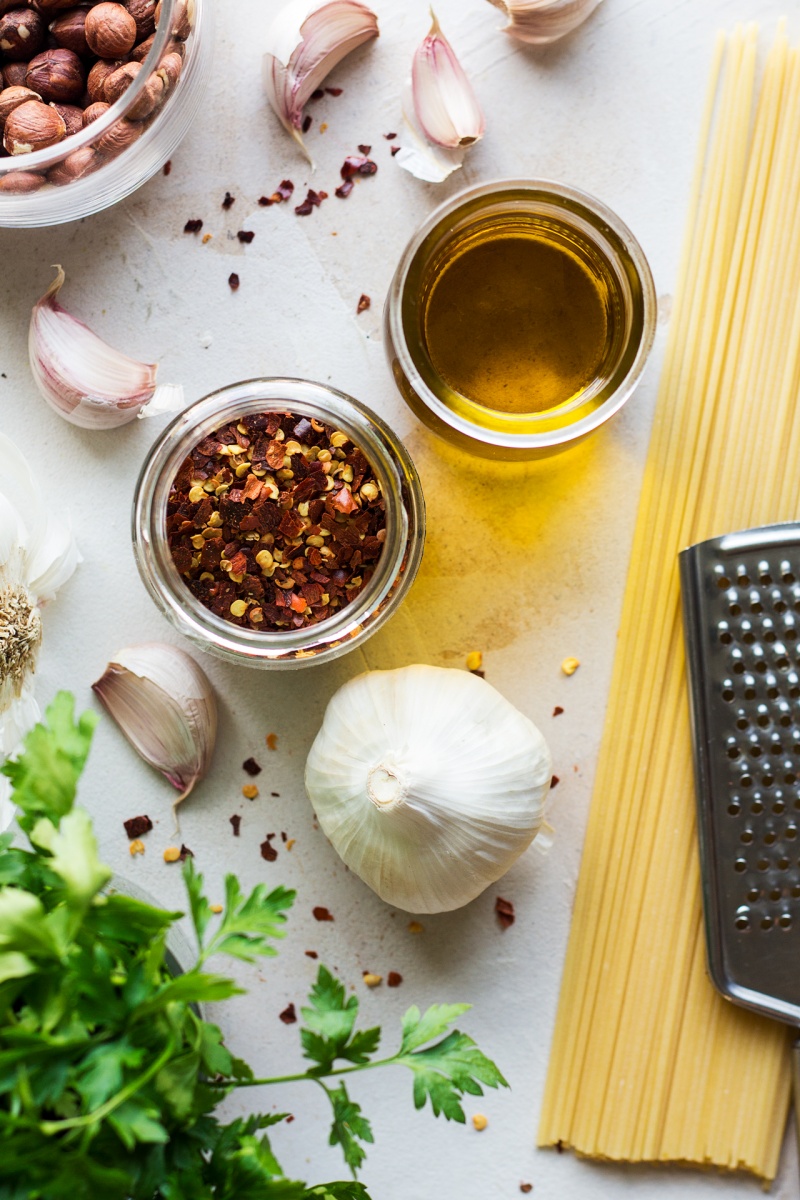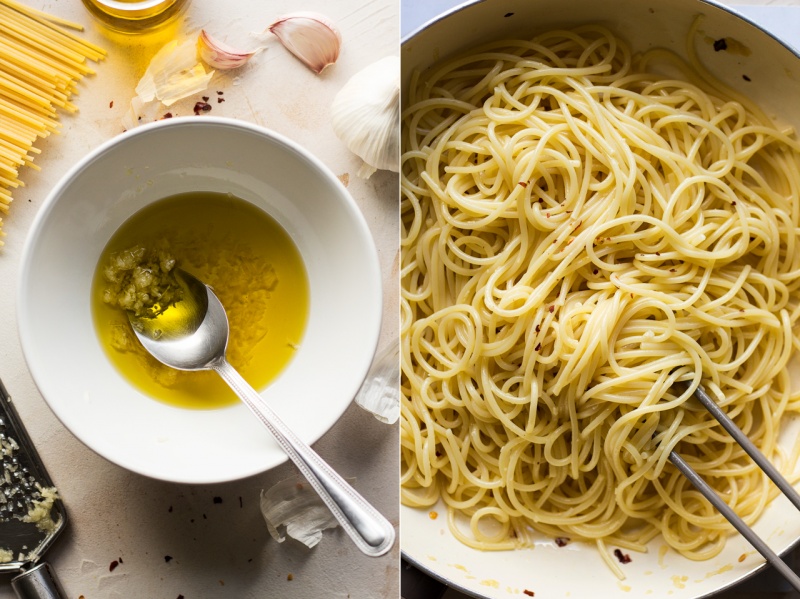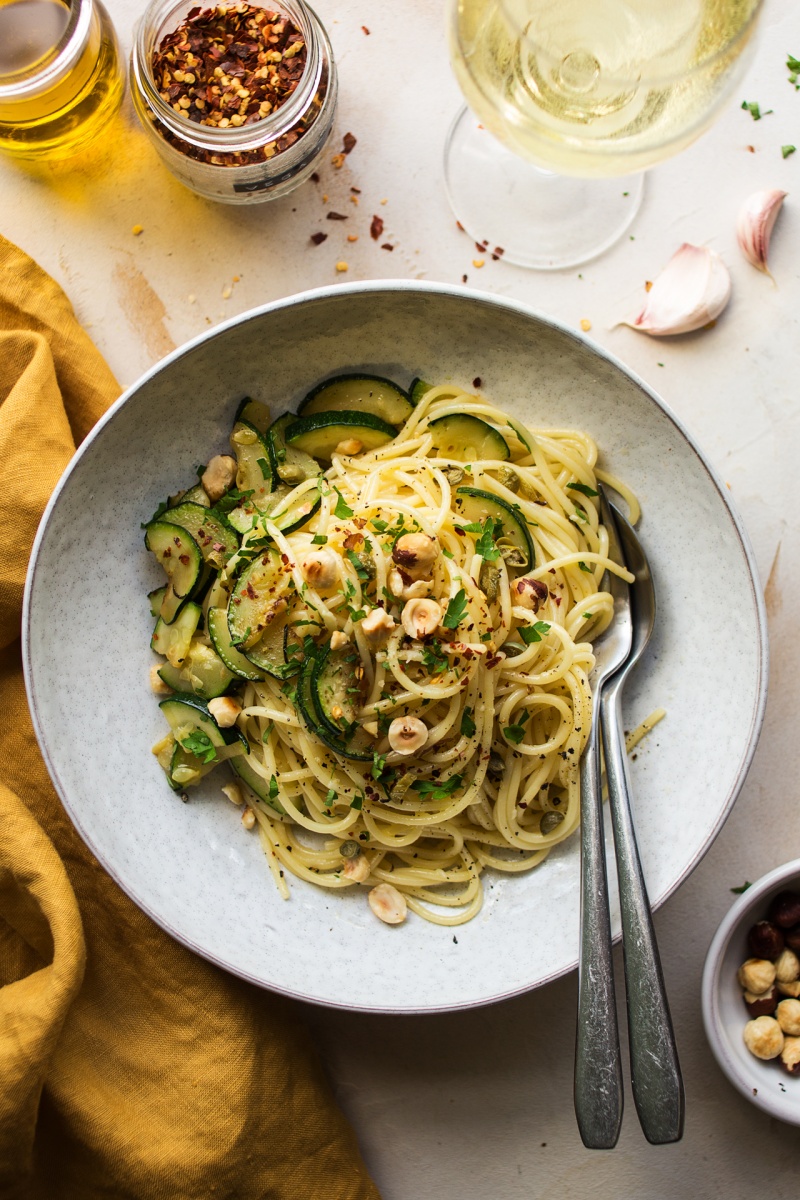 BASE RECIPE
45 ml / 3 tbsp extra virgin olive oil
3 garlic cloves, grated finely
a good pinch of chilli flakes, more to taste (optional)
200 g / 14 oz spaghetti (GF if needed)
salt, to taste
black pepper, to taste
chopped fresh parsley, to garnish
OPTIONAL ADD-INS
35 g / ¼ cup hazelnuts
1 small zucchini OR 1 small fennel
15 ml / 1 tbsp extra virgin olive oil
2 tbsp capers in brine, chopped or sliced olives, to garnish
METHOD
BASE RECIPE
Put 3 tbsp of olive oil and 3 grated garlic cloves in a small bowl. Set aside to infuse.
Cook the pasta al dente following the instructions on the packet.
Heat up a heavy bottom frying pan on low heat again. Once hot, add in the garlic-infused oil and a pinch of chilli.
Cook the garlic (until lightly golden), stirring the whole time, but do not allow it to brown as it will make your pasta taste bitter. If the garlic is sizzling too aggressively, turn the heat off (or take the pan off the heat if not using gas) and allow it to cook in the residual heat.
Toss the drained pasta in the garlicky oil.
Season generously with salt and divide between two plates.
Season with ground black pepper and garnish with chopped parsley.
OPTIONAL ADD-INS
Heat up a medium frying pan on a medium heat. Toast the hazelnuts for a few minutes, until lightly browned.
Remove the hazelnuts from the pan and allow them to cool down completely before crushing them in a pestle and mortar (or chopping them roughly).
Slice zucchini or fennel into 1-2 mm slices.
While the pasta is cooking, heat up 1 tbsp of oil in a heavy bottom frying pan and stir-fry the zucchini or fennel until cooked and lightly charred in places. Season with salt and set aside.
Stir the cooked veggies and chopped capers (or sliced olives) through the dressed pasta just before serving. Top with crushed hazelnuts.