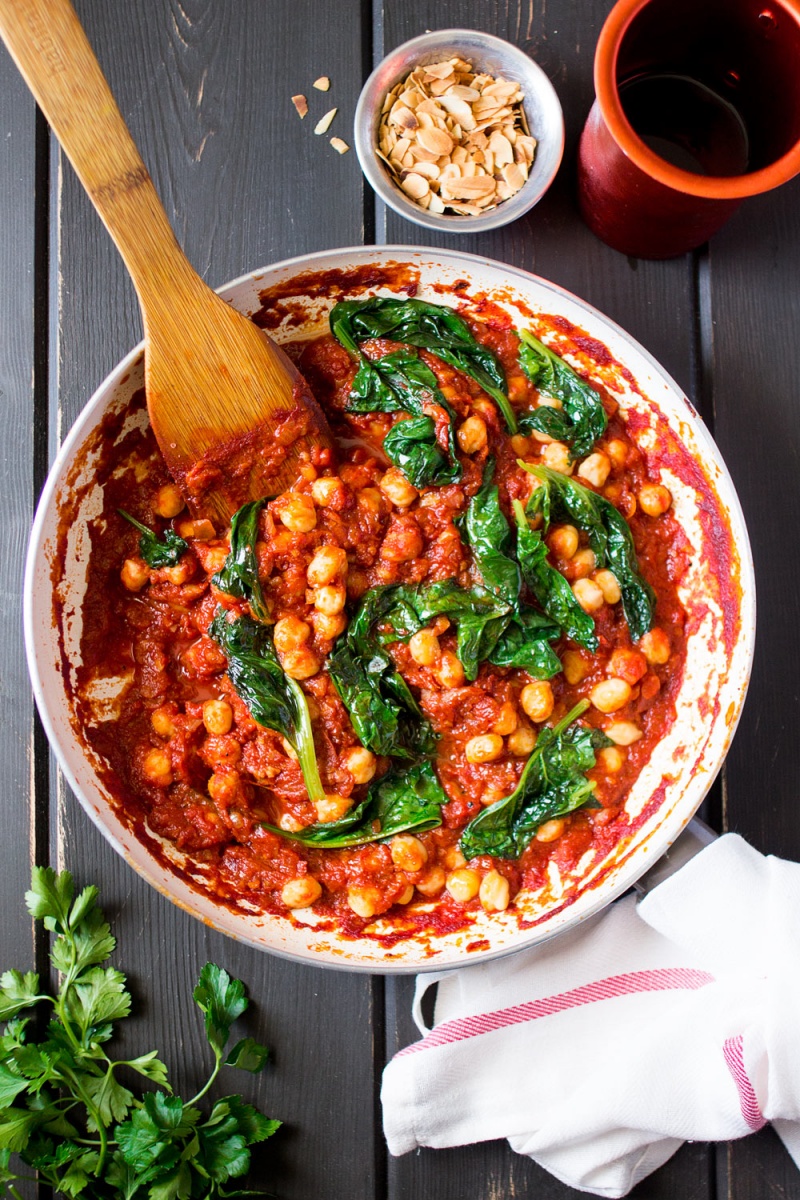 The spring might have finally graced us with its presence and next week's weather is looking positively beachy, but the evenings are still quite cold so I thought that a warm, comforting stew is still quite a fitting recipe.
Today's inspiration came from Spain. I made you my own version of a Spanish classic: garbanzos con espinacas (chickpeas and spinach stew). There are lots of different versions of this dish, some are drier than others, but I went for chickpeas swimming in lots of rich tomato sauce generously spiced with my beloved cumin, smoked paprika and a hint (I really had to restrain myself 🙂 ) of cayenne pepper.
Apart from being delicious (especially a day after it has been made), this dish really packs a nutritional punch. Both chickpeas and spinach are good sources of calcium and iron, plus chickpeas are also rich in protein, which most meat eaters are so concerned about you not getting enough of. Tomatoes are rich in a powerful antioxidant, lycopene, as well as a whole army of other nutritional do-gooders, such as vitamin C, potassium, folate and vitamin K.
To top it all off, if you pair the stew up with brown rice, you'll get plenty of heart-healthy minerals, antioxidants, lignans, and dietary fiber too. The last one should keep you full for longer and curb your desire to snack.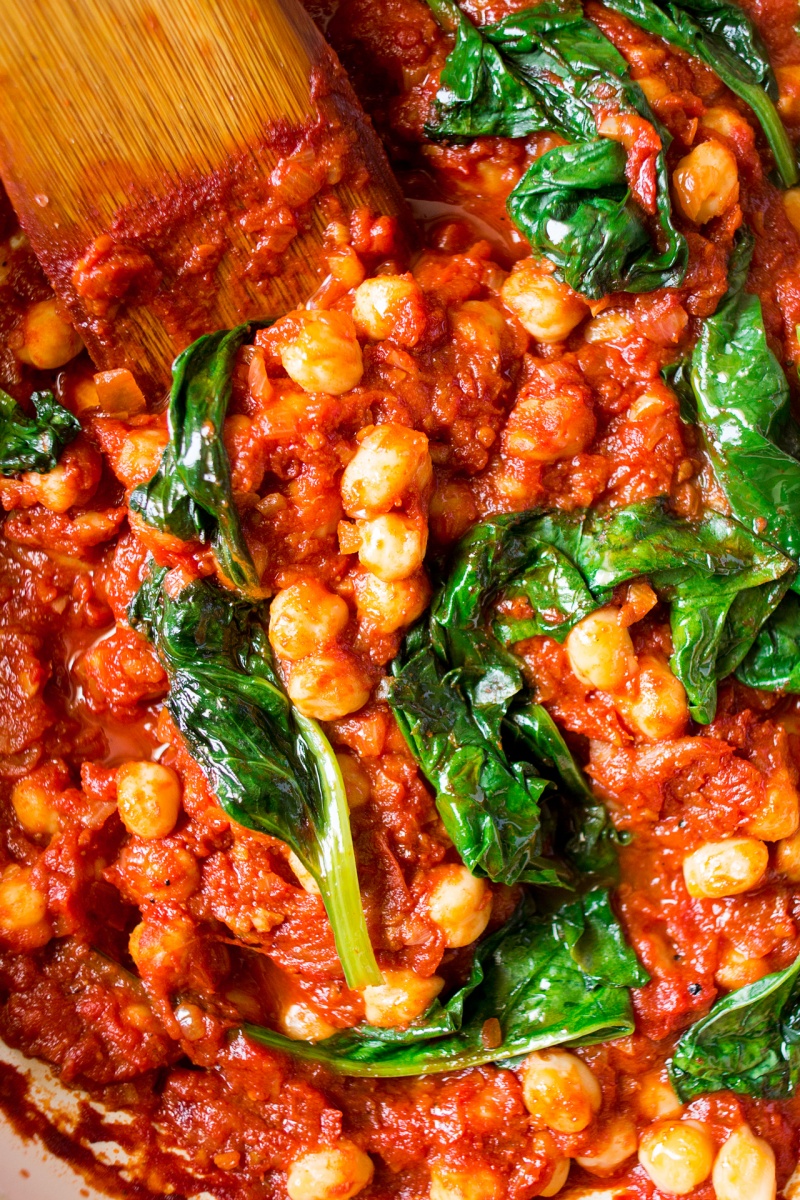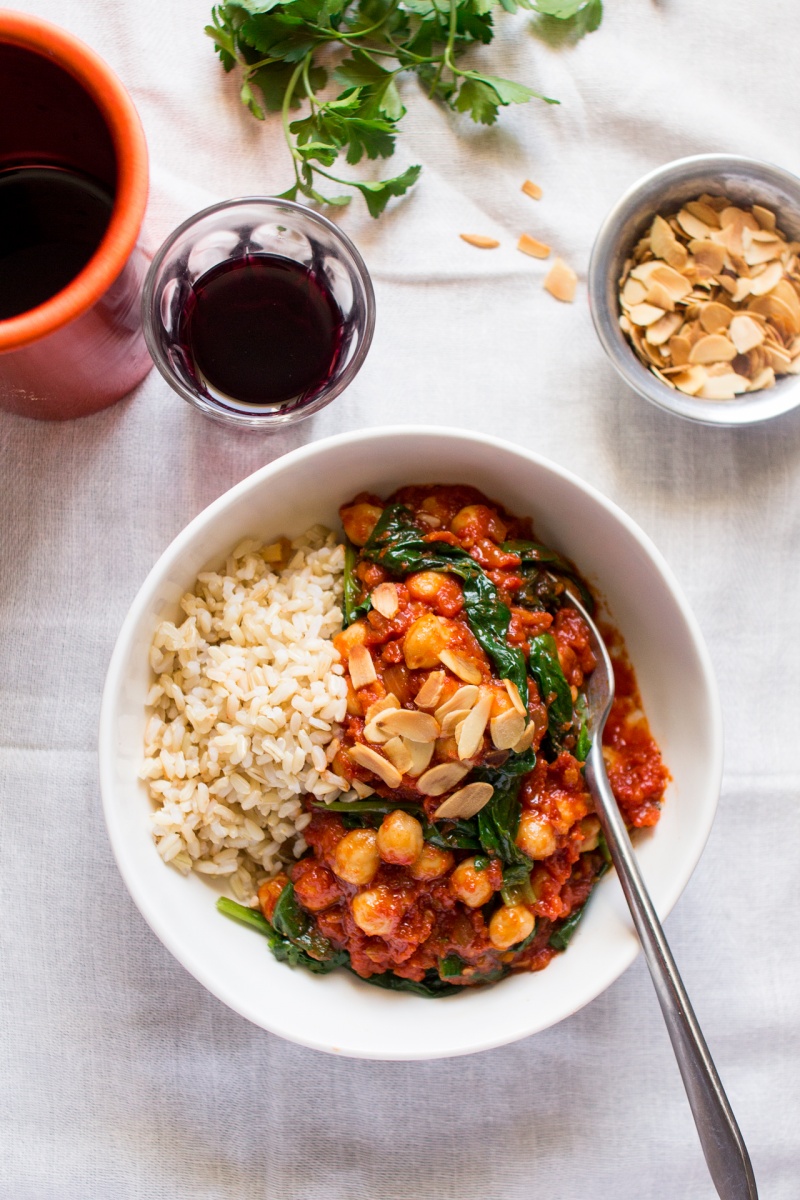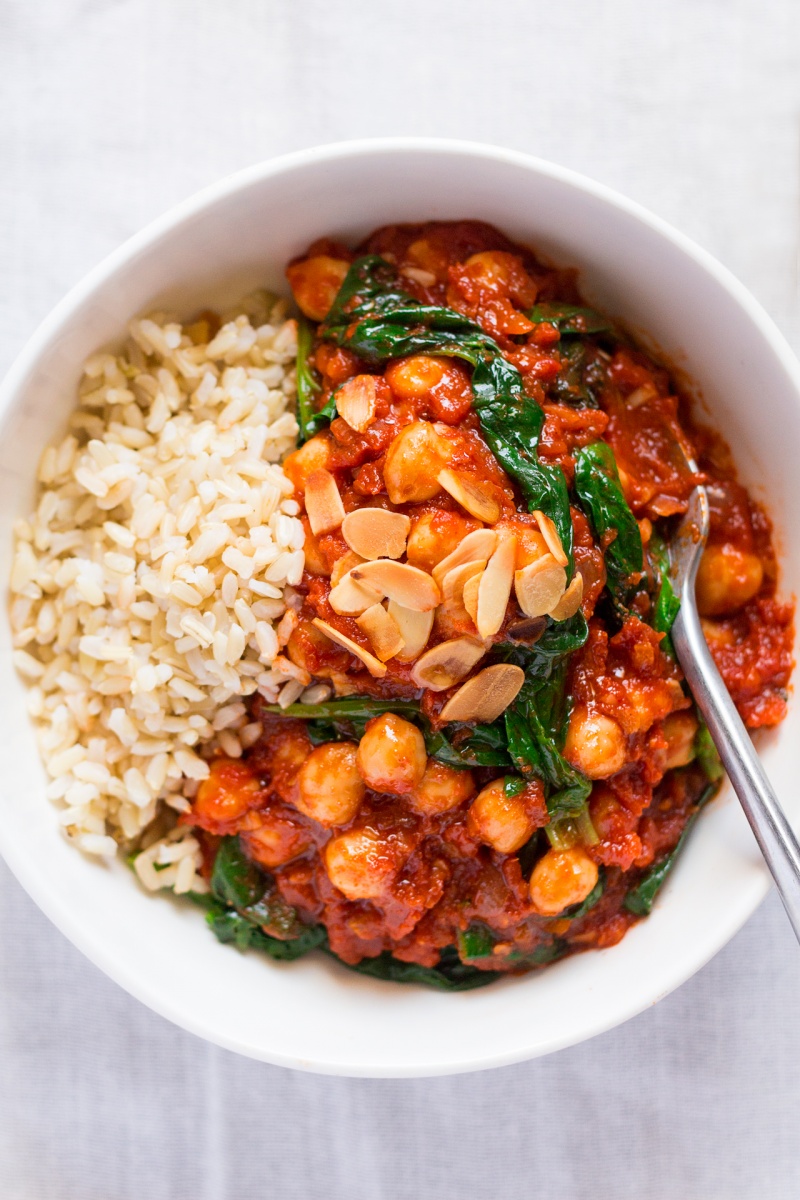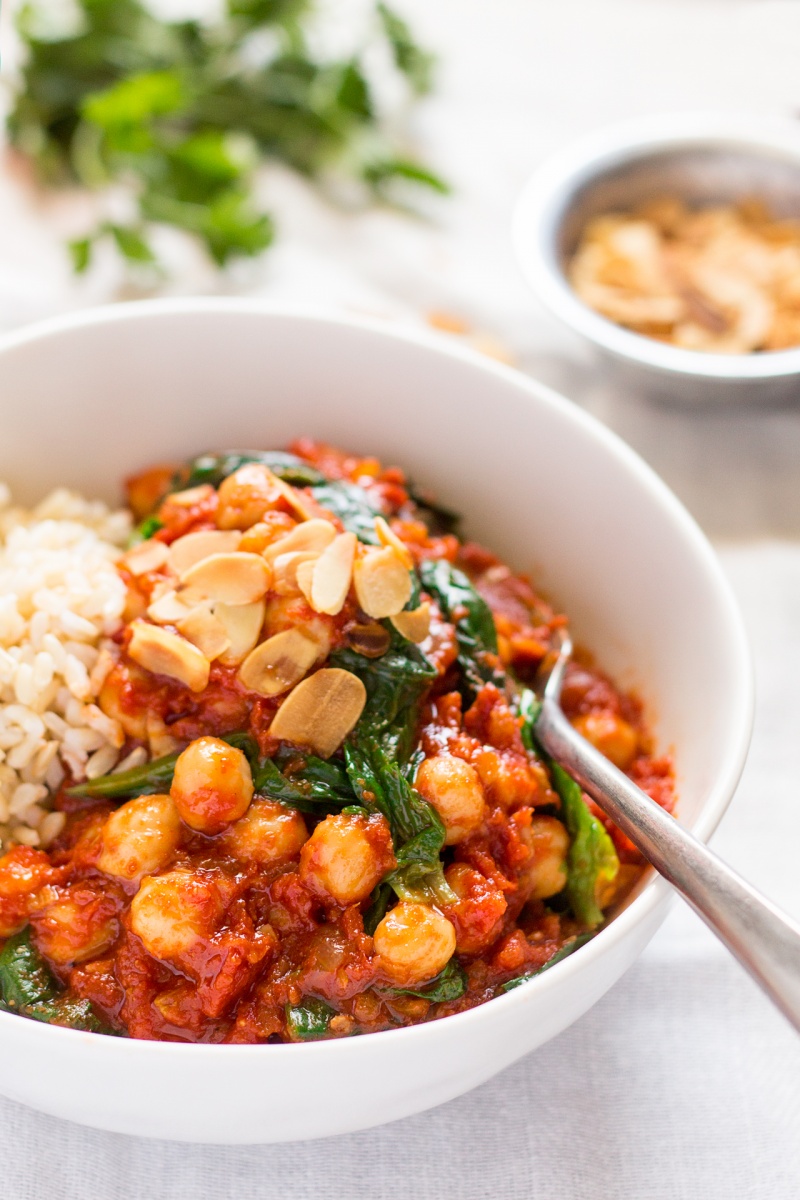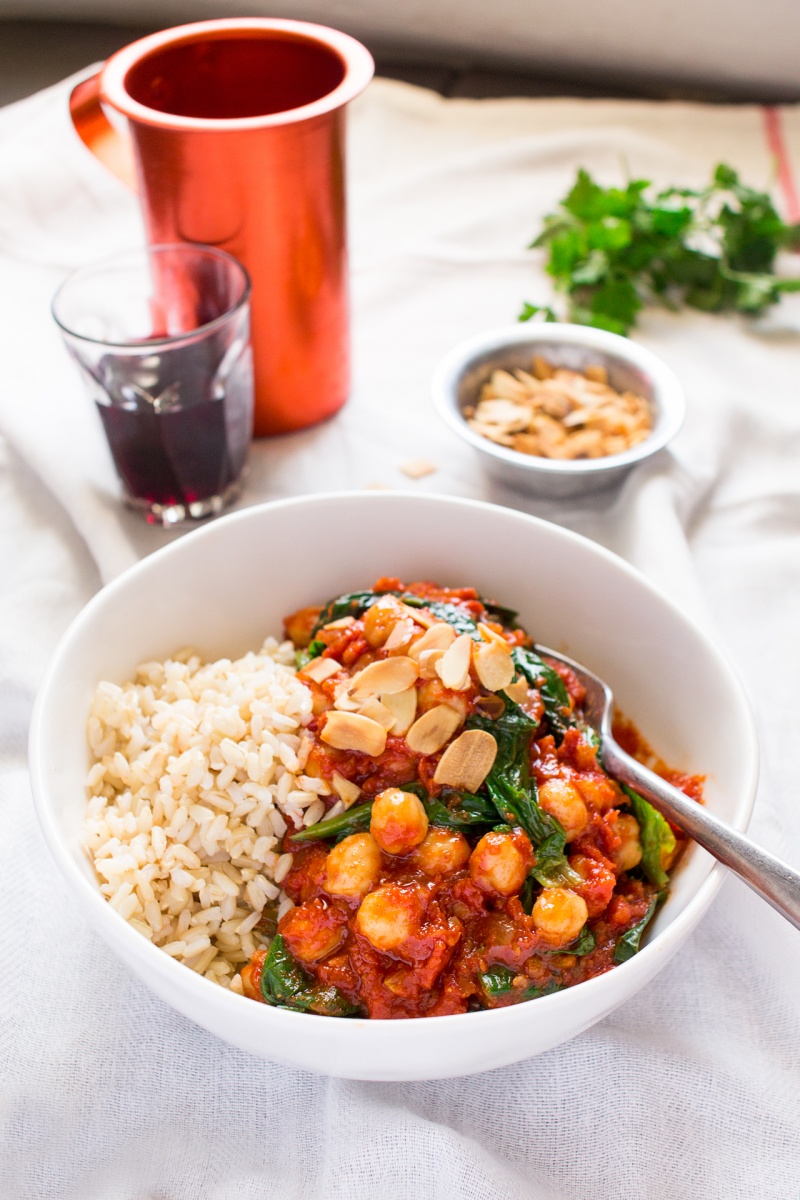 2 tbsp / 30 ml oil (I used olive oil)
3 garlic cloves, finely chopped
1 medium red onion, finely chopped
3 tsp cumin (ground)
1½ tsp smoked paprika (ground)
¼-½ tsp cayenne pepper or hot chilli powder
½ tsp salt
2-3 tsp brown sugar
black pepper, to taste
2 x 400 g tins of peeled plum tomatoes
1 tbsp of tomato paste
1½ cups of cooked chickpeas
200 g of spinach
a handful of almond flakes, toasted
fresh parsley, chopped (optional)
cooked rice (I used brown), to serve with
METHOD
Heat up the oil in a large frying pan (ideally with a lid). Add chopped onion and fry on a low heat until almost translucent, stirring from time to time.
Add chopped garlic. Keep on stirring frequently until the onion is translucent and garlic softens completely and releases its beautiful aroma.
Add all the ground spices to the fried onion and garlic mixture and stir them around well. Fry them off gently for a minute or two stirring the whole time as they burn easily.
Add tomato paste to the pan and stir it into the onion and garlic mixture.
Squash plum tomatoes with a potato masher in a separate bowl before adding them to the pan. Add tomatoes to the pan, salt and half of the sugar. Let the sauce thicken by simmering it on a low heat with no lid on. Give the sauce a good stir from time to time.
Once the sauce thickens, taste it and season with some black pepper and more sugar if needed. I used 3 tsp of sugar in this recipe as my tomatoes were quite tangy, but you may not need as much.
Stir in cooked chickpeas and let them warm through. Now add in the spinach and place the lid on to let spinach wilt and cook in the steam. If you are not in a rush, you can gently pan-fry the spinach in a little olive oil and garlic separately and then add it to the dish, but that's optional.
Serve over rice, sprinkled with toasted almonds and fresh parsley.