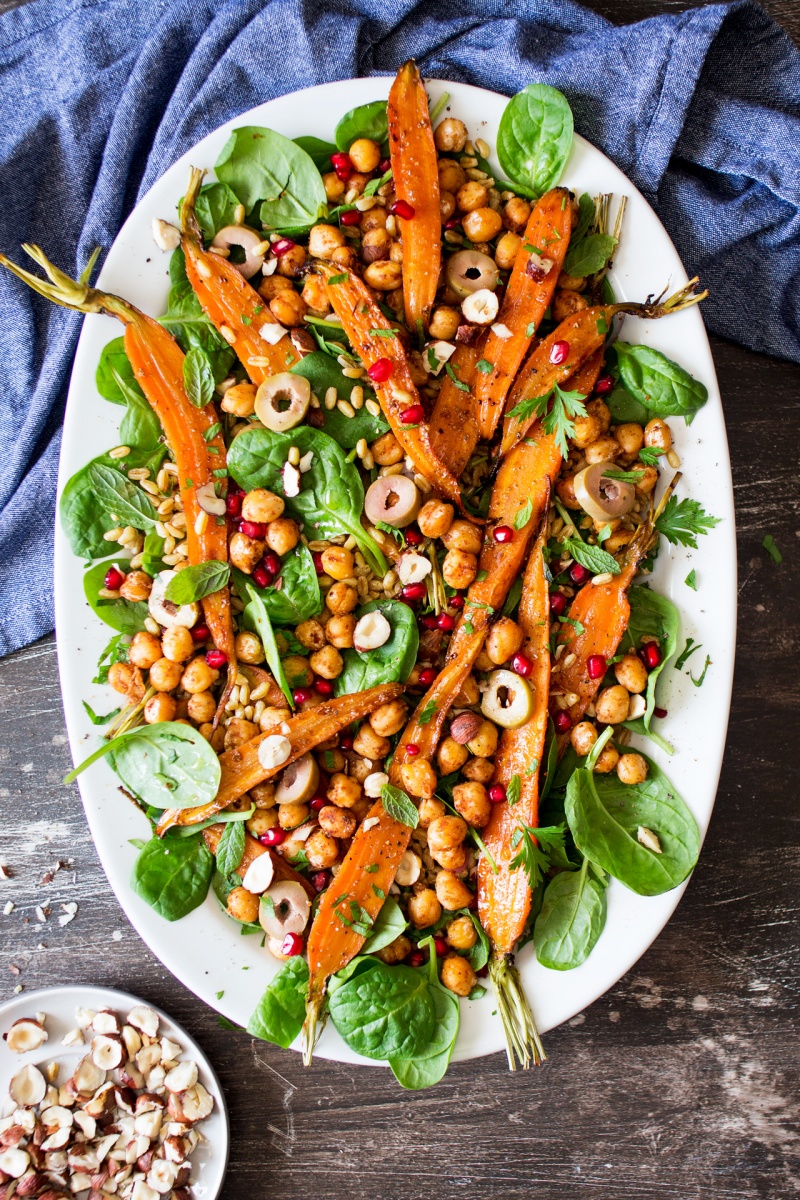 Yippee! Autumn has finally rolled in and I'm celebrating with a little dance and a spiced carrot and chickpea salad (I know, I rock haaaard 😉 ). At its warm, sun-low-in-the-sky spectrum (as opposed to wet and cold), autumn is probably my favourite time of the year.
I mean summer IS beautiful, especially in this part of the world, but when you cook for a living, hot weather isn't your best friend. You are in this weird space between not wanting to bake anything (as putting an oven on is torture) and having things like chocolate or ice-cream melt quicker than it takes you to set the camera up.
Sure, you can get through summer on salads alone, but it does eventually get a bit boring and samey samey. Autumn, on the other hand, makes cooking such a pleasant past time. It makes me reach for the spices more, which happen to go so well with seasonal vegetables.
This salad is therefore a sign of things to come, I hope you'll like it as much as I do 🙂 !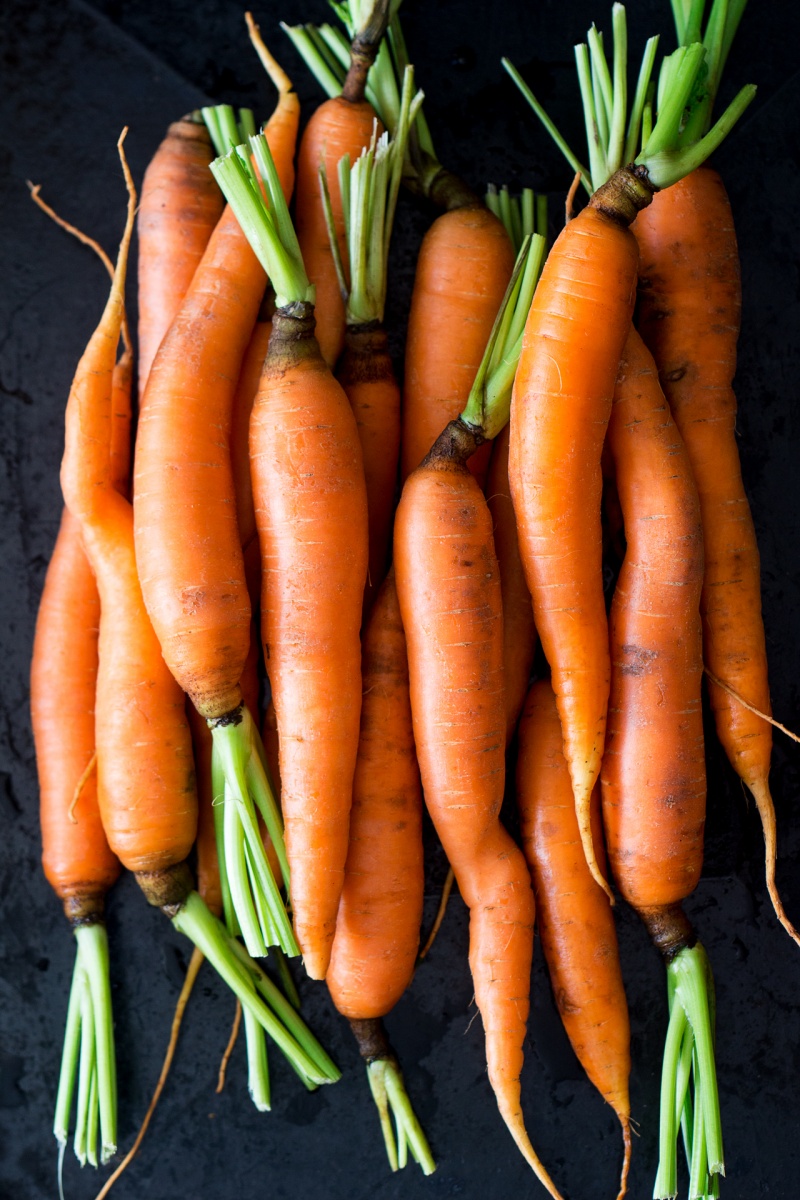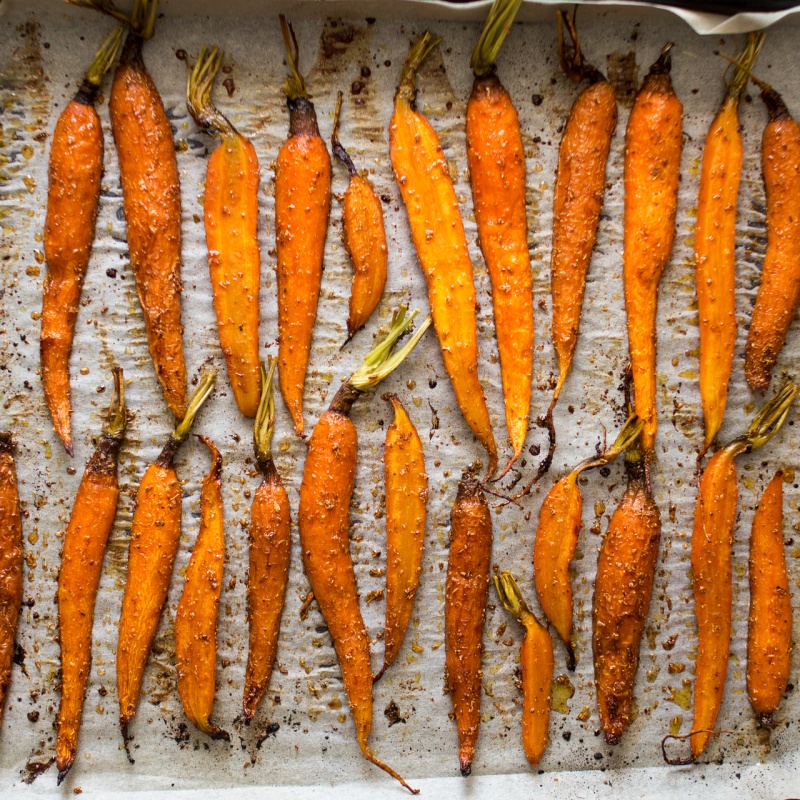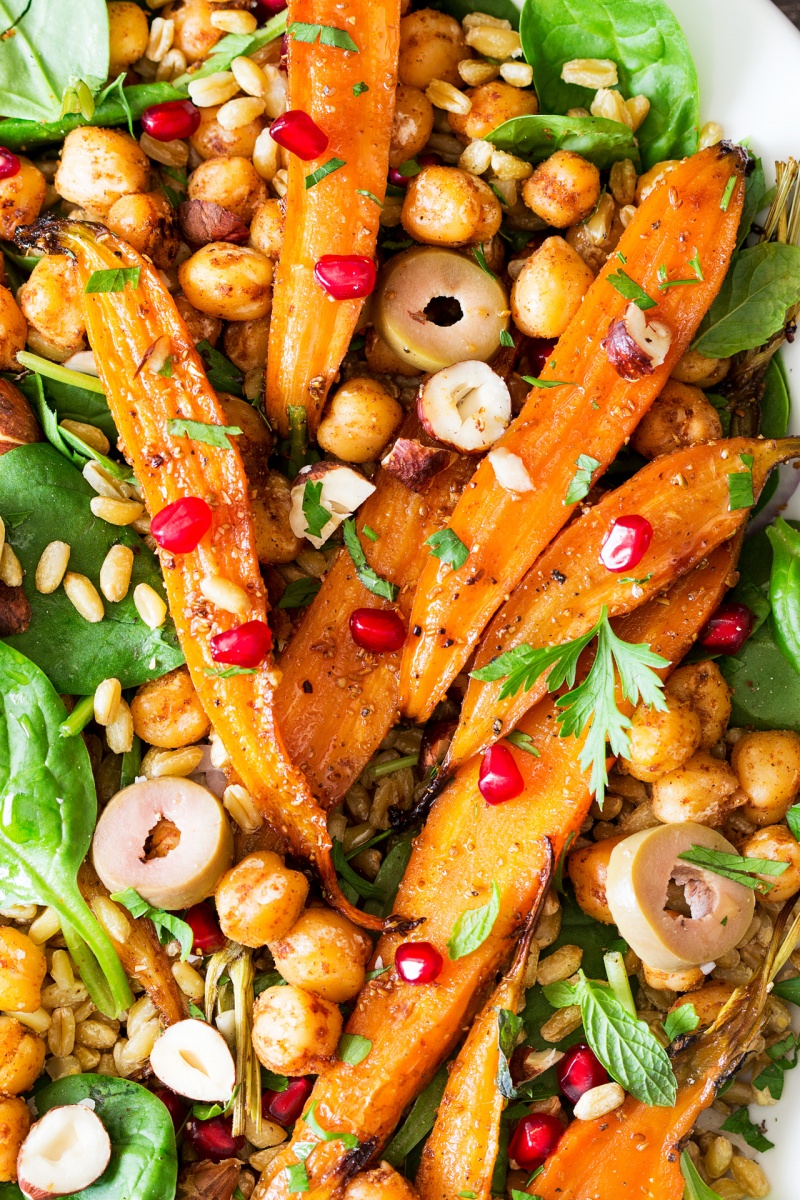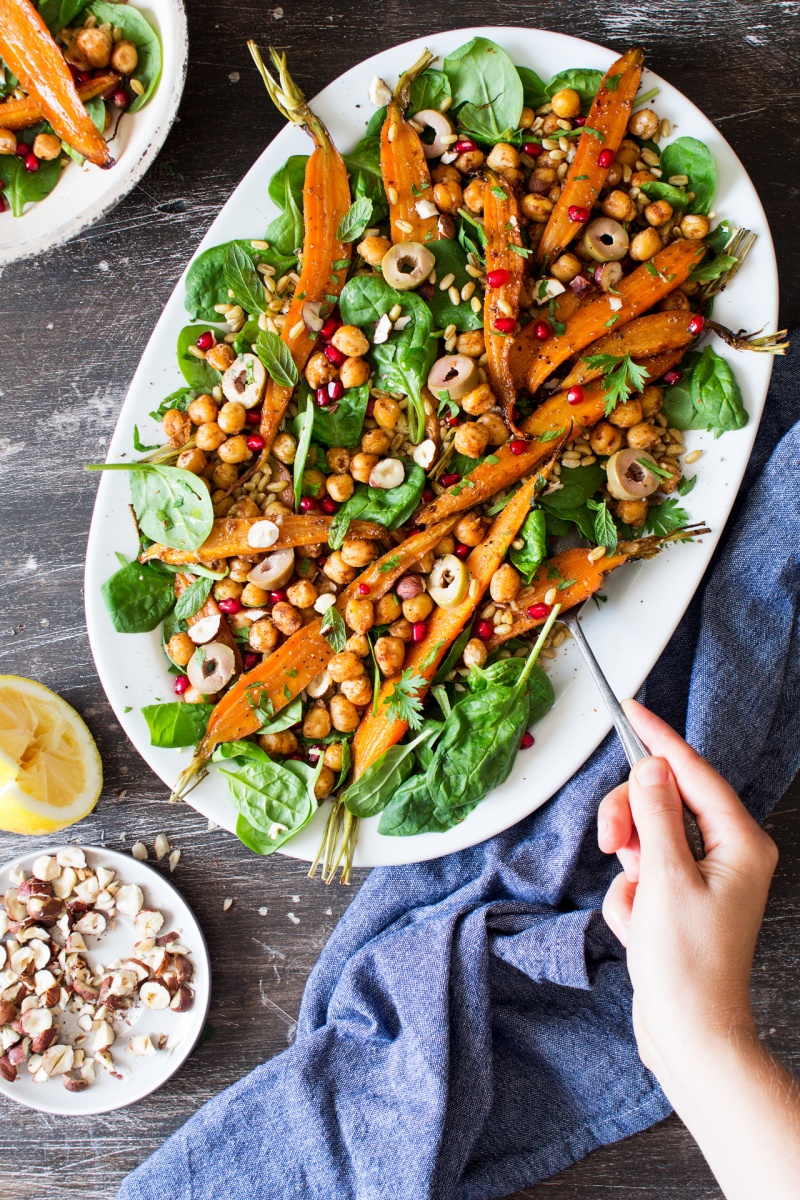 600 g / 1.3 lb young carrots with green tops
1 cup cumin-roasted chickpeas (recommended) or cooked chickpeas
1 cup peeled hard wheat* (use red / brown rice or toasted buckwheat for GF version)
10 green Kalamata olives, de-stoned and sliced
100 g / 3.5 oz baby spinach
seeds from ¼ pomegranate
handful of fresh coriander OR parsley, torn
handful of mint leaves, torn
¼ cup hazelnuts (raw or roasted), chopped
1½ tbsp maple syrup
2 tbsp extra virgin olive oil
2 tsp coriander seeds OR 1 tsp coriander powder
2 tsp cumin seeds OR 1 tsp cumin coriander powder
½ tsp chilli flakes OR ½ tsp chilli powder
DRESSING
3 tbsp extra virgin olive oil
¼ cup / 4 tbsp pomegranate molasses OR lemon juice (both work well!)
1 small garlic clove, grated
salt and pepper, to taste
METHOD
Mix all the dressing ingredients together in a small bowl and set aside.
Check the hard wheat for small stones, rinse well, and cook according to the instructions on the packet. Take care not to overcook it, you want a bit of a chew on the grain. Let the grain cool down and season with salt to taste before assembling the salad.
If using whole spices (which I recommend), heat up a small pan and roast coriander and cumin seeds until they are lightly browned and fragrant, stirring the whole time (as spices tend to burn easily). Crush into powder in a pestle and mortar with chilli flakes and a generous pinch of sea salt.
Heat up the oven to 200º C / 390º F and line a large baking tray with a piece of baking paper.
Mix 1½ tbsp of maple syrup with 2 tbsp of olive oil in a small bowl. Tip all the spices into this mixture and mix well.
Scrub your carrots clean and trim the tops leaving about 1-2 cm of stalk. Dry them and slice lengthwise in half. Brush maple syrup mixture onto the carrots and arrange them on a baking paper-lined baking tray.
Bake the carrots for about 30 min, flipping them to the other side halfway through baking. Glaze them with the maple mixture again once they come out of the oven.
Grab a large plate or bowl. Place cooled wheat, spinach and chickpeas on first and top with roasted carrots and olives. To finish the dish off, scatter fresh herbs, chopped hazelnuts and pomegranate seeds.
Drizzle the dressing on top and serve.
NOTES
*Farro, wheat berries or pearl barley (prepared according to the instructions on the packet) would work well too for a non gluten-free option. For gluten-free options, quinoa, toasted buckwheat and red or brown rice would all work well.