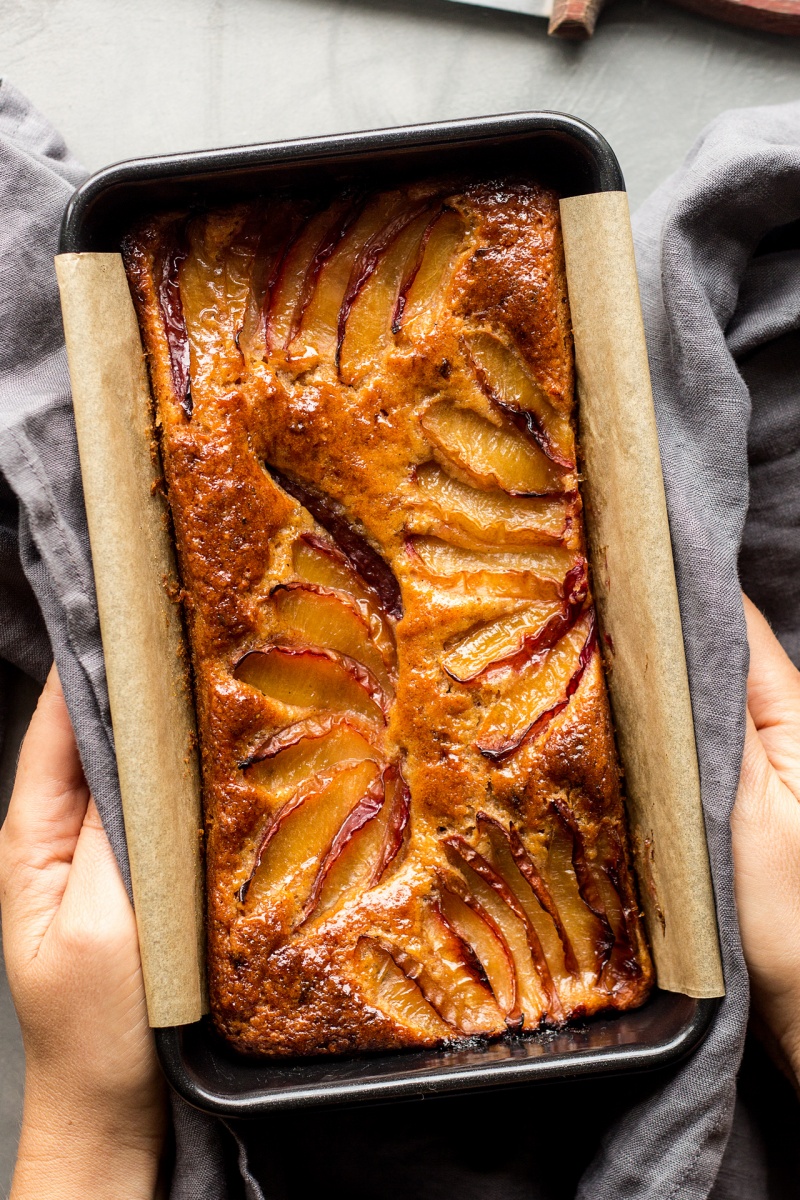 Do you have rituals / things you do that help you get through your week? I certainly do, and this week, I have felt a lot of gratitude for the Internet content creators that make my working week a little more enjoyable and, if I'm having a bad day, bearable. I thought that a blog post is a great place to say 'thank you' for what they contribute.
I try not to start my day without 15 minutes of yoga with the lovely Brett Larkin. This is the video that helps me get out of bed and ALMOST makes my morning coffee redundant. I've done it so many times now that I know it by heart, but it still never fails to push me a little bit more with every practice and I love how it makes me feel afterwards. I strive to do it 7 days a week, although in reality I only probably manage 5. Brett's teaching style is great, it's really down to earth and doesn't make me feel like a ton of bricks. I highly recommend it, especially to those of you who, like me, aren't natural yogis.
As I am by myself a lot of the time, I really like listening to podcasts while I work. I am a big fan of Rich Roll and the Guilty Feminist, but this week, I discovered a new podcast that got me hooked and I'm almost through all the episodes (that's the trouble with binge listening 😛 ). The podcast is by Geoff Turner and it's called On Drugs. It examines the nuanced history of brain stimulating substances (including coffee, my drug of choice, and alcohol) throughout time and from various perspectives, including drugs in relationship to race, gender and music. It's really fascinating and very educational.
Speaking of drugs, it may be just me, but I reckon a Friday calls for a celebratory slice of cake and a mug of coffee, doesn't it? Well, those of you who are people after my own heart will be happy to hear that today, I am bringing you an August inspired cake recipe for spiced plum cake. It's easy to make, moist and delicious, fragrant with cinnamon, cardamom and vanilla.
It's gorgeous on its own, with your favourite hot beverage, but it also goes insanely well with a dollop of thick coconut yoghurt (or whipped coconut cream) and some extra plum compote if you wanna make it into a fully-fledged dessert!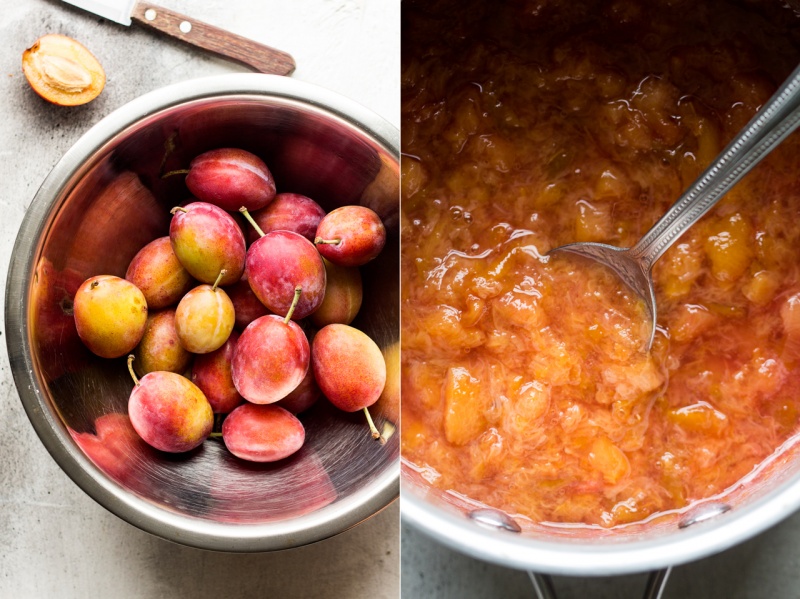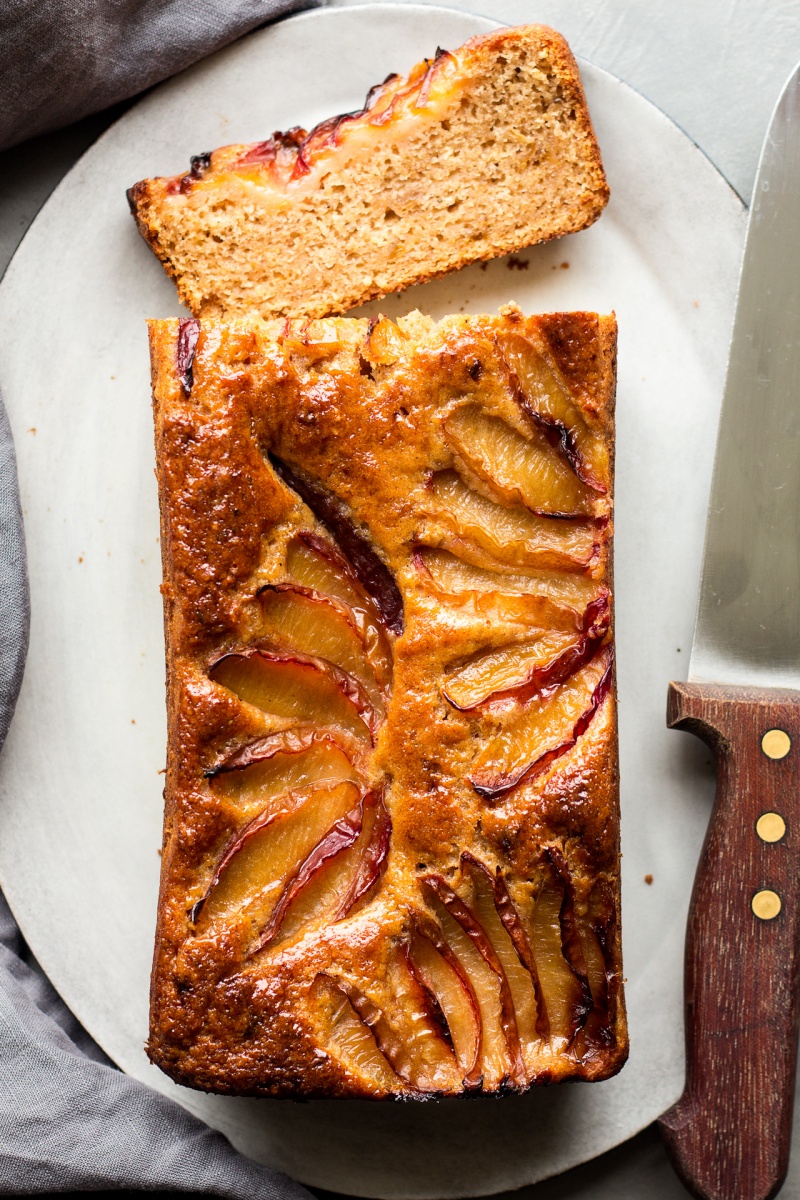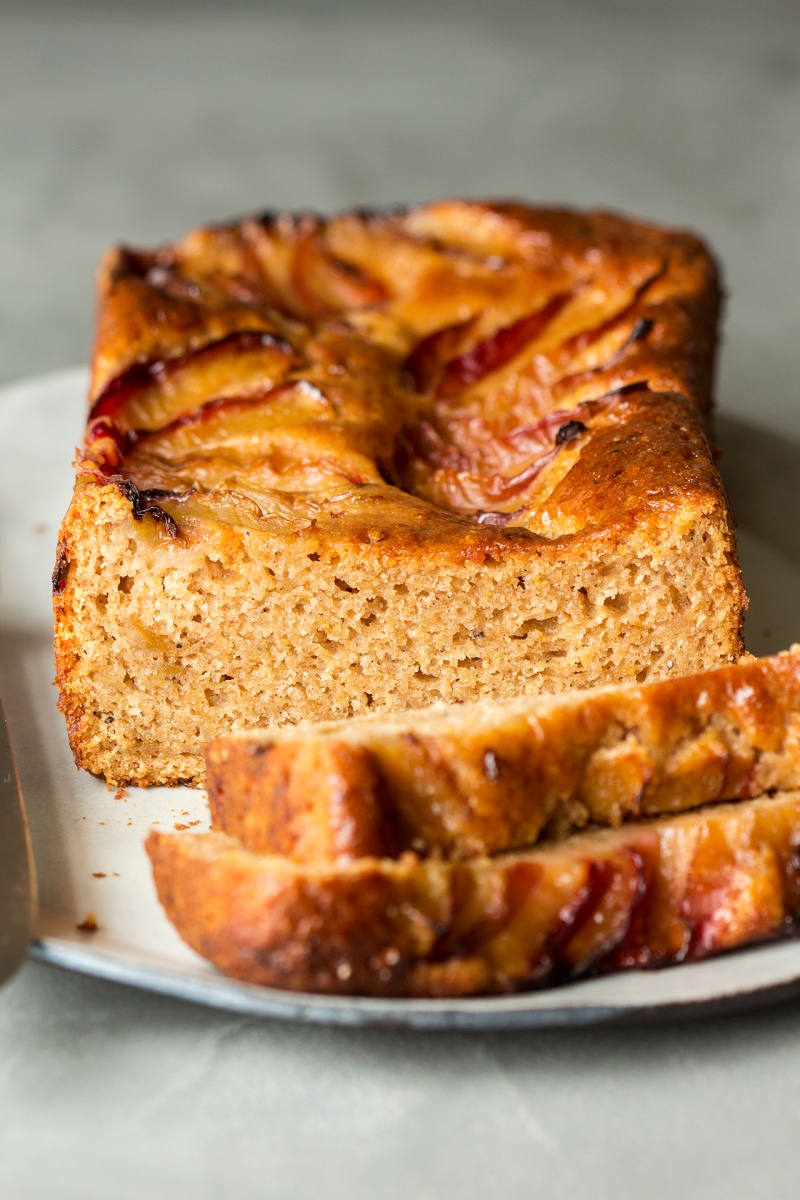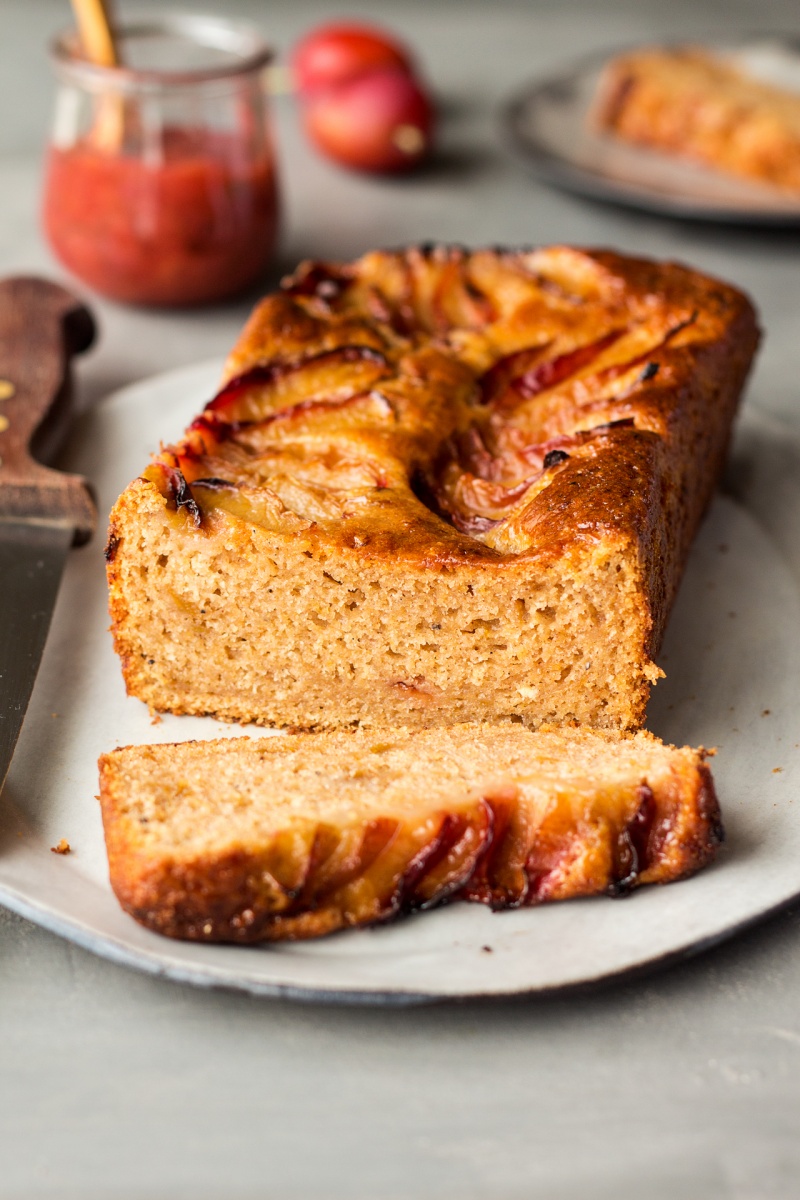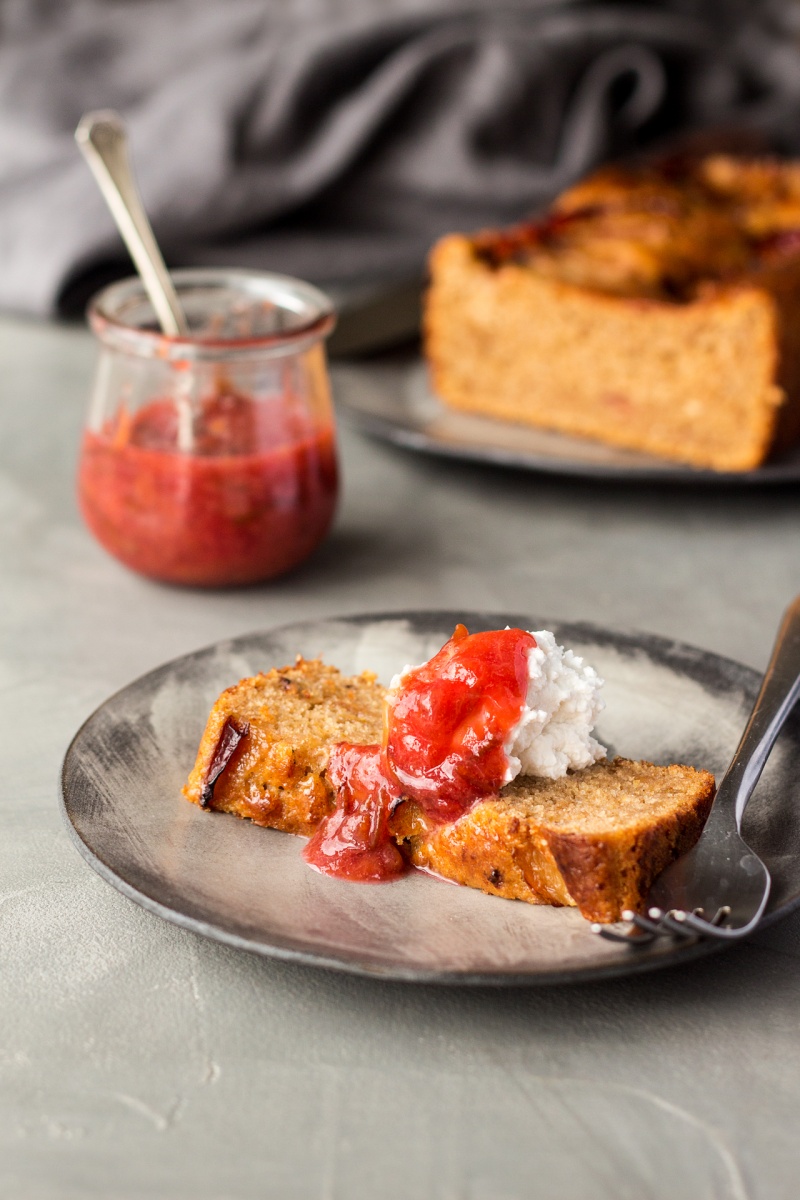 DRY INGREDIENTS
180 g / 1½ cups all purpose white flour, GF flour mix or buckwheat flour, sifted
1 tsp baking powder
¾ tsp baking soda
1¼ tsp cinnamon
6 green cardamom pods, seeds crushed (or ½ heaped tsp ground)
WET INGREDIENTS
240 ml / 1 cup plum compote (about 550 g / 20 oz ripe plums + 150 g / 5 oz for decoration)*
60 ml / ¼ cup mild tasting oil (I used mild olive oil)
80 ml / 1/3 cup almond milk (or other thin plant milk)
150 g / ¾ cup coconut sugar or demerara sugar**
1½ tsp vanilla essence
OPTIONAL EXTRAS
METHOD
Warm up the oven to 180° C / 355° F and line a 900 g / 2 lb cake tin with baking paper. Move the oven rack a notch down from the middle position.
Set aside 3 plums for decoration. Remove the stones from the rest of the plums (you'll need about 550 g / 20 oz for 1 cup of plum compote). Chop them up roughly and place them in a small pot that you have a lid for with a splash (about 60 ml / ¼ cup) of water. Cover and bring to the boil gently and allow the plums to simmer a little.
Once the plums fall apart completely, take the lid off and simmer the mixture on a low heat to allow the excess water to cook out and for the mixture to thicken. Cool down before incorporating into the cake.
Combine 240 ml / 1 cup of cool plum compote with oil, almond milk, sugar and vanilla essence in a large bowl. Mix very well.
In a smaller bowl, combine the sifted flour and the remaining dry ingredients.
Add the dry ingredients to the wet ones in three batches, mixing well each time. Mix until there is no dry flour left, but do not overmix (that's only important if you are using a flour containing gluten)!
Transfer the cake batter into the prepared baking tin. It should be fairy thick. Decorate the cake with fanned plum slices.
Bake for about 50 minutes, or until a toothpick comes out fairy clean (this cake should be moist). Remove from the oven and brush with with a little maple syrup while the cake is still hot.
Let the cake cool down completely before removing it from the tin and slicing. Use a serrated knife to slice if you have one – I find that it produces neater looking slices. For an extra indulgent dessert, serve with the remaining plum compote and a dollop of thick coconut yoghurt or whipped coconut cream.
NOTES
*I tend to make a bit more plum compote (from about 700 g / 25 oz of fresh plums) to be able to serve it alongside the cake.
**If your plums are really sharp, you may want to use more sugar.
I used a 2lb / 900 g cake tin of the following dimensions: 18.5cm / 7″ x 8cm / 3″ x 6cm / 2.5″. (I used one like this).