Potsticker dumplings are one of my favourite things to eat so I thought it's high time they made an appearance on the blog. The dough is very similar to Polish pierogi, which I grew up on, so perhaps that is why I love them so much. They seem strangely familiar yet exotic at the same time.
There is something nice about biting into a crispy dumpling filled with a delicious, spicy filling. I filled my dumpings with my favourite pumpkin: butternut squash, making these awesome spicy butternut squash dumplings. The sweetness of butternut squash goes so well with the saltiness of soy sauce and hotness of chilli that I find them utterly irresistible.
What I find genius about potstickers is their cooking method. If you want to eat crispy pierogi, you need to cook them in boiling water first, let them cool down and only then they are ready for some pan-frying action. The end result is the same but it is so much more time consuming.
I love Chinese pragmatism when it comes to making sure that their potstickers are nice and crispy. You crisp the bottoms up in a hot pan first, then add a bit of water and pop a lid on to let them cook in their own steam and finally cook them uncovered for another minute or so to ensure that they turn out crispy at the bottom. The entire process takes no more than 12 minutes. It's genius and I've now taken to making Polish pierogi the same way (just don't tell any Polish grandmas that!).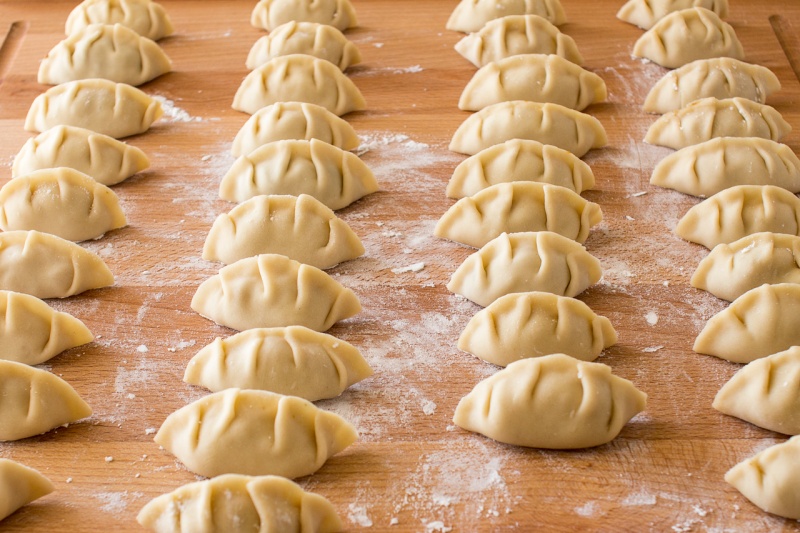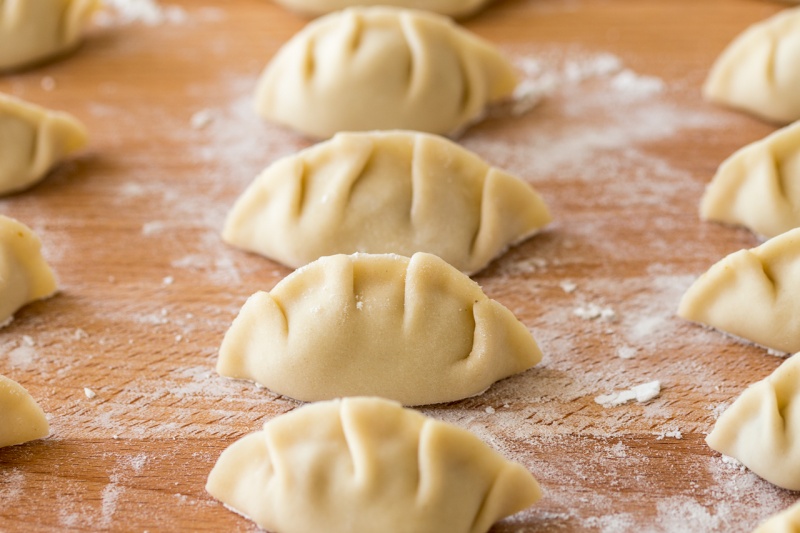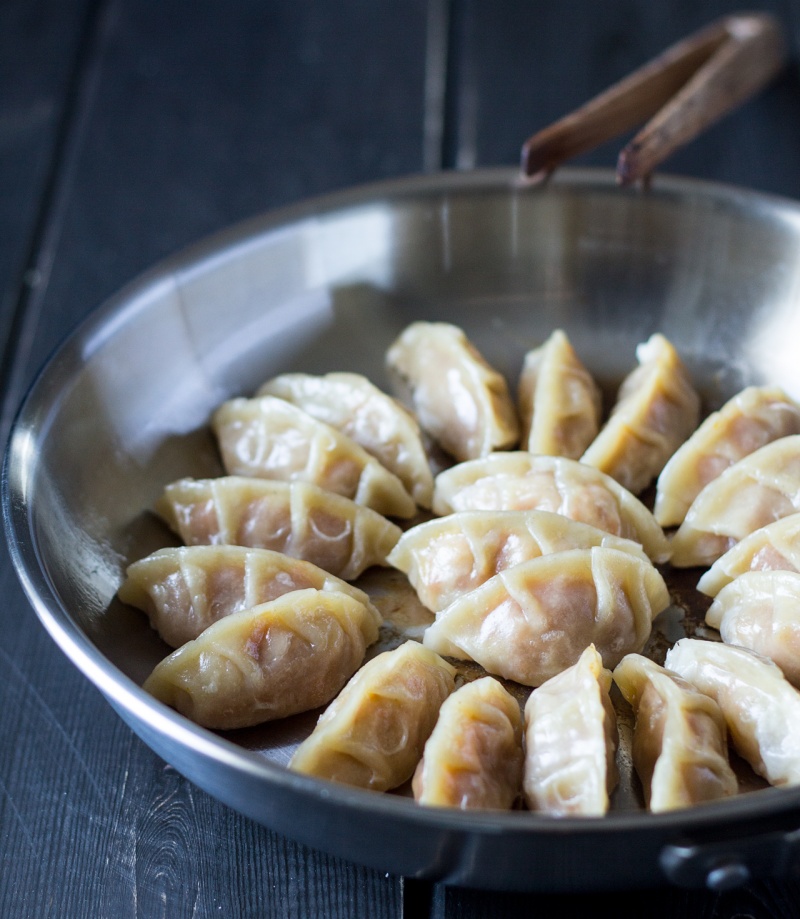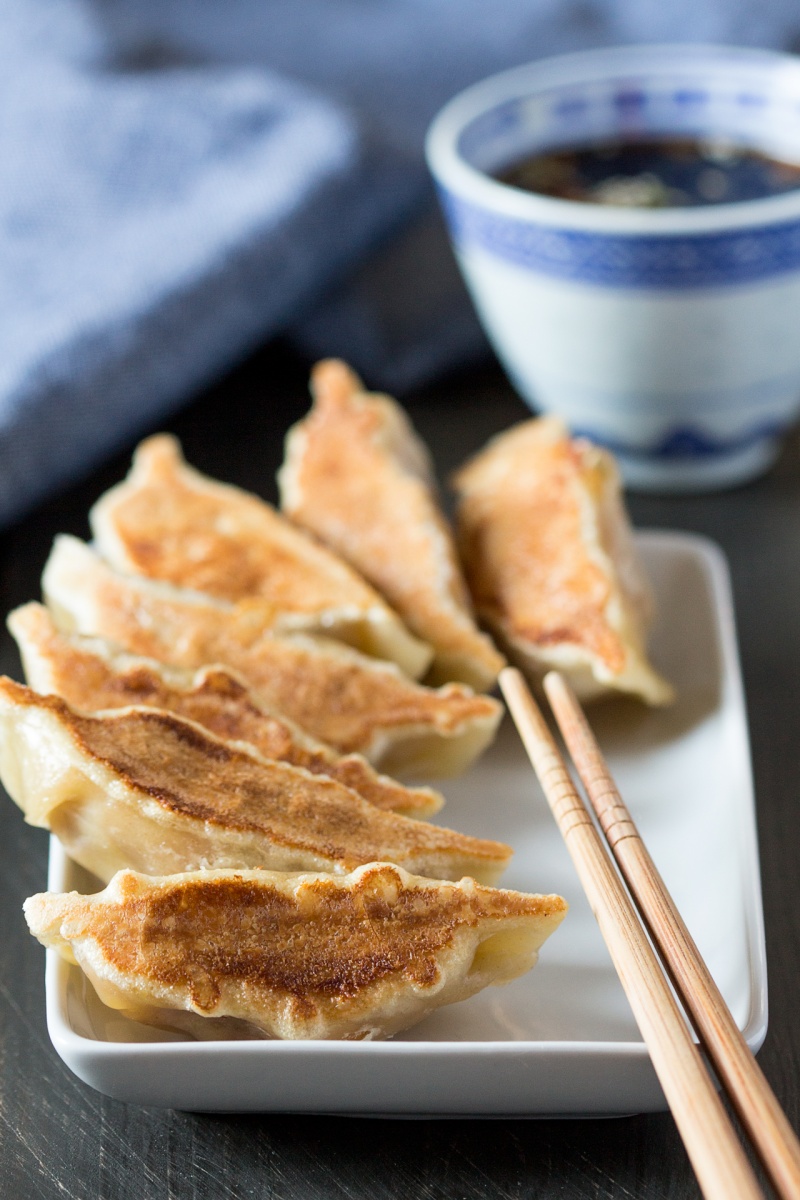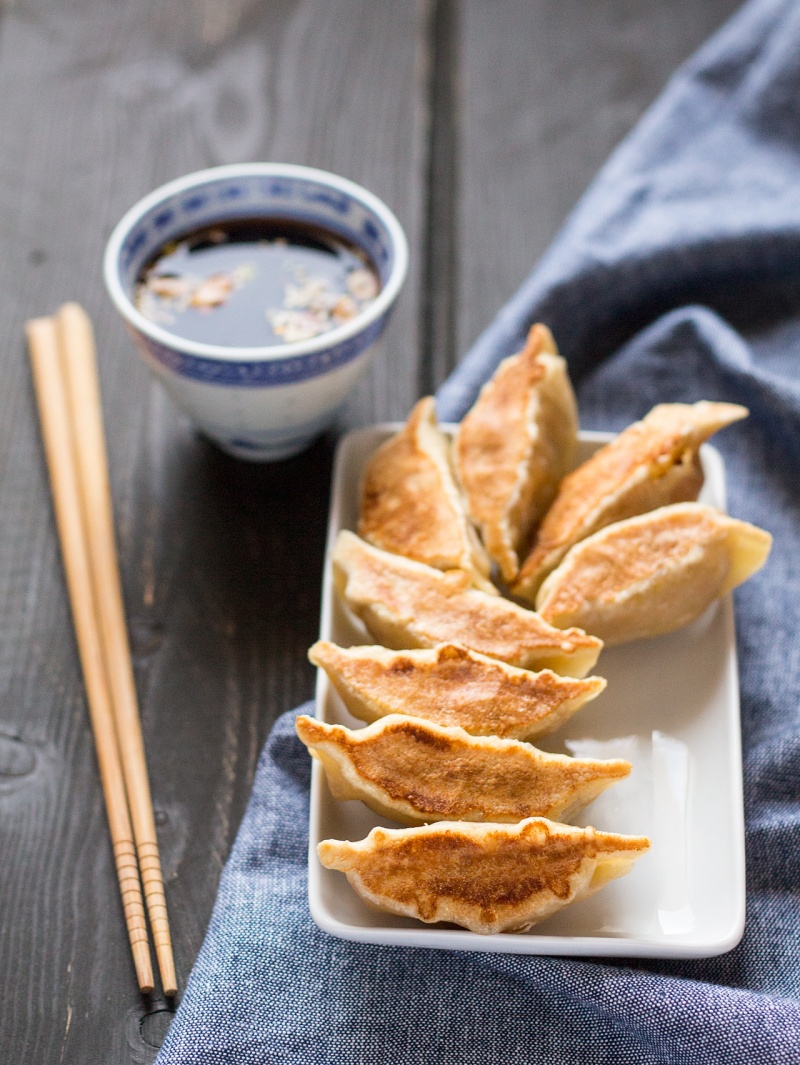 DOUGH
2 cups plain flour
1 tsp fine sea salt
1 tbsp / 15 ml plant oil
approx. 150 ml hot water
FILLING (best to make the day before)
3 spring onions, white part finely chopped
4 tsp grated ginger
3 large garlic cloves, finely chopped
3 cups of roasted butternut squash / approx. ½ squash, mashed*
2 tbsp / 30 ml soy sauce
1 tbsp rice vinegar
½-1 tsp hot chilli flakes / 2-3 tsp Sriracha sauce
1 tbsp of high smoke point oil, for frying (I used peanut oil)
DIPPING SAUCE
2 tbsp / 30 ml dark soy sauce
1½ tsp sesame oil
1 tbsp rice vinegar
fresh chilli, finely sliced or pinch of chilli flakes
1 tsp sesame seeds
2 cm of finely sliced spring onion
METHOD
In a mixing bowl, combine flour and salt. Add ½ cup of hot water and 1 tbsp of oil. Once combined roughly with a wooden spoon, start combining the dough with your hands. It will need a bit more water but it is very important to add the water in gradually, tablespoon by tablespoon. In my experience it takes another 1-2 tablespoons of water to make the correct consistency dough. Knead it for a few minutes with your hands and then set aside for 30 minutes under a clean kitchen towel or pierced (so that it can breathe) cling film so that the dough doesn't dry up.
Heat up olive oil in a pan. Fry spring onions, garlic and ginger. Keep on stirring to make sure they don't burn. After 1 min, add in mashed butternut squash. Season with soy sauce, rice vinegar and chilli. Leave it to cool down. If you can, make the filling a day in advance as it gives all the flavours a chance to marry up and makes the filling taste better.
Once the dough has had a chance to rest, roll it out with a rolling pin on a lightly floured surface. You want it to be about 1-2 mm thin; the thinner the dough the tastier the dumplings. With an upside down glass, cut out circles in the dough. Place a heaped teaspoon of the mixture in the centre of each circle and seal the dough over the filling at the top. Go over each dumpling twice to make sure everything is sealed completely.Put the finished dumplings on a lightly floured surface and cover them with a kitchen towel while making the rest so that they don't dry out.
Heat up a little peanut oil in a lidded frying pan. Once the oil is hot, place as many potstickers as you can on the pan without them touching each other. Fry for 2 minutes, then add a splash of water to the pan (1 cm) and put the lid on. Let the dumplings cook in their own steam for about 6-8 minutes – depending on how thin your dough is. Once all the water has cooked out, take the lid off and leave the potstickers on heat for another minute or two so that the bottom is nice and crispy.
Mix all dipping sauce ingredients in a bowl. Serve potstickers immediately with the dipping sauce on a side.
NOTES
*I do recommend using butternut squash for this recipe as it has denser flesh and a lower water content. I tried using a different pumpkin once and the filling ended up too wet.