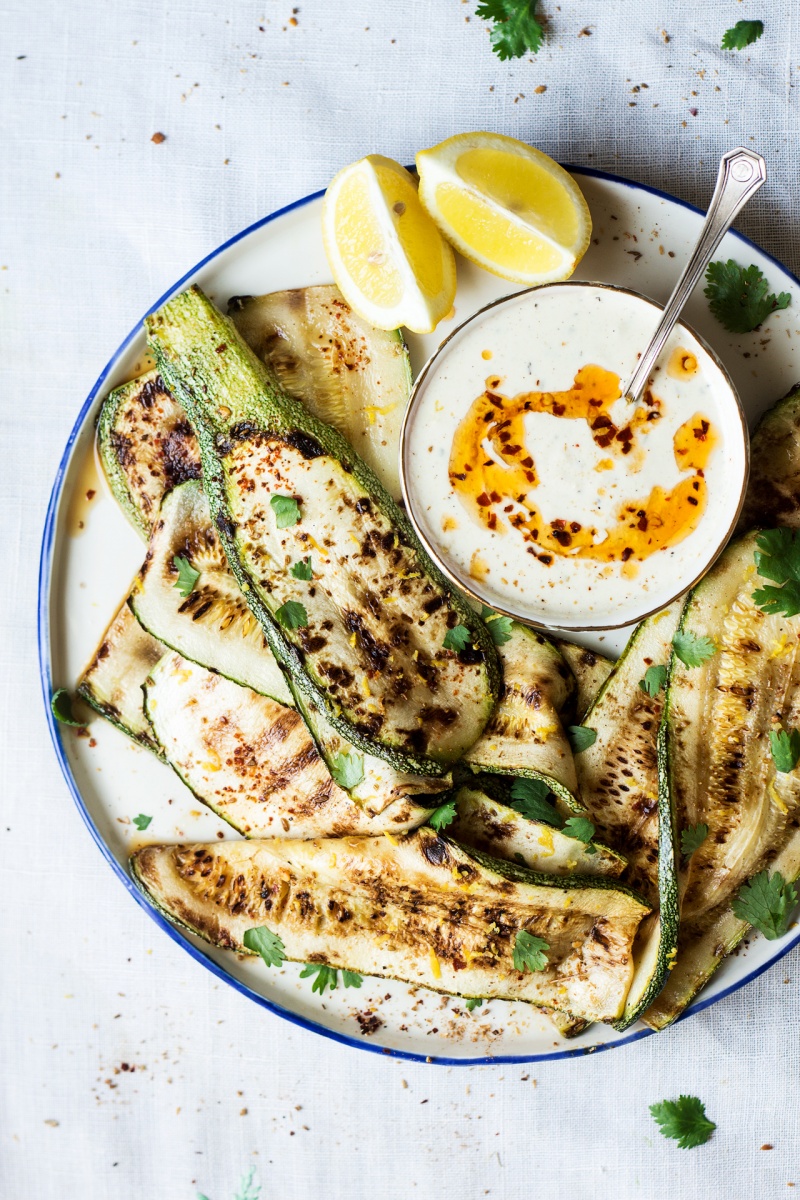 As last week was a bit of a baking marathon, this week I'm taking it easy and only making simple, low-effort meals that ideally do not require turning an oven on 🙂 . Especially that the cooler weather we've been promised hasn't really happened and it's still way too hot.
In this heat, all I'm craving is salads, iced coffees and smoothies.
I'm actually trying to forgo proper dinners this week in favour of delicious green smoothies (Duncan calls them 'liquid dinners'), which I find really cooling and soothing when the evenings are this hot. They are filling yet light at the same time and I find that it's good to go to bed not overly full.
While I don't imagine continuing with this routine once the weather cools down a bit, for the time being it really works and I love how little effort making a dinner is these days.
Today's recipe is a simple dish of grilled zucchini with a curried dipping sauce. It makes a nice, seasonal side dish that can easily be made on a griddle pan at home or on a BBQ outside. It's a perfect way to use up your zucchinis and would make a lovely addition to a vegan mezze meal.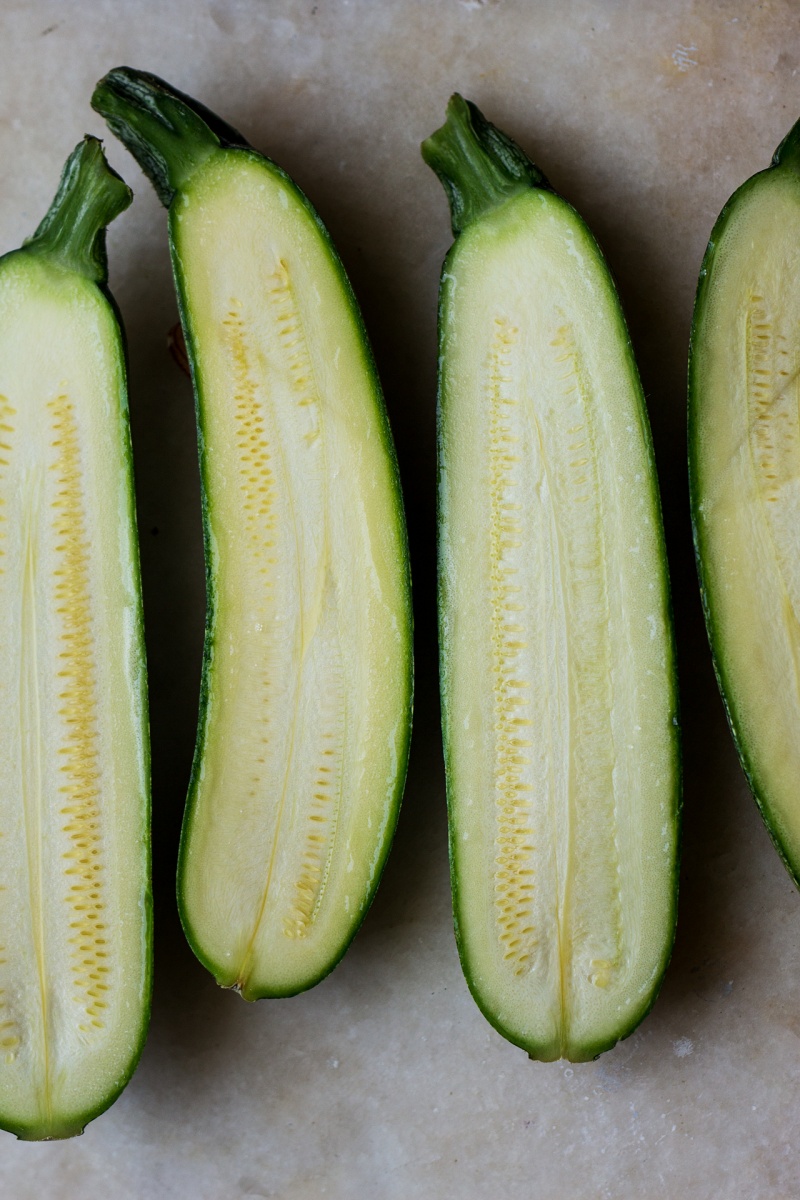 3 medium zucchinis (about 1.2 kg / 2.5 lb)
2 tbsp olive oil
1 tsp fennel seeds
1 tsp cumin seeds
1 tsp coriander seeds
½ tsp chilli flakes
3 black peppercorns
1 lemon, juice and zest
salt
fresh coriander, to garnish
DIP
½ cup cashews, soaked overnight and chopped
2 tbsp lemon juice
3 tbsp water
1 tbsp olive oil
½ garlic clove
1 heaped tsp grated ginger
½ tsp garam masala
1/8 tsp white pepper
¼ tsp salt
2 tbsp chickpea flour
METHOD
Toast whole spices in a small frying pan, stirring frequently, until fragrant (about a minute). Remove from the heat, allow to cool, then pound in a pestle and mortar to a coarse powder.
Slice the zucchinis into thick slices (0.5 cm / 0.1″) lengthwise.
Heat up a griddle pan on a medium-high heat (you can also use a hot barbecue). Brush the zucchini slices with a little bit of oil and place them on a hot pan. Allow them to cook for about one minute on each side, until they get soft and nicely charred on both sides.
Sprinkle the zucchini slices with some of the spice mixture, salt, lemon zest and toss them around gently. Squeeze a little lemon juice over them too and sprinkle on some fresh coriander.
DIP
Pour lemon juice, olive oil and 3 tbsp of water to the bottom of a blender. Add half of the chopped cashews and process until smooth, then add the rest of the chopped cashews.
Season with garlic, ginger, garam masala, salt and pepper.
In a small pot, prepare a simple chickpea roux by mixing chickpea flour with 2-3 tbsp water and bringing to a gentle simmer.
Mix the chickpea roux into the cashew dip in order to thicken it. Chill for a few hours – the dip will thicken as it cools.
NOTES