Spicy roasted red pepper hummus
Spicy roasted red pepper hummus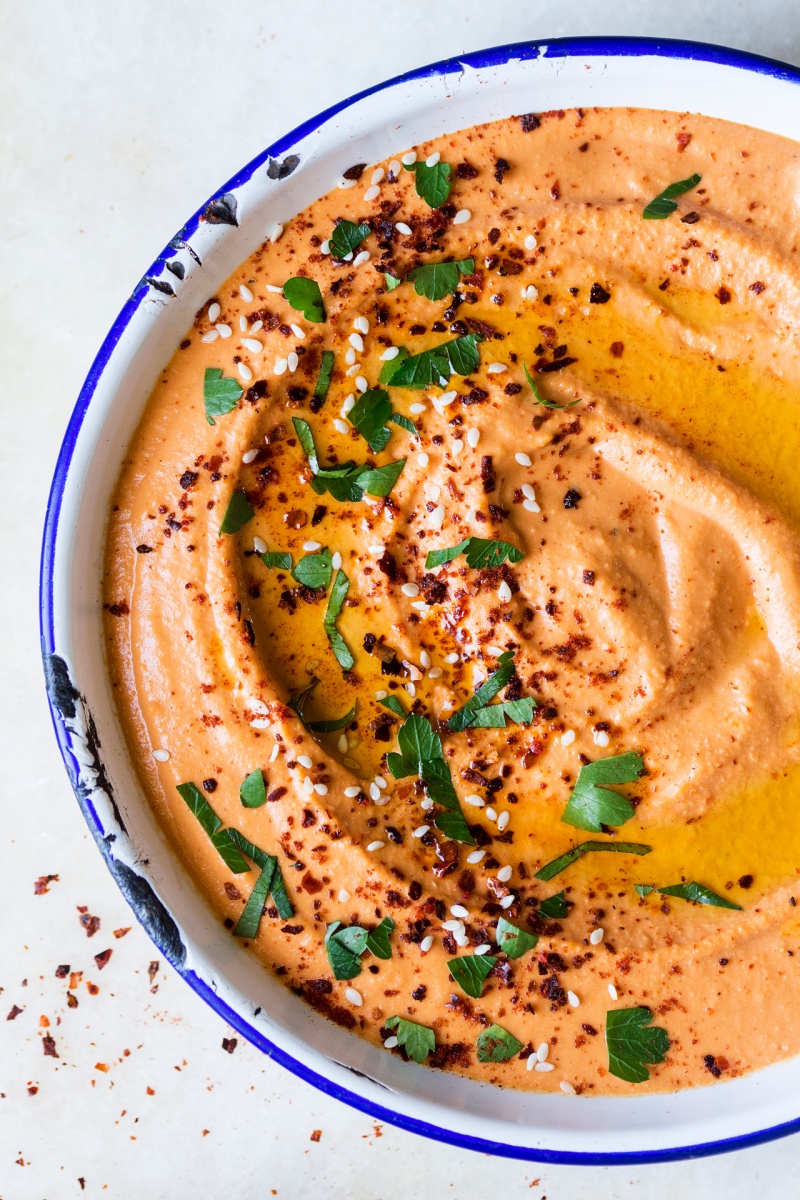 Today's recipe is a twist on my lunch staple, the mighty hummus. The flavour was inspired by my neighbour, Suzie, whom I promised a big ass chocolate cake in return for feeding my cats while we were away in Athens a few weeks ago. I nearly got a heart attack when this pretty far gone chocoholic, who would normally devour half of my cake while standing in my doorway, refused my offer. She said she didn't want cake. She wanted hummus instead. What the what??
She requested a red pepper hummus, which I jazzed up a bit with some smokey paprika and a pinch of chilli and the girl was in heaven. Apparently even her partner who despises hummus and thinks of it as this bland hippie food, was into it! Hell yeah! 😉
As I live in Greece where fire-roasted Romano peppers are a local staple, I went for the easy option and simply used a couple of those ready-roasted red beauties to give my hummus a blush of colour and a delicious red pepper taste, but if you aren't as lucky and would rather make your own peppers, it is dead simple. I explain it in detail under this recipe for Muhammara and, while you're there, do yourself a favour and make some extra peppers for this amazing Syrian walnut and red pepper dip. It's delish!!
For those of you who are watching your fat intake, I always make my hummus without any olive oil (here is a video showing you how to make it in a very average blender).
I do, however, choose to top my hummus with a few teaspoons of chilli (or regular extra virgin olive oil) oil as it tastes good and looks good and part of my job is to make vegan food look delicious! If you are an oil-foe, skip the chilli oil topping. You can always use a tomato-based sauce instead, or cooked chickpeas, chilli flakes and herbs.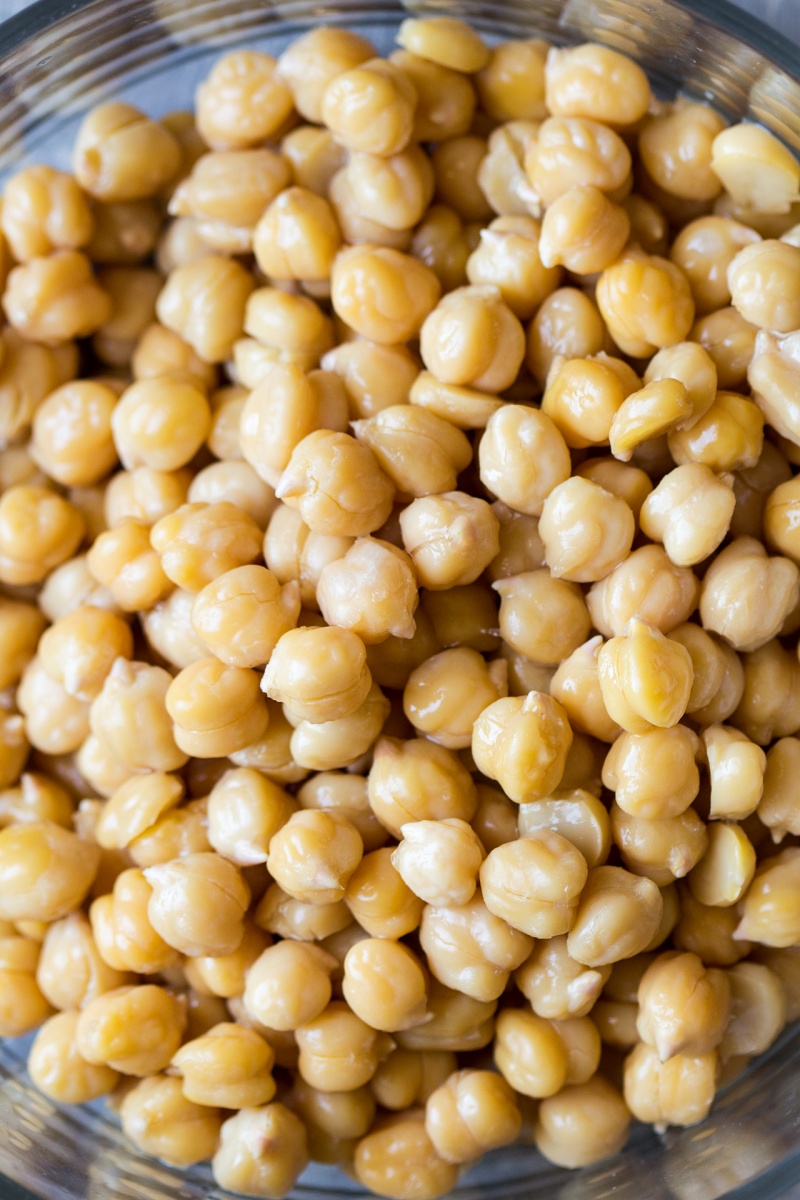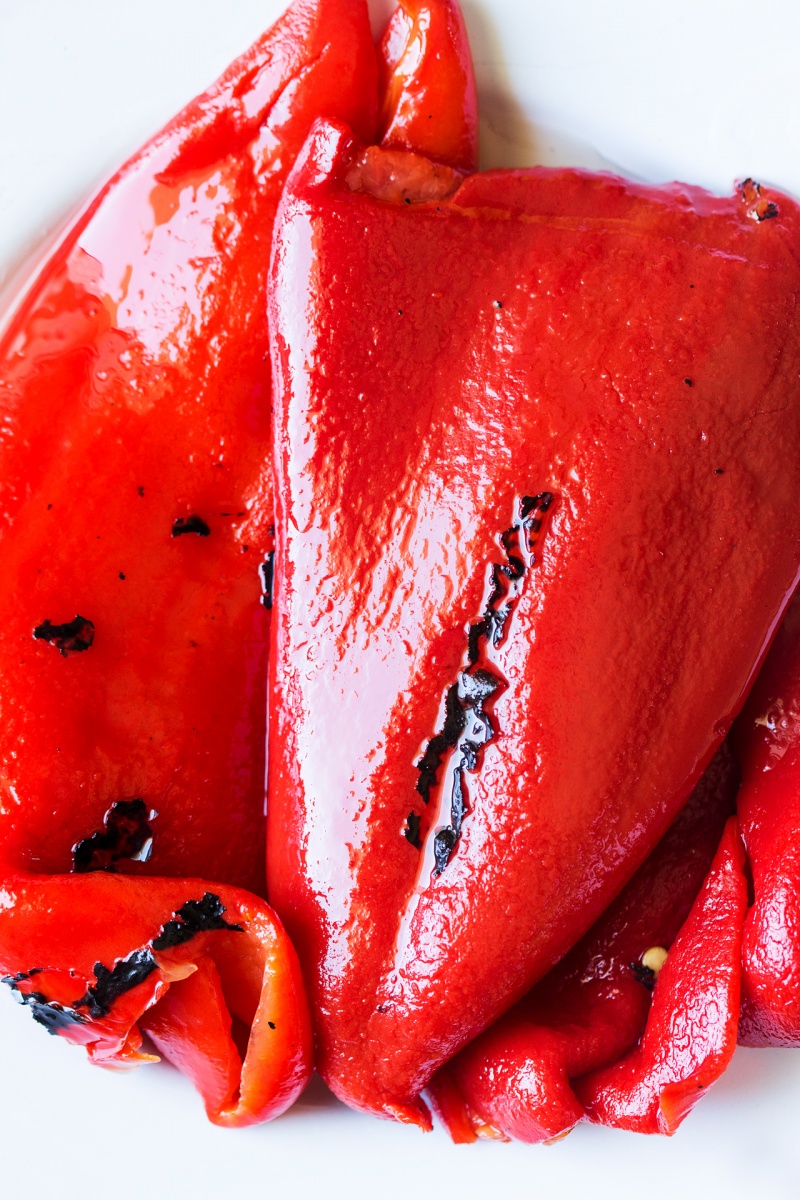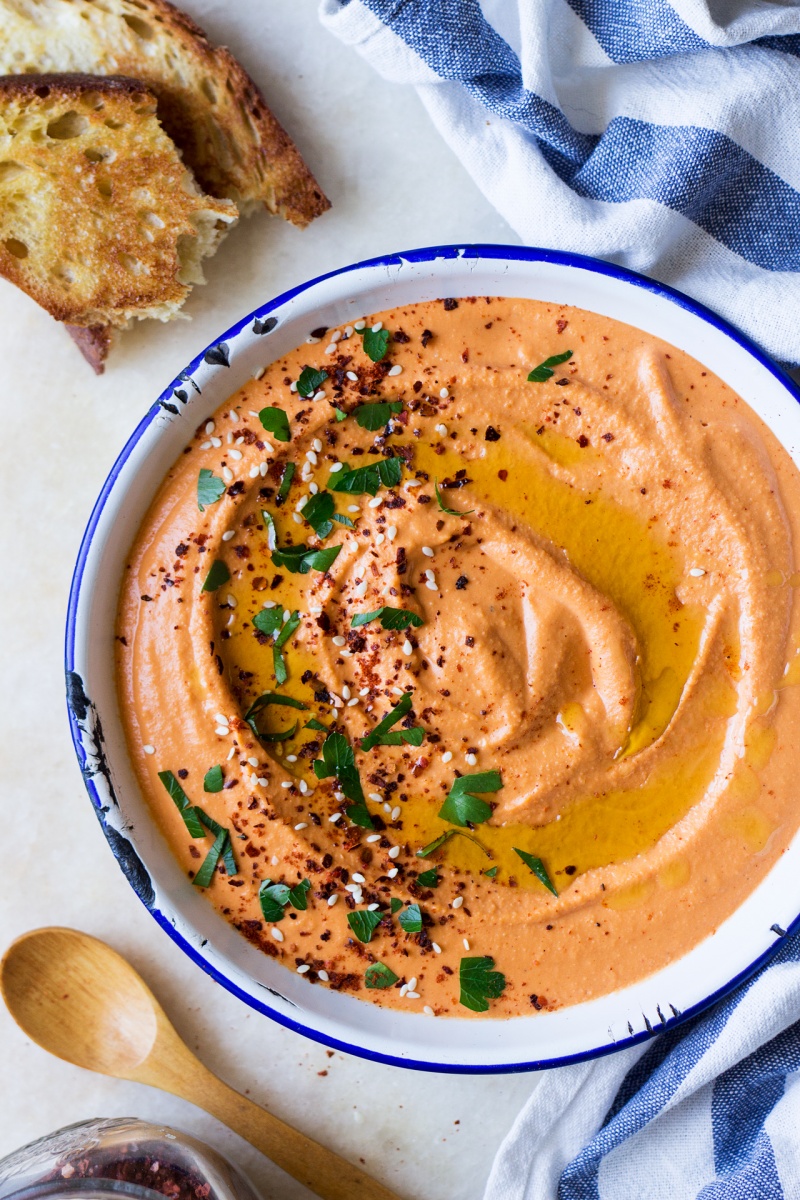 RED PEPPER HUMMUS
¾ cup / 180 ml of fridge-cold aquafaba / chickpea water
250 g / a little over 1¼ cup of dry chickpeas (3 cups cooked), soaked overnight
1/3 cup tahini, hulled
200 g fire-roasted red peppers (about 2 peppers)
3 tbsp lemon juice
½-¾ tsp salt
1 slightly heaped tsp smoked sweet paprika
½ tsp hot chilli powder or Sambal Oelek
1-2 garlic cloves, pressed
TOPPINGS (OPTIONAL)
mild pul biber (Turkish red pepper flakes)
sesame seeds
fresh parsley or coriander, chopped
drizzle of olive oil (optional)
METHOD
Rinse your chickpeas after an overnight soak and put them into a large pot with plenty of fresh water. Bring them to the boil and simmer for about 75 minutes, until very tender and almost falling apart.
Once cooked, fish the chickpeas out of the pot with a slotted spoon and rinse them under a stream of cold water to help loosen the skin. Let the chickpea cooking water cool down completely (it's best to refrigerate it for a few hours prior to using if you don't need to make hummus straight away).
OPTIONAL STEP: Now, it's time to peel the chickpeas – you can skip this step at your own peril. It is worth it though as it only took me 20 minutes to peel them and you get a much smoother hummus if you get rid of the skin. To peel them, simply rub them between your hands and then slip the skin off gently with your fingers. Once peeled, let the chickpeas cool down completely.
Use an upright blender. In my experience, it will give your hummus a smoother texture than a food processor. Divide your chickpeas into two batches. Put ½ cup of fridge-cold liquid (water or aquafaba) into the blender, half of your chickpeas, roasted red peppers, tahini and lemon juice. Put the lid on and start trickling cold liquid in slowly while the mixture is blending. Once your first batch is smooth and a little on the runny side, add in the remaining chickpeas and blend them in, trickling in more liquid as needed. In order to help the motor work the thick mixture, make small circles with the tip of your spatula (in the direction of the turning blades) on the surface of the revolving mixture (do not dip the spatula deeper than literally a few millimetres or else you will damage the blades). This will help to burst an air pocket under the surface and helps the motor to turn.
Season with salt, garlic, paprika, chilli and blend again until smooth and well seasoned throughout.
Serve with a drizzle of chilli oil (if using), toasted bread or pita bread, olives, pickles and anything that takes your fancy. Store in an airtight container in the fridge, it keeps for about 3-4 days.
DON'T MISS A SINGLE RECIPE
Join our mailing list and we we will let you know when we publish a new recipe. You'll receive our DELIGHTFUL DESSERTS E-BOOK as a thank you for supporting us.