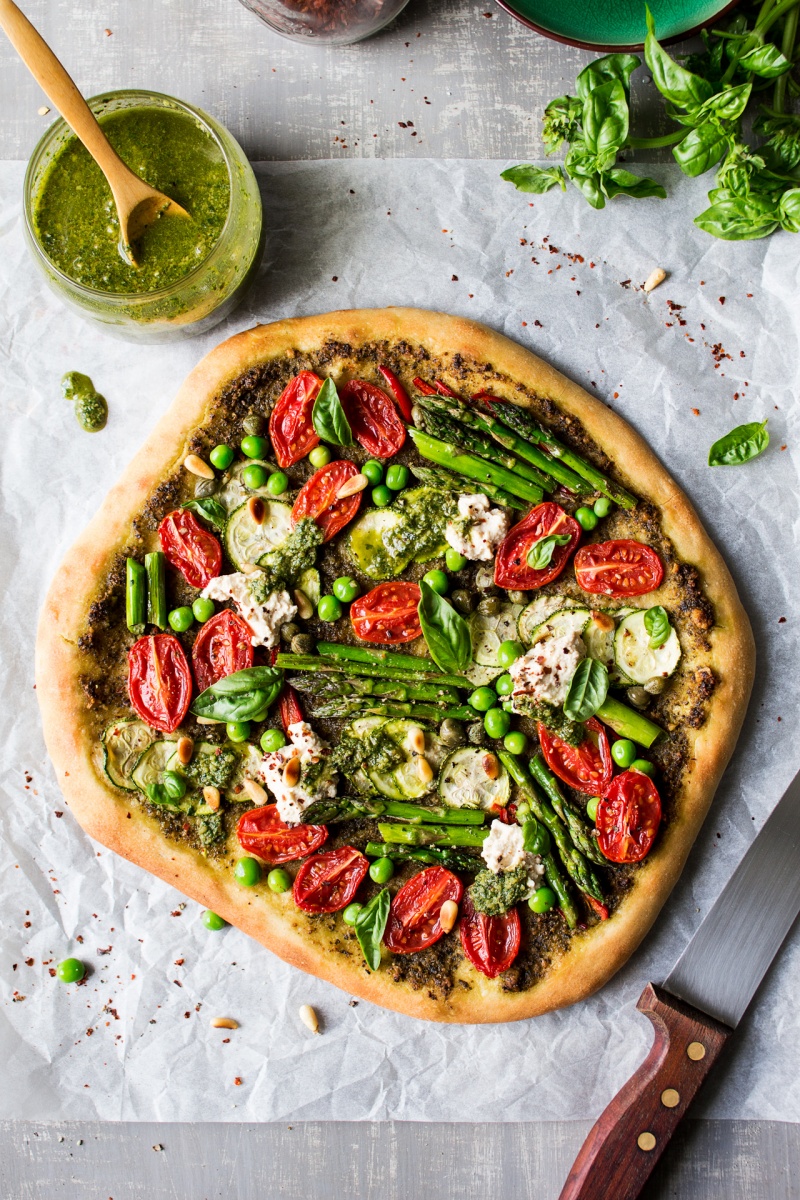 We don't make pizza at home very often as we are lucky to have a very good pizzeria not too far away. In summer, another amazing pizza place with heaps of vegan pizzas opens even closer to us, so going out for pizza is something we tend to do to relax, to get away from cooking and enjoy properly made pizza made by someone who makes pizza for a living…
Sometimes though, it is nice to mess around with pizza toppings and tailor them to your particular tastes without breaking the bank. As spring is very much in the air, I've decided to come up with a season-appropriate (sorry, Aussies!) spring cheeseless pizza. It's loaded with my favourite spring veggies: baby courgettes, asparagus, green peas, sweet Romano peppers and cherry toms, flavoured with fresh basil pesto, capers, chilli flakes and finally a small amount of tangy ricotta (not an actual cheese as it's made of cashews 😉 ), which I had leftover from another dish.
After a lot of taste tasting (tough job but someone's gotta do it!), I pronounce the flavour combo to be a winner so I hope you try it next time you're making pizza at home.
When I just went vegan, going out for pizza was when having given up cheese stung the most. Cheeseless pizza seemed really unexciting to me then, but now, almost 3 years down the line, I prefer cheeseless pizzas so much more, provided they are prepared with a bit of flair and imagination, of course! Having cheesy pizza seemed fun at the time but tended to leave my stomach feeling heavy and a bit uncomfortable. Vegan pizzas are light and fresh by comparison. If I set my mind to it, I can devour a whole pizza and there is usually a bit of room left for a scoop of vegan gelato too.
To my mind, the key to creating a good vegan pizza is to marry up contrasting flavours (like sweet cherry toms, tangy and salty capers and spicy chilli flakes) and textures (creamy vegan ricotta and some crunchy asparagus and pine nuts) together and let them sing off each other.
Also, perhaps the obvious, but often neglected, art of making the dish look appetising is also worth spending some time on as we do eat with our eyes after all, don't we?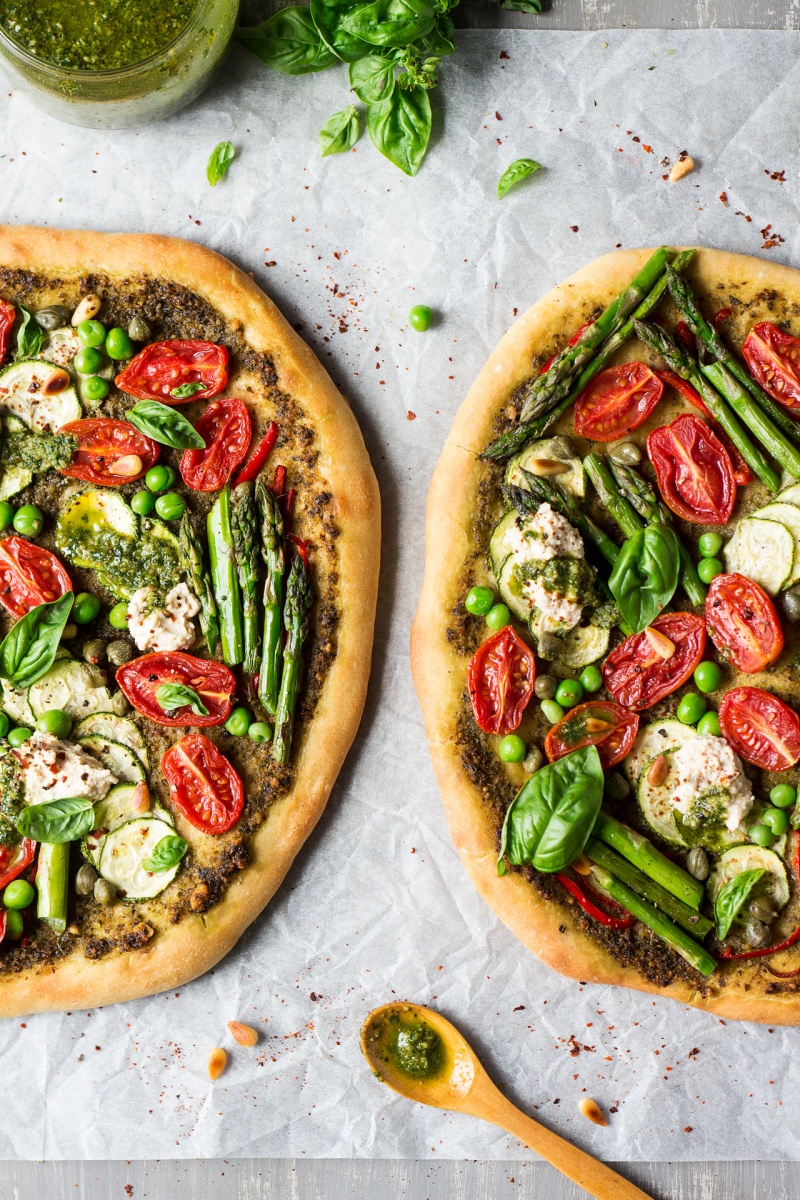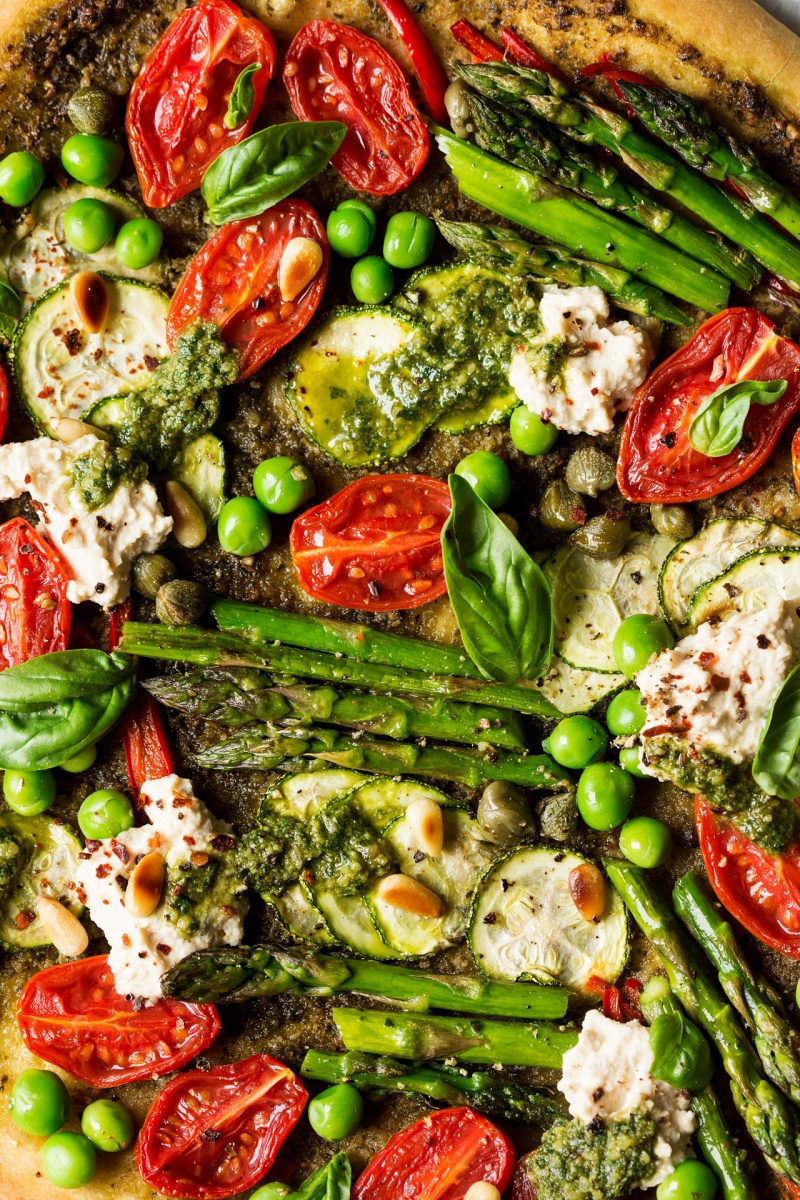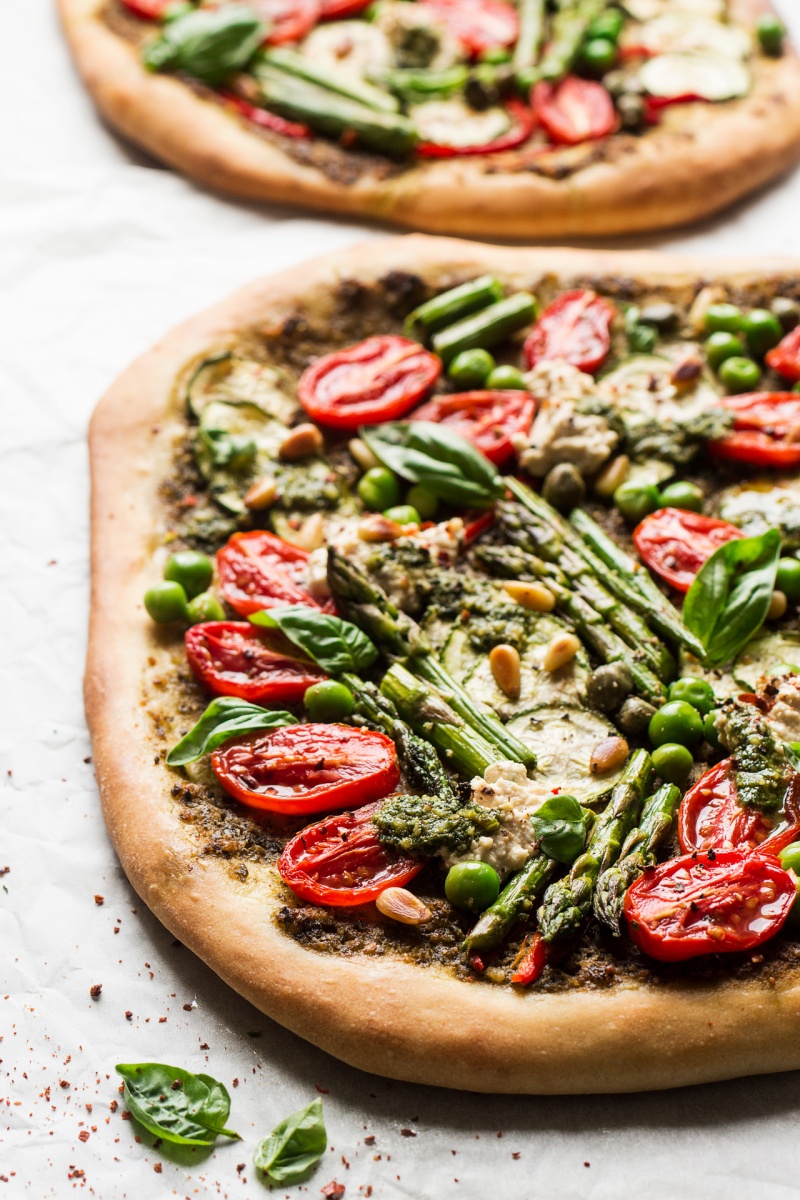 PIZZA DOUGH
250 g / 2 cups strong / bread flour
250 g / 2 cups all-purpose flour
10 g / 1½ tsp salt
7 g sachet fast-action dried yeast
320 ml / 1 1/3 cups water (lukewarm)
1 tbsp olive oil
PESTO (makes enough for 8-10 pizzas)
¼ cup walnuts
60 g / 2 oz basil leaves
1-2 garlic cloves, pressed
about 120 – 180 ml / ½-¾ cup extra virgin olive oil
2 tbsp lemon juice
2 tbsp nutritional yeast (optional)
a few pinches of salt, adjust to taste
pepper, adjust to taste
TOPPINGS
small bunch of asparagus
¼ cup green peas, frozen or fresh
1-2 tbsp pine nuts, raw
2 small courgettes, sliced thinly on a mandolin
1 sweet Romano pepper, sliced thinly
20 cherry tomatoes, halved
1-2 tbsp capers
a few dollops of vegan ricotta (optional)
½-1 tsp pul biber (chilli flakes)
salt & pepper
METHOD
DOUGH
Mix the flour, salt and yeast in a large mixing bowl.
Pour in the lukewarm water and olive oil. Stir everything together with a large wooden spoon.
When the mixture has mostly stuck together turn the mixture out on to a work surface or bread board.
Knead the mixture by holding one end of the dough in one hand and stretching it out with the other hand (see photo below). Reform the dough, turn it 90 degrees and start again. Repeat this for 10 minutes .

When the dough is shiny and smooth, put it in a large mixing bowl, coat it in a thin layer of olive oil and cover the bowl with a tea towel.
Leave this in a warm place (but not too warm – ie not next to an open fire!) for between one and two hours (until it has doubled in size). You can use this time to make the pesto.
PESTO
Toast the walnuts for the pesto in a dry pan on a low heat. Stir them very frequently as they burn easily.
Place washed and dried basil leaves in a food processor or herb chopper and process until roughly shredded. You could also make pesto in a pestle and mortar but it requires a fair amount of elbow grease.
Add toasted nuts and process some more.
Drizzle olive oil until the pesto reaches a nice consistency.
Season with garlic, salt, pepper, nutritional yeast (if using) and a dash of lemon juice.
ASSEMBLY
In order to preserve its vibrant colour, I grilled asparagus on a lightly oiled griddle pan and placed it on the pizzas after they came out of the oven, but you could also put raw asparagus spears on the pizza itself. If that's what you prefer, cut thin spears in half and thicker ones into quarters lengthwise, or peel into ribbons to ensure they definitely cook through. Toss in a little bit of olive oil and set aside.
Cook peas for 2-3 minutes in boiling (unsalted) water and plunge them into an ice-bath to preserve their colour. Set aside.
Set the oven to 250° C / 480° F. Empty the dough out on to a work surface and push the air out with your fingertips.
Roll out 2 small pizzas from half of the dough on two well-oiled baking trays. We used a small roller to roll the pizzas out, but you can also simply push the dough out with your hands – just make sure to oil them lightly.
Spread a layer of pesto on each pizza leaving a small border around it. Arrange the tomato halves, courgette slices, Romano pepper slices and pine nuts on top – leave a few gaps for asparagus (if grilling it separately) and peas.
Bake each pizza in the hot oven for about 8-10 mins. Proceed in the same way with the remaining dough. I tend to roll out the 3rd pizza as soon as the first one comes out of the oven and 4th one as the 2nd one is ready.
Once out of the oven, decorate the pizzas with grilled asparagus spears, green peas, capers and a few dollops of ricotta (if using). Season with salt, pepper, chilli flakes and an additional drizzle of pesto.