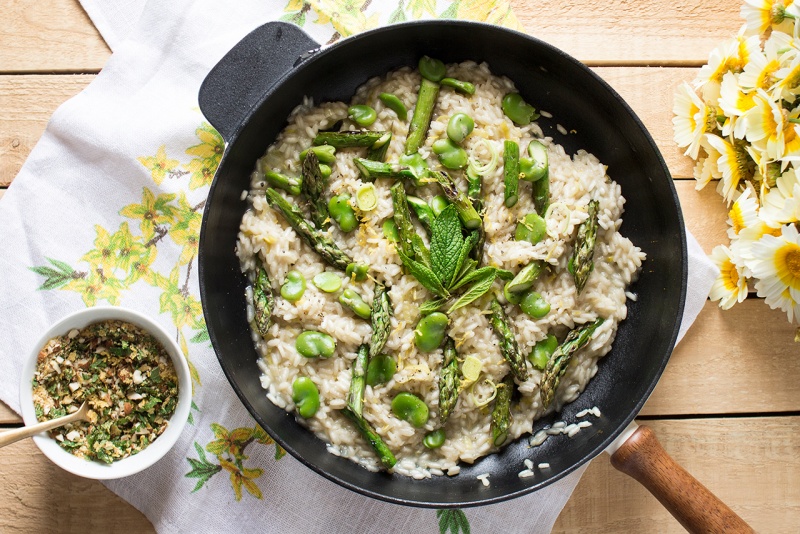 Not sure about you guys, but here in Greece the spring has finally sprung. It's a bit late for here and the evenings are still on the cold side, but the days of furious storms and unrelenting winds are finely gone. Thank God! (or whoever is in charge of weather patterns)…This grand occasion calls for a special seasonal meal out on a terrace. And what can be more seasonal than a creamy vegan risotto packed with vibrant green vegetables: asparagus, broad beans and leeks? I know what you're thinking – isn't risotto normally spiked with heavy cream (or at the very least butter) and generously sprinkled with Parmesan cheese? It may well be, but it doesn't have to be at all. This one is just as tasty and it is guaranteed NOT to give you a heart attack, which is always a bonus.
The key to a nice vegan risotto is using the right rice and a bit of patience, as our resident risotto master – Duncan – will tell you. You need to make sure that you give the risotto rice a couple of minutes in the pan with the garlic and onion before adding in the liquids. It is also important to add the stock in slowly and watch for when the rice is showing the signs of drying out to top it up with more. That's all there is to it, really. An easy gremolata topping helps this dish come to life. It's fragrant and zesty and does more than a good job of replacing more commonly used Parmesan cheese so you won't feel deprived.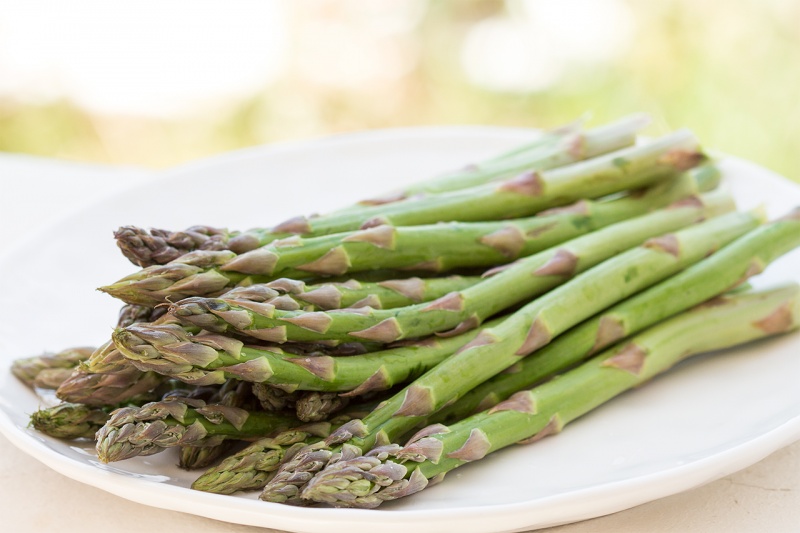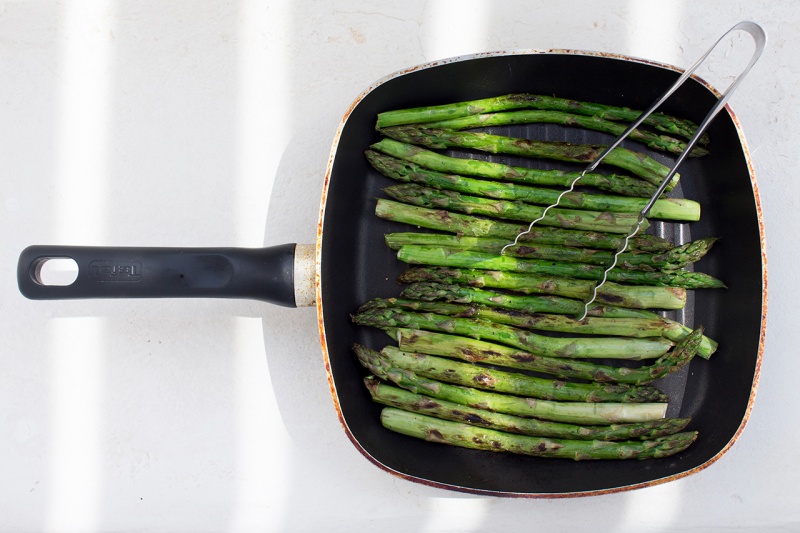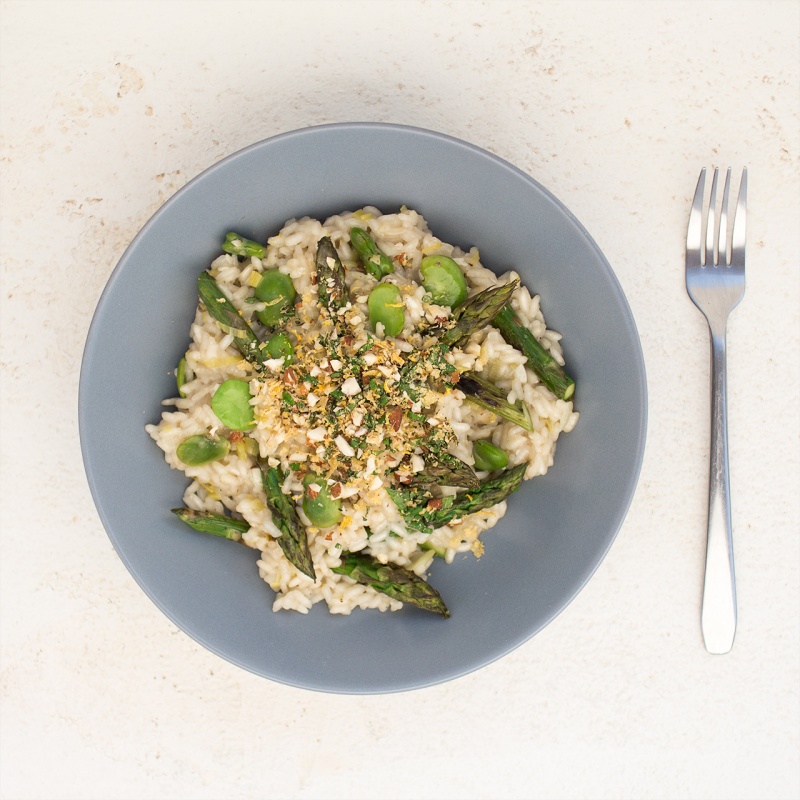 RISOTTO
3 tbsp olive oil
1 medium onion, finely chopped
2 cloves garlic, finely chopped
15 cm leek (green part), sliced thinly
750 ml hot vegetable stock
300 g risotto rice (I used Arborio)
175 ml glass dry white wine
500 g asparagus
200 g podded broad beans*
salt
pepper
GREMOLATA
20 almonds
10 mint leaves
zest of 1 small lemon
2 tbsp lemon juice
1 heaped tbsp of nutritional yeast** (optional)
a pinch of salt
a small pinch of pepper
METHOD
Wash asparagus and snap the wooden ends off (or cut them off with a knife). Coat asparagus in 1 tbsp of olive oil. Season with salt and pepper. Set aside.
Put a small pot of water to boil. Cook broad beans in the boiling water for about 5 minutes – until they are soft in the centre. While the beans are cooking, prepare a bowl of cold water and a few ice cubes. As soon as the beans are cooked, drain them and plunge them into the icy water – this will stop the discolouration process. Shell them and set aside.
Chop almonds and mint leaves very finely. Mix them both in with lemon zest, nutritional yeast (if using), salt, pepper and lemon juice. Set aside.
Heat up 2 tbsp of oil in a heavy bottom pan. Fry the onion until translucent, stirring frequently. Add in the garlic and leek and fry for another minute or two.
Add risotto rice and coat it in the aromatics, stirring often to make sure it doesn't burn. Keep on frying the rice until it turns slightly translucent – this should take around 1-2 minutes.
Pour all the wine in at once. Cook the rice in the wine for a few minutes until the rice has absorbed all of it. Don't forget to stir frequently.
Add a generous pinch of salt. Start adding hot stock, little by little. Make sure you only add the bare minimum of stock at one time – i.e. the rice isn't supposed to swim in the stock, the stock should simply make sure the rice doesn't dry out. Stir the risotto regularly, but refrain from stirring all the time as it will lower the temperature and aerate the rice.
While topping up the risotto, heat up a griddle pan (or a regular pan). Griddle previously prepped asparagus on a hot griddle pan until nicely charred, turning a few times. Chop into 2-3 cm pieces and set aside.
Continue adding the stock until you've used it all up. This usually takes between 15 and 20 minutes. Cooked rice should still retain a bit of a bite. Season your risotto and add in the cooked vegetables. Put the lid on the pan and let it stand for 1 minute. Serve with the gremolata sprinkled on top.
NOTES
* If you have trouble getting broad beans, feel feel to substitute them for green peas.
** Nutritional yeast is by no means necessary. It adds a slightly cheesy flavour to the topping so if you have it add it in and if you don't, skip. It is important, however, not to confuse it with baking yeast as making this mistake will result in a nasty tasting gremolata.