Spring salad with caper dressing
Spring salad with caper dressing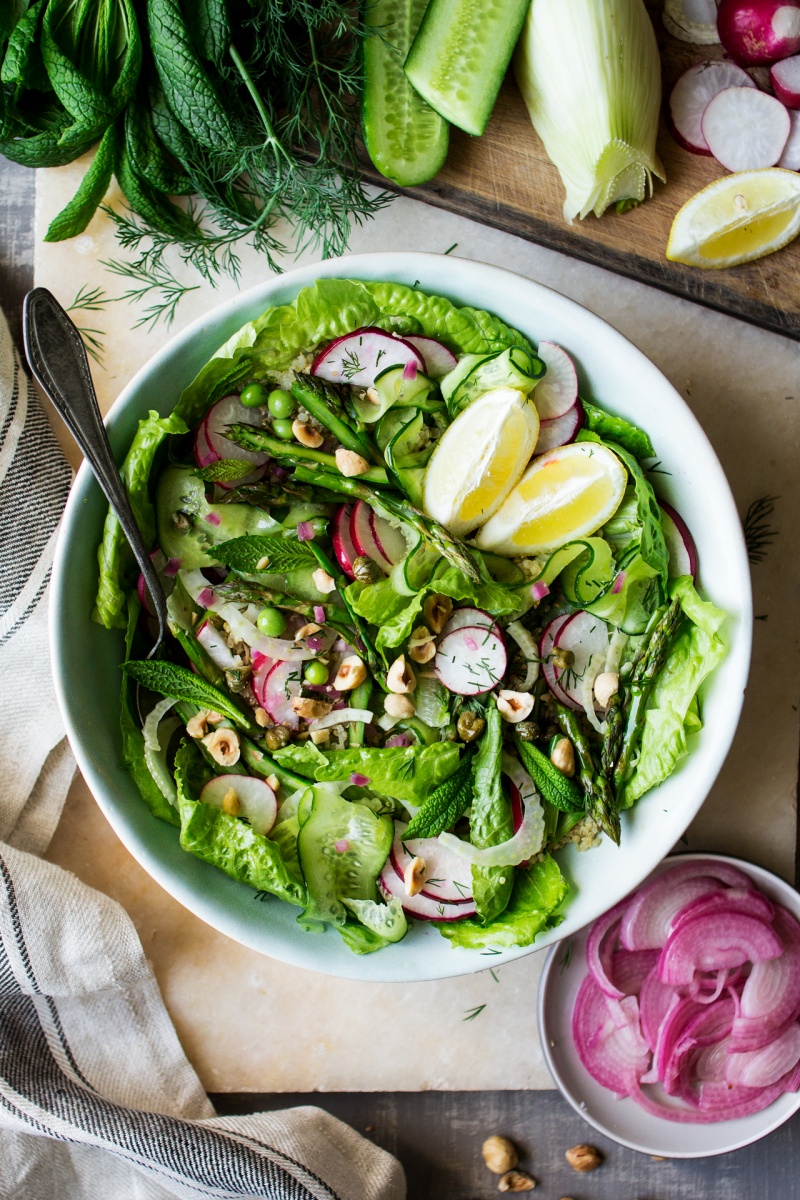 Spring is in the air, finally! When I'm taking photos now, part of me wishes I could be outside enjoying the sunshine, swaying in my hammock and watching my cat get up to no good prowling in the garden.
That's a stark contrast to how, only recently, I kept my window closed for most of my shoot, how i had a pot of fresh ginger tea going the whole time and walked around the house wrapped up in my biggest jumper still feeling cold. My forever freezing fingers and toes are super thrilled that things are finally looking up in the weather department.
The veg shop is full of exciting spring produce and I wanna get it all! It's not until I get home and unpack my shopping bags that I realise that because of all my impulse buying we have enough supplies for an army of vegans and now I am stressing how I am going to use it all up before it wilts or rots. What can I say…My eyes are really bigger than my stomach so to speak…! (I caught Duncan nodding to himself when proofreading this).
Today's recipe is a result of one of these overzealous veg shop trips. It's a spring-inspired salad loaded with almost every spring vegetable I could find and a super simple (yet effective) lemon and caper dressing. I am known to be the salad police in my house as, in my view, no meal is complete without a big bowl of fresh and crunchy salad.
Duncan rolls his eyes a lot as I tend to make the salad as well as a million other things and, as a detail-oriented kind of person, I hardly ever take a step back and think 'Hang on, it's just two of us! (plus a cat, who frankly despises our dietary choices). Who is going to eat all that?'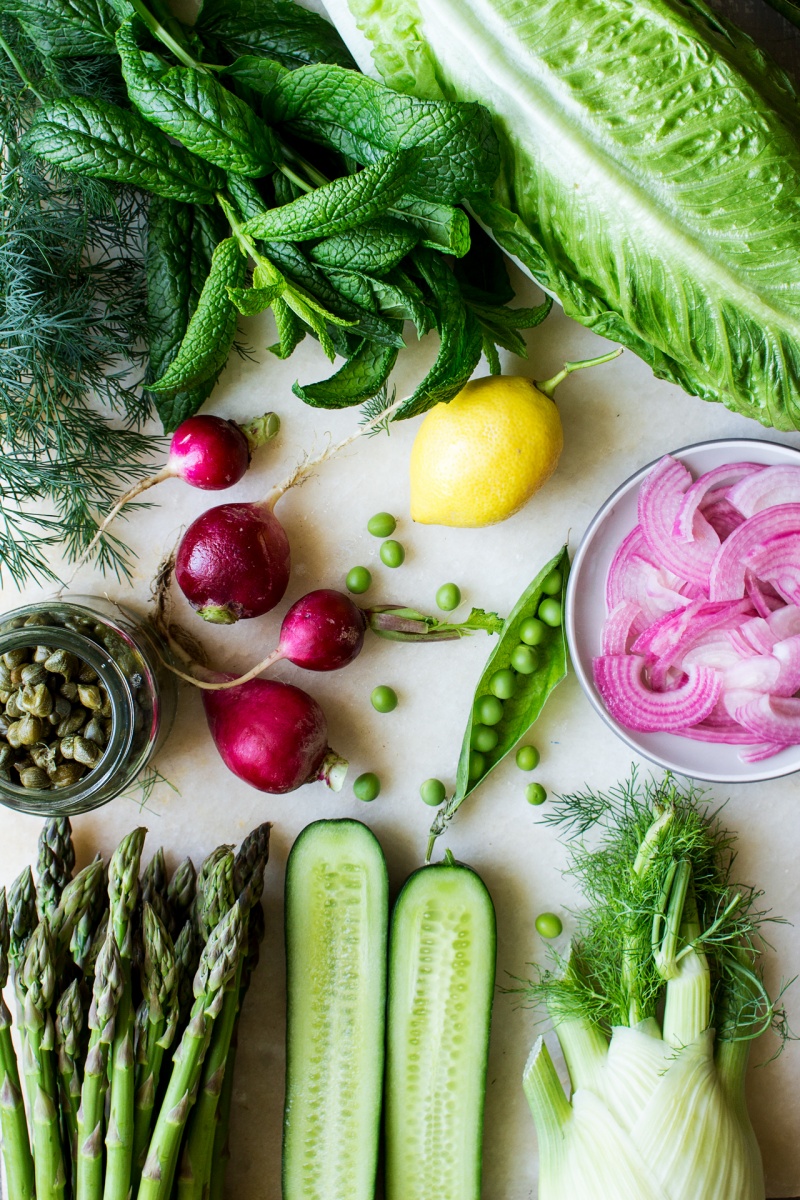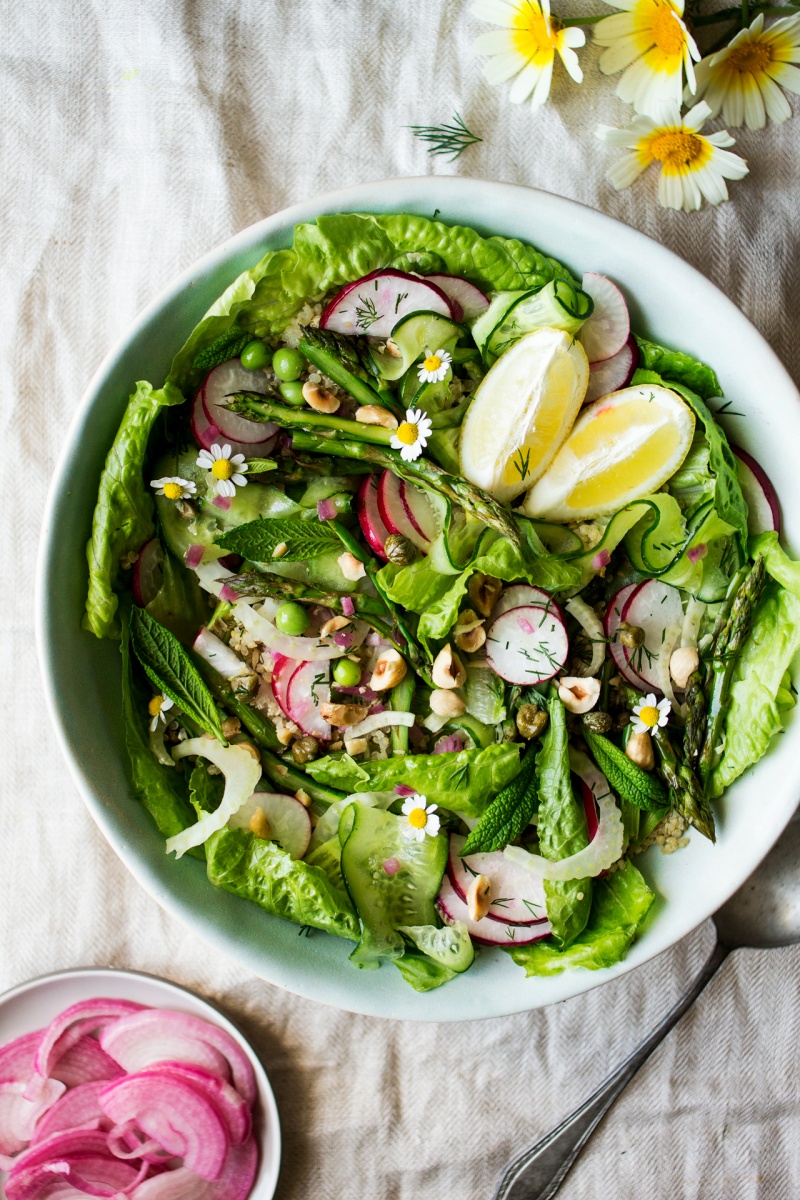 CAPER AND LEMON DRESSING
30 ml / 2 tbsp extra virgin olive oil
30 ml / 2 tbsp lemon juice
2 tbsp capers, chopped finely
freshly ground black pepper, to taste
½ tsp sambal oelek (chilli paste)
SALAD
12 tender asparagus spears
10 Romaine lettuce leaves, roughly torn
1 Lebanese cucumber, cut into ribbons with a speed peeler
6 sugar snap peas
10 radishes, sliced
½ fennel, sliced thinly on a mandolin
a few slices of quick-pickled onion or 1 fresh spring onion, sliced finely
a stalk of fresh dill, chopped finely
a handful of fresh mint leaves, chopped finely
1 cup cooked quinoa (optional)
2 tbsp roasted hazelnuts, chopped
METHOD
Prepare a dressing by mixing 2 tbsp of extra virgin olive oil with lemon juice and chopped capers. Season with black pepper and chilli paste. Taste before adding any salt as, in my experience, due to capers being quite salty, there is usually no extra salt necessary. Set aside until you are ready to dress your salad.
Heat up a heavy-bottomed pan or a griddle pan on a medium-high heat. Brush it with a little bit of oil and throw the asparagus on. Grill it for 2-3 minutes (until tender but still crunchy) moving it about the pan from time to time. Season with salt and pepper. If your asparagus is super fresh and young and you would rather consume it raw, shave it into ribbons using a speed peeler and it add it directly to the salad.
Toss all the salad ingredients together. Add cooked quinoa (or steamed new potatoes would work too) if you want to bulk the salad up a bit, but that's completely optional. Dress just before serving and decorate with extra mint and roasted hazelnuts.
DON'T MISS A SINGLE RECIPE
Join our mailing list and we we will let you know when we publish a new recipe. You'll receive our DELIGHTFUL DESSERTS E-BOOK as a thank you for supporting us.