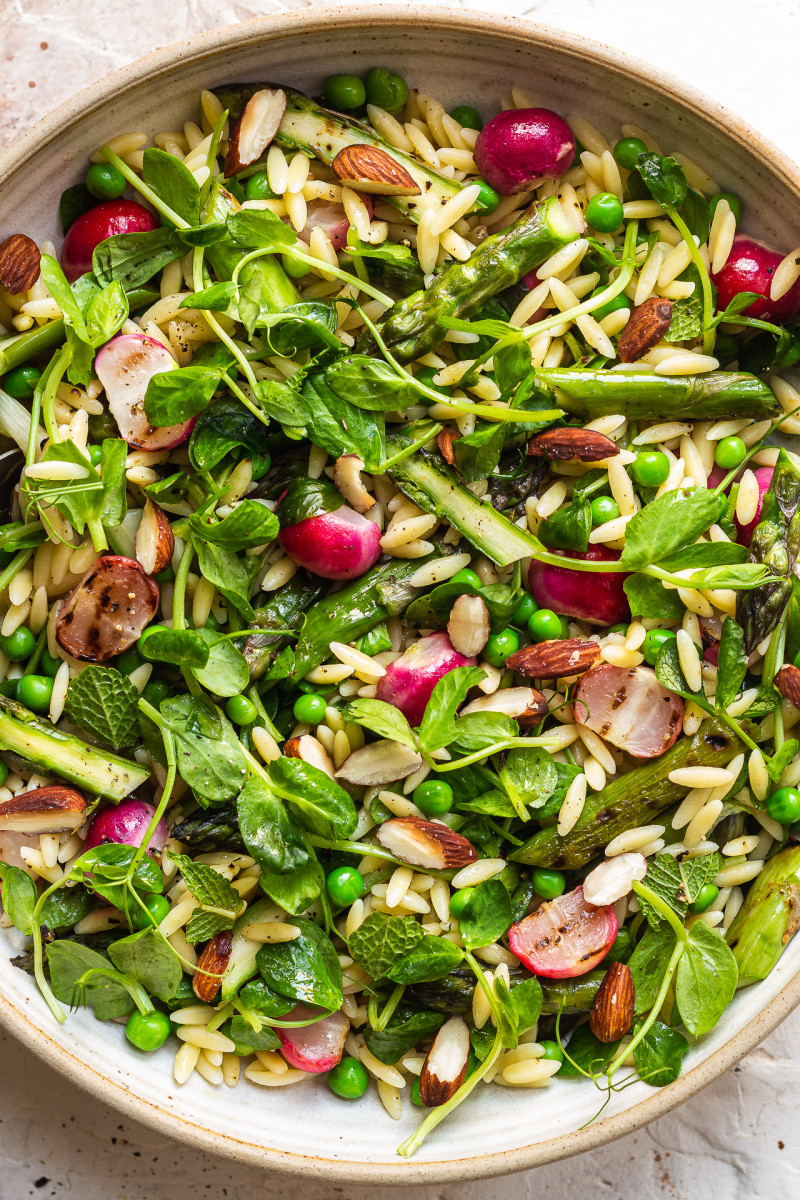 The past few days, it's felt like spring is only just round the corner. It's still quite cold, but the sun has been out much more often, trees are covered in blossom and butterflies are going crazy on our unkempt garden. I am craving lighter meals full of spring produce and I hope so do you cos my today's recipe is exactly that.
It's a Spring inspired pasta salad loaded with vibrant green peas, crispy pea shoots, asparagus, radishes, herbs and roasted almonds brought together by a zippy charred spring onion and lemon dressing. It's quite simple and quick to put together – many of the tasks can happen concurrently (for example, you can grill your vegetables while simmering your pasta) so it doesn't take long to come together at all. Individual components can be made in advance and mixed together on the day. Here is more about the ingredients I chose, why and what they can be replaced with.
MORE ABOUT THE INGREDIENTS
PEA SHOOTS: They are what the name suggests, young leaves and stems from a variety of pea plants, including snow peas, sugar snaps, and English peas. As you might have guessed already – they are good for you, packed with vitamin A and C, folic acid and antioxidants. They are beautifully crispy – I plunge them in ice cold water before adding to the salad to retain their crispness – and have a mild pea flavour. They are widely available in the UK supermarkets at this time of the year. If you cannot get them, swap them out for baby spinach or mild rocket.
ORZO (PASTA): This small pasta shape does best in salads and soups and is perfect in this salad, but there are many other pasta shapes that would do just as well so if you cannot get it, go for another small shaped pasta like orecchiette or macaroni. If you want to make this salad gluten-free, use a gluten-free pasta you like – there are lots of wheat free pastas (made with chickpeas, rice, yellow split peas to name just a few) that are pretty convincing, especially in a salad when there are so many other textures and flavours going on. You could also use quinoa or brown rice.
ASPARAGUS: Asparagus is such a spring time treat that it was the first ingredient I thought of when creating this salad. UK grown asparagus has just started making an appearance in shops and as soon as I saw it I knew that there will be an asparagus recipe in the works :). My favourite way to eat asparagus is to grill it, which I what I did here, but if you don't have a griddle pan or are after another options, here are my suggestions. Instead of a griddle pan, you could use a heavy cast iron skillet instead. Alternatively, you could steam your asparagus above the pot with simmering pasta (5-7 minutes, depending on its thickness) or slice it really thinly and eat it raw!
RADISHES: Radishes are another classic spring vegetable in this part of the world. They are typically sliced and enjoyed raw (I love munching on whole ones, dipped in a little coarse salt), but I chose to keep them chunky and grill them for a little extra flavour. They are delicious grilled!
PETIT POIS: These are essentially baby peas, which are picked before peas reach full maturity. I personally prefer them to peas so that's what I used but both work just as well. I buy them in the freezer section and keep them in my freezer for salads, soups and dips.
ALMONDS: Pan fried and salted almonds make a great addition to this (or any) salad, but you could totally use dry toasted almonds instead, or another nut like hazelnut or roasted pumpkin seeds if you are allergic to nuts.
SPRING ONIONS/SCALLIONS: Inspired by a traditional French shallot dressing, I decided to make a dressing incorporating another spring vegetable, spring onions (or scallions as they are know in the US). To mellow out their flavour and add a touch of smokiness, I charred these babies on a hot griddle and blended them into the dressing for a little flavour lift. It works a charm and I'm obsessed.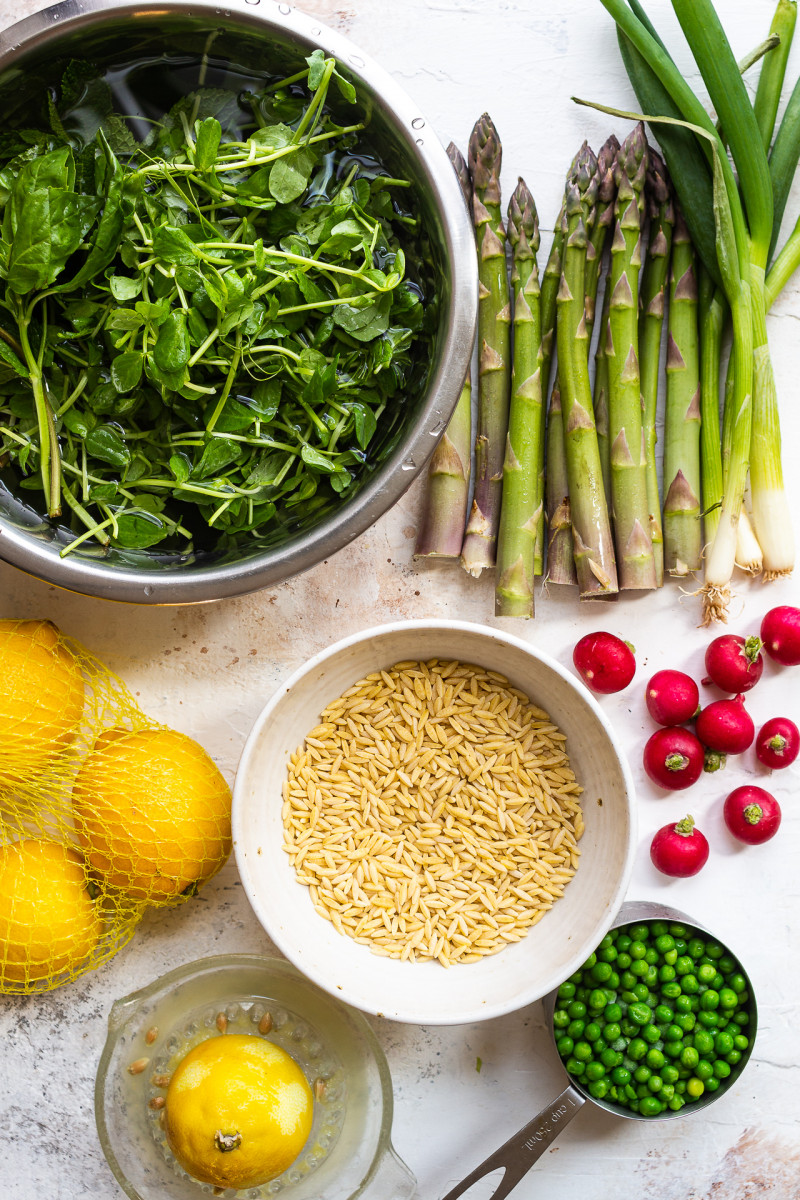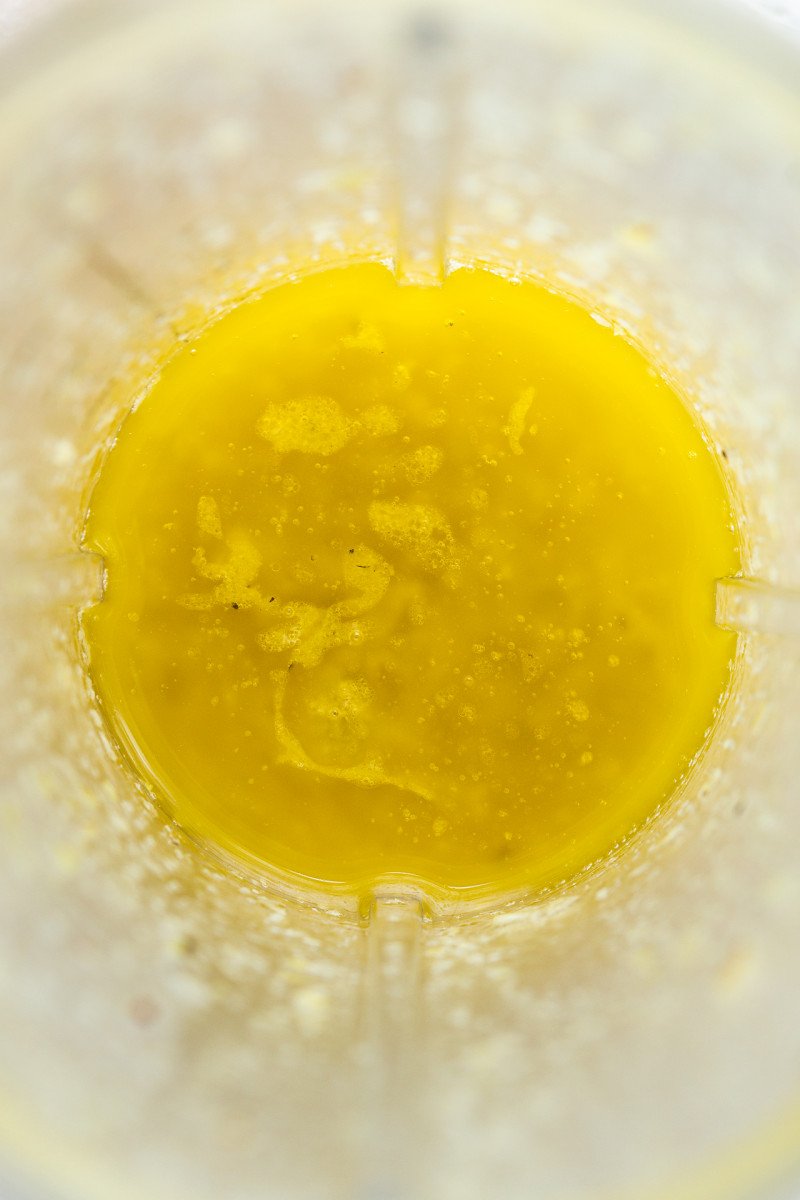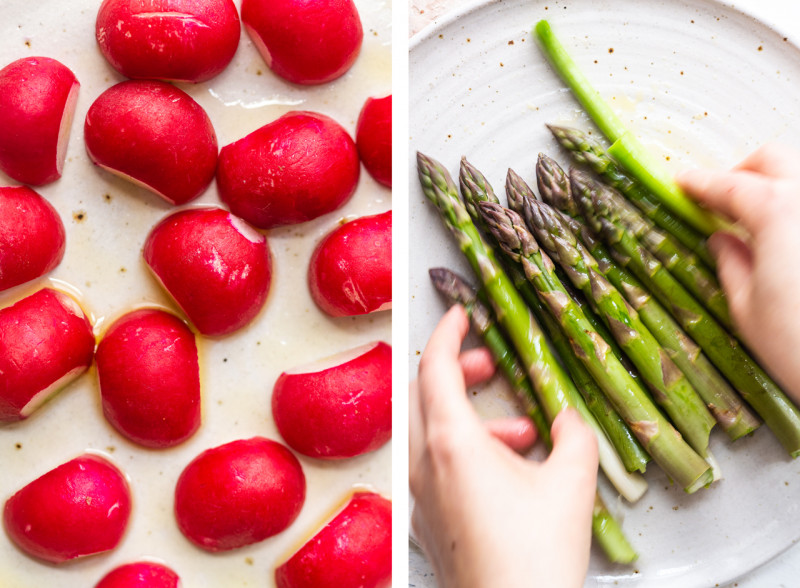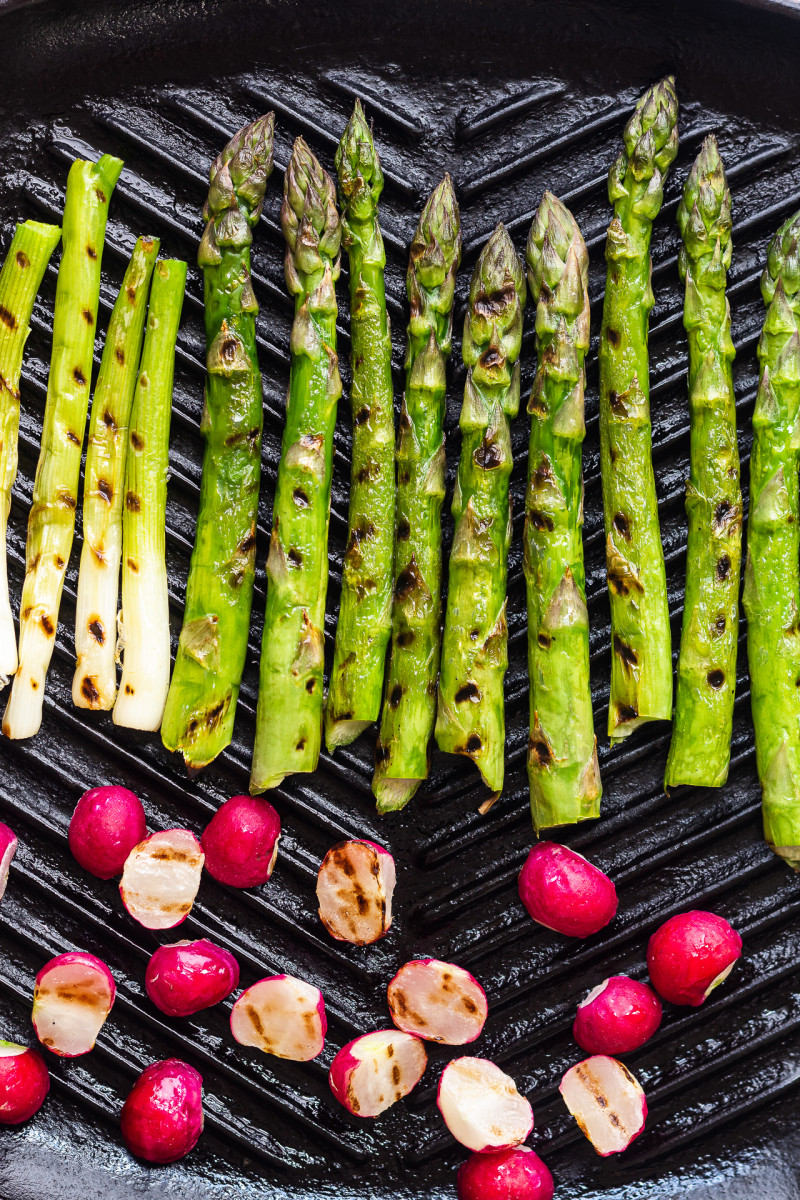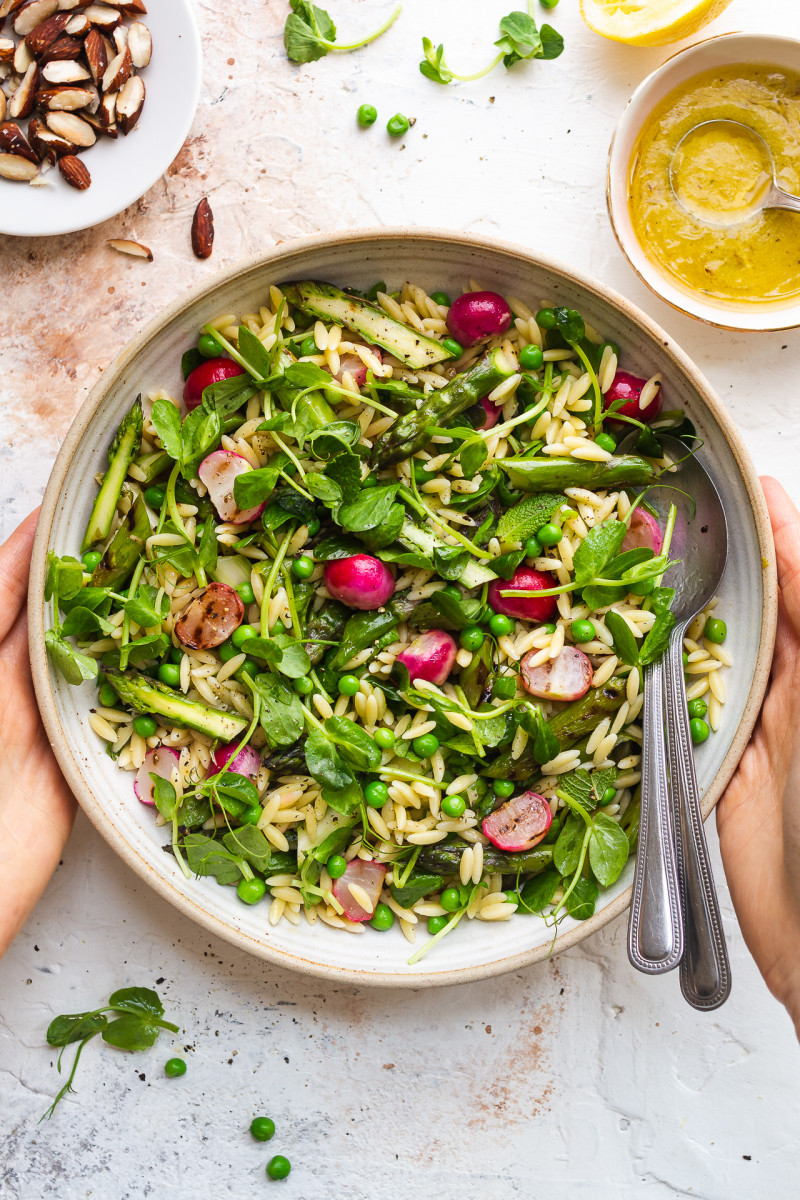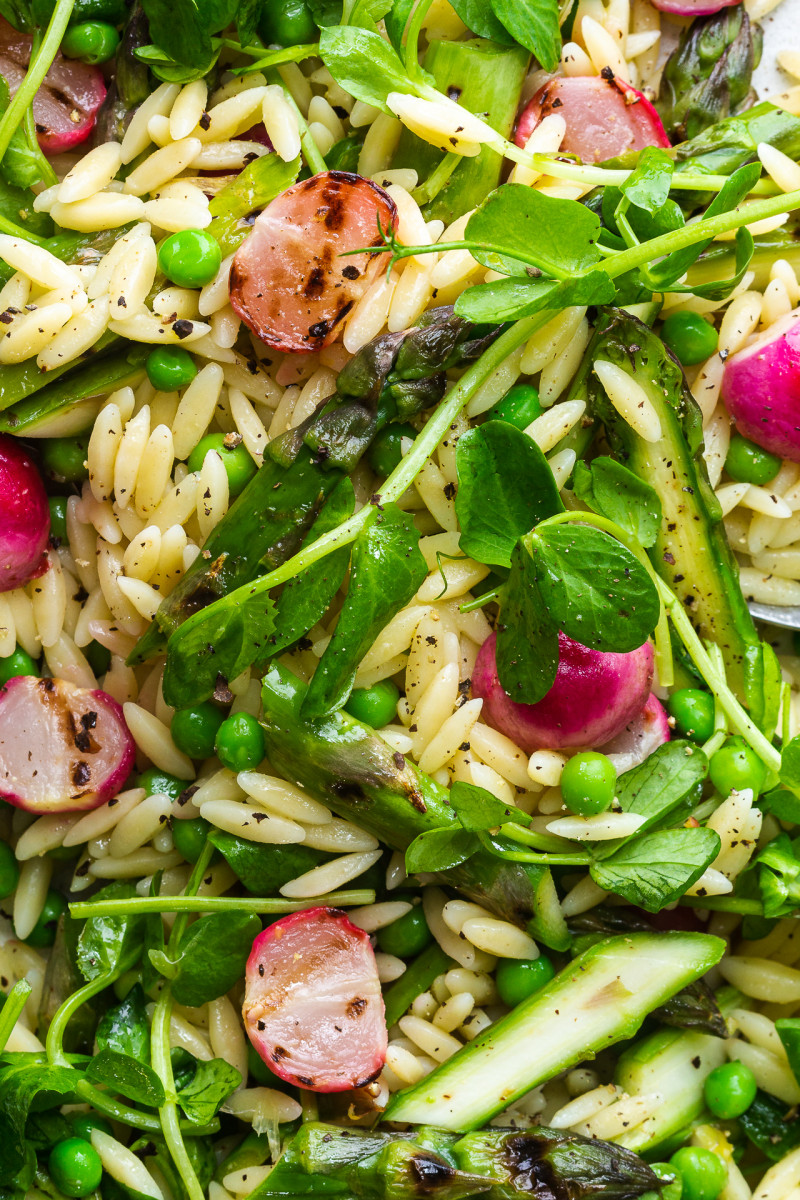 50 g / 1¾ oz pea shoots (or baby spinach)
200 g / 7 oz orzo* (GF pasta/quinoa for GF version)
200 g / 7 oz asparagus
15 radishes
130 g / 1 cup frozen petit pois (or peas)
70 g / ½ cup almonds
15 ml / 1 tbsp olive oil
a handful of mint or basil, chopped
DRESSING (makes double)
2 spring onions / scallions
60 ml / ¼ cup extra virgin olive oil
30-45 ml / 2-3 tbsp lemon, plus zest of 1 small lemon
1 tbsp nutritional yeast or 1 tsp white miso paste
15 ml / 1 tbsp maple syrup
½ garlic clove
salt and pepper, to taste
METHOD
Prepare two bowls of cold (ice cold ideally) water. Plunge your pea shoots in one of them – it will make them extra crispy.
Cook orzo in a pot of lightly salted water according to the instructions on the packet. Add frozen petit pois for the final 2-3 minutes (again, go by your packet instructions). Drain, dump into the cold water and drain after a few seconds. You could also steam your peas in steaming basket above the simmering pasta if you are unsure how long your pasta takes to cook to your liking.
Preheat a griddle pan. Arrange asparagus and spring onions on a large plate, drizzle with 1-2 tsp of olive oil and roll them in the oil until coated, using your hands.
Arrange asparagus and spring onions (keep the plate!) on the griddle pan and grill, undisturbed, until char marks develop before turning to the other side.
Cut radishes in half and place them, cut side down, on the oily plate you used to oil asparagus and spring onions. Transfer to the raddishes to the griddle pan and grill for a few minutes, until char marks develop.
Once spring onions are done, transfer them to a small blender (I used Ninja blender for this) or chopper. Add remaining dressing ingredients (start off with 30 ml / 2 tbsp of lemon juice, add more if liked) and blitz until smooth. Season to taste.
Heat up 1 tsp of oil in a small frying pan, once warm add almonds. Toast them for a few minutes until golden and slightly plump, moving them around the pan frequently. Sprinkle with flaky salt before removing from the pan. Allow to cool down and chop roughly.
Chop grilled asparagus into bite size pieces, I also chopped mine in half lengthwise as the spears were thick.
Combine cold orzo, petit pois, asparagus, radishes, pea shoots and chopped herbs together in a mixing bowl. Stir dressing through the salad (half was enough for me), adjust the seasoning and top with roasted almonds.
NOTES
*ORZO – other small pasta shapes, like orecchiette or macaroni, will work just as well. For gluten-free version, try gluten-free pasta, quinoa or brown rice.