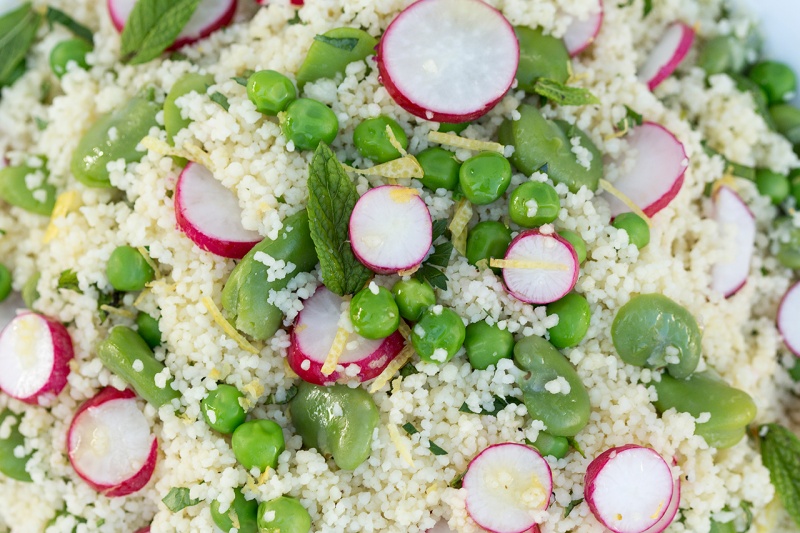 Today, I'm continuing my easy (or lazy, depending on viewpoint) theme and have another quick and easy, warm weather recipe for you. This is a bit unlike me, as usually, I tend to over-complicate things as my other half kindly points out, from time to time. Sometimes, however, one needs to chill. Especially when the weather outside is as stunning as today and the beach is calling… As this vegan tabbouleh salad is a bit more sturdy and keeps its shape well, it begs to be packed into a lunchbox and enjoyed on the beach (or on a park bench to the tune of chirpy birds – whatever you are into!).
The more perceptive of you have probably noticed that even though the dish uses couscous I labelled it gluten-free. This was completely intentional as I don't want gluten-free folks to miss out on this tasty lunch number – if gluten is in your bad books, you can easily substitute couscous with quinoa (or even millet) for the same effect. It will be just as delicious. What I love about this simple tabbouleh-style salad (apart from the fresh, lemony taste) are the amazing spring colours: two shades of acid green, hot pink and pastel yellow. It's a thing of beauty if you ask me. Colour is very important to me as I'm a very visual person and I get excited over striking colours or colour-combinations A LOT. Probably more than most people. Duncan is always making fun at me for that as he couldn't give two s**ts (his words) about whether two colours look good together or not and finds my priorities amusing. When we bought our tiny little car, for example (which we intend to take for a monthly roadtrip across Europe this summer and we are praying to the God of Automobiles that it doesn't crap out on us in the middle of crossing the Alps) my biggest concern was that the colour won't go with our company logo, which we were planning to stick on the side. I got over it eventually, but it took a lot of mental strength:).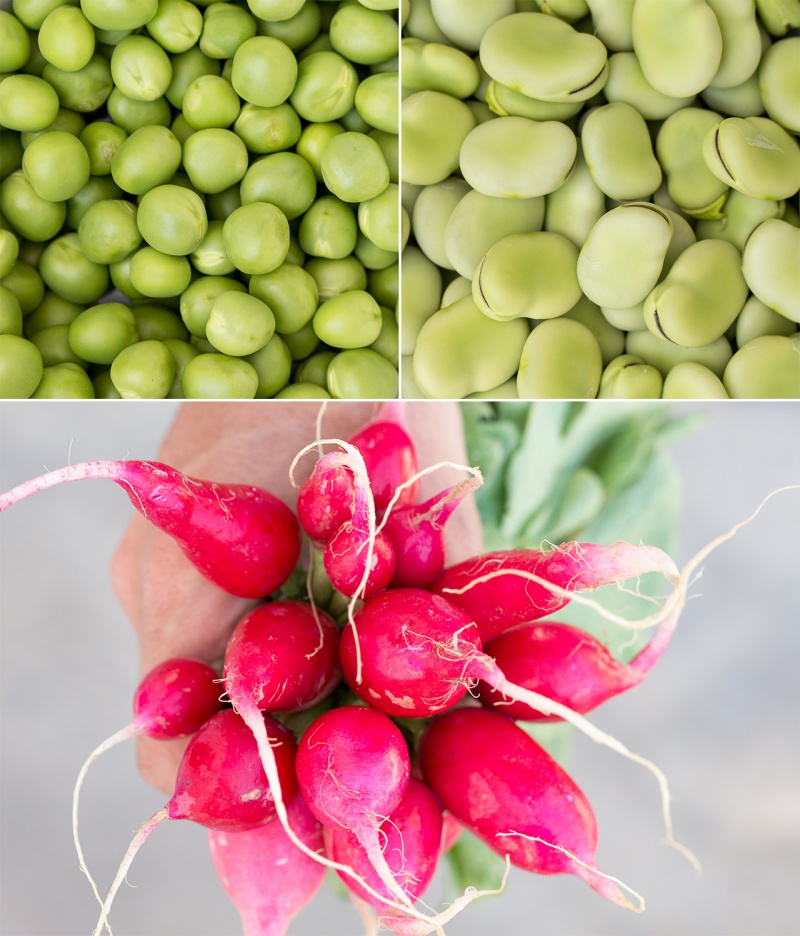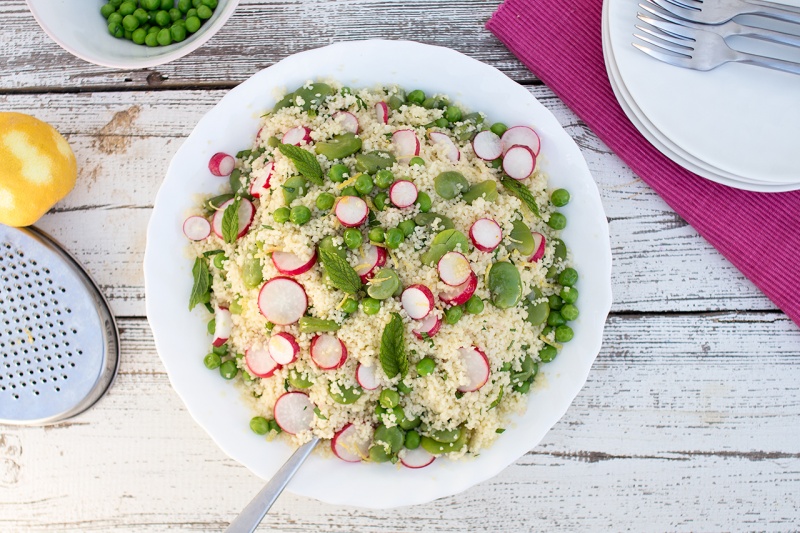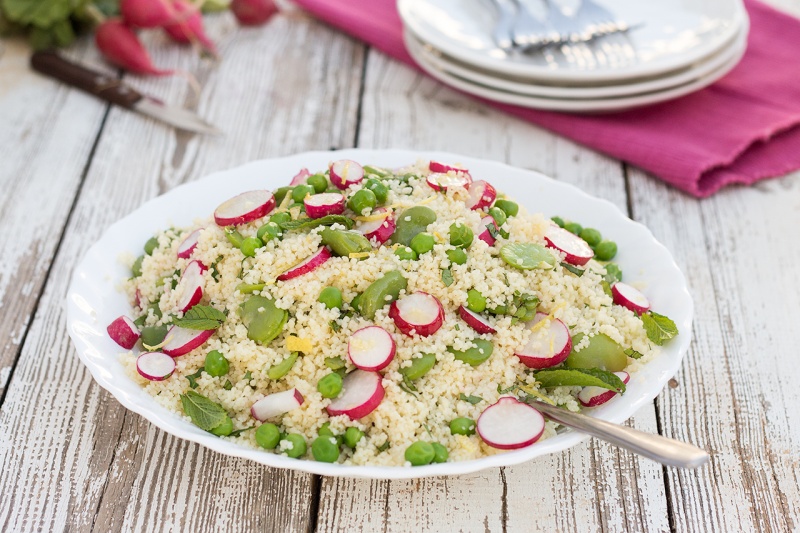 2 cups of couscous (or quinoa for gluten-free version)
150 g podded peas
300 g podded broad beans (200 g once shelled)
bunch of radishes, sliced
2 handfuls of mint, chopped finely
½ tsp salt
zest of 1 small lemon
DRESSING
4 tbsp extra virgin olive oil
4 tbsp lemon juice
1 small garlic clove, pressed
salt
pepper
METHOD
Put couscous and salt into a pot with a tightly fitting lid. Add 2 and ½ cups of boiling water or hot (unsalted) vegetable stock for more flavour. Put the lid back on and leave it covered for about 10 minutes. If using quinoa or millet, cook it according to the instructions on the packet. Drain and leave aside.
Bring a pot of unsalted (or else peas will get hard) water to the boil. Put broad beans in (they take 5 min to cook) and after 3 minutes add the peas (they take 2 minutes to cook). Whilst your veg is cooking, prepare a bowl of cold water with a few ice-cubes (optional). After 5 minutes from putting the broad beans in, drain broad beans and peas. If you want the broad beans and peas to retain their vibrant green colour, plunge them into a bowl of icy cold water for a few minutes. Drain both and shell your broad beans.
Make the dressing by whisking all dressing ingredients together (I used a hand whisk to ensure that bits of garlic get spread around).
Uncover the couscous pot, fluff couscous up with a fork. Add in the dressing, mix well. Add in peas, shelled broad beans, radish slices, mint and lemon zest. Adjust seasoning to taste.