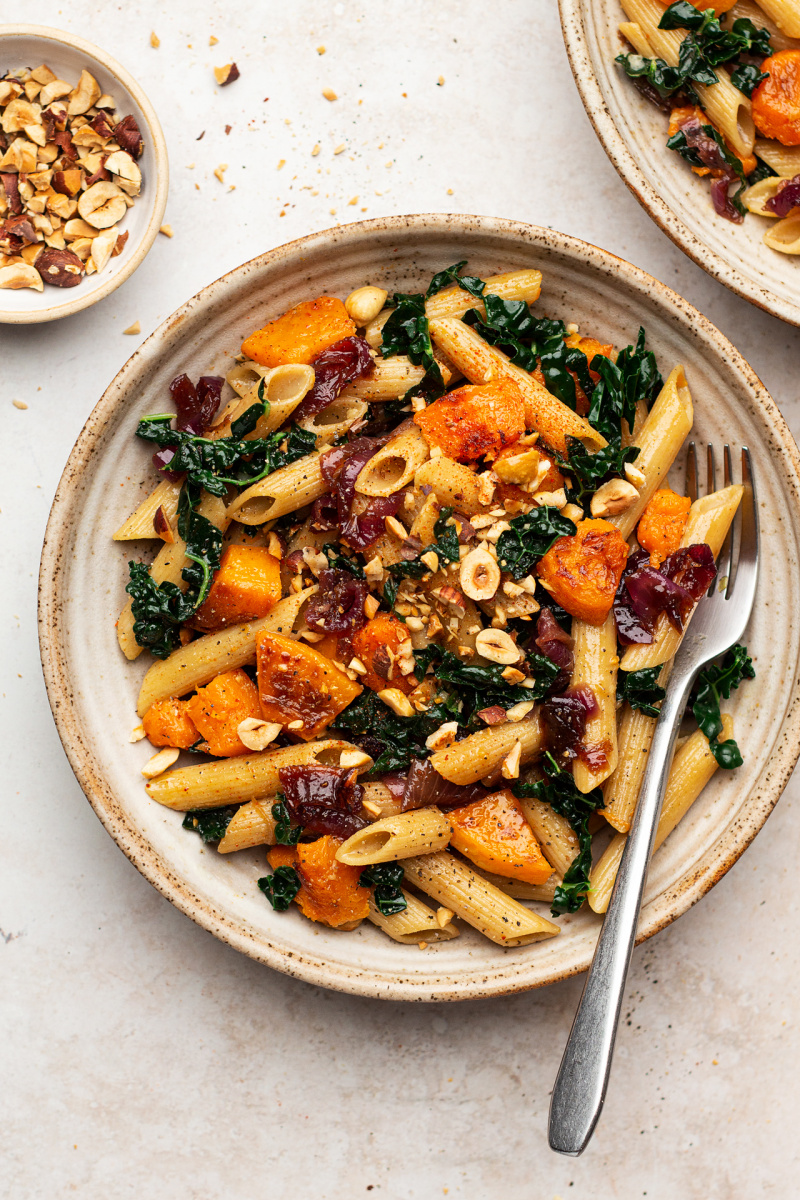 Although my living situation has improved a little since last week, it's far from back to normal. We still have no radiators at all downstairs as the plaster on the wall they are supposed to be installed on hasn't dried yet and I also (a lack of warmth downstairs has definitely played a part) managed to catch a bit of a cold, so I am not feeling my best today. I have therefore gone for a low effort, midweek dinner, which we enjoyed the past few days and I hope you will too.
If I am completely honest, this pasta was born out of Friday's recipe leftovers. I simplified the ingredient prep a little by caramelising the onions for this recipe in the oven, alongside your squash (or pumpkin), which means fewer dishes to wash up. Sweet roasted squash (or pumpkin) and jammy balsamic red onion is a great flavour combo, in my opinion. I added some dark leafy veg (lacinato kale, but spinach is also good) for good measure and a decadent sprinkling of toasted hazelnuts for a cosy, autumn inspired midweek dinner. I hope you'll approve.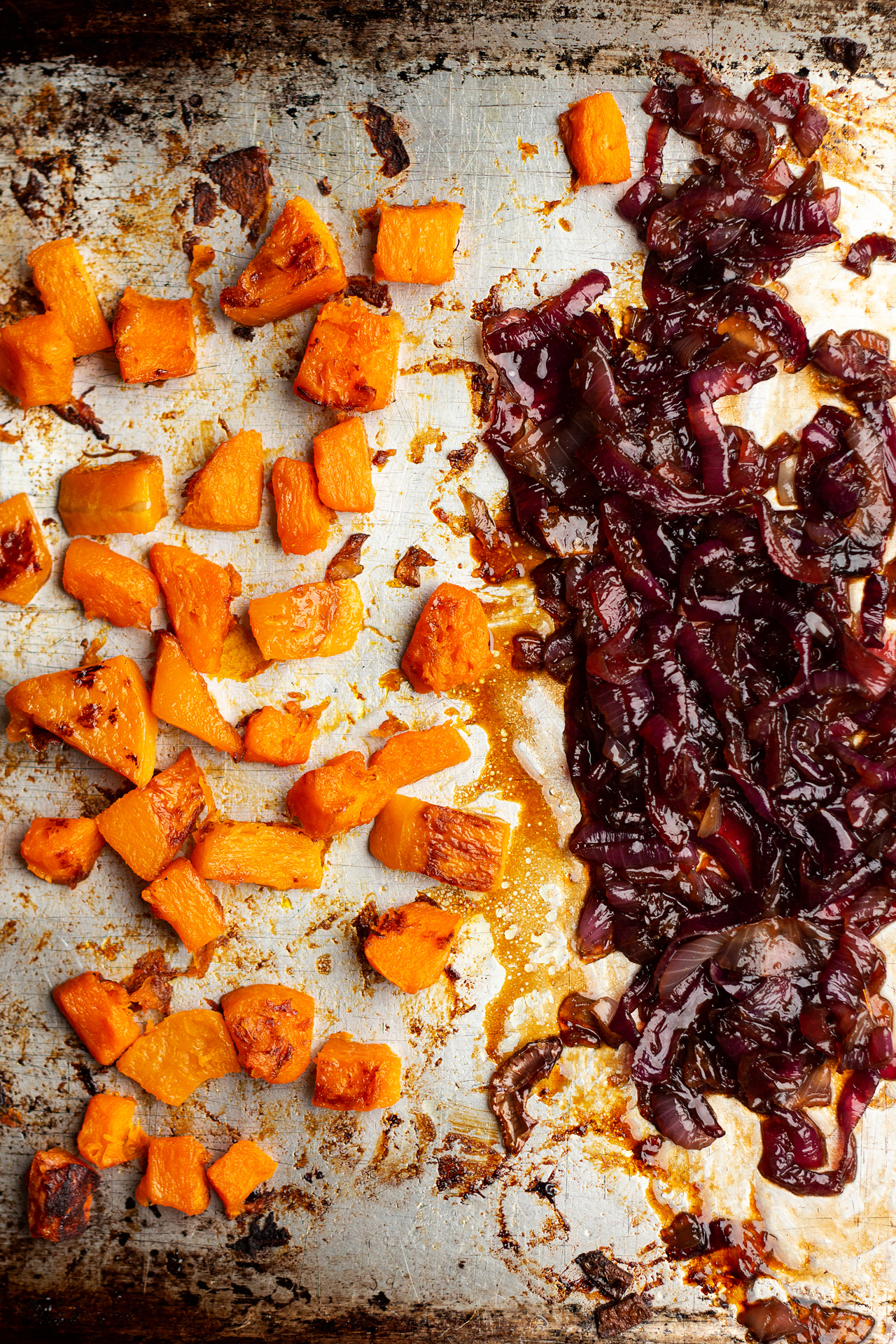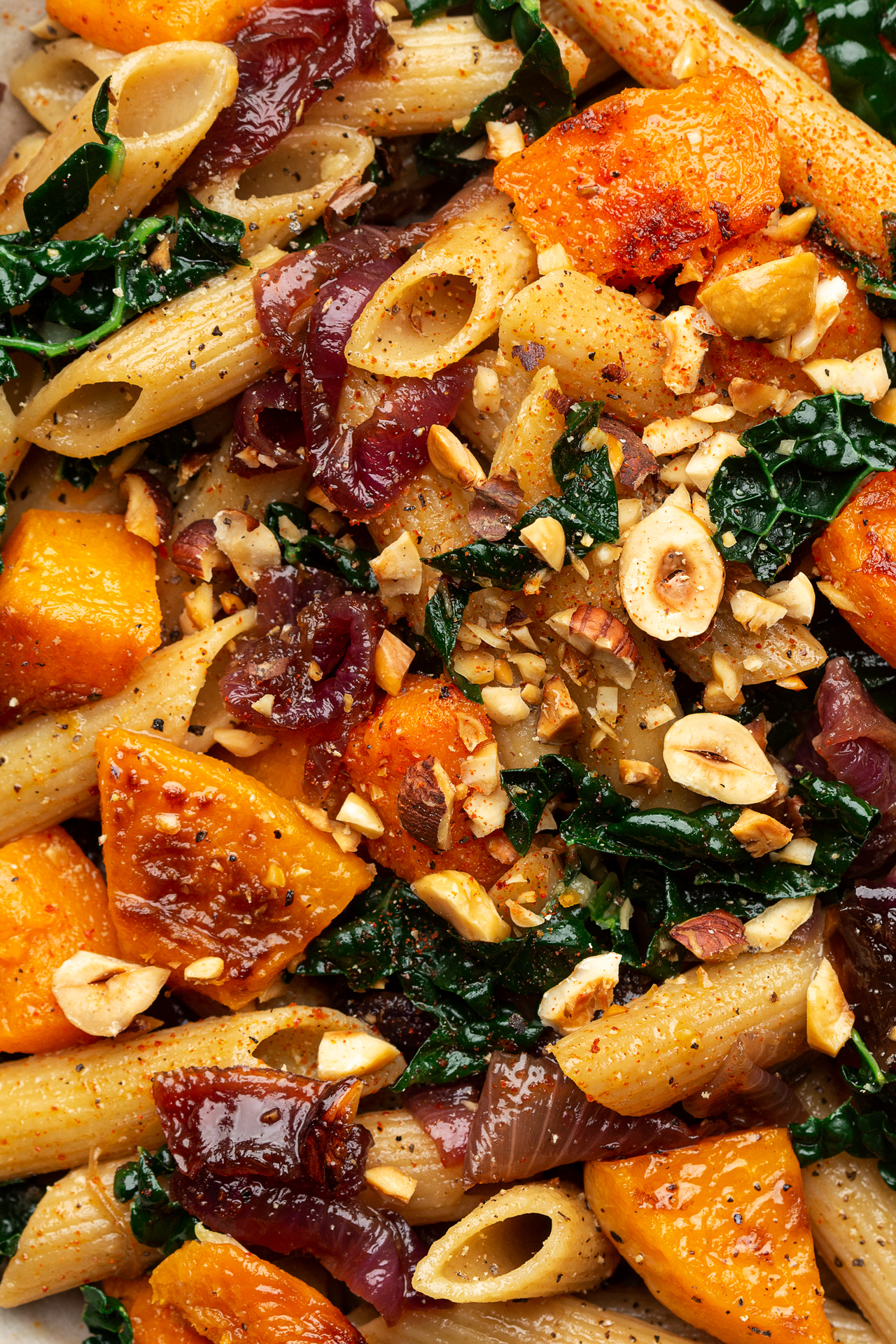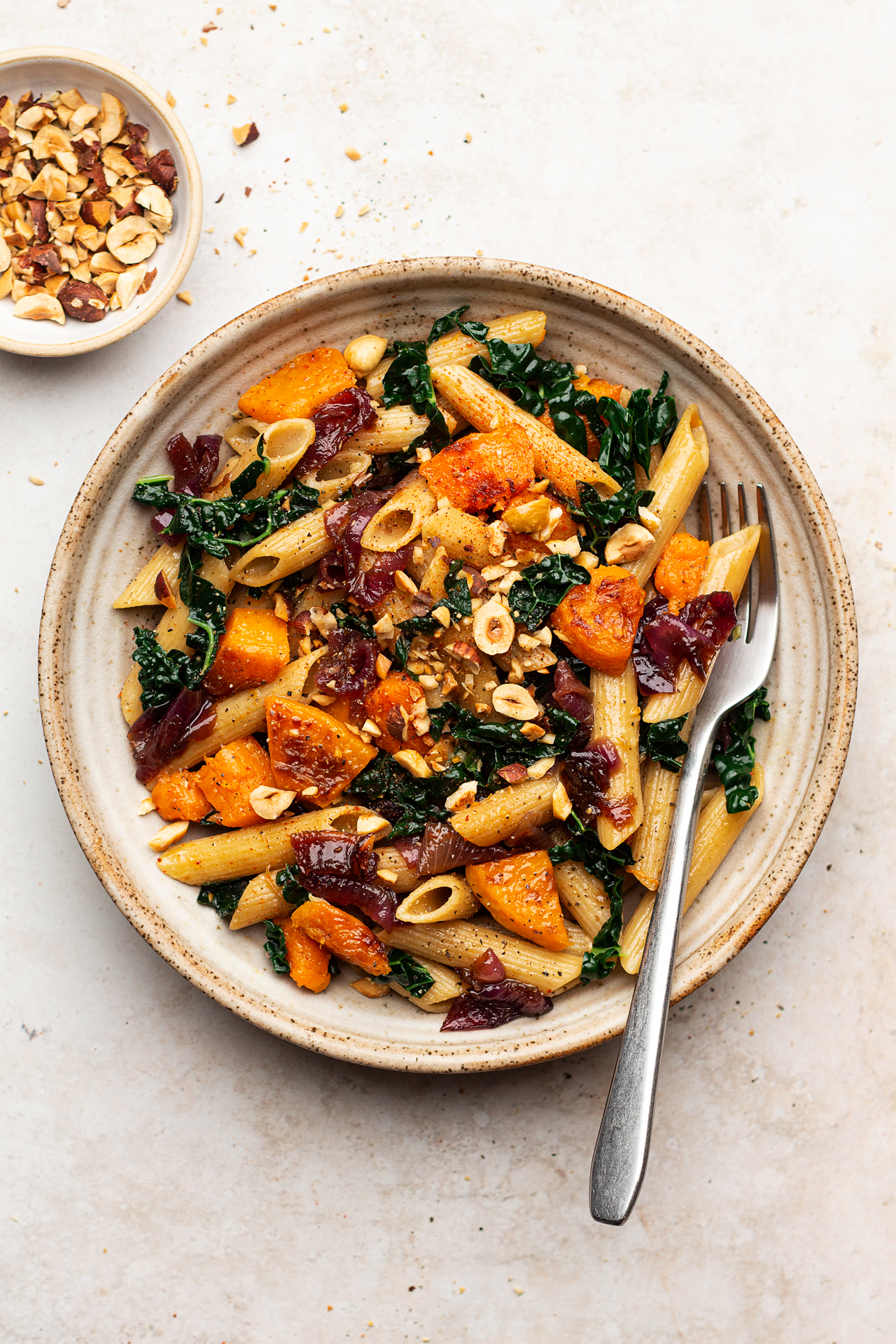 400 g / 14 oz peeled butternut squash or firm pumpkin
olive oil
salt and black pepper, to taste
1 large red onion, peeled and thickly sliced
1-2 tsp sugar, adjust to taste
2 tbsp balsamic vinegar
3 lacinato kale leaves, destemmed and finely shredded
1 large garlic clove, finely diced
2 tbsp nutritional yeast
200 g / 7 oz penne pasta (GF if needed), I used wholewheat
a good pinch of chilli flakes (I used fine Korean chilli flakes), optional
chopped toasted hazelnuts, to serve
METHOD
Heat up the oven to 200° C / 390° F and grab a large baking tray.
Cut your squash/pumpkin into a uniform dice, coat in about 2 tsp of olive oil and season with salt. Place on a large baking tray, leaving about a third of the tray free.
Coat onion slices in about 4 tsp of olive oil and place on the same baking tray. While squash/pumpkin pieces should be as spread out as much as possible to get a nice char, the onions slices should overlap so that they stay moist.
Bake for about 30 minutes, giving both a good stir 15 minutes in. After 30 minutes, your squash/pumpkin should be done – if so, remove it from the tray.
Season cooked onions with a generous sprinkling of salt and sugar and coat in balsamic vinegar. Return to the oven for another 10-15 minutes, giving the onion another stir halfway through (approx. 7 minutes in).
Cook the pasta in plenty of water, just short of al dente. 1.5 minutes before the time is up, save about 2 tbsp of pasta cooking water and add finely chopped kale to the pasta. Cook for another minute and drain.
Heat up 4 tsp oil in a non-stick pan (I like to use a stainless steel one for this dish). Add the garlic and allow it to fry on a very low heat, stirring frequently. Do not let it brown as it will make it taste bitter.
Once the garlic is softened and fragrant, add nutritional yeast, a good pinch of salt and about 2 tbsp of the pasta cooking water you saved earlier. Stir everything together so that you get a light emulsion that will coat your pasta.
Add drained pasta and kale to the pan, coat well in the sauce.
Stir baked squash/pumpkin and caramelised onion through the pasta, adjust the seasoning if needed.
Divide between two bowls, sprinkle with chilli (if using) and toasted hazelnuts.
NOTES