June is all about strawberries for me so I figured I'd better get started with strawberry-themed desserts as soon as possible, the season is short! I try to only buy them in season and switch to frozen if a sudden hankering for a strawberry smoothie hits me in the middle of winter (although it rarely does to be honest) so I cannot get enough of them when the season finally rolls around…
The sun is meant to be out in full force this weekend so we wasted no time and invited some friends for a BBQ, as you've got to make the most of the sunny weekends when you live in the UK! I have a pottery class for the whole day on Saturday and I'm working today so I decided to rein in my perfectionist tendencies and attempt low-effort hosting so that I can enjoy the day instead of fretting about food.
I am planning to marinate the filling for these simple fajitas tonight and cook them on our barbie and I bought a stack of corn tortillas so that I'm not tempted to be chained to the tortilla press and my hob for hours. On the day I will whip up a simple cashew crema and some guacamole and take a bottle of hot sauce out of the cupboard 😉 . For dessert, I came up with a super simple cheesecake in a glass with a side of gluten-free shortbread. One of our friends is a Celiac so I've taken extra care to make sure there is no gluten involved at all as I know how much he suffers if he ingests any.
What's nice about this dessert is how easy it is to make, there are no setting agents involved, no faff. You simply dump all of the ingredients into a blender and blend the mixture until super smooth. It gets thick and creamy after a few hours (overnight is ideal) in the fridge. I flavoured it with lemon and cardamom but ginger would also be a great flavour match.
To add a bit of crunch, I made a tray of simple shortbreads, but I am serving them on the side rather than in the dessert so that they retain maximum crunch. I made mine from scratch for the sake of my friend, but many biscuits are accidentally vegan so you can simply buy some. I hope you and your guests / fellow diners will appreciate the flavour and the simplicity of this summer, strawberry-laden dessert. Less time in the kitchen, more time for catching the rays outside, I say…I'm like my basil plants – which are still thriving, who knew… – I need my sunshine to feel like all is well in the world.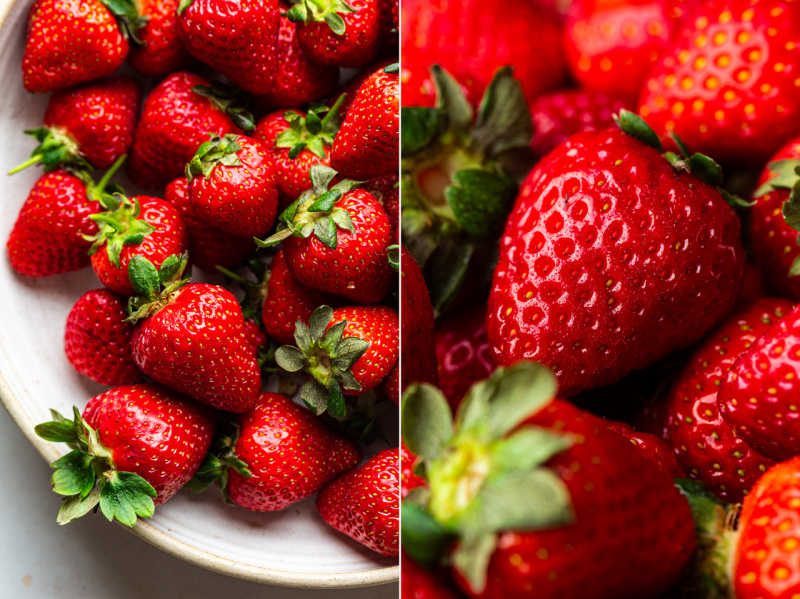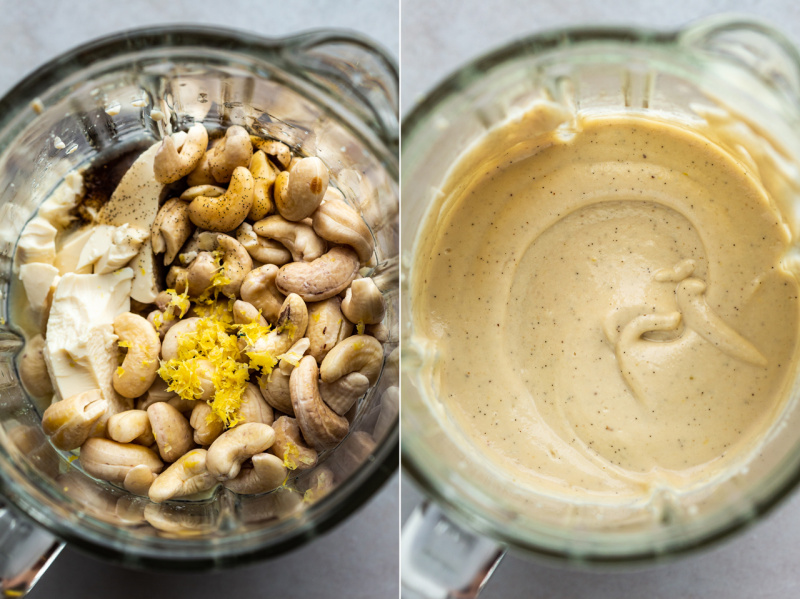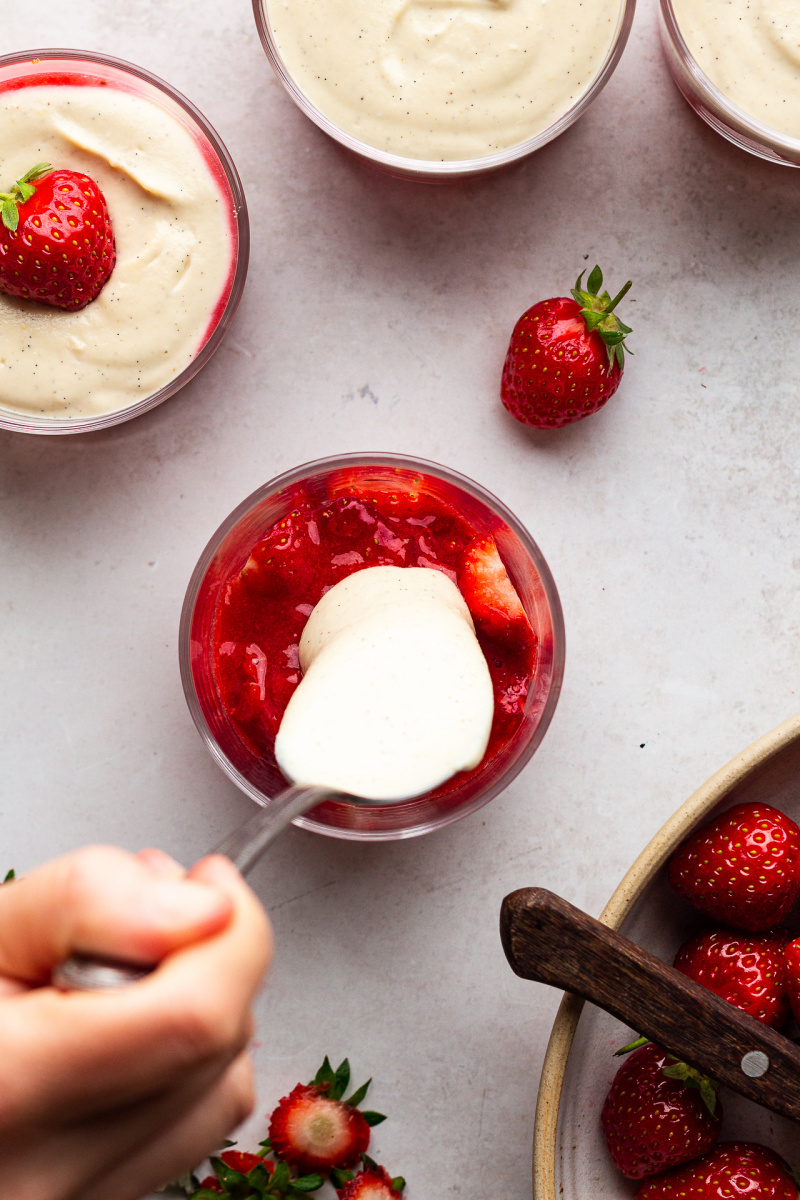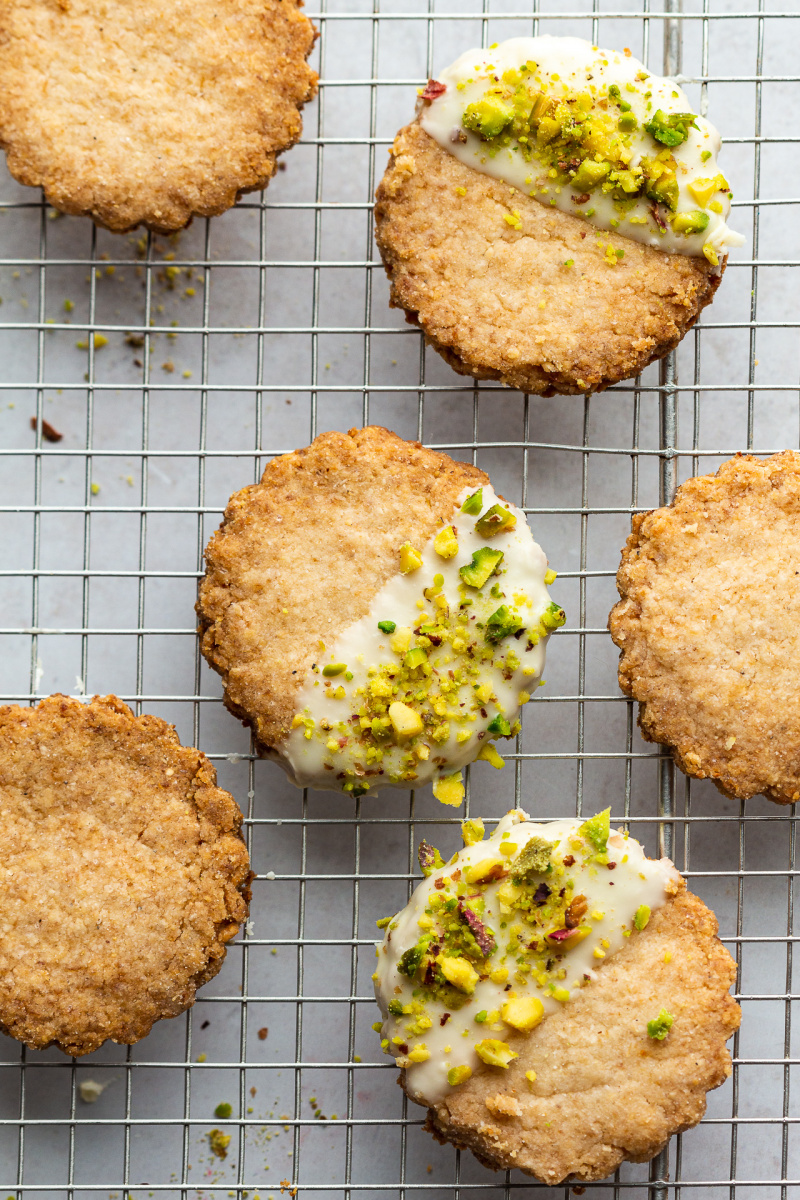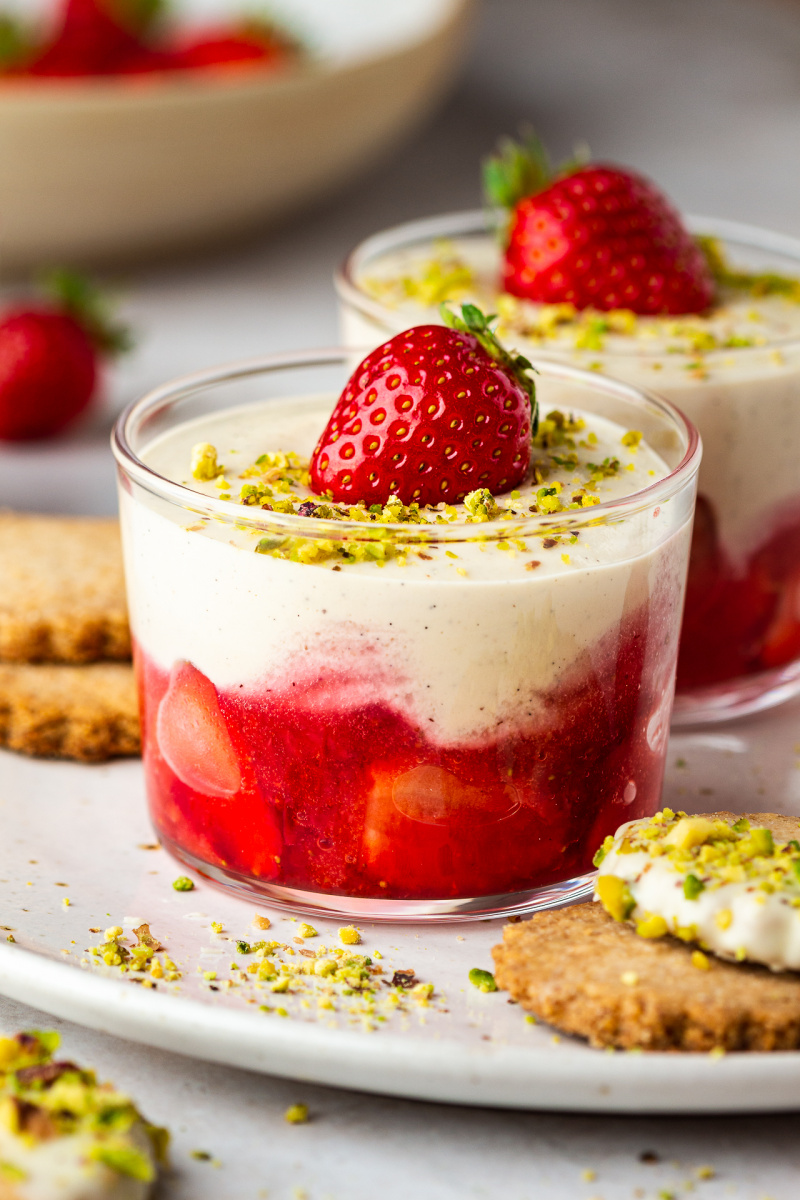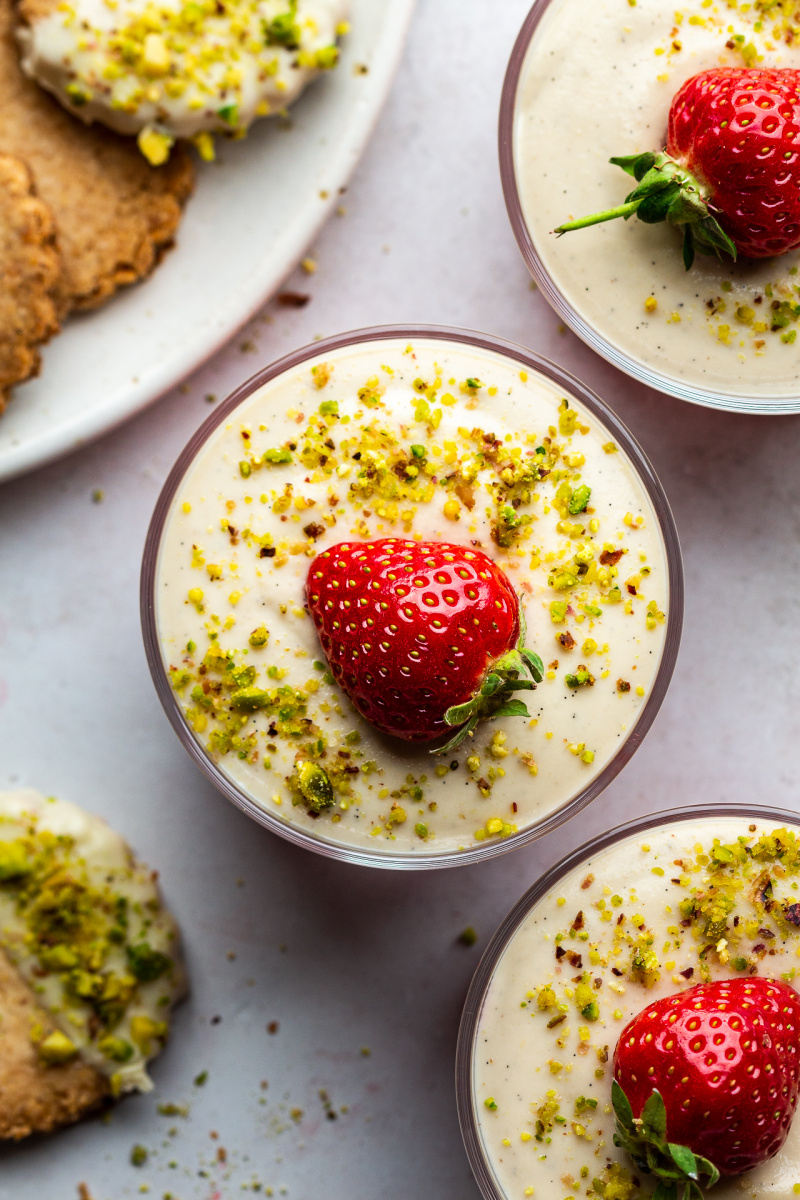 STRAWBERRY LAYER
500 g / 1 lb ripe strawberries
CHEESECAKE LAYER
45 ml / 3 tbsp lemon juice + zest of 1 large lemon
90 ml / 6 tbsp maple syrup or other liquid sweetener
1 tbsp vanilla extract or paste
200 g / 1 cup silken tofu
200 g / 1½ cups raw cashews, soaked*
8 g / 4 tsp tapioca starch (optional, see METHOD)
scant ½ tsp ground cardamom (optional)**
SHORTBREAD (makes 12)
2 tsp psyllium husks (for GF version only)
50 g / ¼ cup refined coconut oil or vegan butter, softened
38 g / 3 tbsp sugar
50 g / ½ cup almond flour
65 g / ½ cup GF flour mix (I like this one), rice flour or regular AP flour
1/8 tsp salt
¼ tsp ground cardamom (optional)
METHOD
STRAWBERRY LAYER
Reserve 4-5 small strawberries for decoration, chop half of your strawberries and mash or blitz the other half.
Arrange chopped and mashed / blitzed strawberries at the bottom of each glass.
CHEESECAKE LAYER
Place lemon juice and zest, maple syrup, vanilla essence at the bottom of your blender, followed by tofu and rinsed cashews.
Blend until super smooth – you may need to use a tamper or simply a spatula to help the blender churn from time to time. You can skip tapioca if you wish – once chilled the mixture will still be indulgent and creamy, just a little bit less thick if you don't add tapioca starch. This is a soft set mixture, if you want it firmer, you could skip tapioca and add ½ tsp of activated agar agar powder.
Season with cardamom or ginger, to taste (if using).
Divide the mixture between the jars (there should be 540 ml / 2¼ cups of mixture) and refrigerate for as many hours as you can – overnight is ideal to allow the mixture to thicken.
SHORTBREAD
If making gluten-free shortbread, hydrate psyllium husks in 3 tsp water, set aside to jellify.
Whisk softened coconut oil / vegan butter together with sugar until pale and fluffy.
Add both flours and salt and psyllium husk gel for gluten-free shortbread. I also added ¼ tsp ground cardamom. Knead until just combined. If you are making these on a hot day, you may need to chill the dough a little before rolling out as coconut oil is likely to get too soft when kneading. If using gluten flour to make these, you may need to add a teaspoon or so of water.
Roll out on a lightly floured countertop, cut out as many biscuits as you can. Chill them for 30 minutes while you preheat the oven to 175° C / 345° F.
Arrange chilled biscuits on a paper-lined baking tray and bake until golden, about 12 minutes. Allow to cool completely before lifting off the tray – especially the GF ones as they will be fragile while warm. I dipped mine in vegan white chocolate and sprinkled them with pistachios, but that's totally optional.
*Cashews should be soaked overnight or for at least 30 minutes in boiling water.
**Skip the cardamom if you aren't a fan or sub with ginger, fresh or ground.