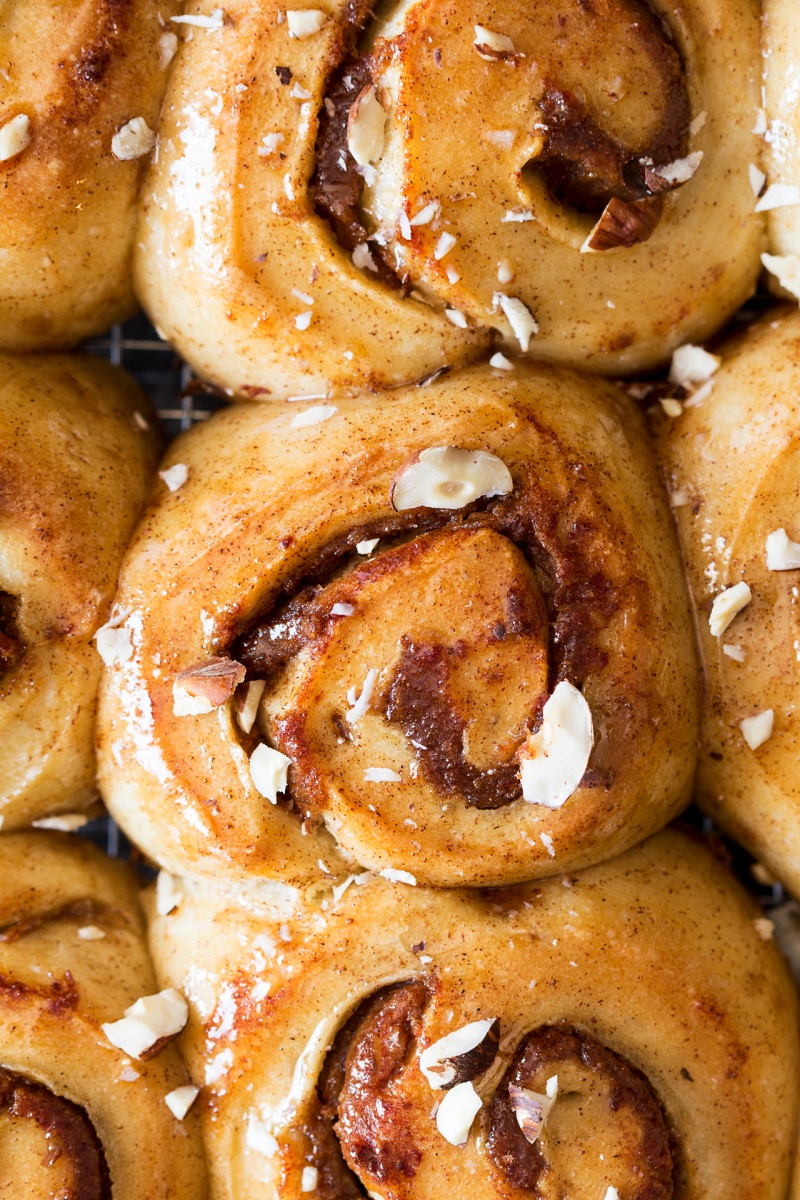 I've always been a coffee person. I was born in Melbourne, which is a place of outstanding coffee so I've grown up loving the ritual of meeting friends in the cafe for coffee.
Later in my life, when I had an irregular heart rhythm I was told that I wouldn't ever be able to consume caffeine or alcohol for the rest of my life. Imagine that?!? My friends were devastated for me: "You can't drink alcohol anymore? That is terrible! What are you going to do when you go out?"
But the reality was that I missed the coffee way, way more. After one year of abstinence, when I had a successful procedure and I was given the all-clear to enjoy what I wanted, everyone expected me to go straight down the pub. In fact the first thing I did was to go out and have coffee and some cinnamon rolls.
I still remember that moment vividly. This is why cinnamon buns and coffee have a special meaning for me, a celebration of a long drama ending but, more importantly, a celebration of coffee and the wonders that it brings! Today's recipe is a sugar-free dedication to this wondrous urban ritual…
These sugar-free cinnamon rolls took us a few goes to get perfect. Initially we started using wholemeal flour but we just couldn't get them to be fluffy or cake-like. They were OK, but they were a little bit dry and bread-like. On our third go we got the mix perfect, and, although we gave away most of the previous batches, we ate all of the final batch.
We're really happy with this recipe because the natural sweetness of the dates gives the bun a large amount of its sweetness and it just needs a small amount of maple syrup in the mixture and glaze to make the buns perfectly balanced. I recommend enjoying them on a sunny terrace with a large mug of quality black coffee.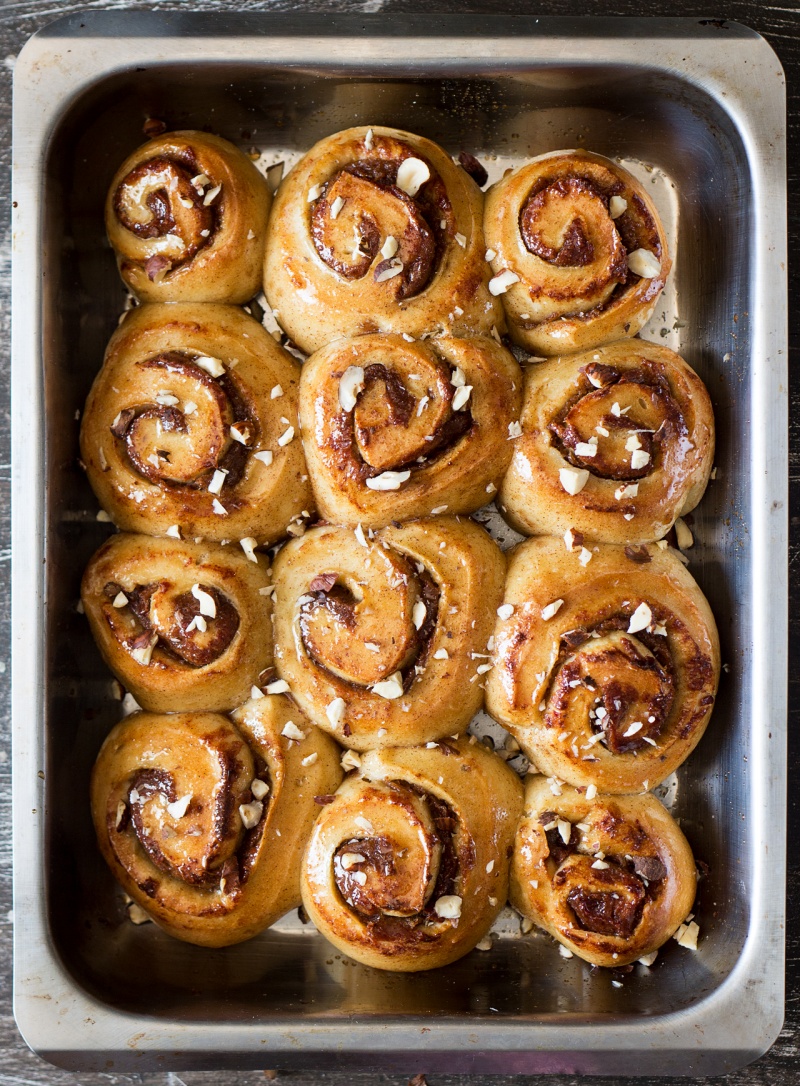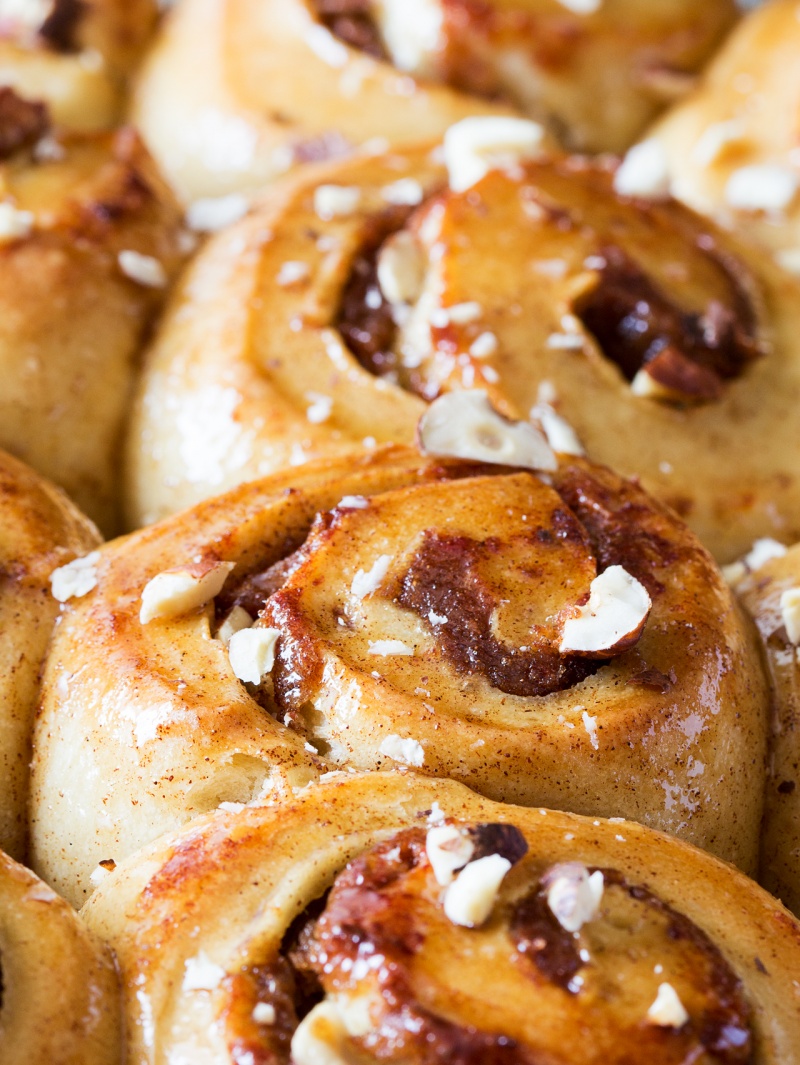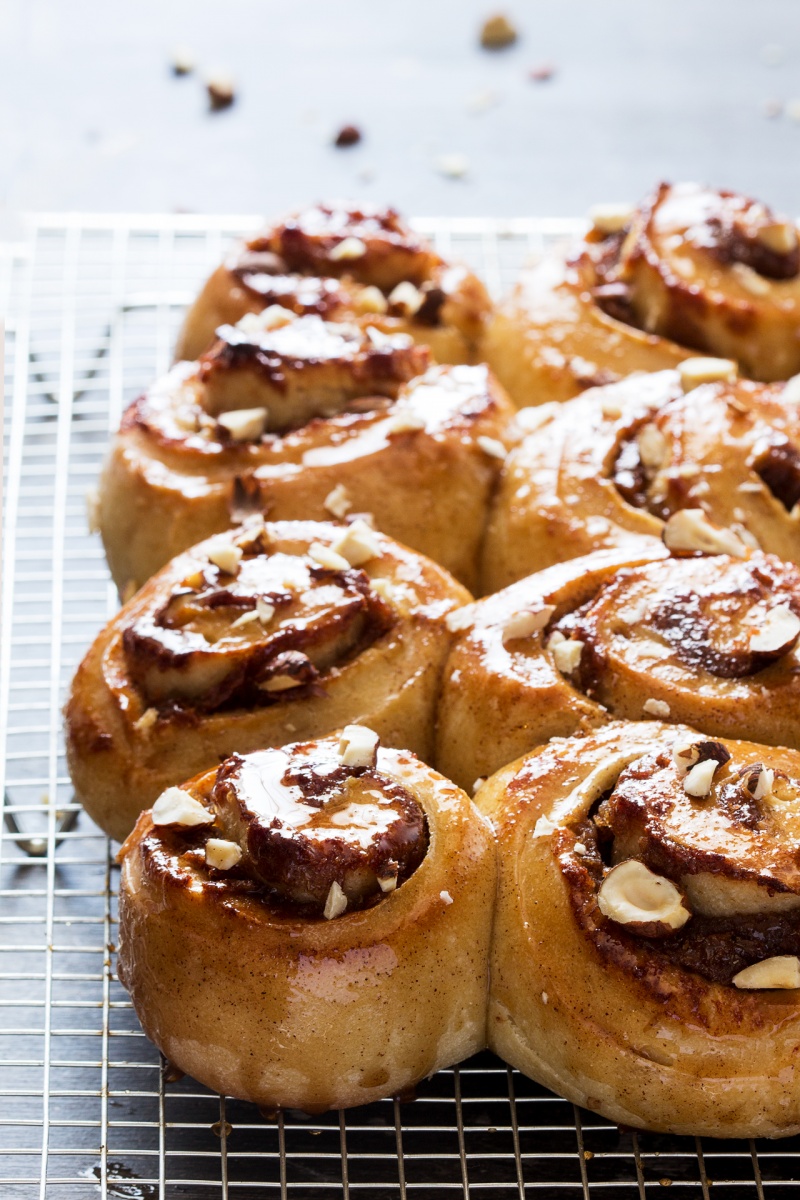 BUNS
220 g / under 2 cups white bread flour OR wholewheat flour*
250 g / 2 cups all-purpose flour
10 g / 2 tsp salt
7 g / 2¼ fast-action / instant dried yeast
45 ml / 3 tbsp aquafaba**
30 ml / 2 tbsp maple syrup
255 ml / 1 cup + 1 tbsp almond milk
15 ml / 1 tbsp olive oil + a little for pan glazing
BUN FILLING
240 g / 1½ cups Deglet Noor dates, pitted
½ tsp cinnamon
a few pinches of salt
GLAZE
METHOD
BUNS
Mix the flour, salt and yeast in a large mixing bowl.
Add in the lukewarm aquafaba (if using) and maple syrup diluted in lukewarm almond milk and stir everything together with a large wooden spoon. Then add the olive oil and integrate.
When the mixture has mostly stuck together turn the mixture out on to a work surface or bread board.
Knead the mixture by holding one end of the dough in one hand and stretching it out with the other hand. You then reform the dough, turn it 90 degrees and start again. Repeat this for 10 minutes.
When the dough is shiny and smooth, put it in a large mixing bowl, coat in a thin layer of olive oil and cover the bowl with a tea towel. Leave this in a warm place (but not too warm – ie not next to an open fire!) for between one and two hours (until it has doubled in size). While the dough is proving, make the filling (see below).
Empty the dough out on to a work surface and push the air out with your fingertips.
Roll the dough flat until it is 40-45 cm wide and 18-20 cm high.

Spread date paste on the surface of the rolled out dough with the back of a spoon (photo 1 above).
Starting from the bottom, roll the dough tightly so that at the end you have one horizontal "dough snake" (photo 2 above).
Cut the dough into 12 segments, which comes out around 3-4 cm per segment (photo 3 above).
Place the segments horizontally (like a tree trunk) on an oiled baking tray, leaving 1-2 cm between each bun. If you can fill the baking tray, this is ideal (photo 4 above).
Leave the buns (covered with a kitchen towel) to prove again for another hour. During this time preheat the oven to 180° C / 350° F.
Place the buns in the oven to bake for 18-20 minutes.
While the buns are baking, create the glaze by combining maple syrup with ground cinnamon.Take the buns out of the oven when they are lovely and golden, and glaze them while they are still hot. Try and use all of the glaze, and let it seep into the buns and the gaps between them.
BUN FILLING
Place pitted dates in a small bowl and cover with boiling water (you can skip this step if your dates are already very moist and sticky but most dried dates aren't sticky enough). Let them soak for 10-15 mins.
After soaking, transfer the dates (not the soaking water) into a food processor. Add a few pinches of salt and cinnamon and process until very smooth. You may need to add a few drops of warm water to achieve a smooth and spreadable consistency.
NOTES
*Although you can use wholewheat flour, the buns will have a harder, breadier texture.
**These can be made with or without
aquafaba
. 3 tbsp of aquafaba substitues 1 egg that is often used in the traditional cinnamon buns and it makes them a bit more delicate. We have, however, made these many times before we learned about the wonders of aquafaba and they were also very good. If not using aquafaba, use 300 ml (45 ml instead of aquafaba + 255 ml as per the recipe) of almond milk instead.