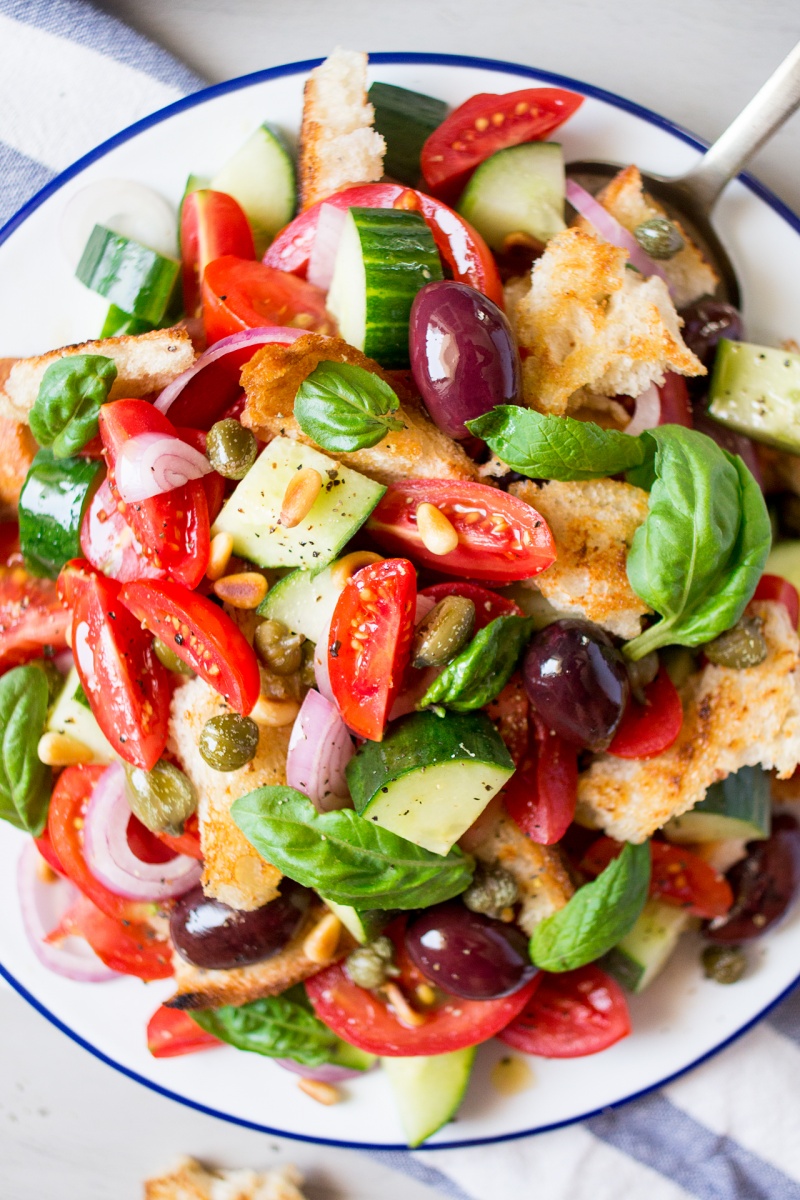 So yesterday was summer solstice, the official start of summer in the Northern Hemisphere, which is funny to me as it really feels like Greece got the memo way earlier than the rest of Europe. We've gone from nice'n'hot to hot'n'unbearable in the last few days…
After over 10 years of very underwhelming English summers, I'm generally loving warm Greek weather but this week I'm finding going about my day-to-day tasks a massive challenge – so much so that I have this strong urge to join my cat, Tina, in lying on a cold marble floor all day…Not that I've been invited – she's been pretty aloof this week. Cats, eh?
So in the current climate, I cannot guarantee any proper cooking or baking will happen on the Lazy Cat Kitchen premises at all. Instead, I can promise you heaps of refreshing salads, cold desserts, and low-effort dinner dishes in the foreseeable future. Basically things that require no to minimal cooking. We're kicking things off with a beautiful Italian Panzanella salad.
It's a beautiful marriage of sweet, sun-kissed tomatoes, refreshing cucumber, fragrant basil and crispy sourdough punctuated by the saltiness of capers and juicy black olives. It's best enjoyed in the sun with a small glass of wine.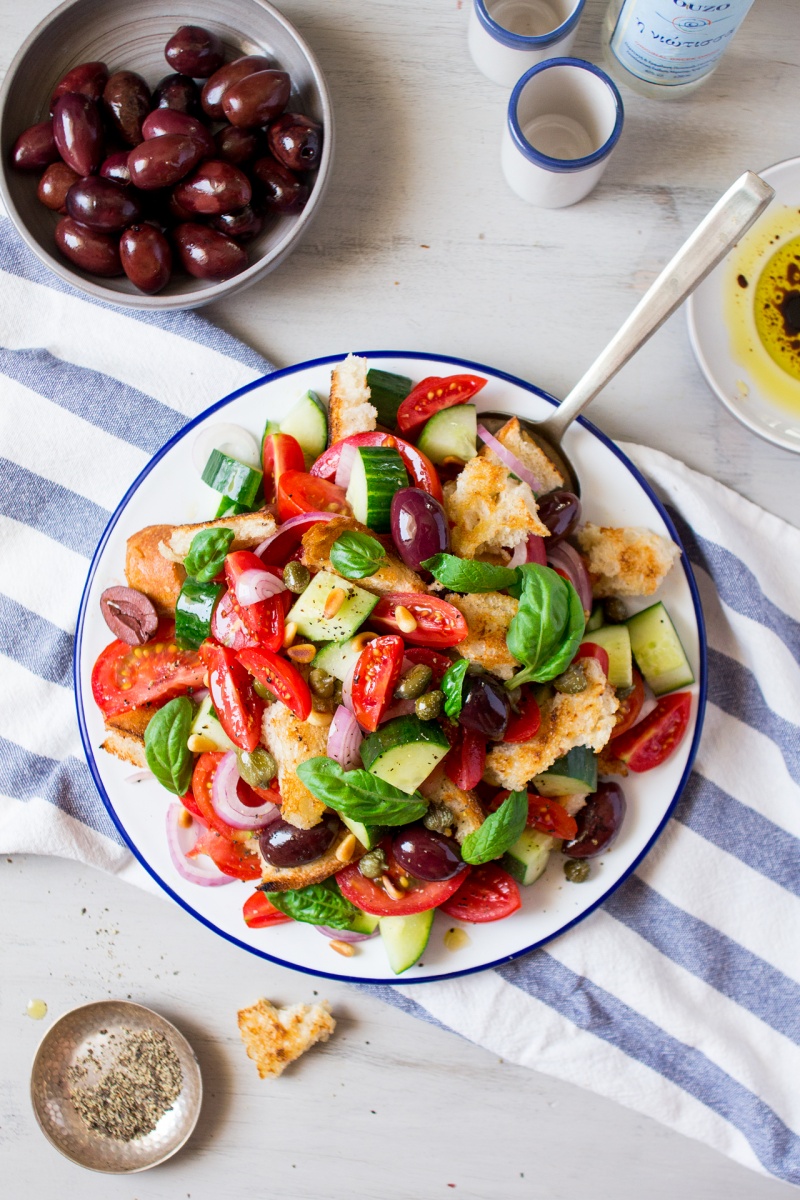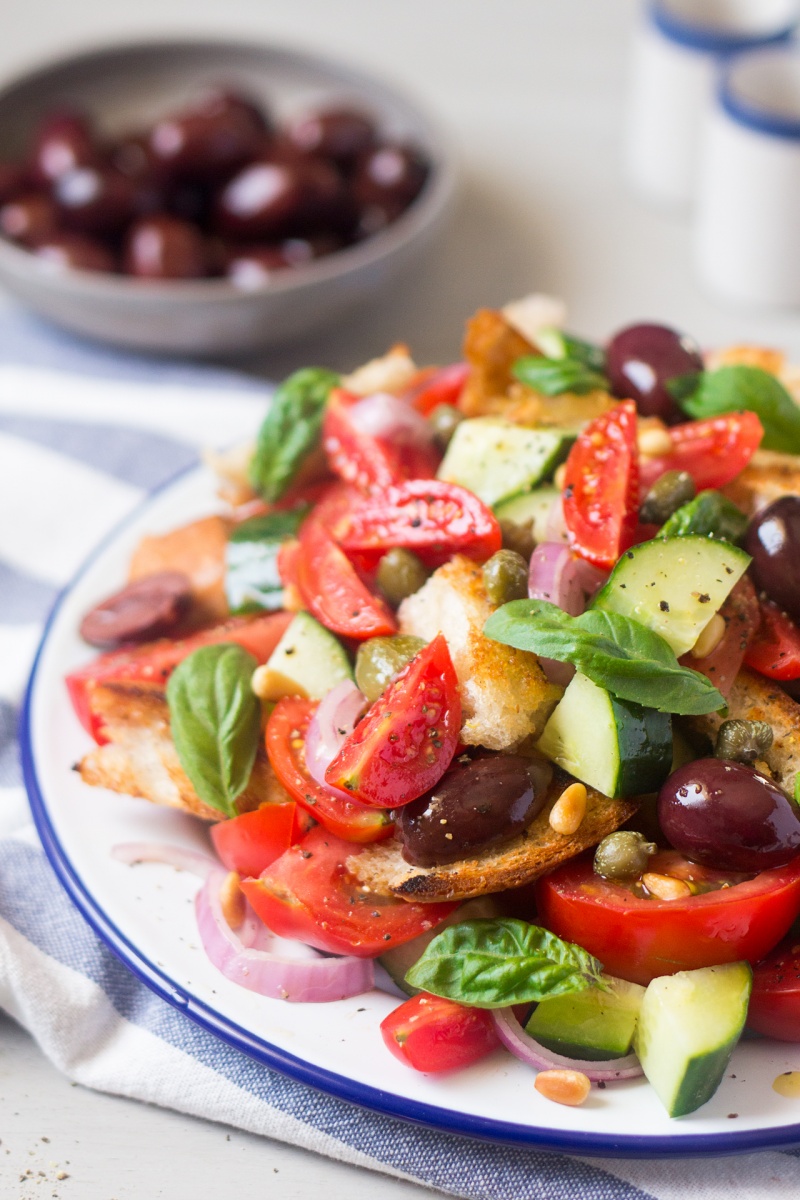 3 small ripe tomatoes + 15 cherry tomatoes
1 large cucumber
1 medium red shallot
a handful of black Kalamata olives
a handful of capers
2 slices of a day old sourdough bread (or gluten-free bread if required)
a handful of fresh basil leaves
1 tbsp pine nuts, toasted on a dry pan
DRESSING
1½ tbsp of extra virgin olive oil
1 tbsp of red wine vinegar
½ garlic clove, finely grated
freshly ground black pepper
sea salt
1 tsp of sugar (optional – if tomatoes lack sweetness)
olive oil, for croutons
METHOD
Tear bread into small pieces (you could also dice it if you prefer). Heat up a heavy bottom pan (I used a griddle pan) on the stove. Brush the pan with olive oil and once the oil gets hot, put a portion of the torn bread on the pan and allow it to toast nicely, making sure you move the bread frequently so that it doesn't burn. Continue with remaining batches of bread, brushing a bit more oil between each batch. Season croutons with salt and set aside.
Mix grated garlic with red wine vinegar in a small bowl and allow it to sit for 5 minutes for the acid to neutralise the raw garlic flavour.
Chop tomatoes and cucumber the way you like them, slice shallot thinly, pit olives if you like and chop capers if you like (I left mine whole.)
Add extra virgin olive oil to the red wine vinegar and garlic mixture. Stir well to emulsify the dressing. Season with salt and pepper to taste. Add a bit of sugar if your tomatoes lack sweetness.
Put chopped tomatoes, cucumber, shallots, olives and capers in a large bowl and stir the dressing through. Adjust seasoning to taste if needed.
Serve dotted with croutons (I like to add them in at the end or else they will lose crispness), fresh basil and toasted pine nuts.