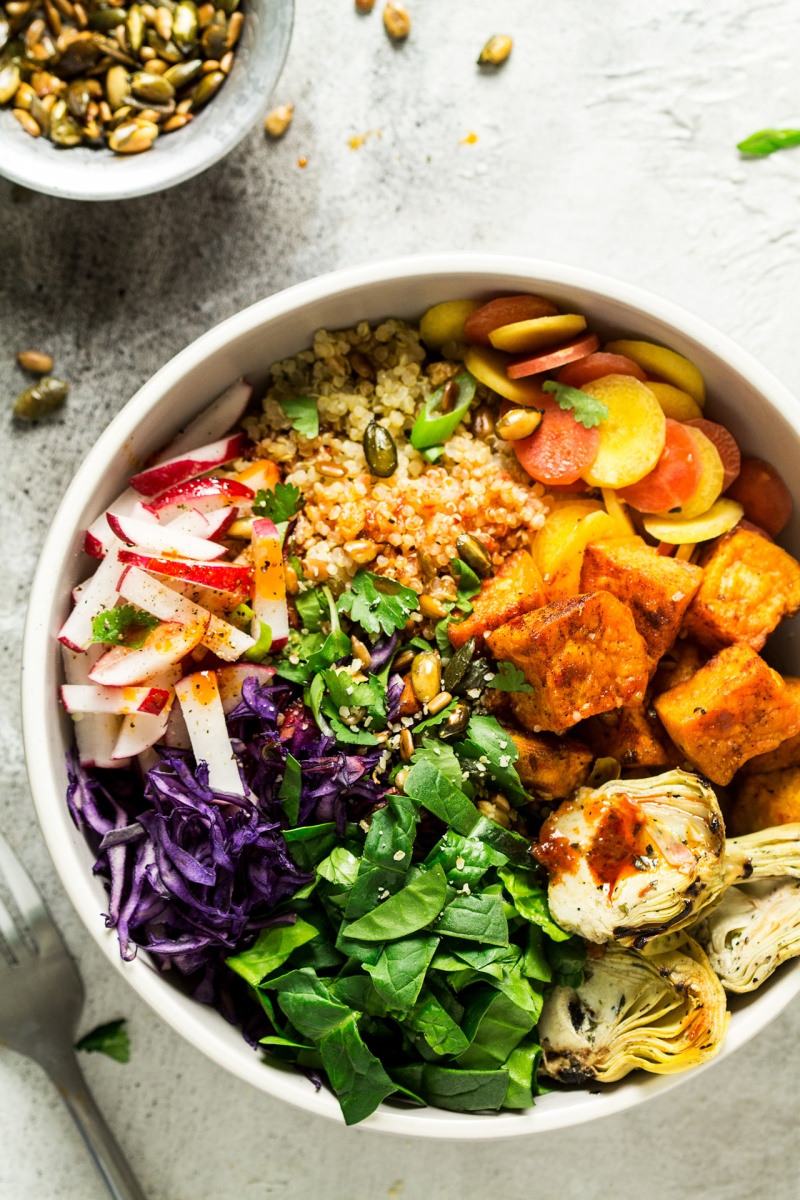 Well, I was supposed to have this post ready by the end of yesterday, but I couldn't quite get my stuff together. I was doing everything but work yesterday…You know my good old friend – procrastination? As I am my own boss, I've decided not to stress about it and to award myself a little day off – I am working on being a bit kinder to myself 🙂 . It worked out well as I was in a much more productive frame of mind today, despite a few calamities happening.
As soon as I set up my photo shoot, a water meter engineer turned up claiming I had an appointment for some work they needed to do at the house. I was convinced that it wasn't supposed to be until tomorrow, but I remembered wrong.
First I had to help him search for a water shutoff valve, which wasn't under the sink as we both expected. He had to use a machine with a very high-pitched noise to be able to detect the presence of a water pipe leading into the house. As you can imagine, Tina did not like that very much. She disappeared and I could not find her for a very long time despite all the usual tricks that normally work a treat.
I started getting worried even though I knew there was no logical explanation other than that she must be hiding somewhere. I started to imagine that she got abducted by the water engineer for ransom, ha ha until he showed me a photo of under the bathtub with two little eyes shining in the darkness, phew…She might have fallen asleep there, but she did not come out again for another hour, poor thing.
This is the second time she has had the living daylights scared out of her. Last week, the house had a new gas and electricity meter installed and during the installation, the house alarm went off. Not only did I have no idea what the pin code was, I also did not even know it worked at all as the interface looks ancient, frankly. The noise was loud and insistent and Tina was so scared she hid under the sofa and would not come out. It took me a while to get the code from the estate agent and even once we stopped the alarm, she was inconsolable. She was hiding for well over an hour and no treats worked. Poor things, they really hate loud noises, don't they?
This sunny winter lunch bowl is pretty much what we have been having for lunch lately. It's easy to put together, tasty, nutritious and pretty to look at too, which is always a bonus. It's also very versatile (swap spinach for kale, radishes for turnips, sweet potato for parsnips, artichoke hearts for olives) and yields itself to making a large quantity in advance quite well. I make a large amount of quinoa, sweet potato, toasted seeds and dressing at the beginning of the week and simply chop raw veggies on the day, et voila! Lunch has been served! 🙂 .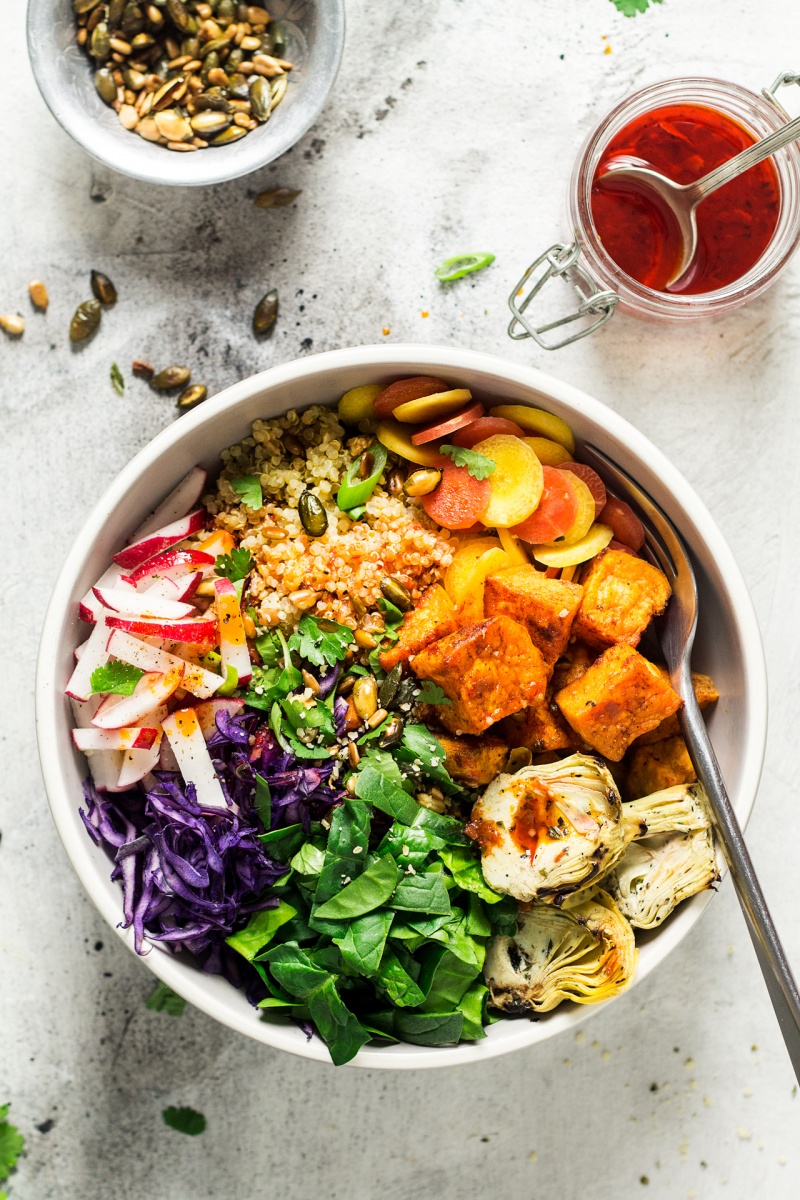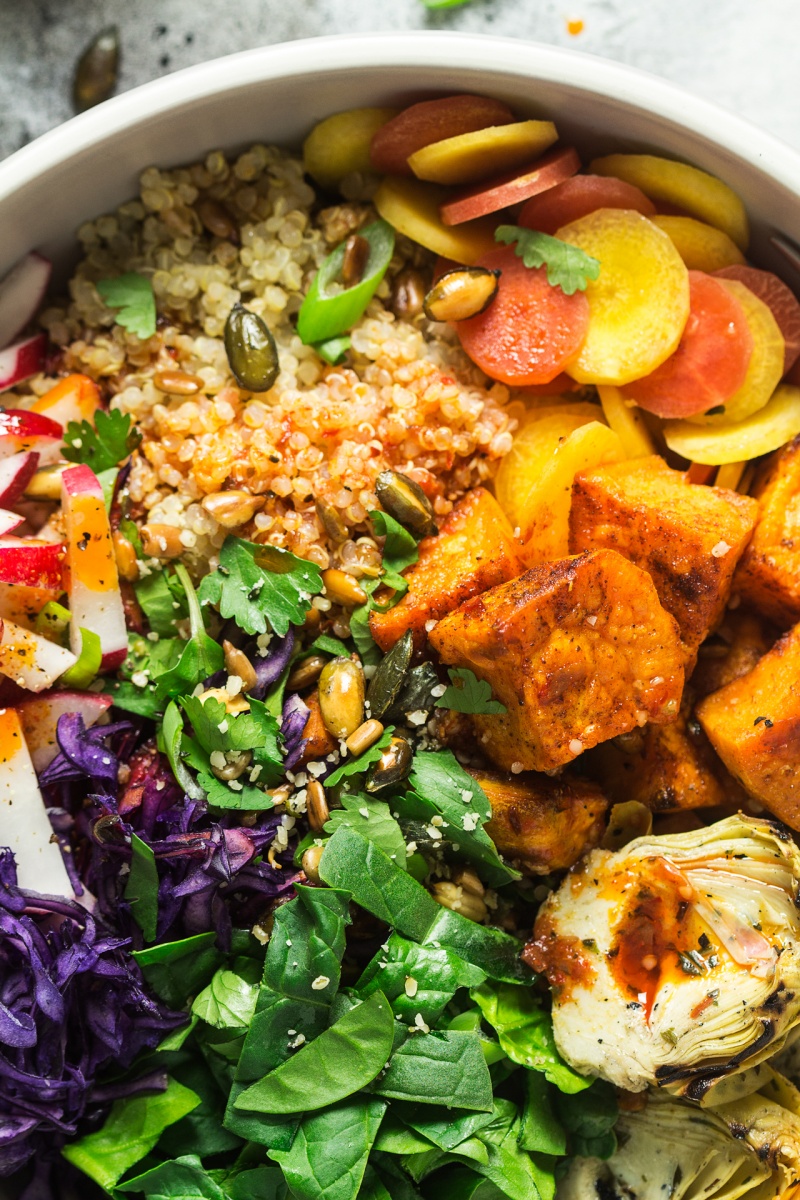 BOWLS
½ cup quinoa (or brown rice, couscous, bulgur wheat)
1 sweet potato or parsnip
2 tsp olive oil
pinch of cumin
pinch of smoky paprika
a wedge red cabbage, sliced thinly
25 g / 1 oz baby spinach leaves, chopped
4 radishes or 1 small turnip, sliced thinly or grated
2 carrots, sliced thinly
100 g / 3.5 oz grilled artichokes (shop bought), chopped
1 small spring onion / scallion, sliced thinly
15 g / 0.5 oz fresh coriander or mint (or both), chopped
1 tbsp hemp seeds, to serve (optional)
TOASTED SEEDS
DRESSING
2 tbsp extra virgin olive oil
2 tbsp lemon juice
2 tsp harissa paste, adjust to taste
salt, adjust to taste
METHOD
QUINOA
Rinse the quinoa very well. I tend to cook 2 cups of dry quinoa at once and keep it in the fridge so that I can make lunch bowls from it for the entire week.
Place the quinoa in a pot with a 1:1½ quinoa to water ratio (¾ cup of water if you are cooking only ½ cup of quinoa). Cover the pot and set the hob to a low heat. Let the water come to the boil and simmer until all the water has been absorbed (check by tilting the pot slightly and seeing if any water flows from underneath the quinoa). Once all the water has been absorbed, switch the heat off and keep the quinoa covered for another 5 minutes so that it finishes off cooking in its own steam.
Once cool, store in an airtight container in the fridge.
SWEET POTATO
Heat the oven to 200° C / 390° F and line a baking tray with a piece of baking paper.
Peel the sweet potato and cut it into equal sized cubes, place the cubes in a medium mixing bowl and coat in 2 tsp of olive oil. Season with salt, a generous pinch of cumin and smoked paprika.
Bake for about 25 minutes, flipping the pieces to the other side halfway through baking.
TOASTED SEEDS
Heat up a teaspoon on oil on a small non-stick pan. You can skip the oil here if you wish, but it helps salt and spices to adhere to the seeds.
Add the seeds to the hot oil and stir-fry them for a few minutes until the sunflower seeds turn golden and the pumpkin seeds start popping. Season with salt and a pinch of each spice. Set aside.
ASSEMBLY
Prepare the dressing by whisking olive oil, lemon juice and harissa paste together. Season with salt to taste.
Divide the shredded cabbage, chopped spinach, cooked quinoa, radishes, sliced carrots, artichokes and sweet potato chunks between two bowls. Top with chopped spring onion, coriander, toasted seeds and hemp seeds (if using). Dress with harissa dressing.