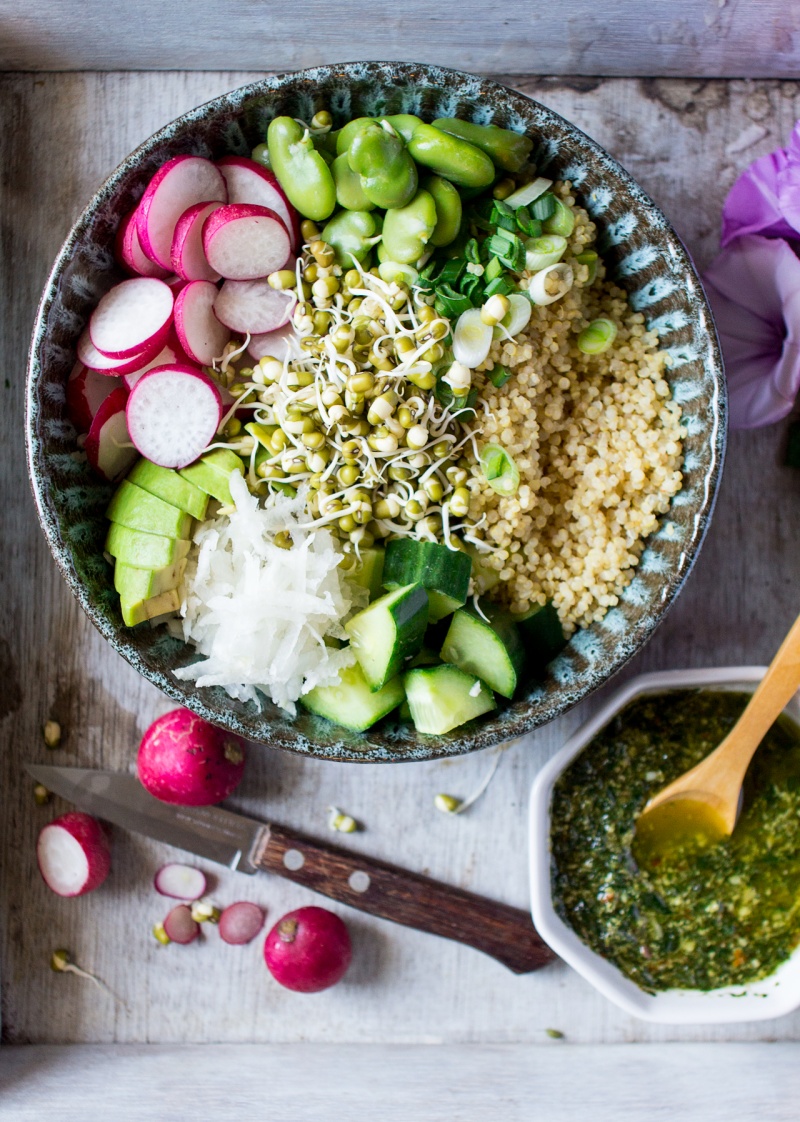 This superfood bowl with mint pesto says spring to me. It's filling yet light, healthy, full of raw food goodness and is naturally gluten-free.
I don't use the term 'superfood' very often as, having worked in advertising for years, I'm aware that calling certain foods 'superfoods' is simply a marketing ploy to offload overpriced, sometimes exotic, ingredients to the unsuspecting public looking for a miracle fix. Sadly no amount of mung bean sprouts in my lunch today will compensate for one too many chocolate brownies I hoovered up the day before.
Although…hang on, isn't chocolate a superfood too?! 🙂 .
I did call this salad bowl a superfood bowl in a much broader sense. It contains a beautiful balance of fresh, natural, seasonal ingredients that will definitely improve the way you feel if you include them on your menu on a regular basis. Maybe it's just health conscious me, but eating such a variety of fresh produce, colours and textures for lunch somehow makes me feel more alive! It gives me a little edge of nutritional superpower!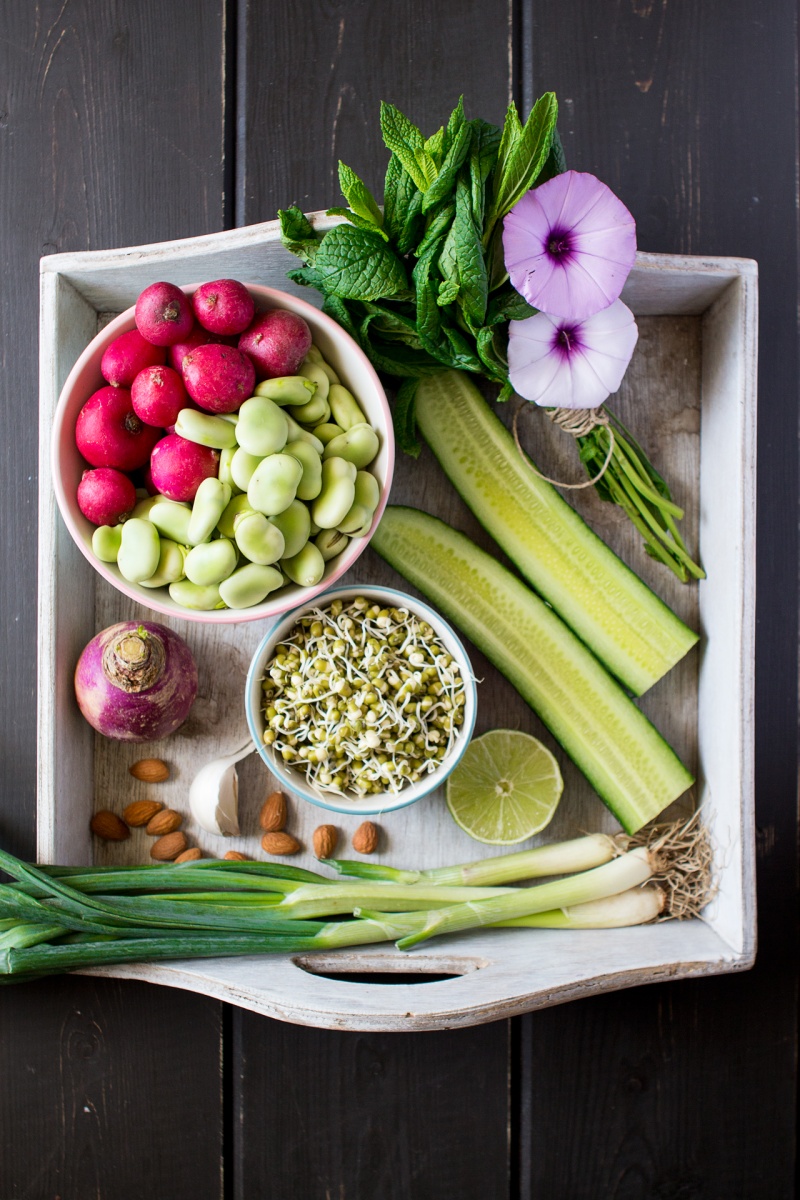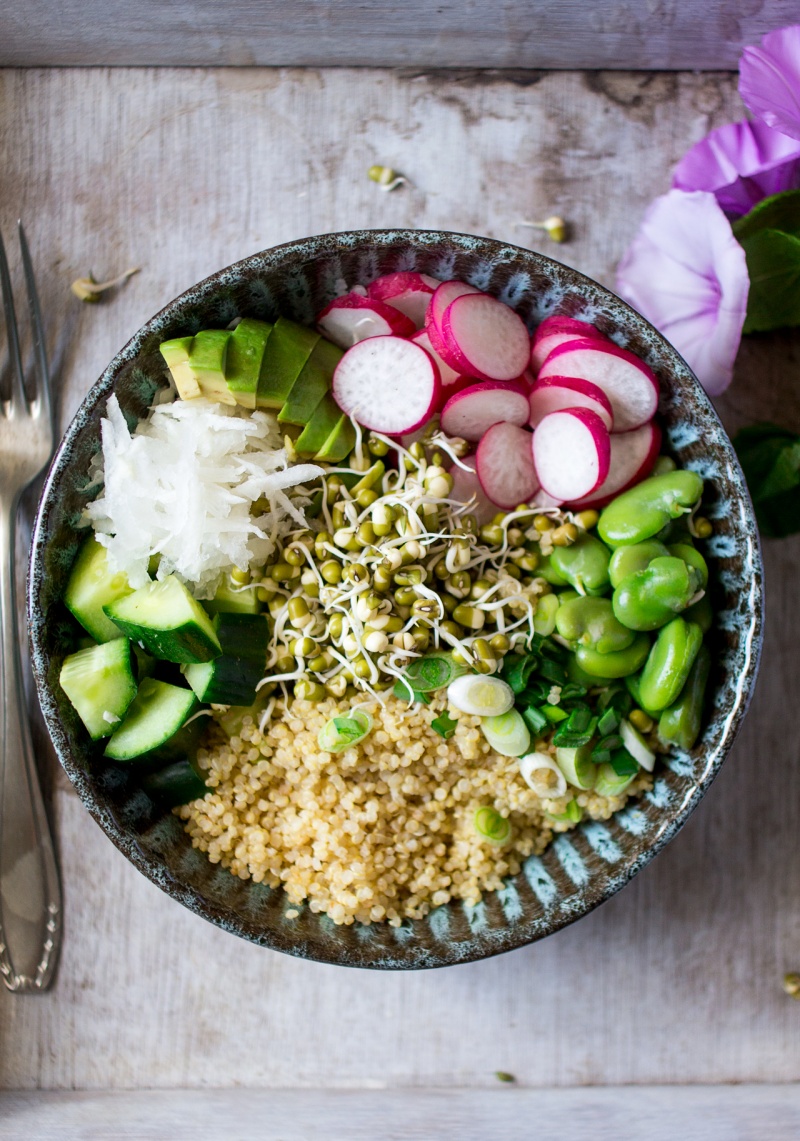 SUPERFOOD BOWL
½ cup quinoa, cooked
200 g broad beans or peas
10 radishes, sliced
½ avocado, sliced
½ long cucumber, chopped
1 spring onion, sliced thinly
1 turnip, grated coarsely
2 handfuls of sprouts (I sprouted mung beans)
salt and pepper, to taste
QUICK MINT PESTO
leaves from 5 springs of mint, roughly chopped
1 small garlic clove
1 tbsp / 15 ml lime or lemon juice
10 almonds, roughly chopped
pinch of coarse salt
pepper, to taste
4 tbsp / 60 ml extra virgin olive oil
METHOD
SUPERFOOD BUDDHA BOWL
Cook quinoa according to the instructions on the packet. I simmer mine (with a lid on) in 1:1½ (grain:water) volume ratio until all the water gets absorbed and let it stand covered for 5-10 minutes after that.
To cook broad beans, bring a small pot of water to the boil. Throw broad beans in and boil them for about 5 minutes. While broad beans are cooking, prepare a bowl of cold water and a few ice cubes thrown in. After 5 minutes test one bean and if it's cooked, drain broad beans and plunge them into the bowl with cold water you prepared earlier. Pod the beans.
Divide cooked quinoa, broad beans and the rest of salad ingredients between 2 bowls.
QUICK MINT PESTO
To make mint pesto, crush chopped almonds in a pestle and mortar. Then add garlic and a pinch of salt and pound them until the garlic turns into a paste. Add chopped mint leaves in small batches and a bit of lemon juice to stop the mint from turning brown. Pound each batch until finely minced and finally drizzle in olive oil to emulsify the mixture. Season with lemon zest, pepper and extra salt if needed.