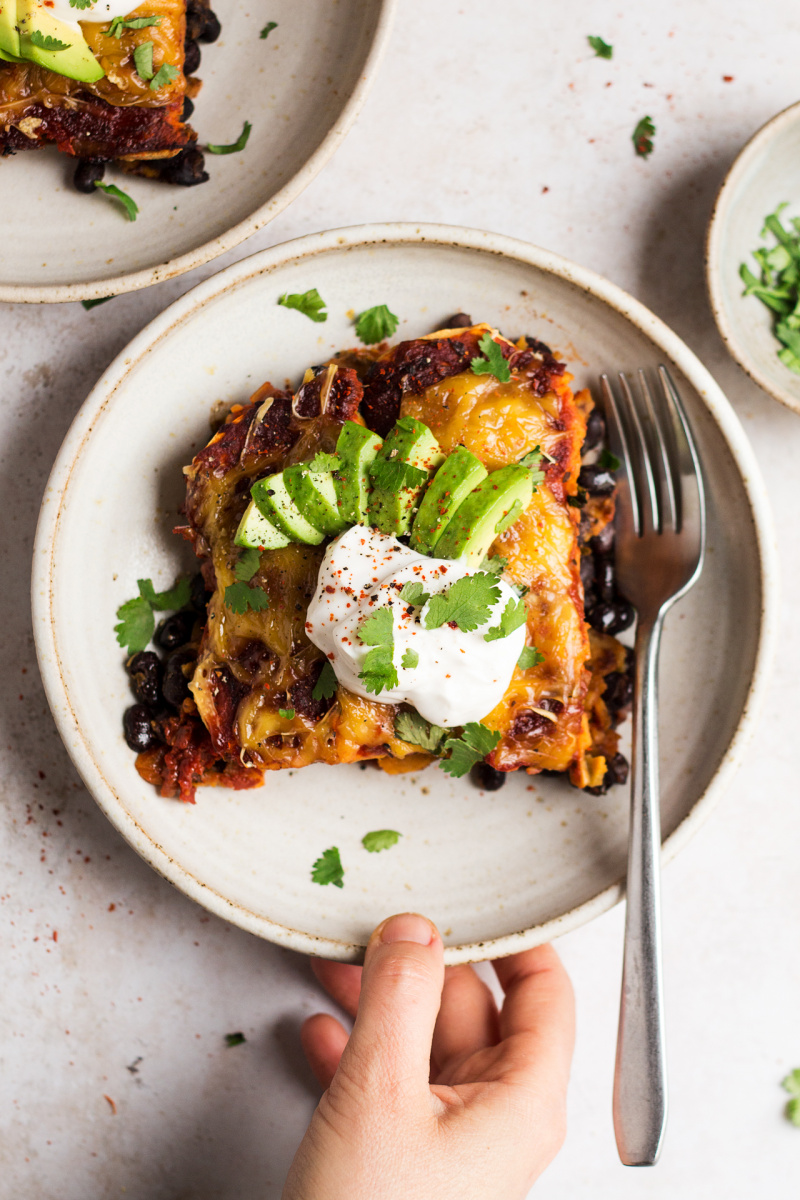 It's been almost a week since we've taken residence in this new house and we've been loving it so far. I've loved having a fairly modern and spacious kitchen with plenty of cupboard space and a spaceship of an oven at my disposal. As we won't be redecorating the kitchen just yet, we've bought a 100 cm cooker / oven to fill the gap left when the previous owners took their cooker with them.
I've never had a cooker this size and I wasn't sure it was the best use of space, but I am loving it already. The only issue is that we bought it on Ebay and while it's in a pretty good nick all the dial markings have been worn out, so I am kinda guessing the temperature right now. Please bear with me, Duncan found dial stickers online and they are in the post. Rest assured that I won't be making any cake recipes until I've received them…
As it's always the case with a new house, there are things to learn. All the door handles seem to operate in the exact opposite direction to what we are used to, for example. Locks have their quirks. I am having a bit of trouble finding the light I am happy with. I was hoping to photograph in the kitchen, but pretty soon it became apparent that the light is usable only until 11am and as I am not an early riser exactly, it's no good.
After 11am, the light streams right into the back door, which is great for spending time in the room, but not amazing for photography. I therefore moved to the utility room halfway through the last photo shoot and while I am getting better results, I am still not 100% sure this is where I will end up photographing. I shall experiment for a bit longer before I decide.
This sweet potato and black bean bake was something I came up just before we moved, when I discovered that I have way too many black bean tins at the back of my cupboard. I took me a few goes to get the proportions right, so we ended up eating this non-stop for an entire week 😛 .
My first instinct was to go with quite a wet sauce, but the results were always too soggy, so a thicker sauce is the answer here. As this dish is sort of Mexican inspired (not authentic by ANY means!!), it goes well with smashed avo (or shop bough guacamole), a dollop of thick, vegan yoghurt and lots of fresh coriander. I did not add any heat to this dish (unlike me, I know) so please override me if you are a hot food fiend. I hope you'll enjoy this dish as much as we have.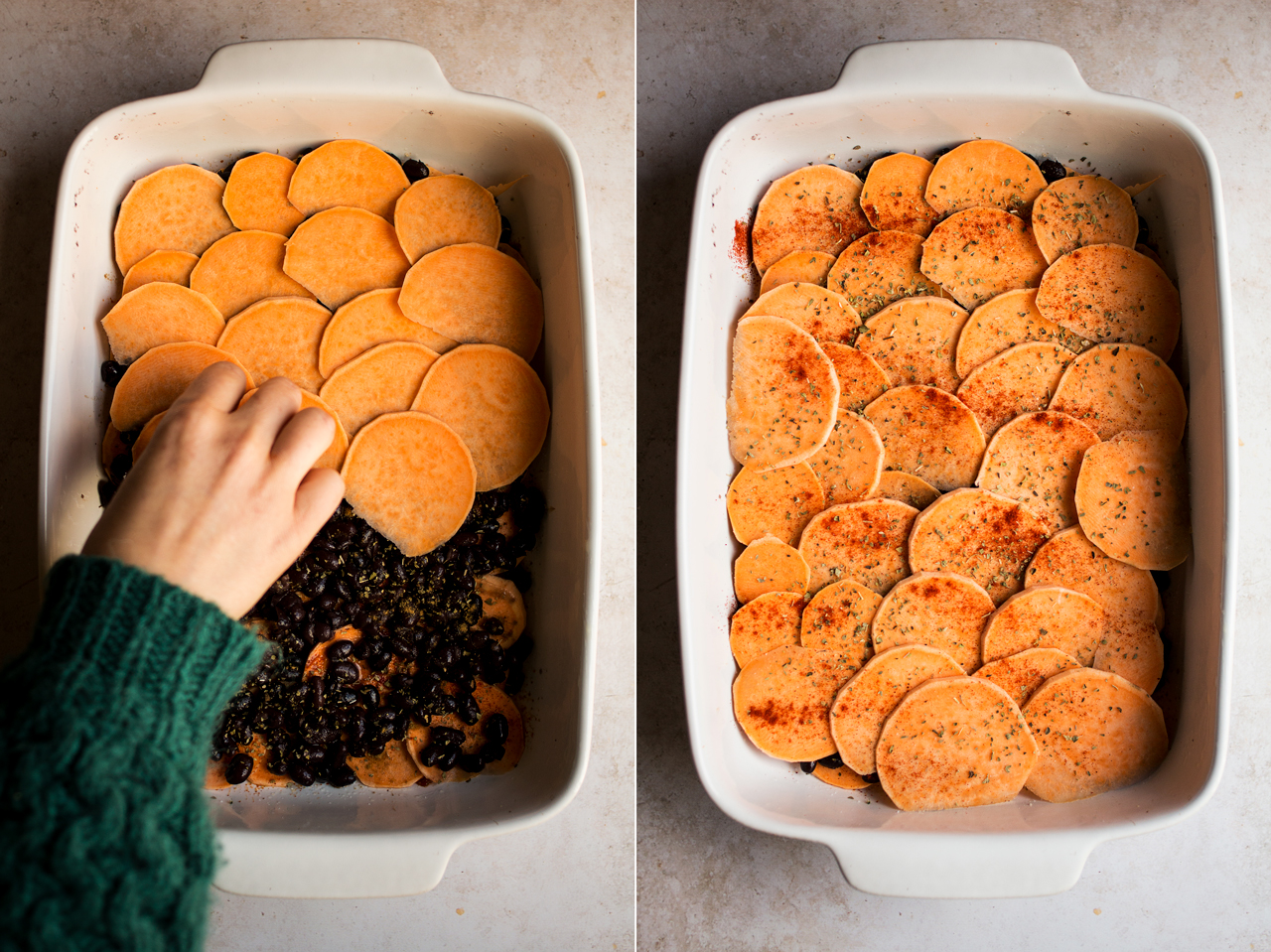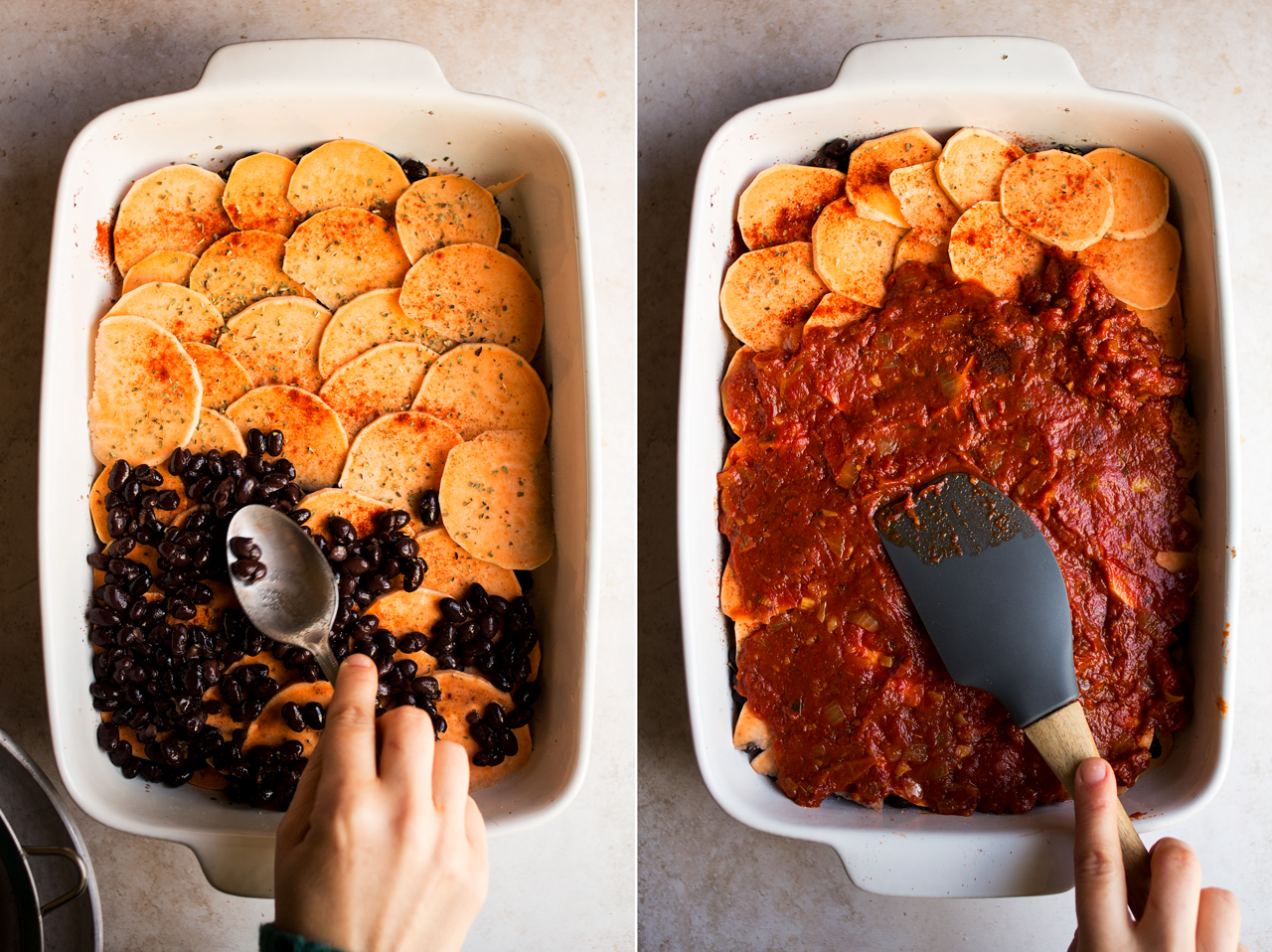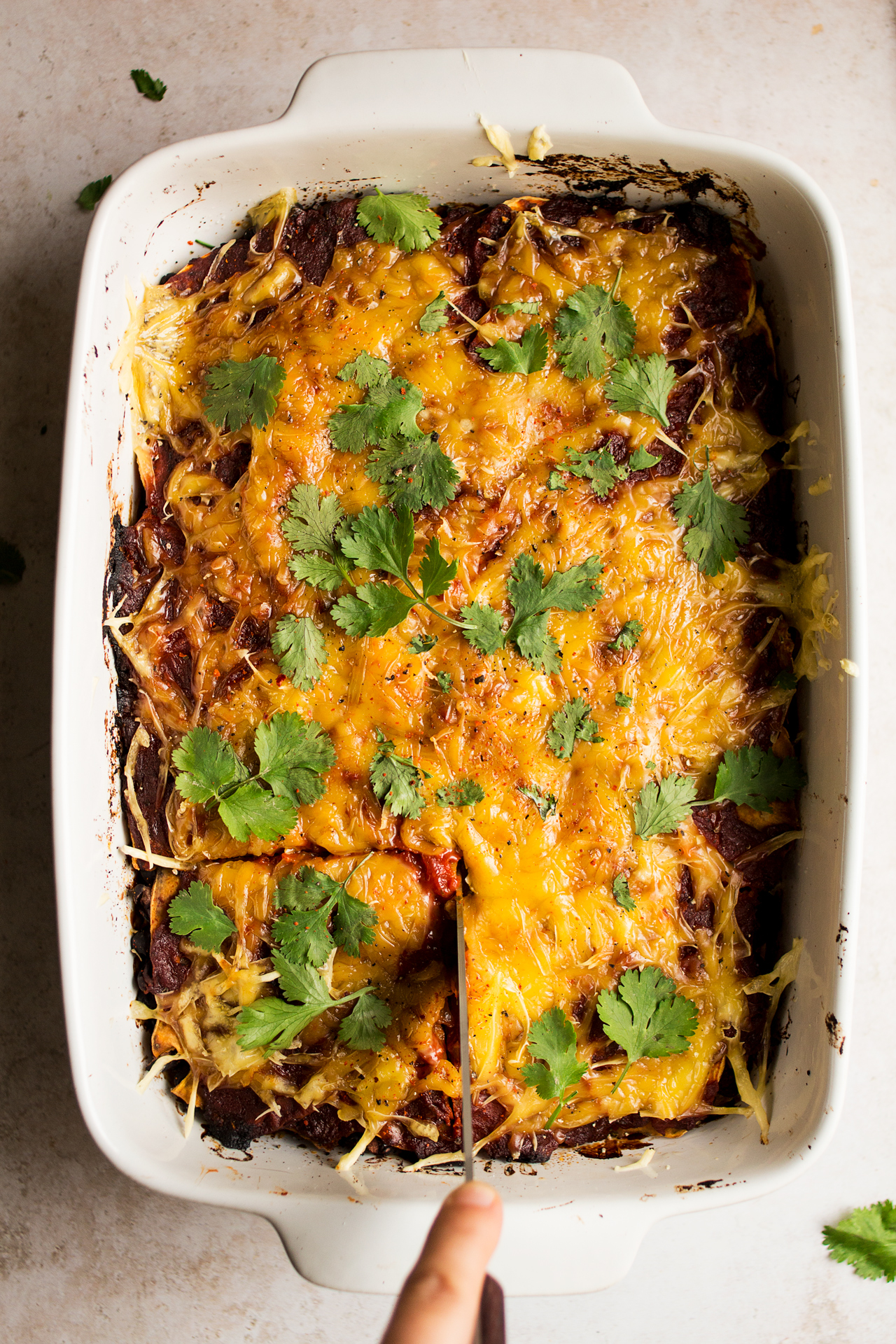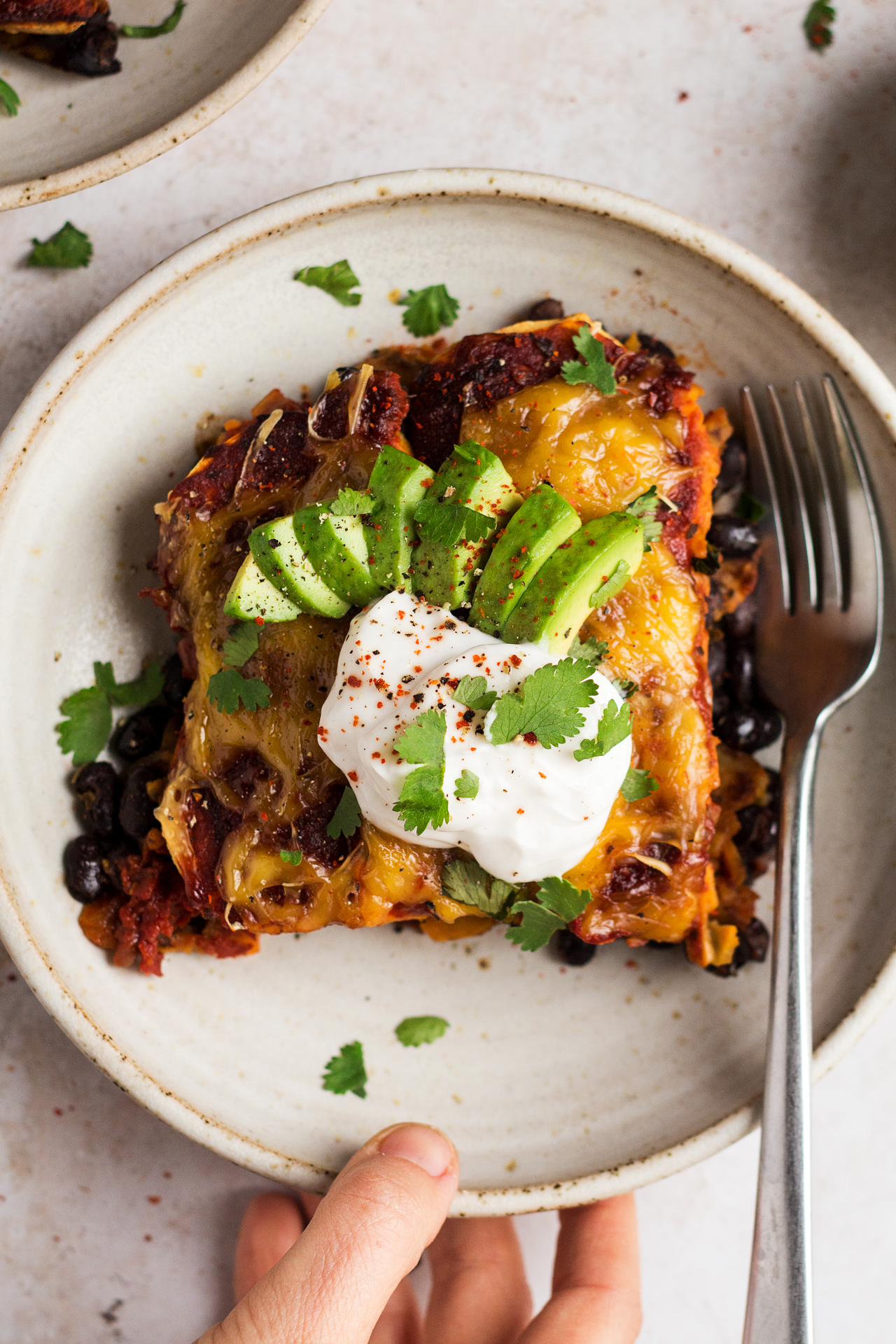 TOMATO SAUCE
3 tbsp olive oil, divided
1 onion, finely diced
3 garlic cloves
1 tsp ground cumin, more to season layers
1½ tsp smoked paprika, more to season layers
1 tsp oregano, more to season layers
2 x 400 g / 14 oz tins quality chopped tomatoes
1 tsp salt, more to season layers (adjust to taste!!)
ground black pepper, to taste
REMAINING INGREDIENTS
2 large sweet potatoes*, peeled if desired
2 x 400 g / 14 oz cans black beans (no BPA and organic if possible), drained
200 g / 7 oz melty vegan cheese, shredded or homemade cashew bechamel**
fresh coriander / cilantro, to serve (optional)
ripe avocado or shop-bought guacamole, to serve (optional)
thick vegan yogurt (I like The Coconut Collaborative and Coyo), to serve (optional)
METHOD
TOMATO SAUCE
Heat up 2 tbsp of olive oil in a heavy bottom pan or a casserole pot.
Add diced onion and fry it off on a low heat until almost translucent, stirring from time to time.
Add diced-up garlic, continue frying for another minute or so.
Mix all the dry spices into the onion and garlic. Fry them off for another minute, stirring the whole time.
Add in all the tomatoes and their juices. Once in the pan, break the tomatoes down with a wooden spoon. Add a can full of water and allow the sauce to simmer gently for about 30 minutes.
Once the pan gets dry, add another can full of water and continue simmering the sauce until until tomatoes break apart and the sauce thickens. It needs to be thick for this dish or else the bake gets watery.
Season with salt and pepper to taste.
BAKE
Preheat the oven up to 180° C / 355° F and grease a baking dish with 1 tbsp of olive oil.
Spread ½ cup (120 ml) of tomato sauce at the bottom of the dish.
Slice sweet potatoes with a mandolin to achieve 3 mm / 0.1″ thick slices. I don't recommend slicing them by hand (unless you are a pro) as the slices need to be exactly the same thickness for them to cook at the same time and this is really hard to do using a knife.
Place a layer of sweet potato on the tomato sauce making sure the slices overlap slightly. Sprinkle with salt, oregano and smoked paprika.
Next spread on a can's worth of black beans. Season with a bit of salt and cumin.
Follow with another layer of sweet potato. Again overlap them slightly and season with salt, oregano and smoked paprika.
Spread the second can of drained beans on top of the potatoes. Season with a bit of salt and cumin.
Follow up with a third layer of sweet potato. Again overlap them slightly and season with salt, oregano and smoked paprika.
Finally, spread the rest of the tomato sauce on top – you should have just under ¾ cup left.
Cover with a piece of tin foil and bake for about 60 minutes – give or take – until the sweet potato is cooked through and a knife slides right in.
Sprinkle with shredded vegan cheese and bake (no cover this time) for about 10-15 minutes, until the cheese has melted.
NOTES
The ceramic Pyrex dish I used for my bake had the following dimensions: 26 cm / 10″ x 19 cm / 7.5″ x 5 cm / 2″.
*The best sweet potatoes for this dish are large, thin ones so that they fit the mandolin well.
**If using béchamel instead of shredded vegan cheese, I recommend baking the dish covered for about 40 minutes, then spreading the béchamel on top and baking (uncovered) for a further 40 minutes.