Sweet potato bowl
Sweet potato bowl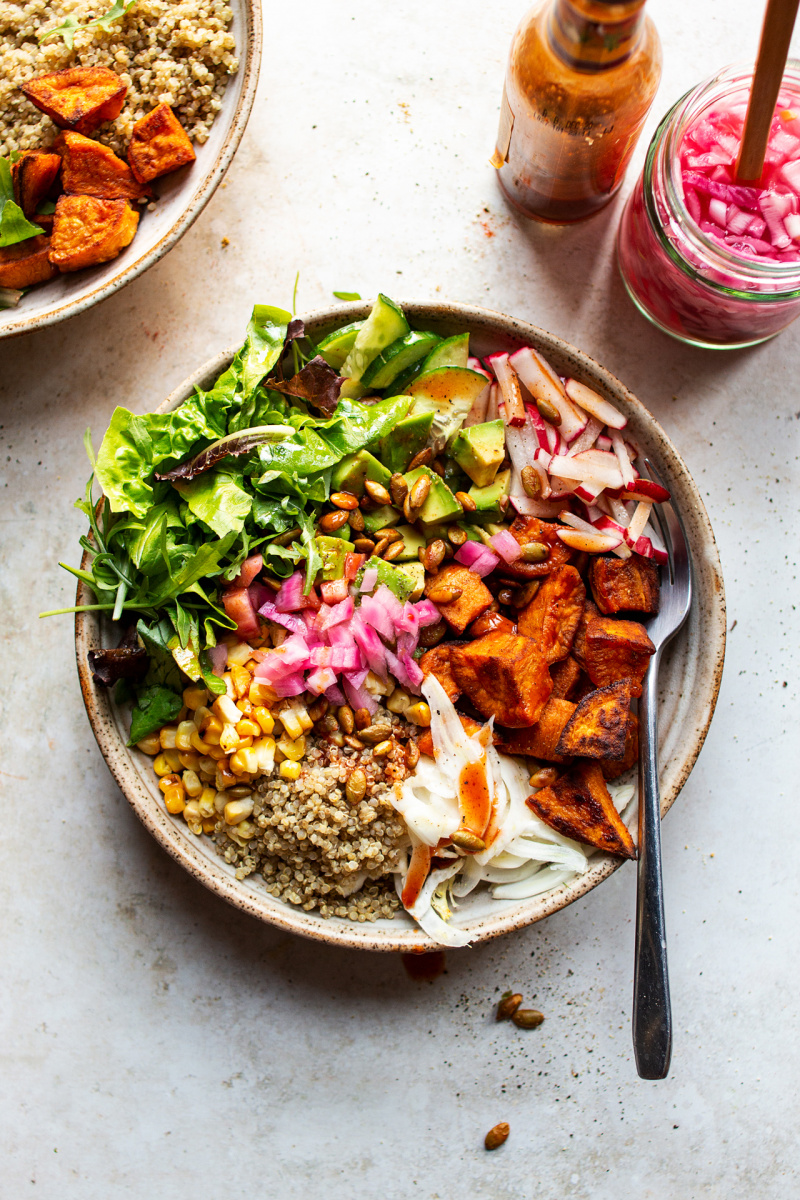 Greetings from sunny Crete. Today, after several days in the very chilled yet charming seaside town of Sitia, we are driving down south to our next destination, Ierapetra. Apart from one slightly annoying day where we had issues with both our car hire and accommodation, we've been having a very relaxing time so far and we cannot believe we are halfway through our time here already.
It's incredible how effortlessly we've managed to slip back into the old habits we learnt while we lived here. In some ways Greece still feels like home. Although we try to blend in, we are a bit of a curiosity to the locals. The pesky Greek alphabet means that most tourists do not succeed at learning more Greek than the obligatory 'hello', 'thank you' and 'excuse me', yet we seem to have retained a fair amount of words, it's just that we are no good at stringing them together into coherent and grammatically correct sentences. While the Greeks seem impressed by how extensive our vocabulary is, we are pretty sure that had they known we lived here for four years they would shake their head in disbelief saying 'ποπο' (popo) 😉 , so we don't advertise it much…
Recipe-wise, I have a nutritious and fibre-rich lunch bowl for you today – something I ate a lot of before we left for Greece (now it's all about tomatoes, zucchinis and olives on repeat). It's easy to make and absolutely perfect for batch prep – make all of the cooked ingredients in bulk, at the beginning of the week, add salad elements in the day and voila – work lunch is taken care of!
When I made it for myself, I made it completely oil-free as I was going through a phase of logging all my food in an app, which me realise that I would rather have a few squares of chocolate with my afternoon coffee than oil in my dressing to stick to my daily calorie target. I am on holidays (in the olive oil land!!) so I stopped bothering with it for now, but I am mentioning this in case you follow the forks over knives diet or are simply not too keen about added oil. This sweet potato bowl has so much going on, a lot of contrasting textures and flavours, a lot of satiating fibre and some healthy fats in the form of avocado and pumpkin seeds that if you decide not to use oil, you will not miss it, I promise.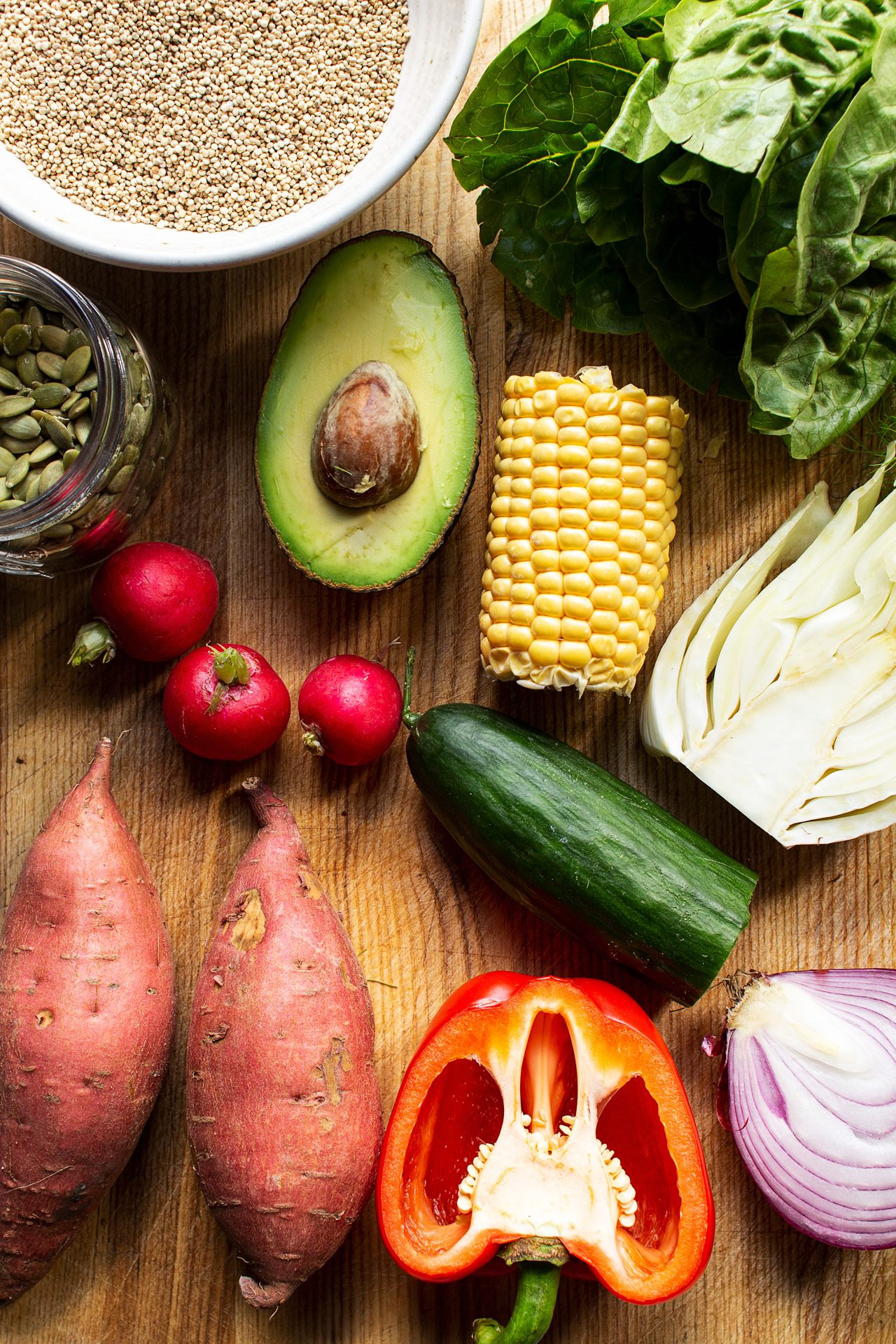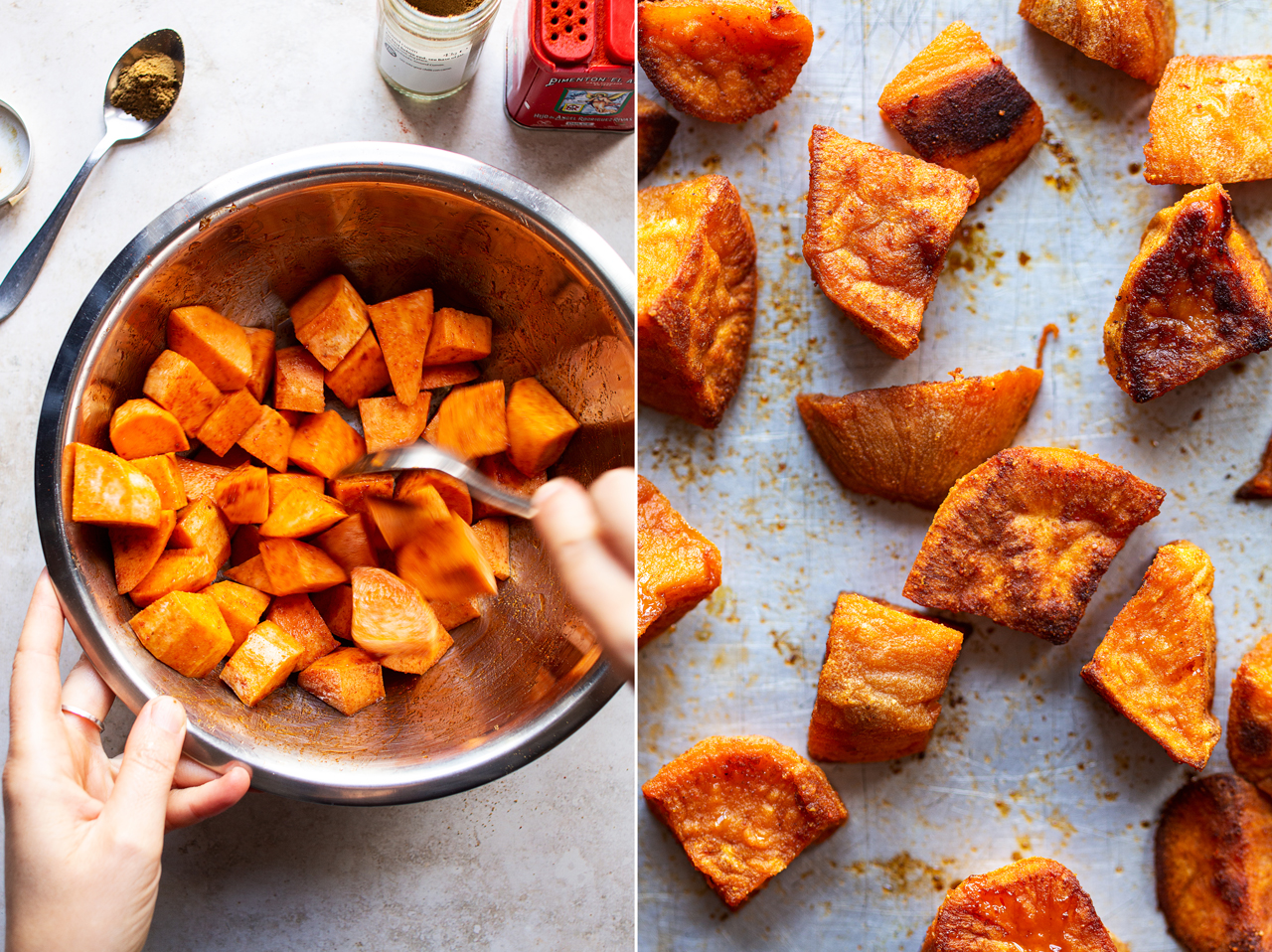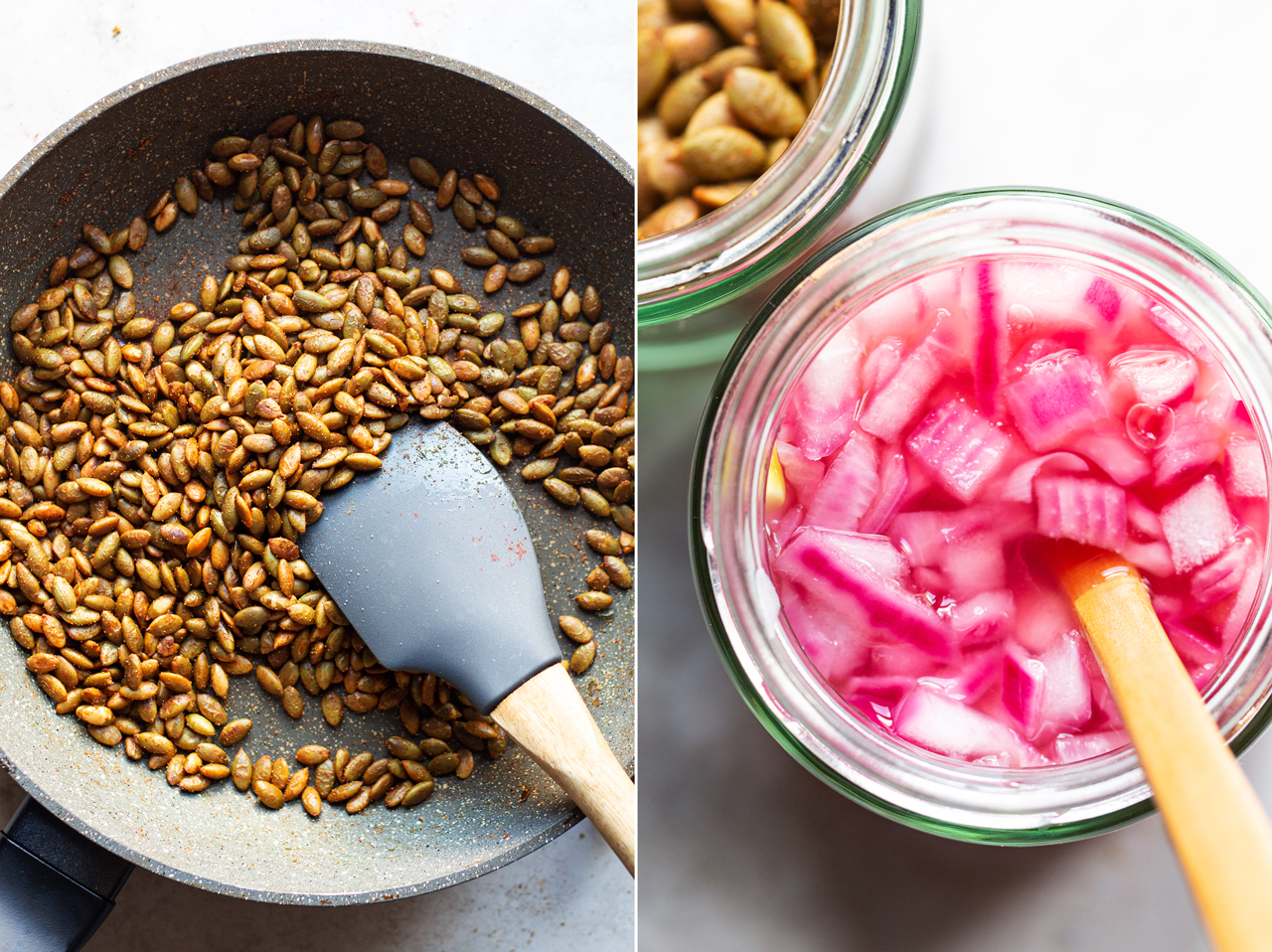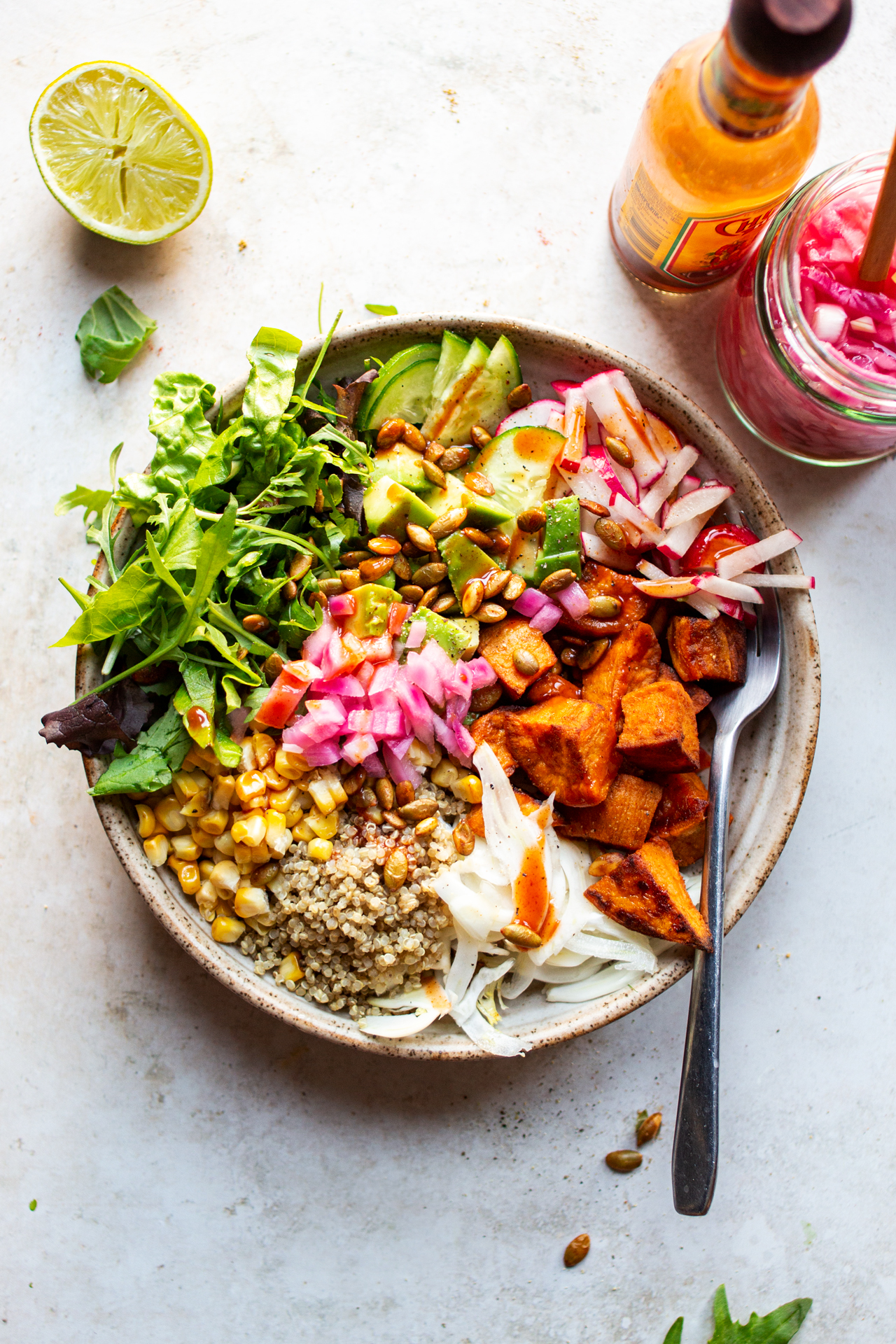 450 g / 1 lb sweet potato*, cubed
30 ml / 2 tbsp olive oil, divided (optional)
1½ tsp cumin
1½ tsp smoked paprika
salt and pepper
185 g / 1 cup quinoa (or brown rice)
2 small corn ears
120 ml / ½ cup apple cider vinegar
½ red onion, finely diced
90 g / ¾ cup shelled pumpkin seeds / pepitas
½ tsp garlic powder
small fennel, shredded very thinly
1 red pepper, cubed small
small cucumber, cut into half and sliced thinly
12 radishes, cut into matchsticks
1 ripe avocado, cubed
1 lime
favourite hot sauce (I use this one)
METHOD
Heat up the oven to 200° C / 390° F.
Coat the sweet potato in 4 tsp of oil and sprinkle with approx. 1 tsp cumin, 1 tsp smoked paprika and some salt. Bake for about 25-30 minutes, turning the pieces half way through the baking time.
Rinse the quinoa well and place it in a medium size pot with 1½ cups of water and some salt. Cover the pot with a glass lid and place on a low heat. Allow the water to come to the boil and keep the heat on until all of the water qets absorbed by the quinoa – tilt the pot (without taking the lid off) to see if all the water has been absorbed. Once all the water has been absorbed, switch the heat off and let the quinoa rest covered while you prepare the rest of the ingredients.
Place corn – you may want to brush it with a tsp of oil first, but that's not necessary – on a hot griddle pan. Allow it to char slowly, turning a little every 5 minutes or so.
Place apple cider vinegar and ½ cup (120 ml) of water in a small pot, bring to a gentle boil. Transfer to a large jar and place diced onion in the marinade – allow the onion to quick pickle for 15 minutes.
Finally, heat up a small pan on a low-medium heat. Add 1-2 tsp of olive oil (you can skip it if you wish, but I find that oil helps to get the spices to adhere to the seeds). Add the pumpkin seeds to the pan, coat them in the oil and allow them to toast gently until golden, stirring the entire time. Switch the heat off and season them with salt, cumin, smoked paprika and garlic powder. Stir the spices into the seeds well and transfer them out of the pan.
Divide sweet potato, quinoa and all the fresh salad ingredients between four bowls – if batch prepping, don't prep salad ingredients in advance.
Sprinkle with quick pickled onions and spiced pepitas. Dress with lime juice and a generous amount of Chipotle hot sauce.
NOTES
*If you would rather not use oil, you can also steam the potatoes for 20-30 minutes.
DON'T MISS A SINGLE RECIPE
Join our mailing list and we we will let you know when we publish a new recipe. You'll receive our DELIGHTFUL DESSERTS E-BOOK as a thank you for supporting us.