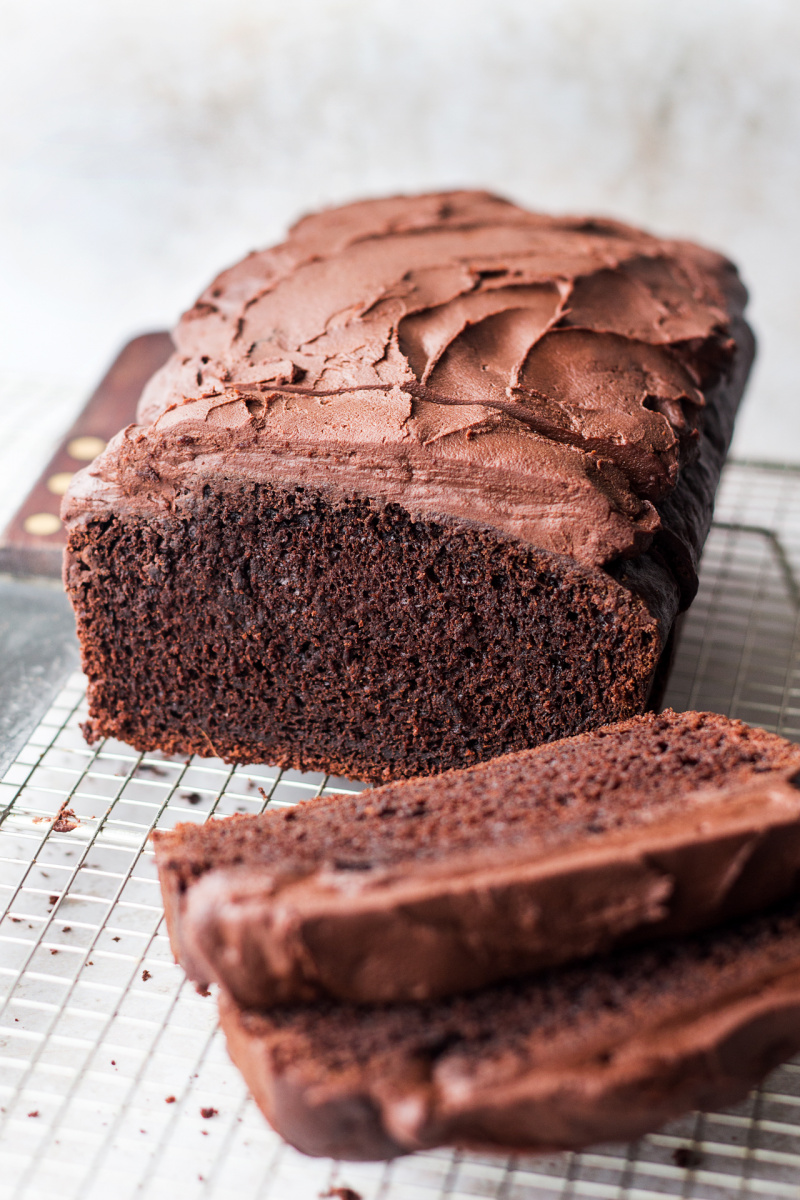 Happy weekend, guys! Ours has been a roller coaster of emotions so far and there is more to come, I'm sure. We finally got our house keys yesterday and were able to go back to OUR (still doesn't feel like it) house to check it out, measure things and ponder the best course of action.
The house looked really weird without any furniture in it and even though we knew this would happen, it freaked us out a little as it exposed a lot of small niggles that were hiding behind things and also made the place look much smaller. Well, we've seen it with all the furniture in it, so unless the house shrunk with the economy in anticipation of Brexit 😉 , it's all good – we will be able to fit all the necessary furniture items in comfortably.
After we've been able to take a closer look at the place, it suddenly dawned on us how much work lies ahead of us. It's exciting and also slightly daunting and overwhelming at the same time. Luckily, we'll have no spare cash for a while so that very much informs our next steps. Big expensive things like putting a new floor in or modernizing the kitchen will have to wait until we bounce back a little. So to begin with, we've decided to tackle the smallest room in the house – the study. It's currently painted a ghastly lilac and the walls have plenty of screw holes in them, so that's the room we are going to cut our teeth on. We want to put a nice floor in there too, but that will have to wait until we are ready to purchase the floor for the entire level.
Next on the DIY list is the living room, which requires some serious wallpaper stripping, prepping and painting of the walls, ripping the carpet off and getting rid of some antiquated inbuilt cupboards. These two rooms should keep us occupied for a few months and then we will see. I'm trying to fight my usual instinct to think about everything that needs doing all at once, as that only ever leaves me overwhelmed, stressed, drained and ineffective. It's going to be a shambles for a while. We have some guests coming in April and then in June and there is a real chance that we will need to eat our meals cross-legged on the floor, but they've been warned and they do not seem that bothered.
I actually quite like DIY (I may be singing from a different song sheet a few months from now) as it involves a lot of learning and attention to detail and the results are immensely fulfilling. So our plan is to do as much as we can ourselves and only just hire professionals for things like kitchen installation, plastering, electrics etc.
While all this house-related excitement has been going on, I still somehow managed to finalise a chocolate cake recipe, which I think you'll want to get your mitts on… It's deeply chocolatey, delicious and indulgent, yet both the cake itself and the buttercream are based on a vegetable. Yes, that's right. They utilise a sweet potato, but like Duncan, our neighbour and a few other people who got to try it, you would never have guessed. It's delicious on its own, but for an extra special treat and a great balance of flavours, I like to serve it with a dollop of thick coconut yoghurt and a spoonful of cherry compote. Enjoy, while I shall get back to reading up on Victorian house renovation.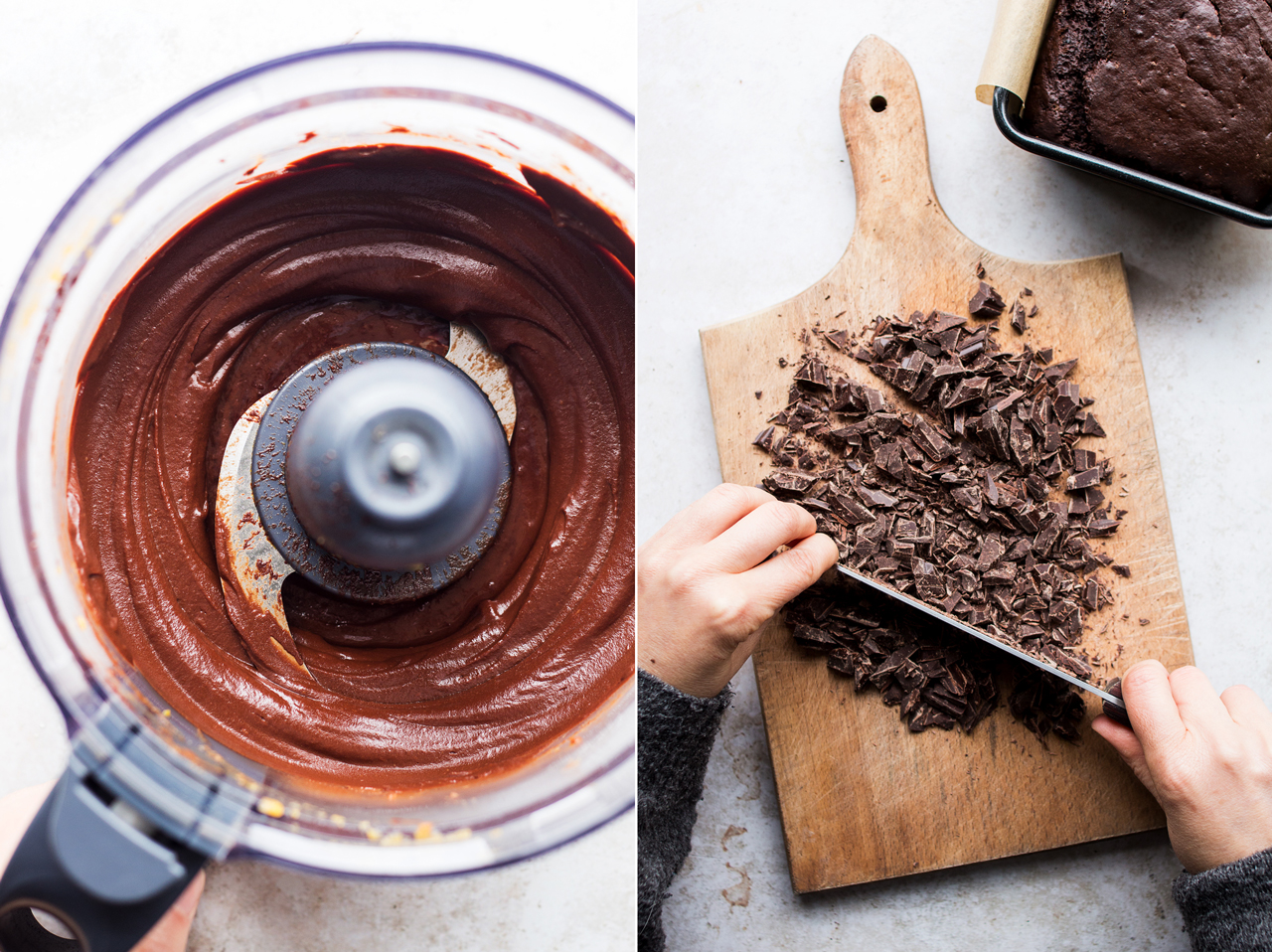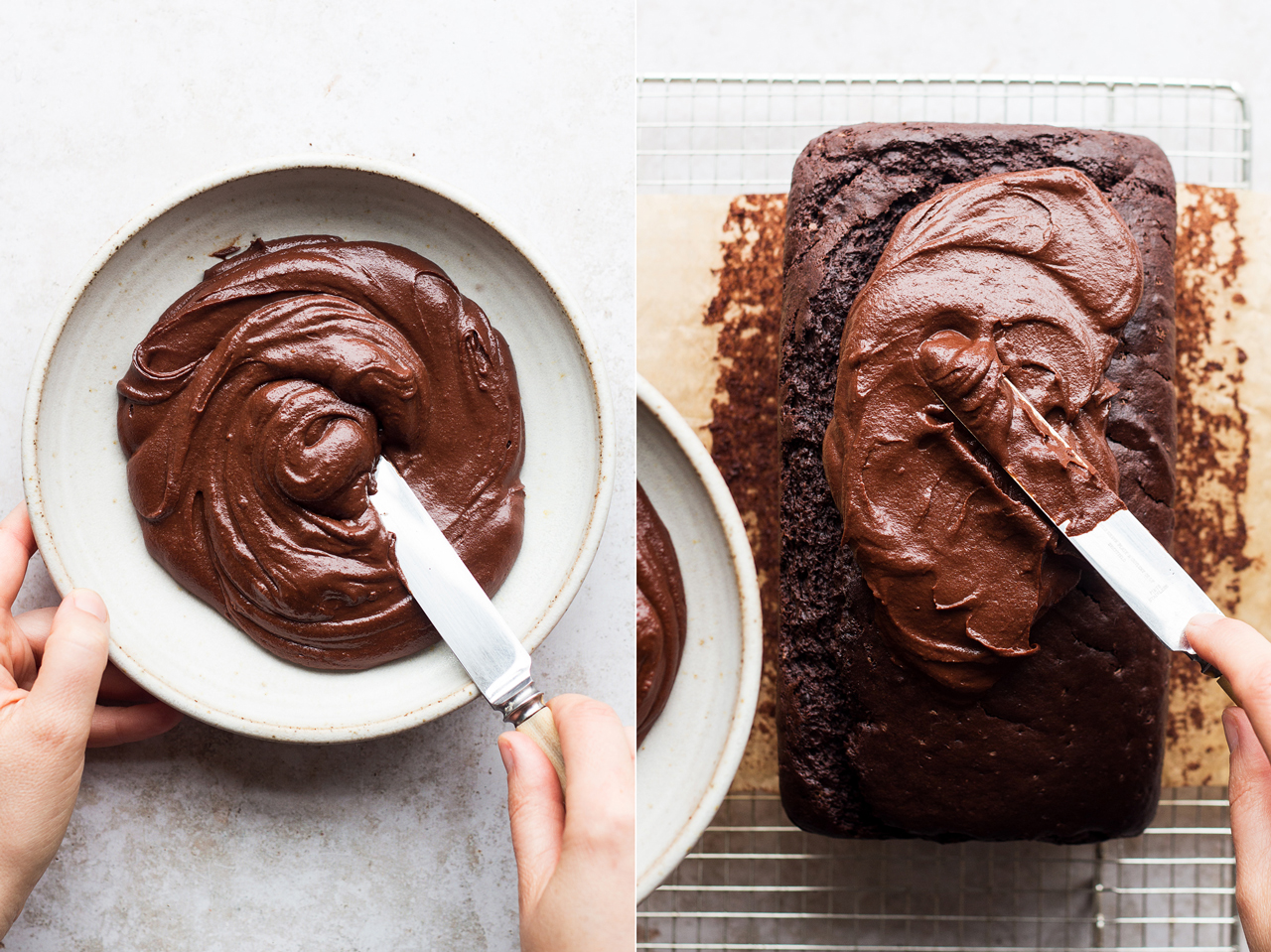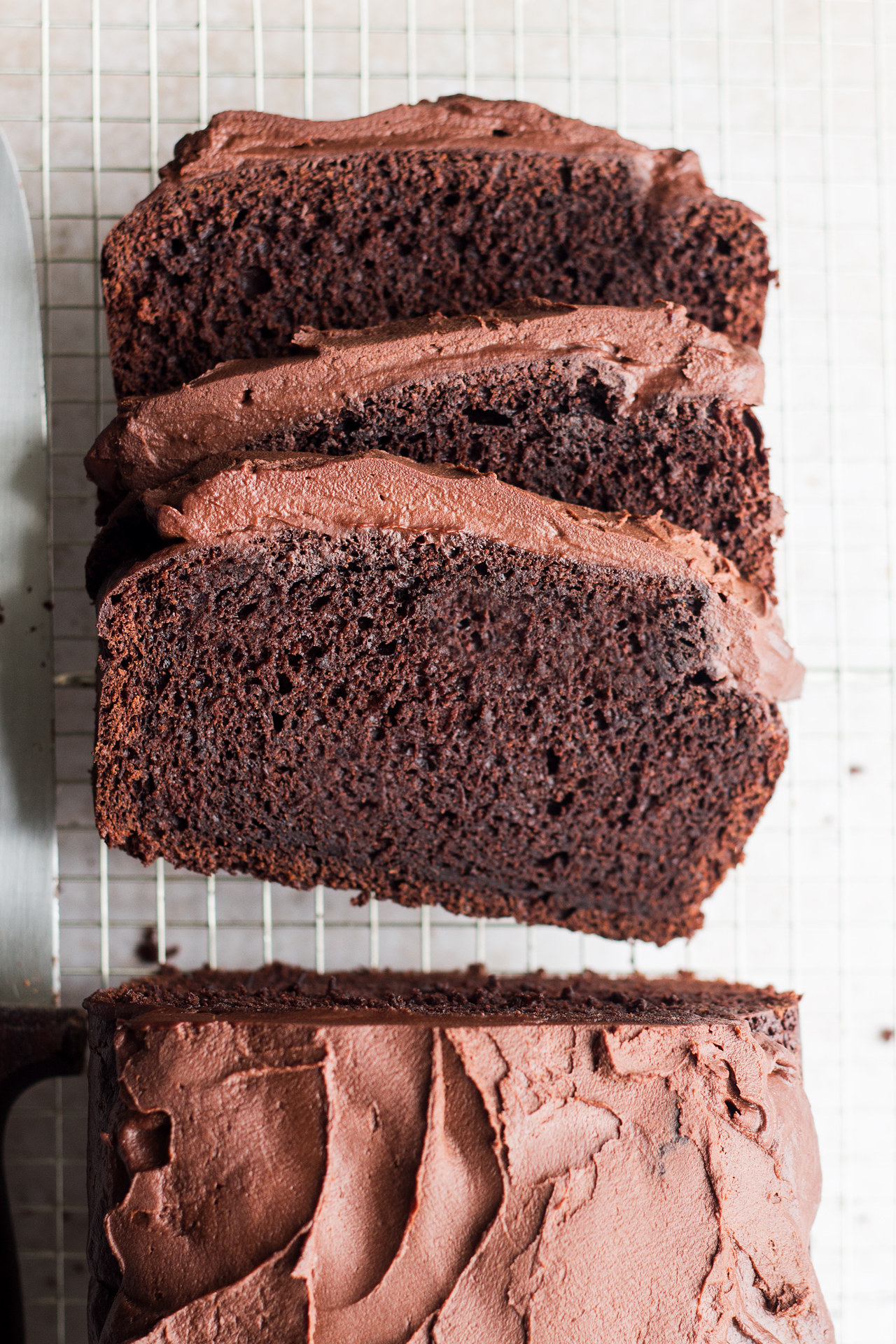 FROSTING
110 g / ½ cup HOT mashed cooked sweet potato*
100 g / 3.5 oz vegan dark chocolate (I used 70% cacao), chopped roughly
3 tbsp maple syrup or plant milk
WET INGREDIENTS
110 g / ½ cup mashed cooked sweet potato*
360 ml / 1½ cup almond milk (or other thin plant milk)
120 ml / ½ cup smooth hazelnut or almond butter
200 g / 1 cup sugar (I used coconut sugar for refined sugar free version)
DRY INGREDIENTS
180 g / 1½ cups all purpose wheat flour or GF all purpose flour mix (I use this one)
75 g / ¾ cup cacao powder
1 tsp of baking powder
½ tsp of baking soda
¼ tsp fine sea salt
METHOD
FROSTING
Place ½ cup of hot sweet potato in a food processor together with roughly chopped chocolate. Process until all the chocolate has melted and you get a smooth frosting.
Taste and add maple syrup if you feel that the mixture lacks sweetness (depends on how sweet your chocolate is and on your preference). If not using maple syrup, add almond milk to achieve a more spreadable consistency. Transfer to a bowl and set aside.
CAKE
Warm up the oven to 180° C / 355° F and line a 900 g / 2 lb cake tin with baking paper. Move the oven rack a notch down from the middle position.
Process ½ cup of sweet potato in the food processor with ½ cup of almond milk. Once smooth, add the remaining wet ingredients and whizz until smooth. Transfer to a large bowl. If you don't have a food processor, you could probably mash sweet potato with a fork by adding a splash of almond milk (from the amount of milk the recipe calls for) to get a smooth puree before adding the remaining wet ingredients. If you do use a food processor, make sure you scrape all of the wet mixture that stays on the lid, blade etc. using a spatula so that the ratio of wet to dry ingredients remains correct.
Sift all the dry ingredients into another bowl and mix well until thoroughly combined.
Add dry ingredients to the wet ones in three batches, folding well each time. Fold gently with a spatula until there is no dry flour left, but do not overmix (that's important if you are using a flour containing gluten)!
Transfer the cake batter into the prepared baking tin. It should be thick.
Bake for about 55-60 minutes, or until a toothpick comes out clean. Remove from the oven and allow it to cool down completely before applying the icing.
NOTES
*220 g / 1 cup mashed sweet potato equals 400 g raw unbaked sweet potato. To bake the potatoes, set the oven to 200° C / 390° F and grab a small baking tray / dish. Pierce the potatoes with a sharp knife or a skewer in several places and place them on the baking tray. Bake for about 40-50 minutes (depending on their size), until the knife slides right in.
I used a 2 lb / 900 g cake tin of the following dimensions: 18.5cm x 8cm x 6cm. (I used one like this). It holds 8 cups / 2000 ml liquid (to the brim), but the batter should fill no more than 2/3 – 3/4 of the 2lb cake tin or else the cake may not raise.
This recipe is adapted from my earlier recipe for chocolate chilli muffins.