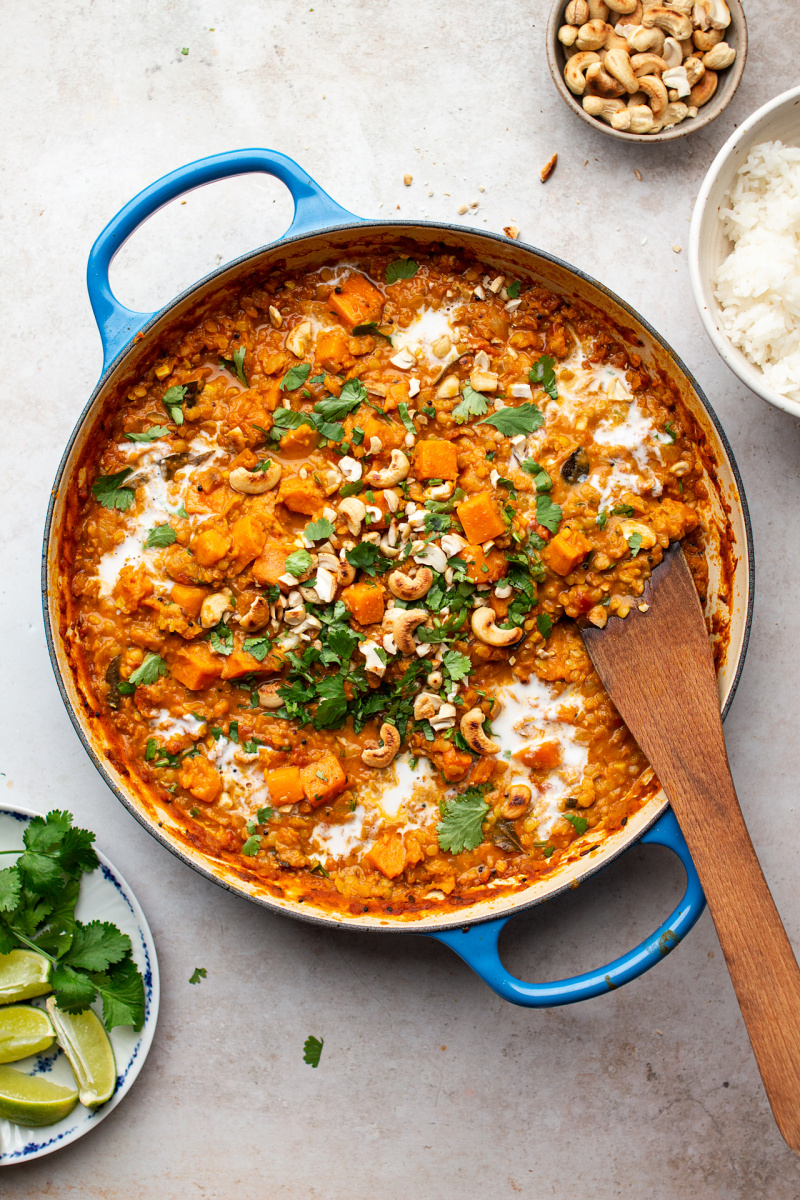 It's been 5 days since I've gone on braces and I would be lying if I told you that I am back to normal. I still have not been able to have anything other than 'baby food'-style food (smooth soups, mash, guac, smoothies, applesauce, ice cream – you get the gist) apart from some chunky homemade chips, which were really hard to eat but the craving got the better of me.
With all that is going on, I am finding it hard to be motivated to come up with new recipes right now, I will be honest. I have done a few test cooks for recipes I was excited about before I went on braces, but the taste (and texture!) tasting process is just not happening right now. My mouth is sore, my teeth are hurting and my tastebuds have seemingly gone on strike out of solidarity with the rest of my mouth's infrastructure…I am hoping to win them back again soon.
On this note, this recipe is an amalgamation of a few of my old recipes and it can be eaten as a curry / stew, but it also lends itself really well to being blended into a smooth soup – have a guess which is my favourite right now? As normally I am big fan of texture, I've decided to refrain from publishing a creamy soup recipe as I find texture-rich dishes infinitely more interesting. They are also a lot more democratic, aren't they – if you are a texture hater yourself (or have committed the folly of treating yourself to braces, like I did), I am sure that your blender will welcome you with open arms. Mine is really earning its keep right now 😉 .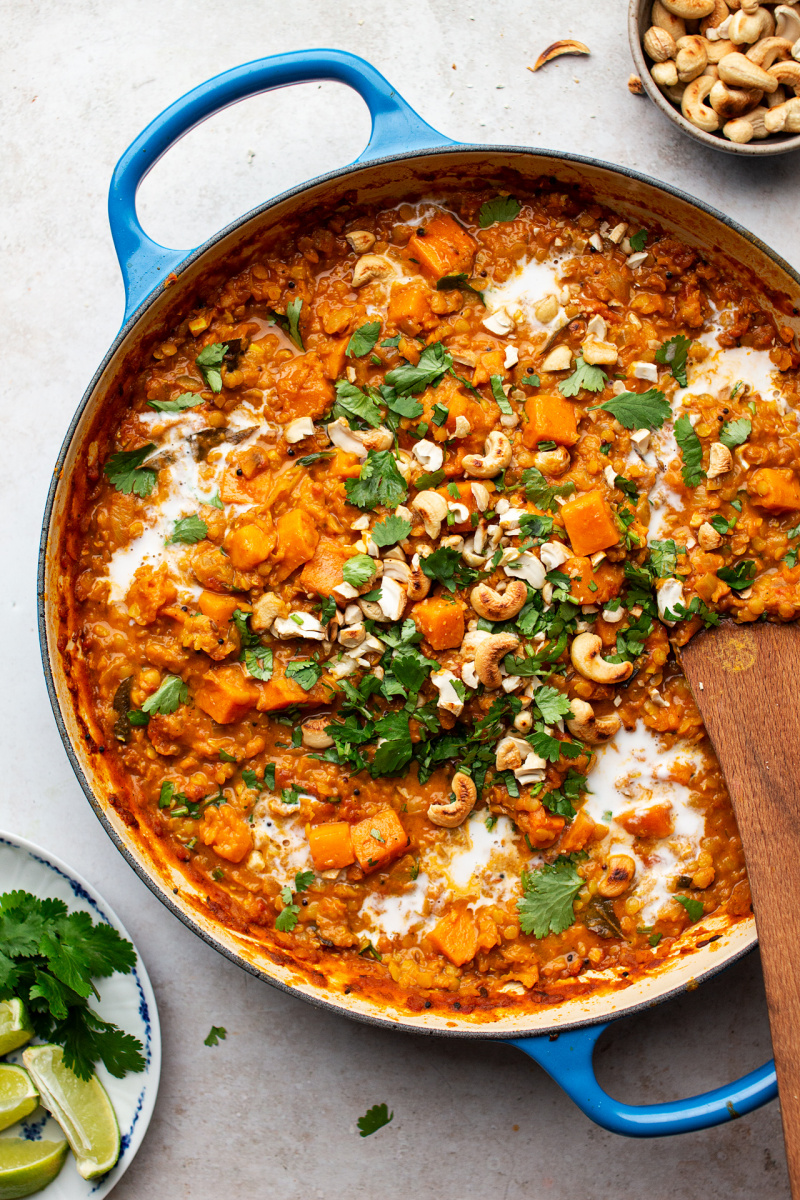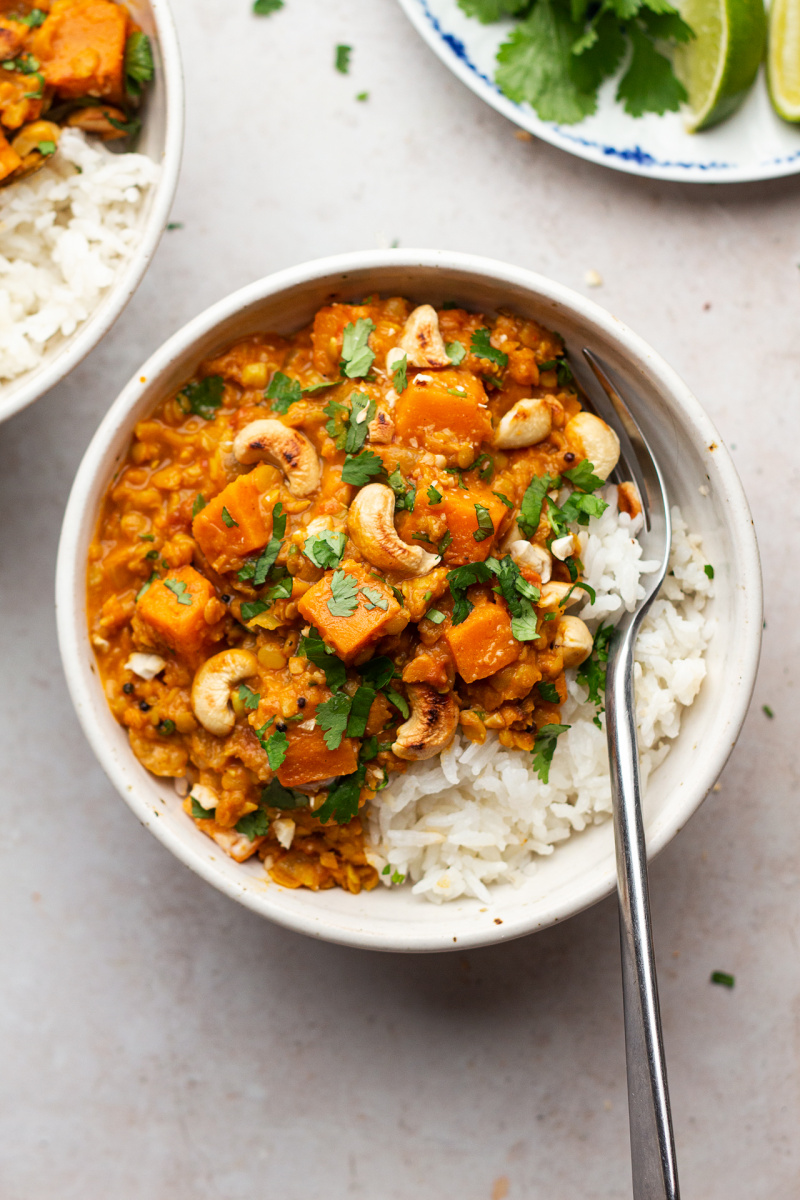 180 g / 1 cup red split lentils*
2 tbsp rapeseed / canola oil
1 large onion, finely chopped
3 garlic cloves, finely chopped
1 tbsp finely grated ginger
a handful of coriander, stalks chopped** + leaves for serving
1 cup of chopped tomatoes (fresh or tinned)
2 medium sweet potatoes, cut into 1.5 cm / 0.5″ cubes
approx. 1 tsp fine sea salt, adjust to taste
240 ml / 1 cup full-fat coconut milk
juice of ½ lime
handful of cashews or coconut flakes, lightly toasted (to serve)
DRY SPICES
1 tsp black mustard seeds
½ tsp cumin seeds
10 dried curry leaves
1 tsp ground cumin
1 tsp ground coriander
½ tsp turmeric
½ tsp cinnamon
½ tsp hot chilli powder (I used Kashmiri chilli powder for colour)
¼ tsp ground cardamom
a good pinch of ground cloves
1/8 tsp ground pepper
½ tsp garam masala
METHOD
Rinse split red lentils several times really well, until the water runs clear. If your stomach is sensitive to pulses, you may want to cook them separately in about 3 cups of water, skimming the foam that comes up to the surface during cooking. Simmer until they can be squashed between your fingers, about 10 minutes.
Heat up oil on a medium heat, in a heavy bottom pan. Once the oil is hot, add mustard seeds and wait until they start popping, stirring from time to time.
Next add in cumin seeds and dry curry leaves. Fry gently for a minute or so – until the cumin releases its fragrance.
Add chopped onion, saute it gently, stirring from time to time until it gets soft and lightly caramelised in places.
Add garlic, ginger and chopped coriander stalks. Cook for about 2 minutes stirring frequently so that ginger does not stick to the pan.
Reduce the heat to low and add all the ground spices (apart from garam masala). Coat everything in the pot in the spices. Stir frequently, cook for 1-2 minutes until all spices are fragrant.
Add chopped tomatoes and 240 ml / 1 cup of water. Cover and cook for a few minutes until the tomatoes soften and fall apart.
Add rinsed lentils (if not cooking them separately), sweet potato and about 500 ml / 2 cups of water.
Let everything come to a gentle boil, simmer covered until sweet potato is tender and the curry thickens – add a splash of water of it is getting too dry.
Add salt, coconut milk and cooked lentils if you cooked them separately. Cook for a further 5 minutes to allow the curry to thicken.
Season with garam masala and lime juice. Adjust seasoning and spiciness if needed.
Serve on top of cooked rice or/and with a vegan naan, with chopped coriander leaves and toasted cashews on top.
NOTES
*You can use either raw or pre-cooked red lentils here. Do not add the salt until the lentils have cooked as salt makes them tough.
**You can leave the coriander stalks whole and remove them before serving the curry or chop them up finely and leave them in.
As with most curries and stews, the flavours of this dish benefit from being made a day ahead.