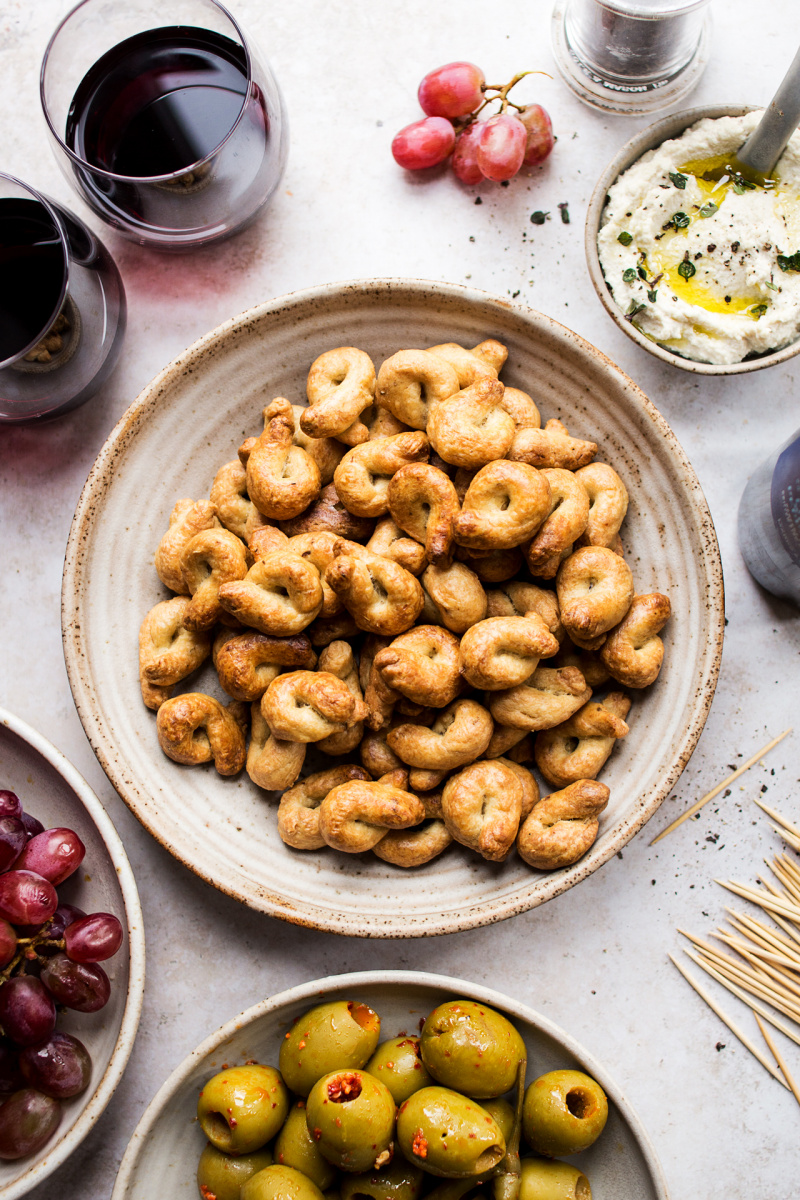 My parents are coming to visit us today for a few days. It's the first time they will visit me in Bristol (although they do know Bristol quite well) and it's the first time they will see our new house, which is exciting and a bit anxiety inducing also given they are both architects! I will certainly appreciate their take on our roof situation, which I have decided to leave until they have had a chance to take a look.
As a result, I've been knee deep in cleaning, planning, shopping and cooking this week. They are not vegan, but they aren't (and never have been) massive carnivores either so I am fairly confident that they won't have an issue with eating 100% plant-based for a few days. The only thing I need to be mindful of is that my mum cannot handle any level of spice at all and, as I like my chilli, I need to hide it somewhere so I don't end up putting it into stuff just out of habit. They are also not really into tofu and stuff like that (especially my dad) so I will keep the food pretty Europe-centric with some Middle Eastern influence.
For their arrival, I am making my moussaka with a giant green salad and my healthy carrot cake for dessert. The day after, it will be this pasta for dinner – they both love garlic and mushrooms so I am hoping it will be a hit (I will hold off with the chilli, obvs) and a selection of dips (baba ganoush, hummus, muhamara), olives, pickles, some grilled Turkish bread and a salad for lunch. That's two days taken care of and I will improvise the rest depending on the feedback I get.
These (naturally vegan) Italian biscuits are another thing I am making for their arrival. They are addictive and go really well with wine so I am sure we will get through quite a few of them 😛 , especially that they are coming in their camper van via France!!
Taralli are savoury (although can also be sweet sometimes) biscuits traditionally made in the region of Puglia, in Italy. Funnily enough my gran used to make them too when I was a kid, so although I am no Italian, their taste is a bit of a food memory for me and I am hoping it will also be for my dad. Instead of bows, she used to make them into little loops and then hang them on a string in the kitchen. They never stayed on that string for very long…cos me and my family are a greedy bunch 😛
Taralli are not difficult to make and if you have kids who like cooking with you, rope their little hands in to help! They are a touch time consuming as, similarly to bagels and pretzels, they need to be simmered in water before baking, but the process is dead simple and anyone can follow it. Traditionally, they are flavoured with either black pepper or chilli or fennel seeds. As the first two will be too spicy for my mum, I have gone for a combination of garlic and fennel and I am hoping they will go down well.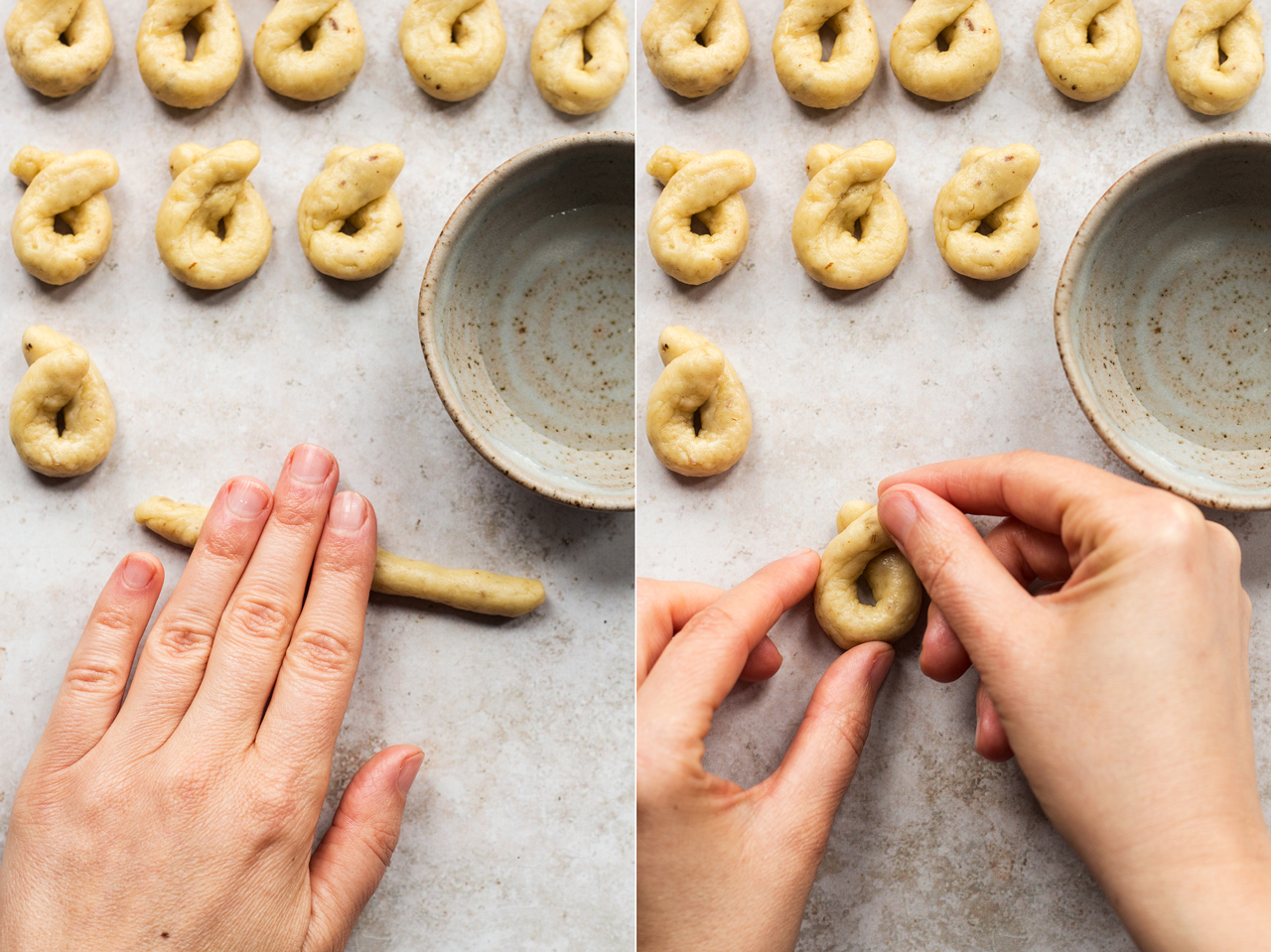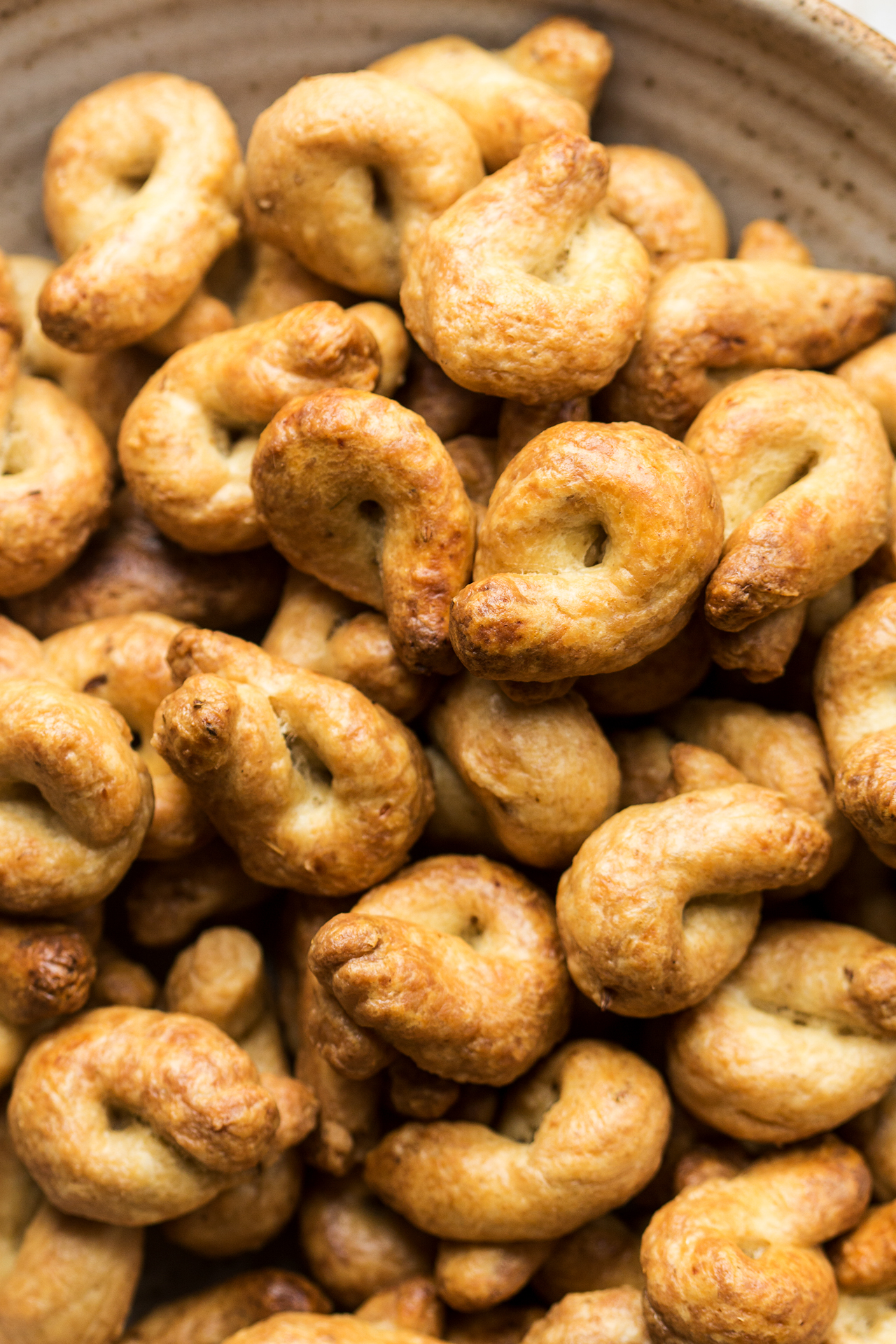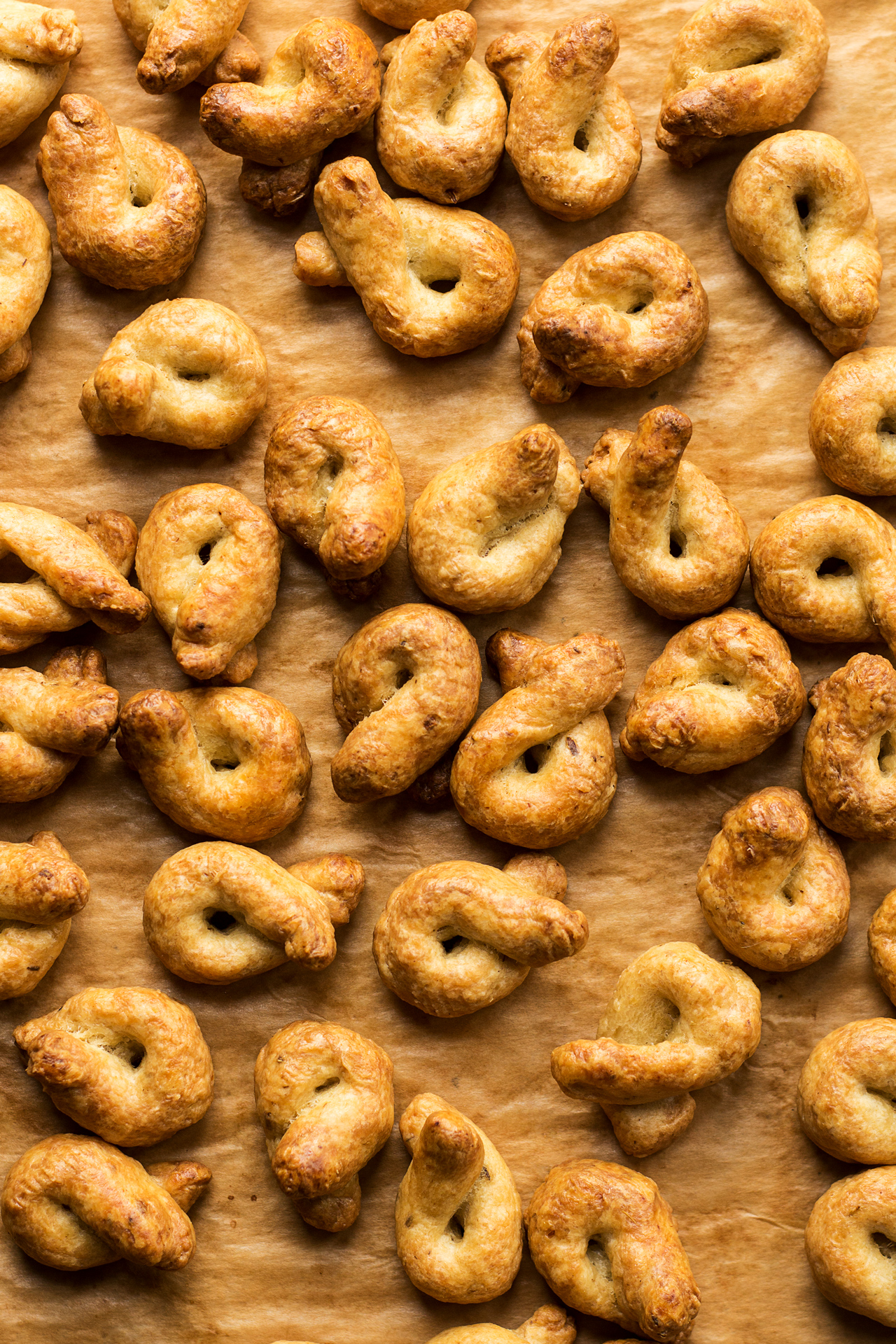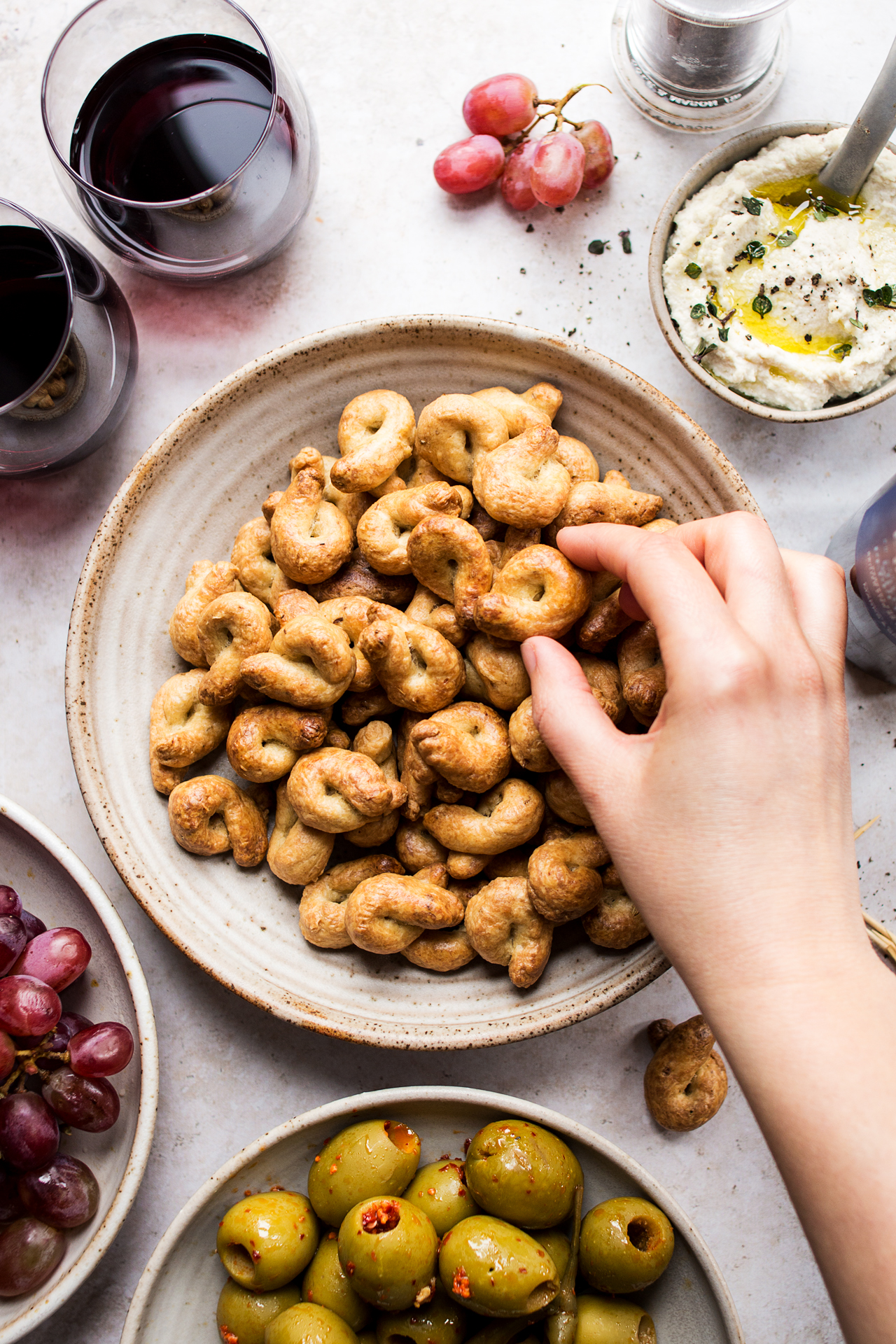 BASIC RECIPE
300 g / 2½ cups all purpose wheat flour*
180 g / 1½ cups bread flour
2½ tsp fine sea salt
180 ml / ¾ cup white wine**
120 ml / ½ cup extra virgin olive oil
SEASONINGS (I recommend choosing one to begin with!)
5 tsp fennel seeds, optionally toasted and ground up
1 tsp chilli flakes, depends on strength and your tolerance
4 tsp garlic powder
4 tsp coarsely ground black pepper
METHOD
Place all the dry ingredients in a large bowl together with the seasoning of your choice – I recommend using one to begin with. I went with toasted and crushed (in a pestle and mortar) fennel and dry garlic power.
Add white wine and olive oil and mix everything together with a spoon, until scraggly dough forms.
Empty your dough onto your work surface and knead for about 20 minutes, until the dough is uniform and elastic.
Place the dough in a clean bowl and allow it to rest for 30 minutes under a damp kitchen towel.
Take a quarter of the dough and form into a long snake, cut into into equal size pieces to make sure they all take the same amount in the oven. Mine were 9 g / 0.3 oz each, I used scales to ensure they are all the same size. Roll each piece into a long, thin snake. Fold the right end over the left to form a loop. Continue until you've used up all of the dough.
Bring a pot of salted water to a gentle boil and prepare a baking tray with a metal rack on top or a regular tray lined with a clean kitchen towel.
Give the water a gentle stir and place 10 taralli in the simmering water at one time. As soon as each tarallo comes up to the surface, fish it out with a slotted spoon and place on the prepared tray, prettier side up. Allow all of the taralli to drain and dry out completely before baking.
Set the oven to 200° C / 390° F and bake cool taralli in the preheated oven for about 30 minutes – until golden brown. You may want to brush the taralli with some extra olive oil before baking for a nicer finish, but that's totally optional. Allow the taralli to cool off completely before getting stuck in – they get crispier as they cool.
NOTES
*If you have 00 flour, use that instead of the two flours I listed. 00 flour is traditionally used in Puglia for these, but a mixture of all purpose and bread flours works really well too.
**Check the label to make sure your wine is vegan.