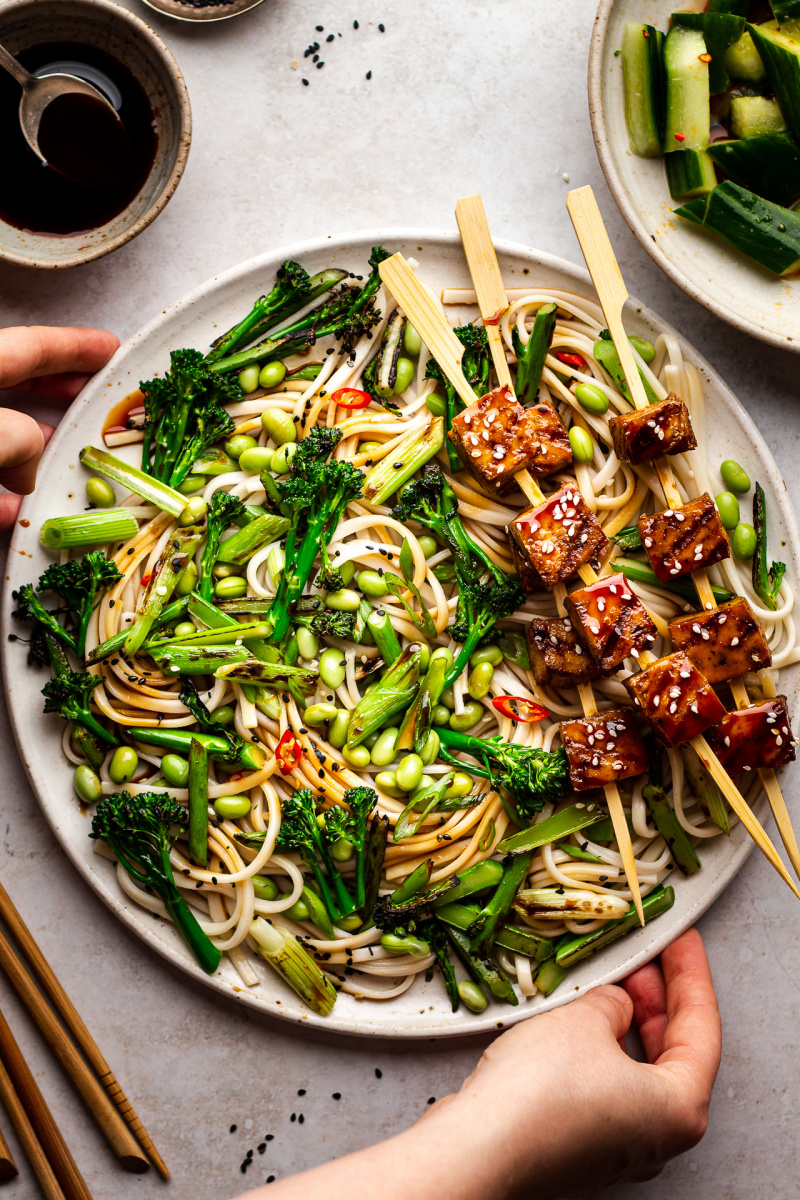 Happy Wednesday guys! Hope the sun is shining in your part of the world too. We have finally stepped into summer territory and my mood has lifted, as if by magic. I try to sneak out to the garden (aka jungle!! weeds are taking over the back again) as much as I can although this week is pretty hectic so swinging in my hammock has to wait while I sort stuff out. I brought lots of stuff from my London flat, which is now cluttering our living space, there is lots of washing to be done and lots of test cooking to do too. No rest for the wicked 😉
As I have a propensity for being overwhelmed I find it challenging when too many things need my attention all at once, so I am trying to make a little progress every day. Things WILL get sorted eventually, there is no point getting stressed I tell my inner 'impatient perfectionist' self. As soon as I clear the backlog, I plan to invite some friends over as my stay in London has reminded me just how much I've missed socialising. Because of the lockdown, I've spent far too much time in my 'cave'.
This simple summer salad has a laid back garden dinner party vibe about it and it's one of the things I plan on making when the time comes. It's light and filling and simple to make. Make the teriyaki sauce in advance – you can also buy it, but it's so simple to make that you might as well be in charge of what goes into it. Cook your noodles ahead of time and buy ready-to-eat edamame. As for broccoli, spring onions and tofu skewers you can simply throw all of those onto a barbie while your guests are getting settled in. It's also one of those dishes that can be eaten partially cold, as a salad and is quite filling and satisfying. It has an interesting mesh of flavours and textures that keep you reaching out for more. I hope you'll agree.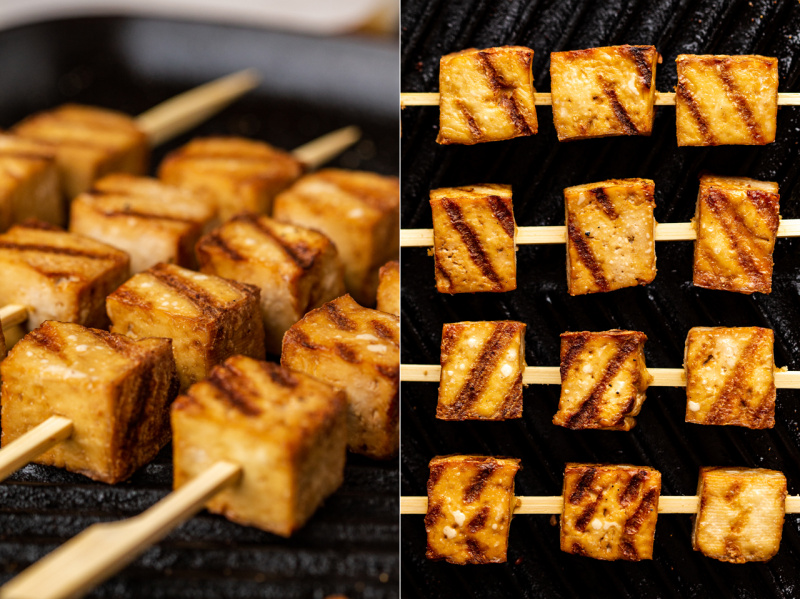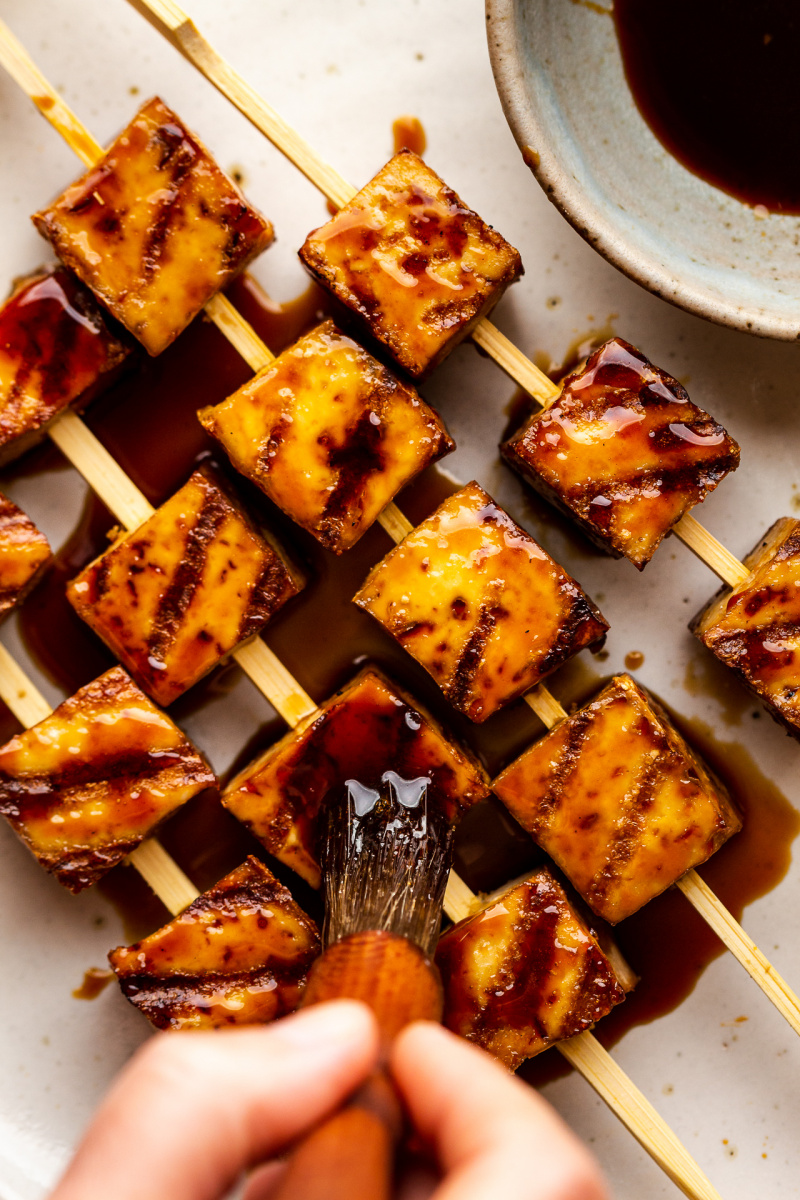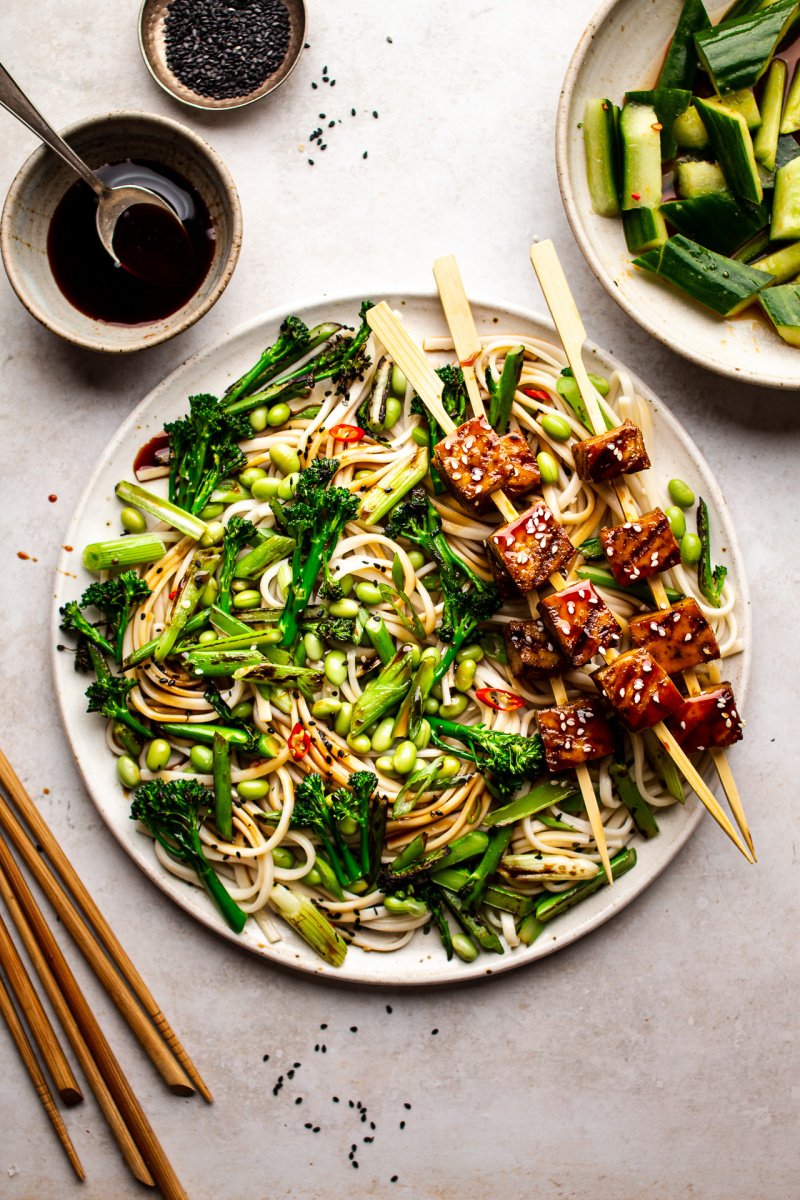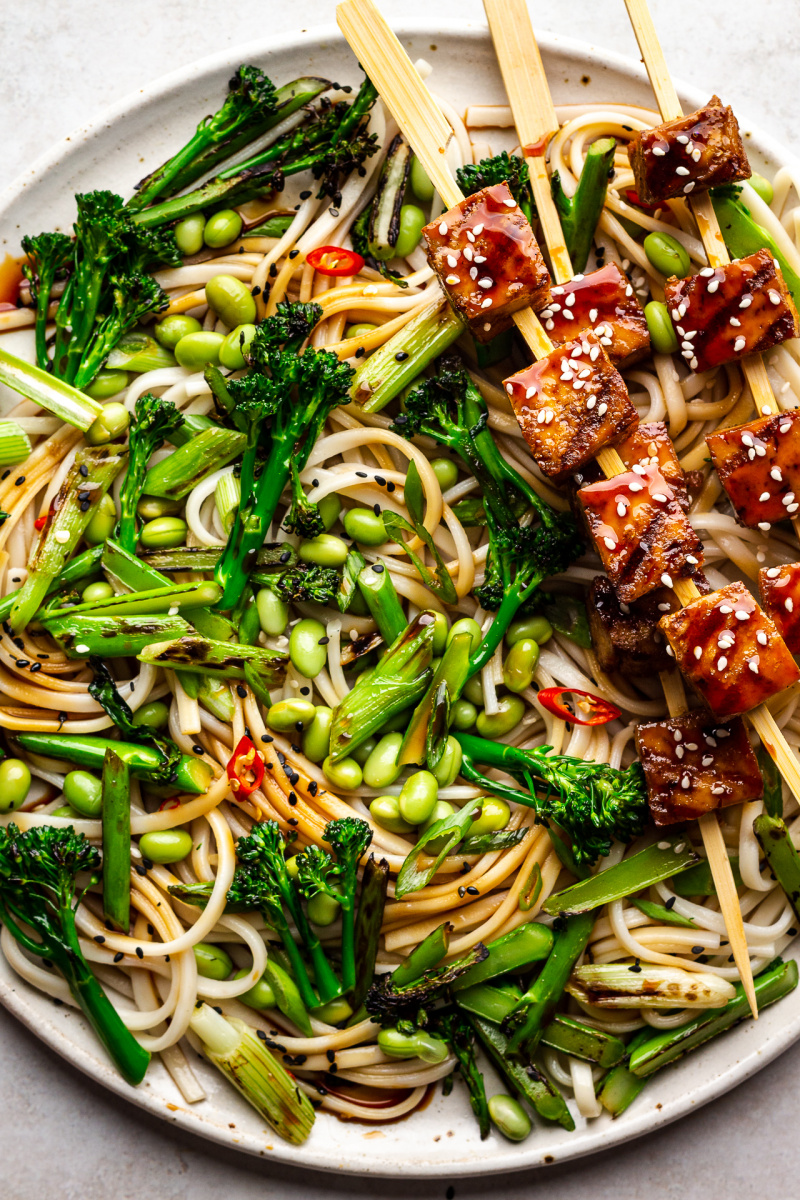 TERIYAKI SAUCE
80 ml / 1/3 cup soy sauce or tamari
120 ml / ½ cup cooking sake / dry sherry or water
120 ml / ½ cup mirin
50 g / ¼ cup sugar or agave / maple syrup, adjust to taste
REMAINING INGREDIENTS
400 g / 14 oz firm or extra firm tofu, pressed
30 ml / 2 tbsp soy sauce or tamari
200 g / 7 oz udon, soba or flat rice noodles
200 g / 7 oz tenderstem broccoli, chopped small
3 spring onions / scallions
130 g / 1 cup edamame, ready-to-eat or frozen
15 ml / 1 tbsp toasted sesame oil and / or chilli oil
10 ml / 2 tsp rice wine vinegar
sesame seeds, to decorate
METHOD
TERIYAKI SAUCE
Combine all the ingredients in a small pot and bring them to a simmer. If using sugar, stir until the sugar has dissolved completely. Simmer, uncovered, on a low heat until the sauce has reduced and thickened (SEE NOTES) – it will take approximately 15-20 minutes. Allow the sauce to cool down completely before using, it will thicken as it cools.
SALAD
Cut pressed tofu into equal size cubes (mine were 2 cm / ¾"). Mix soy sauce with 1 tbsp of water in a medium bowl, add tofu cubes and allow them to marinate until all of the liquid has been absorbed. You can skip this step if you wish, but I do this so that the tofu is seasoned all the way through.
Thread tofu cubes onto 4 metal or wooden skewers. If using wooden skewers on a BBQ make sure to soak them in water 30 minutes prior to using. To make sure all the tofu pieces touch the pan / BBQ grill, it's best to thread them on a flat surface.
Place tofu skewers on a preheated griddle pan or a moderately hot (white coals) BBQ. Allow them to cook until char marks develop before turning to another side.
Once your tofu has cooked on all sides, brush it liberally with teriyaki sauce (you may want to reapply it during cooking) and return to the BBQ or place under a hot grill / broiler if cooking this at home. Cook briefly, until the marinade has caramelised a little but not burned (it contains sugar so will burn easily).
Cook noodles according to package instructions and refresh under a cold tap.
Steam, grill or stir-fry broccoli, white and white-green parts of the spring onions chopped roughly (slice green parts finely and save them for garnish) and steam or stir-fry edamame (if using frozen). If grilling broccoli and spring onions, toss them in a small amount of neutral oil before placing on a grill or a griddle pan.
Combine 2 tbsp of teriyaki sauce with toasted sesame and / or chilli oil and rice vinegar. Season to taste with more soy sauce if needed. Stir through the cooled noodles.
Arrange dressed noodles, cooked broccoli, edamame and spring onions on a platter. Garnish with spring onion tops and sesame seeds and drizzle with extra sauce if desired. Serve with tofu skewers on the side.
NOTES
*The traditional Japanese formula uses 120 ml / ½ cup of soy sauce, but I personally found it a little too salty so my suggestion is to start off with less and add more to taste if necessary. My teriyaki sauce is adapted from
this recipe
.
Once reduced, this sauce is still quite drippy / runny and that's the way it's served in Japan. If you would rather have it thicker, add a bit of cornstarch to it at the end and bring to a simmer to thicken.