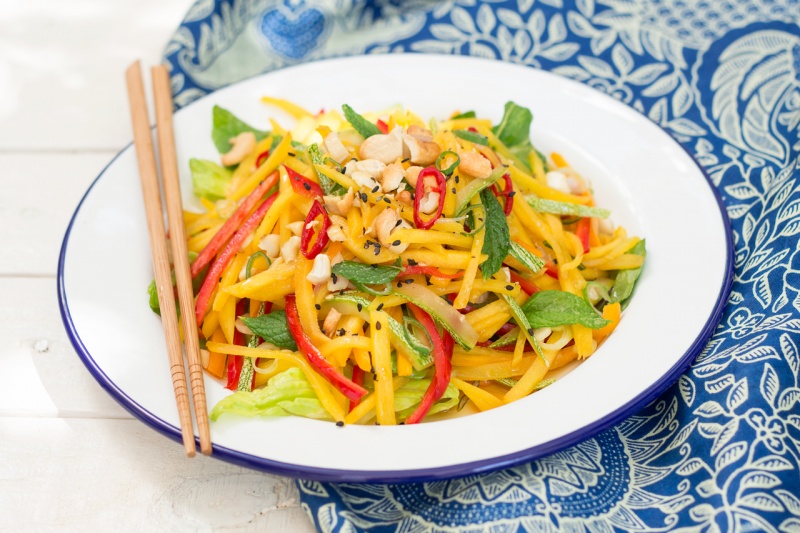 Today's recipe is a Thai-inspired mango salad designed to be a delicious light meal on a hot summer's day. This dish balances the sweetness and warmth of the mango with the acidity of the lime juice and the kick of chilli. It has a pleasing range of textures: the softness of the mango contrasting the crunch from the peppers, cos lettuce and nuts.
For best results try and use an unripe mango, as they aren't quite as sweet and closer in taste to the green mango that's used for this kind of salad in Thailand. I could only find a ripe yellow mango here so I added a bit more lime juice to the dressing to balance the sweetness and acidity out.
Sweet ripe mangoes remind me of a holiday to Australia Duncan and I went on 4 years ago. After visiting Duncan's parents in Melbourne, we went on a road trip round Victoria and New South Wales. We would eat delicious mangoes with blueberries for breakfast every day surrounded by noisy lorikeets with the waves of the ocean crashing in the distance.
In Australia, even the supermarket mangoes are INCREDIBLE and completely local (well, grown in Queensland).
This recipe is my attempt to catch the endless sunny days, the rugged coastline, the valleys of eucalyptus trees, the adorable wildlife and most of all the delicious mangoes of that Australian holiday. It is a piece of tasty nostalgia on a plate!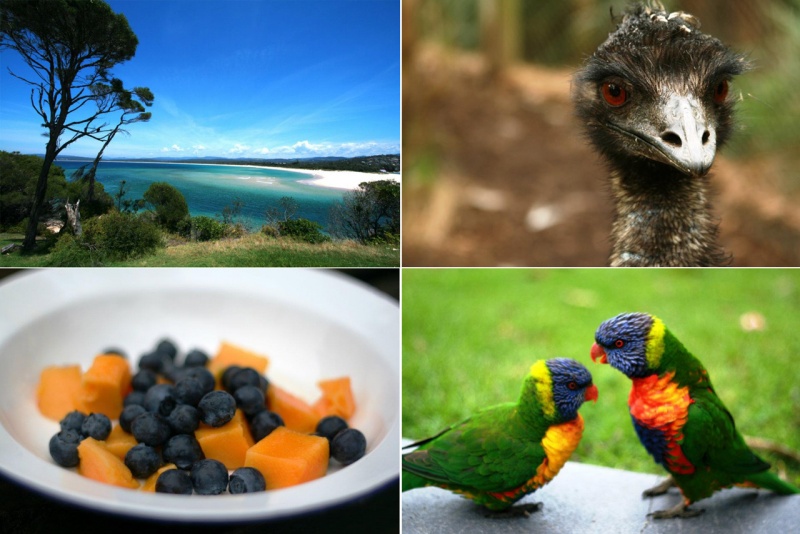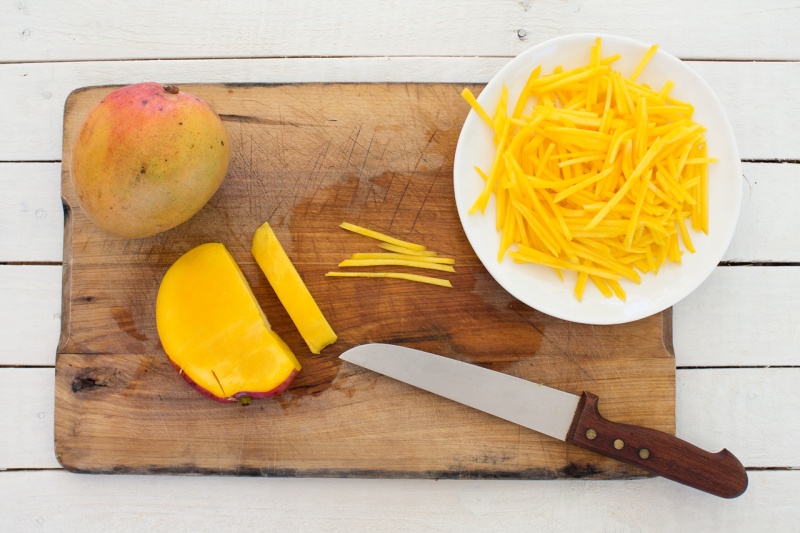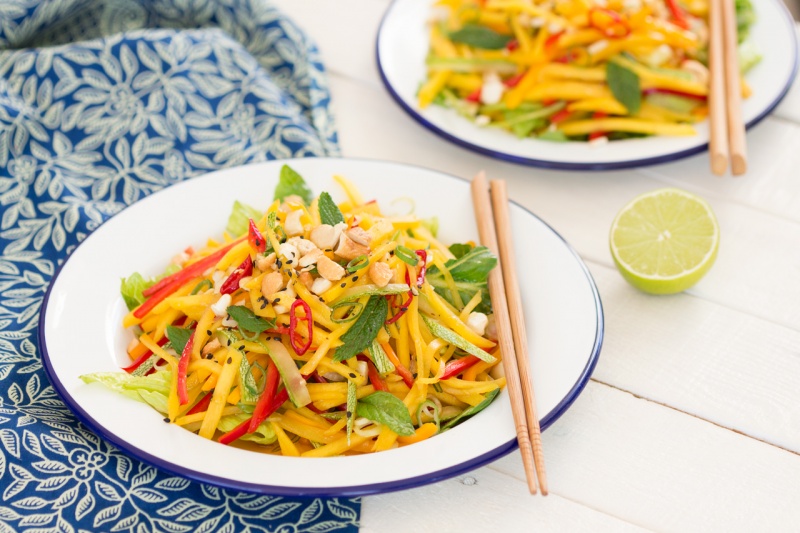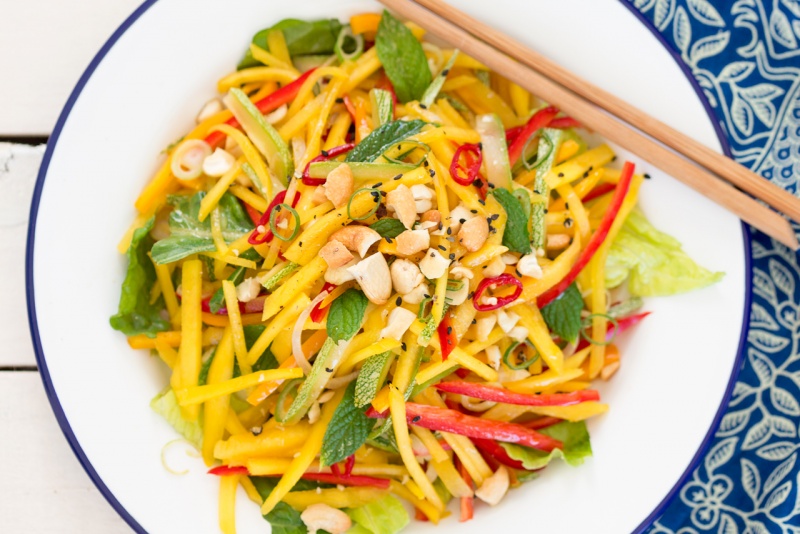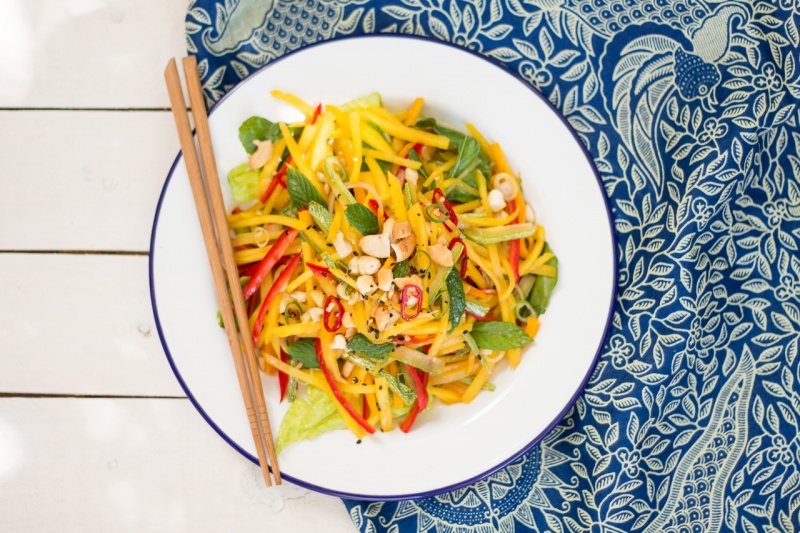 1 large Thai green mango or unripe mango*
1 large red pepper (I used Romano pepper)
a handful of Cos lettuce leaves
2 spring onions, white parts sliced finely
1 courgette
1 red chilli, diced finely
handful of roasted cashews (or peanuts), chopped
fresh coriander and/or mint, chopped + a few whole leaves for decoration
DRESSING
2-3 tbsp lime juice
1 tbsp sesame oil
1 small garlic clove, pressed
2 tbsp tamari (for gluten-free version) or soy sauce
1 tsp maple syrup or sugar
ground pepper, to taste
METHOD
Using a sharp knife or a special peeler, julienne mango, pepper and courgette. Tear Cos lettuce leaves roughly.
Whisk all the dressing ingredients together in a small bowl and set aside for the flavours to marry.
In a large mixing bowl, mix together all salad ingredients apart from nuts.
Mix the dressing in, adjust seasoning. Serve sprinkled with nuts and a few leaves of mint and/or coriander.
NOTES
*My mango turned out to be a bit riper (and therefore yellow) than I would have liked, but it still worked as it was still firm and not overly sweet and juicy.