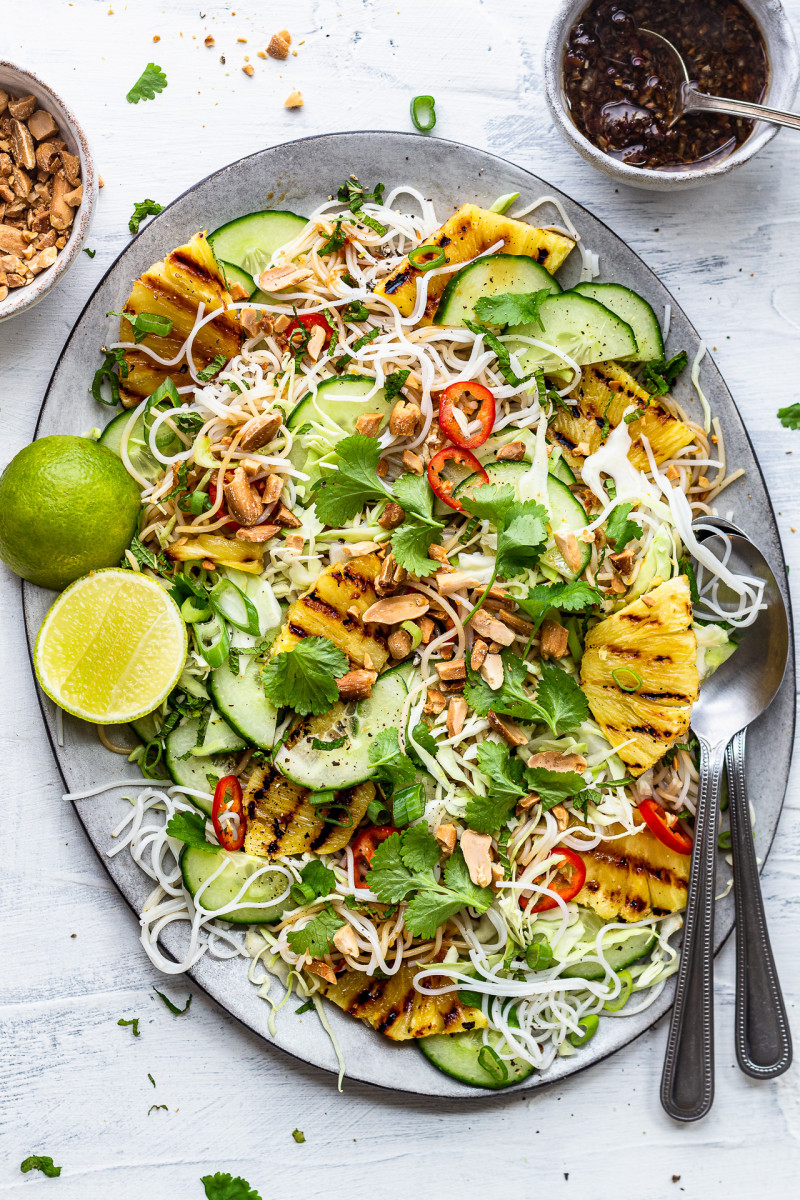 Hope your week is going well. We are now past the middle of May so I am getting myself summer ready – in that vein, my today's recipe is a simple yet delicious, salad inspired by Thai flavours. I've planned to make something like it for a while but what spurred me into action was the fact that I saw beautiful pineapples during my last food shop and they seemed like an exciting pop of flavour that could make my recipe. Not only did they look magnificent, they were on special too! At 65 pence a pop, it was a no brainer.

This simple salad is easy and quick to make. It's zingy, sweet and so refreshing, packed with fragrant fresh herbs and topped with roasted peanuts. The bulk of it is rice noodles, finely shredded sweetheart cabbage, cucumber and spring onions. Charred fresh pineapple slices add excitement, sweetness and juiciness. Toasted peanuts supply texture and herbs in tandem with aromatics: coriander, mint, lemongrass, ginger, chilli and lime yield Thai credentials. Suffice to say that this is NOT AN AUTHENTIC Thai salad. It's a salad inspired by the flavours and smells of Thailand that my brain came up with so please don't waste your time writing any hatemail (you know who you are… 😉 )
MORE ABOUT THE INGREDIENTS
RICE NOODLES – any rice noodles will work here, but I recommend using thin ones. I had some rice vermicelli (bun) noodles in my cupboards so that's what I used. Cooking time and method very much depends on the thickness of noodles you use so please follow your packet's instructions.
SWEATHEART CABBAGE – I used delicate sweetheart (also known as hispi) cabbage as that's what appears to be in season in the UK right now, but Chinese leaf (napa) cabbage or regular white cabbage will work just as well.
FRESH PINEAPPLE – I recommend using fresh pineapple here if possible, its flavour is so much sweeter and more intense and it stands up to grilling much better too than canned pineapple rings.
TOASTED PEANUTS – I used a generous amount of toasted peanuts to top this salad with, they give it a lot of texture and flavour. If you are allergic, cashews will work well too.
FRESH HERBS – I used a combination of fresh coriander and mint, but Thai basil and coriander will work well too. Plenty of fresh herbs are a must, they add a beautiful freshness so characteristic of Thai salads.
LEMONGRASS – Lemongrass is such a classic South Asian flavour, I used it here in combination with garlic and chilli. If you cannot get hold of it, sub with fresh ginger to your taste.
WHERE IS MY PROTEIN? – if you want to make it more substantial and turn it into more of a complete meal, add your favourite shop-bought or home marinated tofu or tempeh for some plant protein.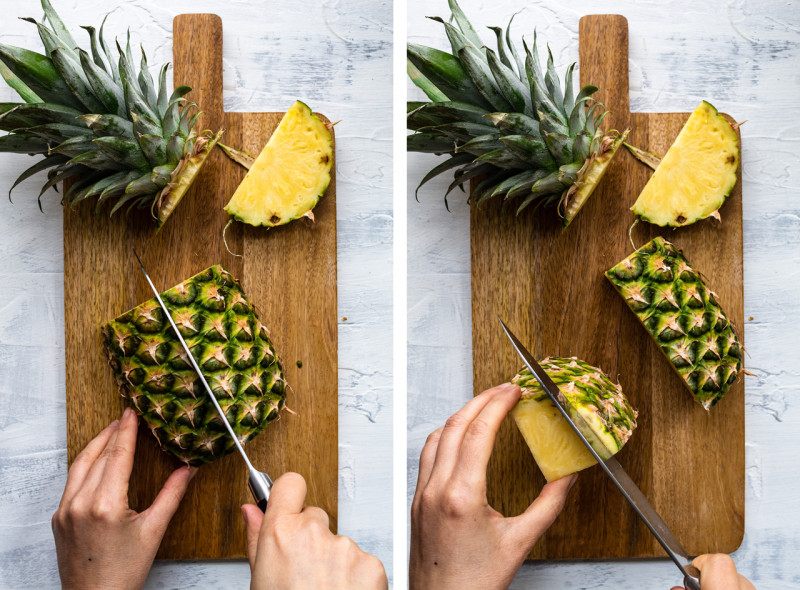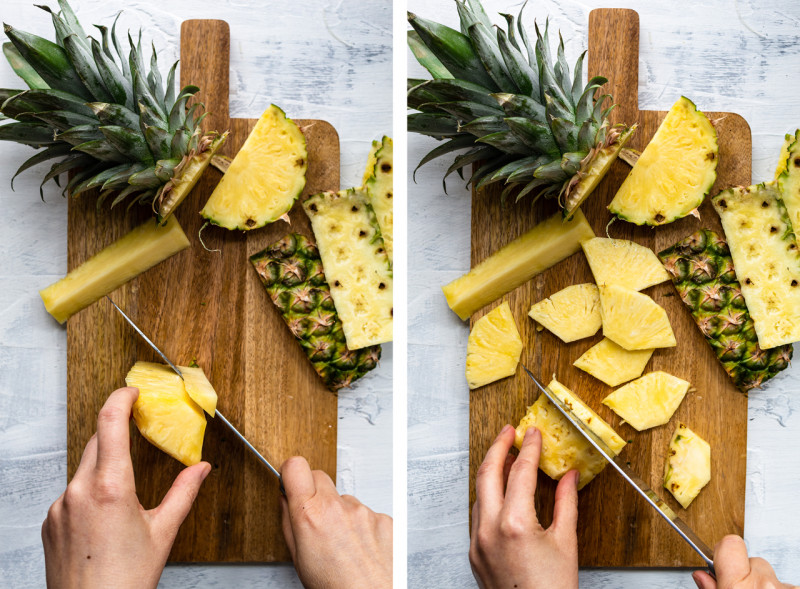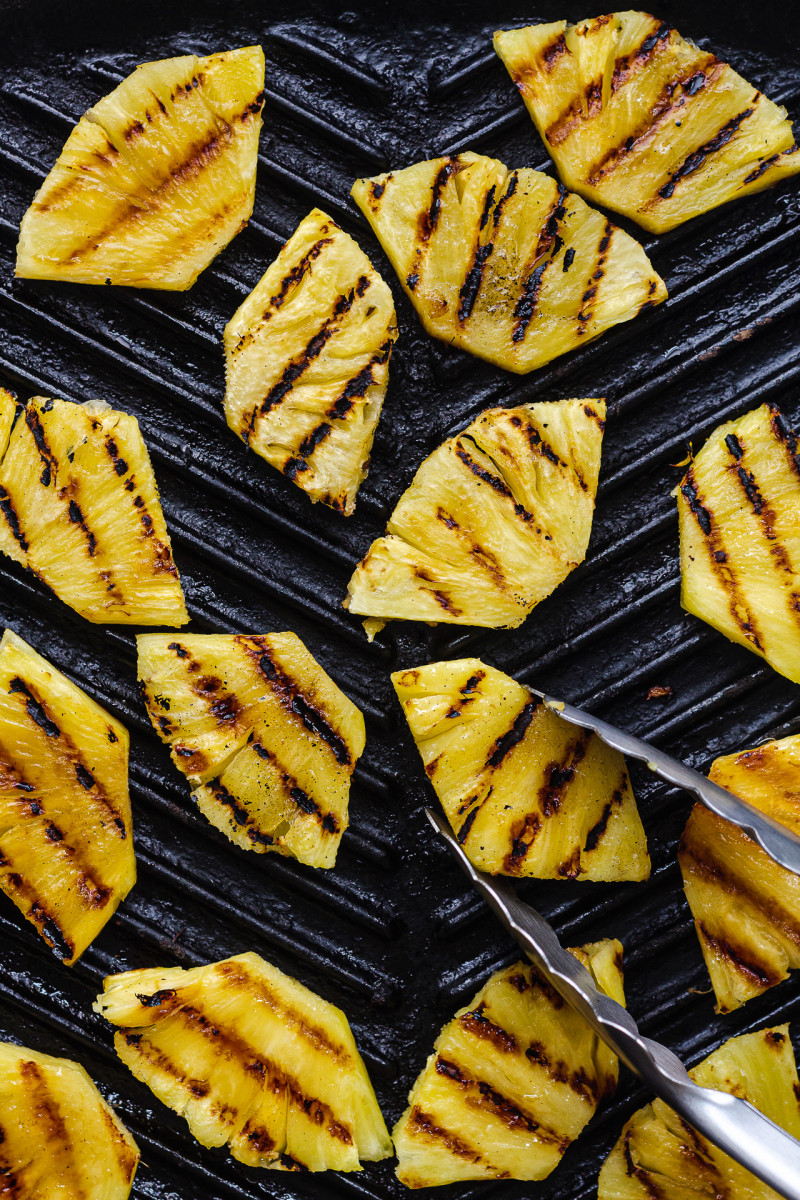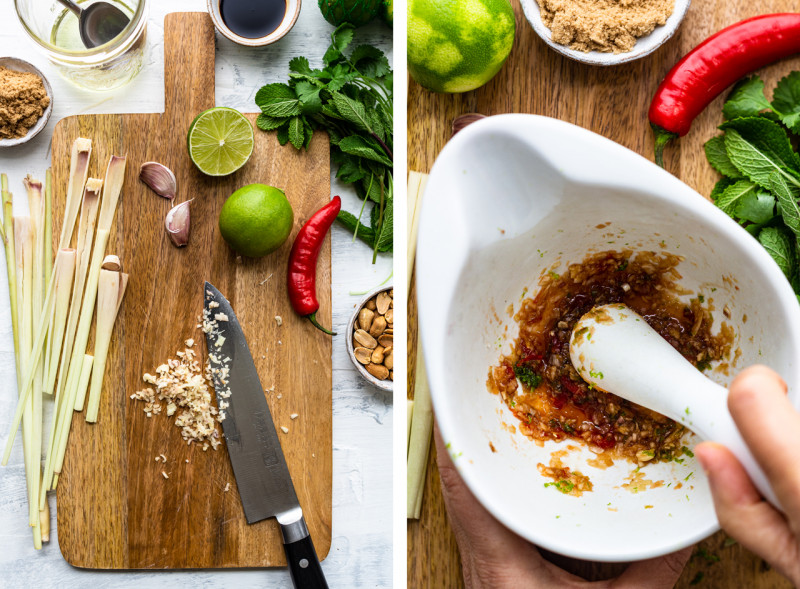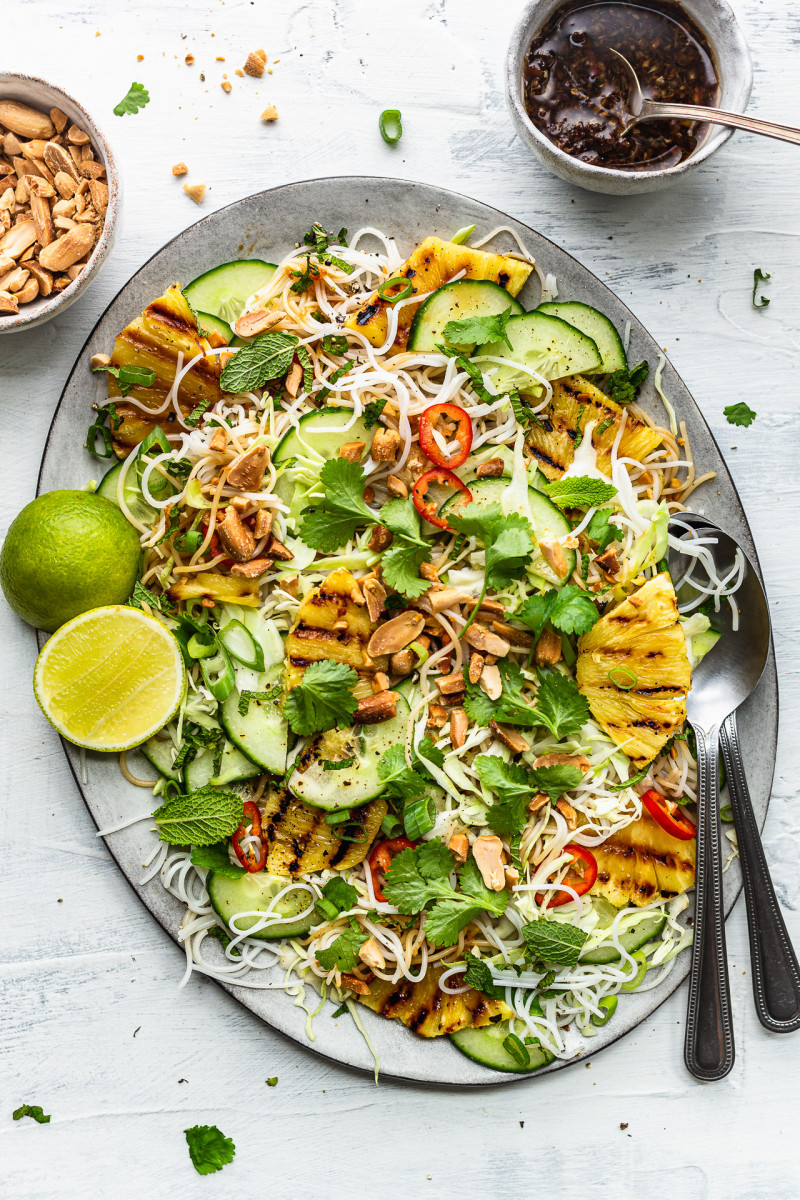 100 g / 3.5 oz rice noodles (I used rice bun noodles)
½ sweetheart cabbage
1 small cucumber
2 small spring onions / scallions, finely sliced
½ fresh pineapple* (about 300 g / 10.5 oz)
½ cup toasted peanuts* (or cashews), partially crushed
a handful of coriander and mint, chopped finely + few whole leaves
DRESSING
3 lemongrass stalks – use ginger if unavailable
1 garlic clove, peeled
1 red chilli, deseeded for less heat
15 ml / 1 tbsp light brown sugar (or any sugar)
½ tsp coarse salt
45 ml / 3 tbsp lime juice and zest of 1 lime
15-30 ml / 1-2 tbsp soy sauce (or tamari if GF), adjust to taste
45 ml / 3 tbsp neutral oil, I used grapeseed oil
METHOD
Prepare your noodles according to the package instructions.
Shred your cabbage finely using a mandoline or a sharp knife, cut cucumber into half moons, slice scallions thinly.
Cut the skin off the pineapple, remove the tough core and slice into 0.5 cm / 0.2 inch slices. Heat up a griddle pan, brush pineapple with a little oil and grill, undisturbed, for about 3-4 minutes on each side – until char marks develop. Flip to the other side.
Combine all of the salad ingredients apart from half of the peanuts and herbs in a mixing bowl. Stir dressing through.
Transfer to a serving plate. Scatter the rest of the peanuts and herbs over the top and serve.
DRESSING
Bash lemongrass with a rolling pin until crushed to tenderise it. Cut the bottom ends off and remove tough outer layers and discard (or keep for a stock). Chop tender, inner core (about 3-4 inches / 8-10 cm from the base) really finely or put in a pestle and mortar straight away.
Add garlic, chilli (add as little or as much as you like, start off with only a few slices if your chilli is hot) and ½ tsp of coarse salt. Pound everything until nicely broken down.
Next add in sugar, lime zest and juice. Stir until sugar dissolves. Finally add in 15 ml / 1 tbsp of soy sauce and oil. Stir really well, taste and adjust to your taste. Add more lime juice if the dressing is too sweet, more sugar if it's too tangy and more soy sauce if it needs more saltiness. Set aside.
NOTES
*PINEAPPLE: You can use canned/tinned pineapple but fresh is so much nicer and you can get them right now in the UK for less than canned (65-85 pence each depending on a shop). Canned/tinned pineapple rings are more waterlogged and so I found that they do not char that easily.
*PEANUTS: You can either roast them on a dry frying pan, tossing frequently or if roasting a bigger batch, spread them on a baking tray and roast in a 180° C / 355° F oven until golden (about 8 minutes but watch carefully as it depends on how many nuts you roast).