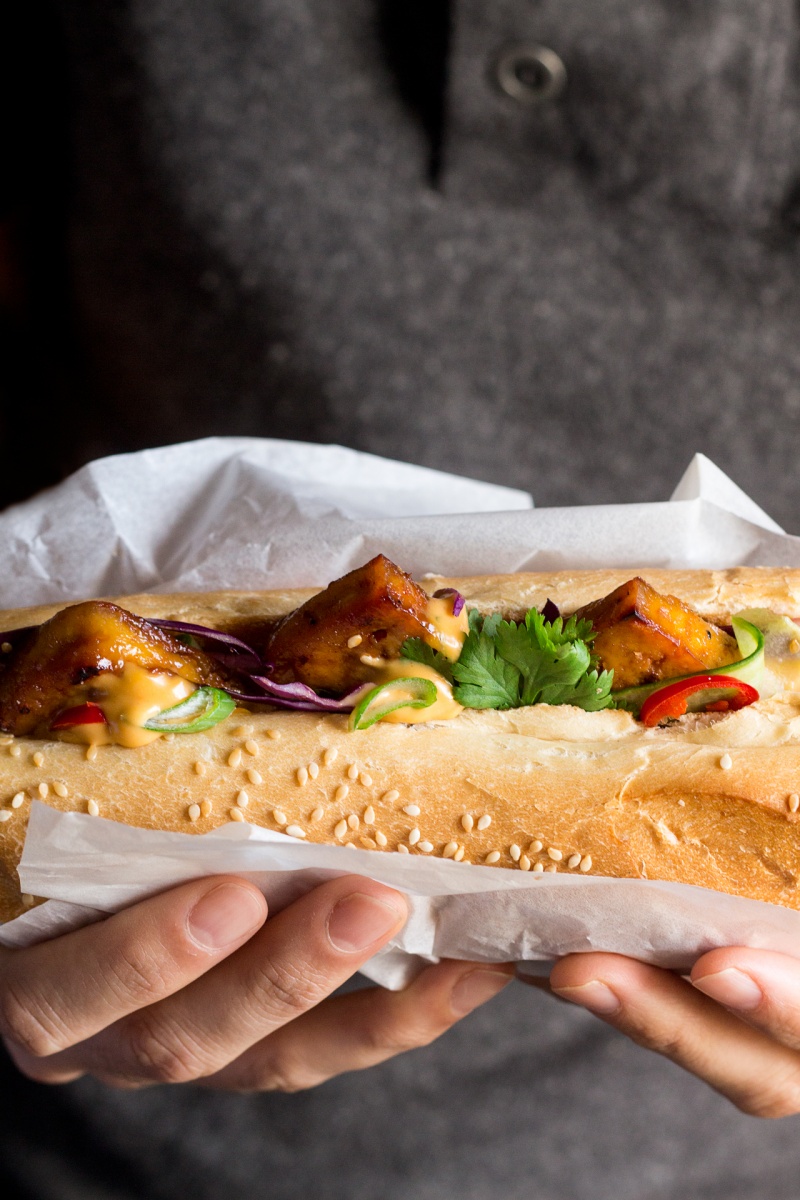 Bánh mì is a brilliant example of colliding food cultures. It owes its familiar form of a crusty baguette to the French, yet its palate-tingling array of complex flavours and textures is totally down to the Vietnamese. If you haven't had a chance to have one yet, I encourage you to try it, it's bound to make you grin all the way through your lunchtime!
Although the fillings can vary quite a lot most of them follow a similar pattern apart from an ice-cream version, which does what it says on the tin – a baguette filled with ice cream scoops and sprinkled with crushed peanuts.
Most bánh mìs owe their satisfying bite to a mixture of something 'chewy' (in our case it's seasoned tofu), something 'sweet and sour' (pickled carrot and daikon are most commonly used), something crunchy (cucumber or other raw veggies) and something fresh (plenty of coriander) topped with something 'spicy' (spicy chilli sauce or vegan sriracha mayo).
It is really hard to describe all these various flavours bouncing off each other in your mouth, so excuse me for a second – I need to take a bite of my Vietnamese sandwich to keep the memory of how good it is alive 🙂 .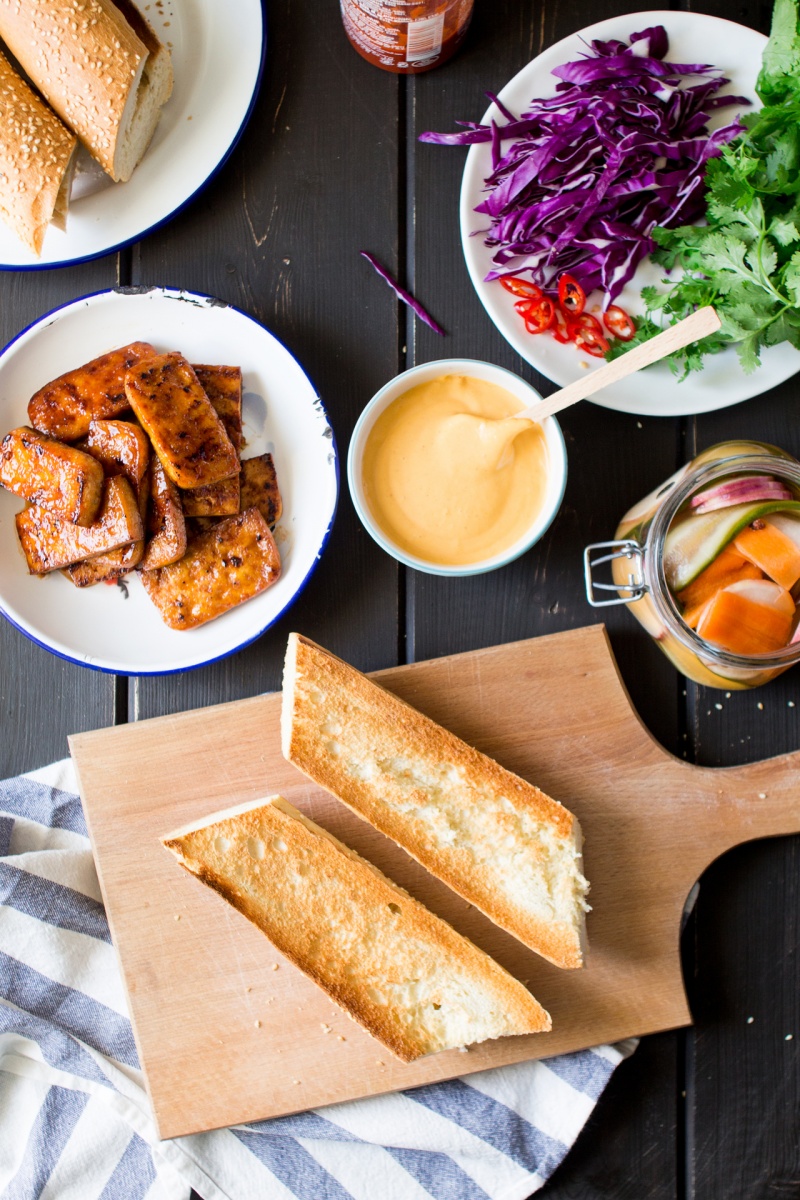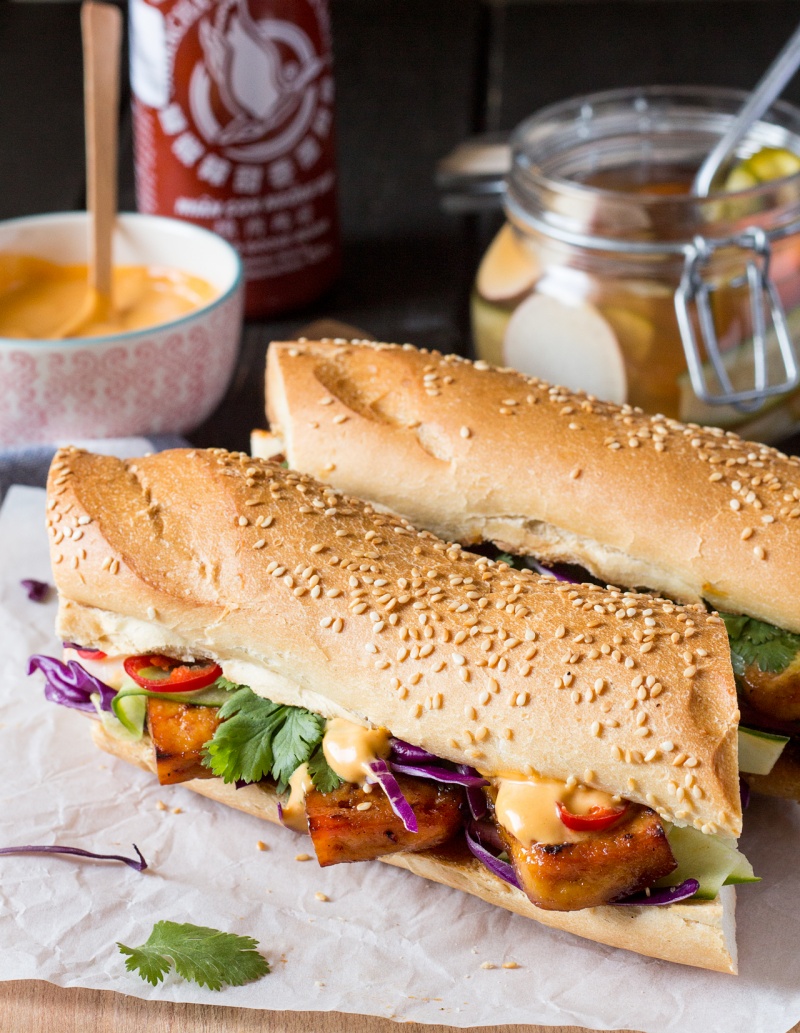 1 long baguette or 4 small ones (GF if gluten intolerant)
a wedge of cabbage, sliced finely
2 small cucumbers, ribboned
2 small spring onions
small bunch of coriander
PICKLES (make a day ahead if you can)
2 carrots, ribboned / julienned
3 small turnips or 15 radishes, sliced/julienned
½ cup / 120 ml rice vinegar + ½ cup water
¼ cup brown sugar or maple syrup
1 tsp salt
1 garlic clove, crushed with a knife
MARINATED TOFU
SRIRACHA MAYO
¼ cup / 60 ml aquafaba / chickpea water**
4 tsp / 20 ml lime juice (or lemon juice or vinegar)
¼-½ tsp salt, more to taste
¼ tsp powdered garlic, more to taste
approx. 1 cup / 240 ml of mild tasting oil (canola, grapeseed, safflower or light olive oil)
4-5 tsp Sriracha
pepper, to taste
METHOD
Place carrot, turnip (or radishes) in a sterilised (rinsed with boiling water) jar.
Put rice vinegar, sugar, peppercorns, salt and garlic clove in a small pot and bring to the boil. Continue simmering for about 10 minutes.
Pour hot pickling liquid over raw vegetables. Once the pickling liquid cools down, keep the jar in the fridge.
Mix tofu marinade ingredients: maple syrup, rice vinegar, tamari, Sriracha and sesame oil. Cut pressed tofu into smaller pieces. You can prepare it in two different ways. I like my tofu pan-fried but you can also bake it for a healthier and still very good result. If pan-frying your tofu, sprinkle it lightly with cornflour/cornstarch and fry on a small amount of hot oil until browned on both sides. Blot it with a piece of paper towel after frying. Finally, pour marinade over the tofu to flavour it. If baking, immerse the tofu pieces in prepared marinade and set the oven to 180° C / 355° F. Once the oven is ready, pop marinated tofu pieces onto a paper-lined baking tray and bake for 30-40 minutes. Once baked, apply a second layer of marinade to intensify the flavour.
To make a mayo, put aquafaba, lime juice, salt and garlic powder into a tall container and blend together with an immersion blender. Once combined and slightly frothy, start adding oil very slowly while blending at the same time. It should be literally trickled in (rather than poured in) so that the mayo starts to emulsify properly. Once your mayo gets all thick and creamy, season it with Sriracha, pepper and extra salt if needed. Refrigerate it (to thicken it further) while you assemble your sandwich.
Cut baguettes into small pieces and toast them lightly under a grill. Fill them with a layer of pickled vegetables, fresh cucumber, shredded cabbage, spring onions, tofu and fresh coriander. Top with a dollop of Sriracha mayo before closing the sandwich.
NOTES
*To press the tofu without a
tofu press
, wrap your tofu in a paper towel, place it on a plate and weigh it down with something heavy (like a can of coconut milk, for example). Once the paper towel becomes wet, change it for a new one. Repeat a few times until the paper towel stays almost dry. Pressed tofu is tastier as it absorbs flavours better.
**Aquafaba (AF) or bean brine is leftover cooking water from cooking most legumes. I use chickpea water and have not tried using any other type yet. You can get it from a can of low sodium chickpeas or make your own. In this recipe, I used tinned AF, but when making sweet recipes I always make my own to avoid added salt. When making your aquafaba, soak dry chickpeas in lots of water overnight, rinse and put in a large pot with lots of water. Bring to the boil and then simmer for about 1 hour (until beans are soft). Remove cooked chickpeas with a slotted spoon and what's left in your pot is aquafaba. If it is too runny (ideally it should resemble egg whites), you can concentrate it a bit by simmering it on a low heat (without a lid) until it reaches the desired consistency. Cool it down before using.
My vegan mayo recipe is inspired by this recipe.