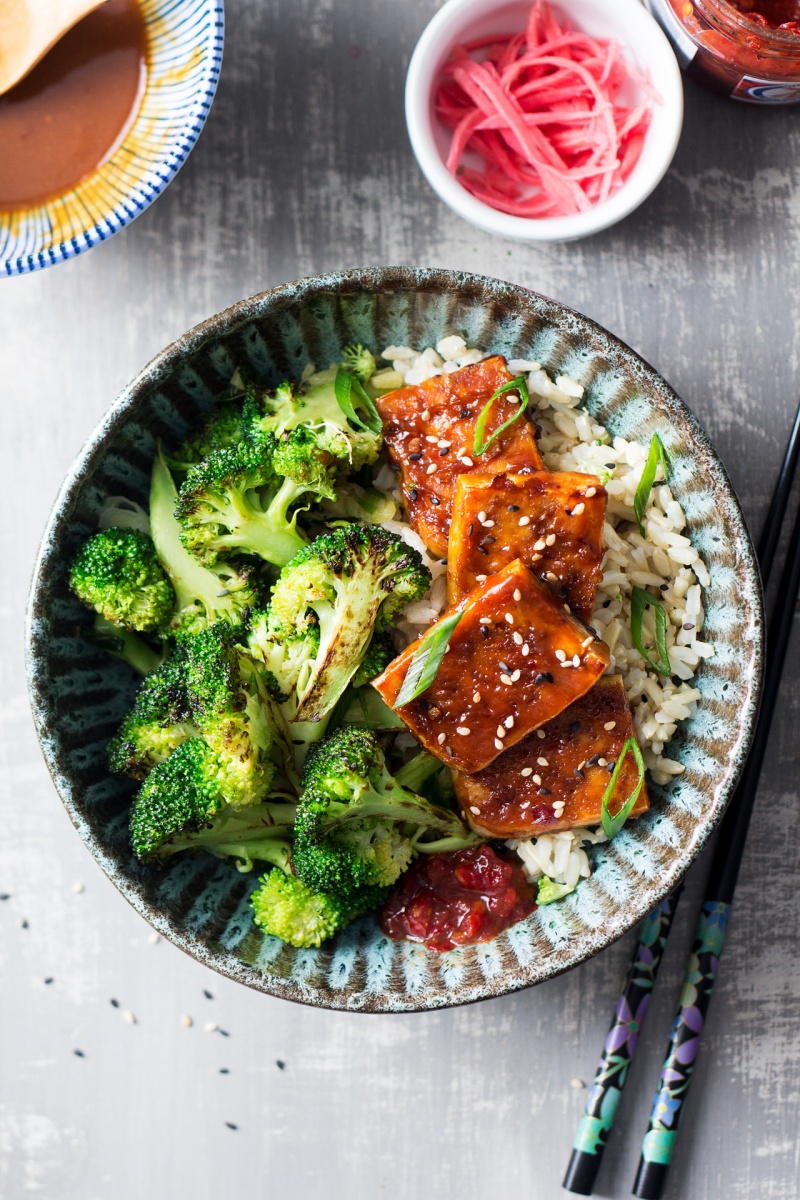 Is that sad that my mission in life is to veganise all 'veganisable' (is that even a word?) dishes there are out there, in the wide, wide world? I firmly believe that we can enjoy good food and be 'foodies' (although I do realise that it's an insult in certain circles) without any animal cruelty involved.
This dish is a prime example of a delicious naturally vegan meal. It is inspired by the Japanese concept of dengaku, which essentially involves slathering a generous amount of sweet and salty miso glaze on top of cooked food stuffs and sticking the offenders under a grill to get a beautiful caramelisation going. It's simple and effortlessly delicious.
I love miso and I've already tried making an aubergine version of this dish. This time, I've decided to give tofu some miso treatment.
OMG! This stuff is soooo addictive that as soon as it came out of the oven, I snatched a piece immediately… Even though that is precisely what Duncan always gets in trouble for 😉 (Ooops…fell off my high horse and it's kinda public 😉 ).
This simple glaze transforms what many consider bland food into an addictive delicacy. When tofu is that good you don't need many bells and whistles to go with it. Some plain rice, stir-fried greens (I used broccoli, but pak choy or bok choy would be awesome if you can get it) and a few strands of pickled ginger is all you need for a super satisfying, yet really low effort, dinner.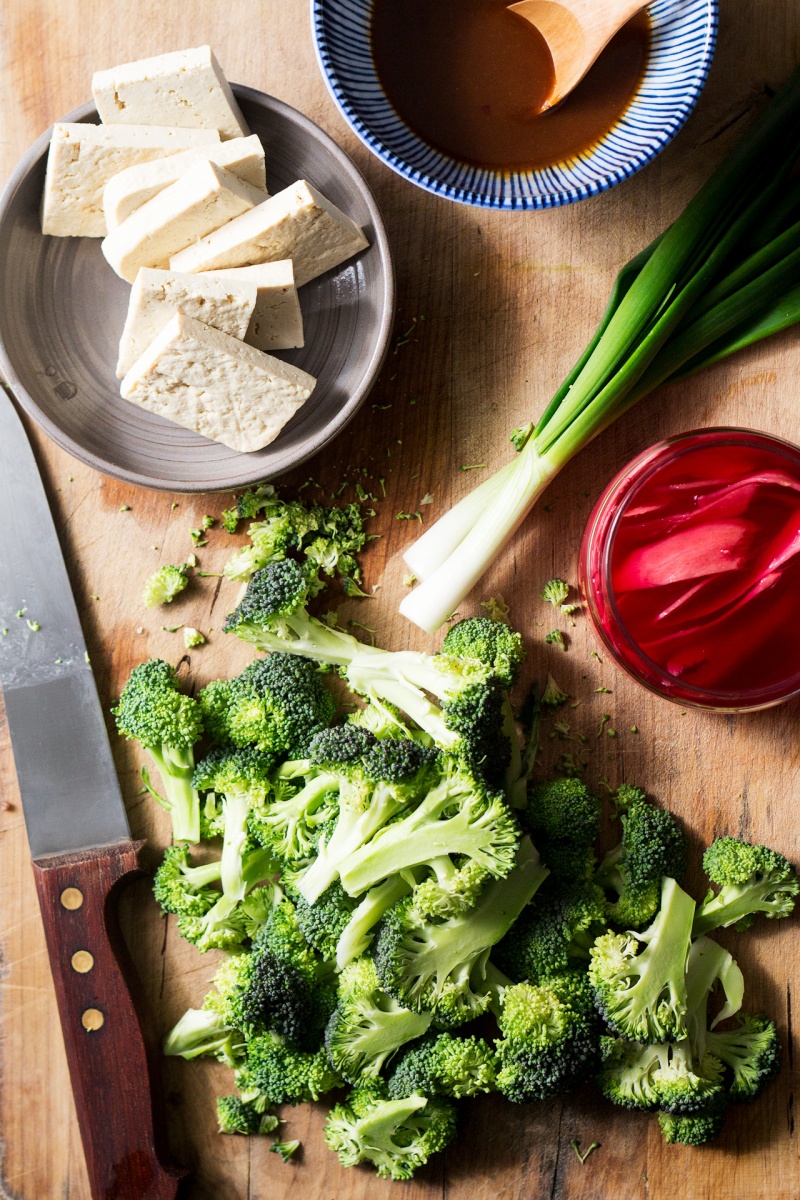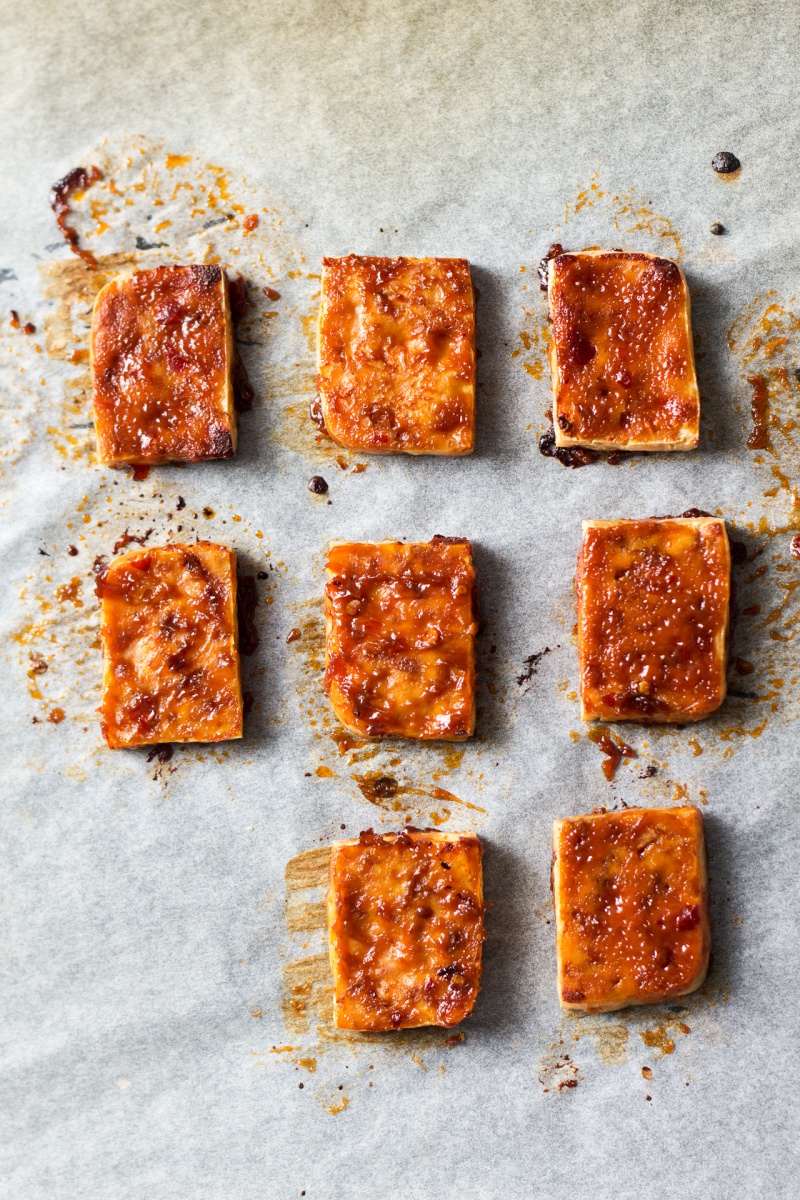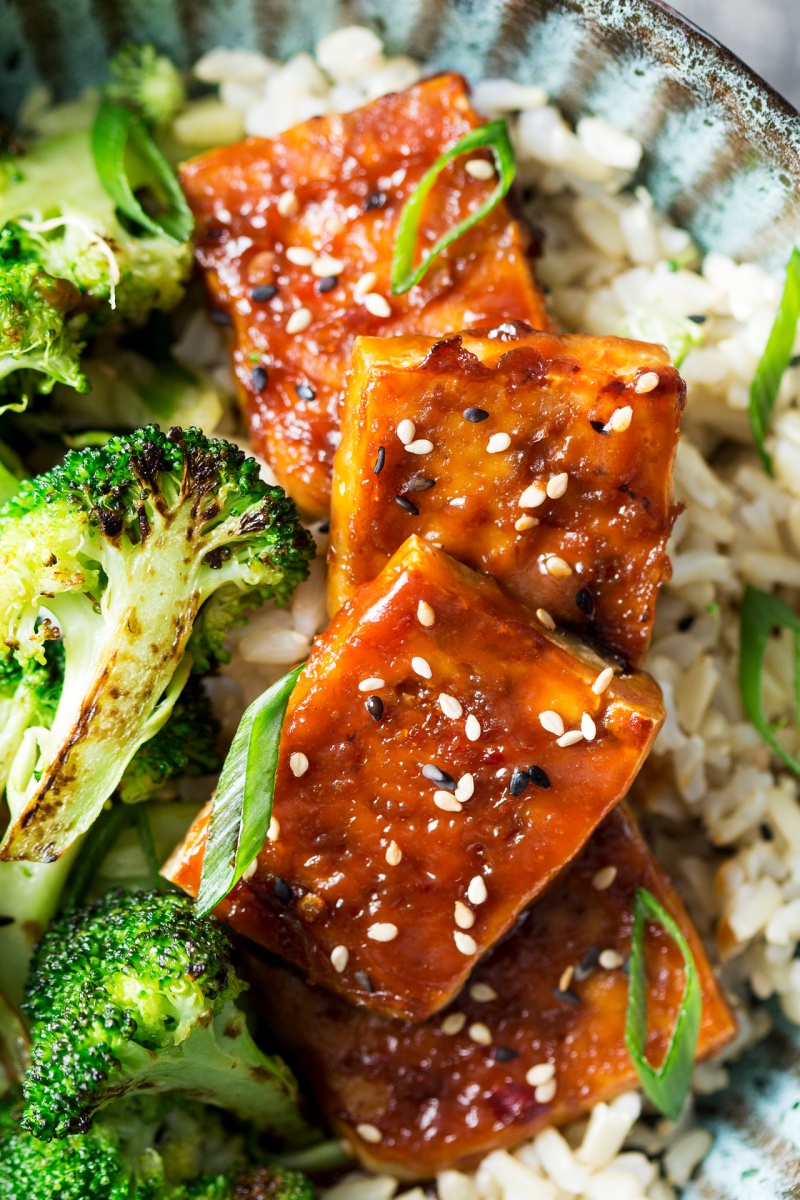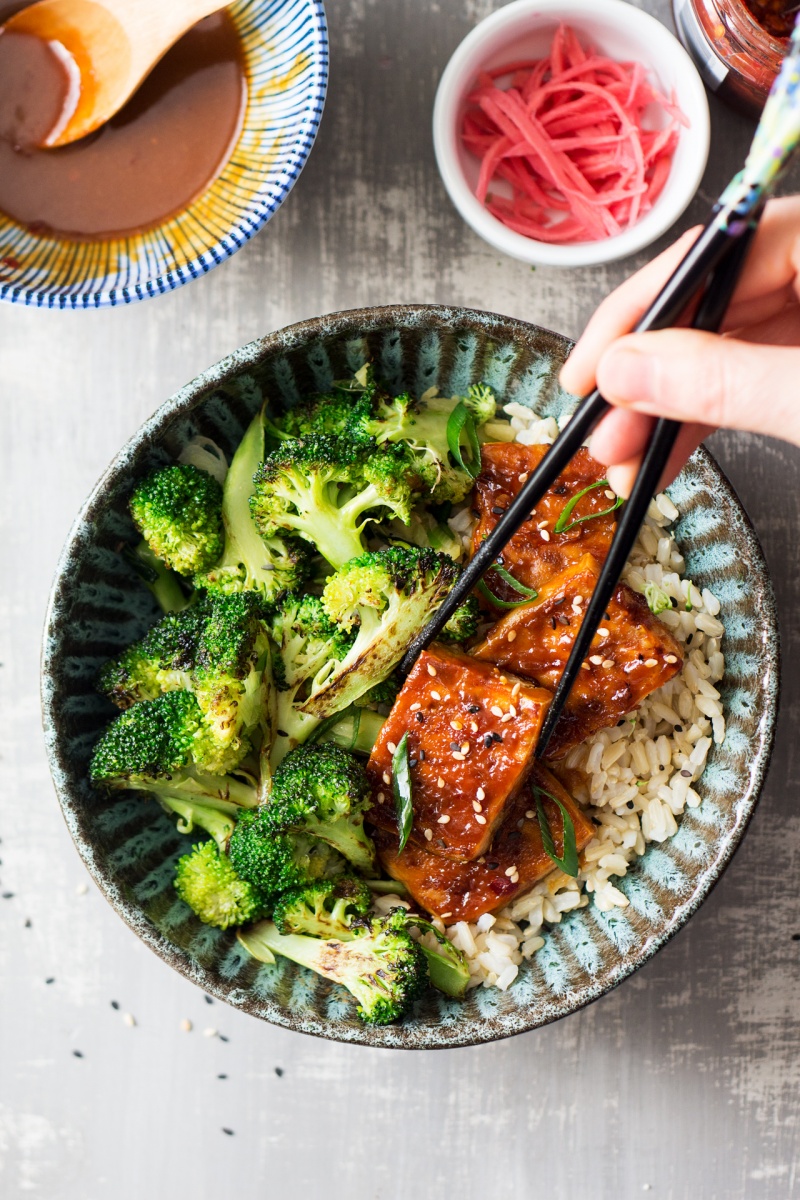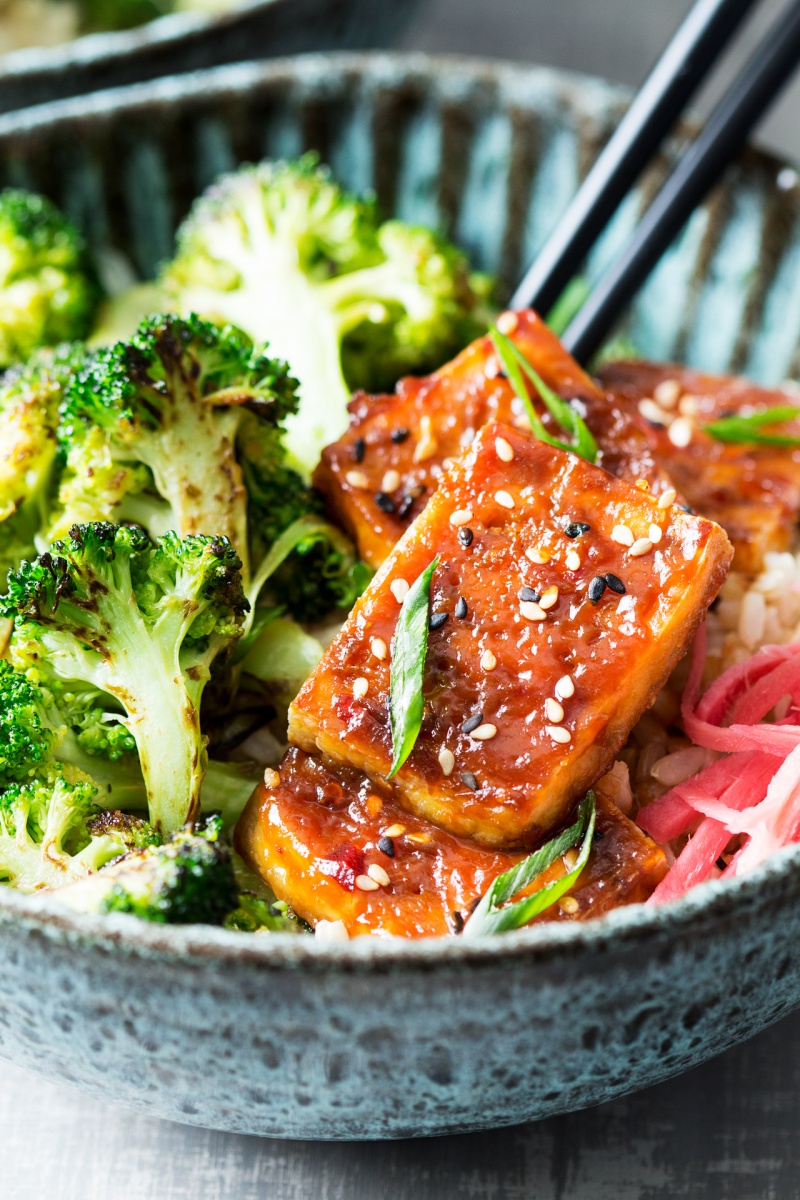 TOFU DENGAKU
200 g firm or extra firm tofu, pressed*
1-2 tsp tamari (if GF) or soy sauce
2 tbsp shiro / white miso (use GF miso for GF version)
2 tbsp mirin
1 tbsp rice vinegar
1 tsp toasted sesame oil
1-2 tsp maple syrup, to taste
½ tsp chilli paste, I used sambal oelek (optional)
REMAINING INGREDIENTS
1 cup brown rice, cooked
1 head broccoli, divided into florets
2 spring onions, sliced finely
small knob of ginger, diced finely
2 garlic cloves, diced finely
pickled ginger, diced finely
2 tbsp oil for stir-frying
METHOD
Heat up the oven to 180° C / 350° F and line a baking tray with a piece of baking paper.
Cut the tofu into 8 pieces and place them on the prepared baking tray. Spoon a few drops of tamari (or soy sauce) over each piece, spreading it with the back of the spoon. If the tofu has been pressed well, the pieces should absorb this seasoning immediately. Do not overdo it as the marinade is also quite salty.
Bake tofu in a pre-heated oven for 10 minutes, then flip to the other side for another 5-10 minutes. At this stage, you simply want it a bit dried out (but not too much) to give it a bit of bite.
Prepare the marinade by mixing the remaining ingredients in a bowl.
While the tofu is baking, heat up 1 tbsp of oil in a wok. Once the oil becomes hot, add spring onion. Stir-fry for about a minute, than add garlic and ginger and stir-fry for another minute or so. Transfer the aromatics onto a small plate and stir-fry broccoli pieces for about 3 minutes. Return the aromatics to the wok and allow them to warm up. Season with a small amount of tamari (soy sauce) and a few drops of toasted sesame oil.
Change the oven to grill / broiler function. Brush liberal amount of the marinade on the baked tofu and place under a grill / broiler for 3 minutes on each side, until nicely caramelised. Don't throw away leftover glaze, thin it with a few drops of water and use as a sauce.
Serve grilled tofu over cooked rice and stir-fried broccoli with a side of pickled ginger.
NOTES
*To press the tofu, you either need a
special tofu press
or you can do it with a bunch of kitchen towels and a heavy weight. Wrap your tofu in a few layer of paper towel, place it on a plate and weigh it down with something heavy (like a heavy chopping block, for example). Once the paper towel becomes wet, change it for a new one. Repeat a few times until the paper towel stays almost dry. Pressed tofu is tastier as it absorbs flavours better.