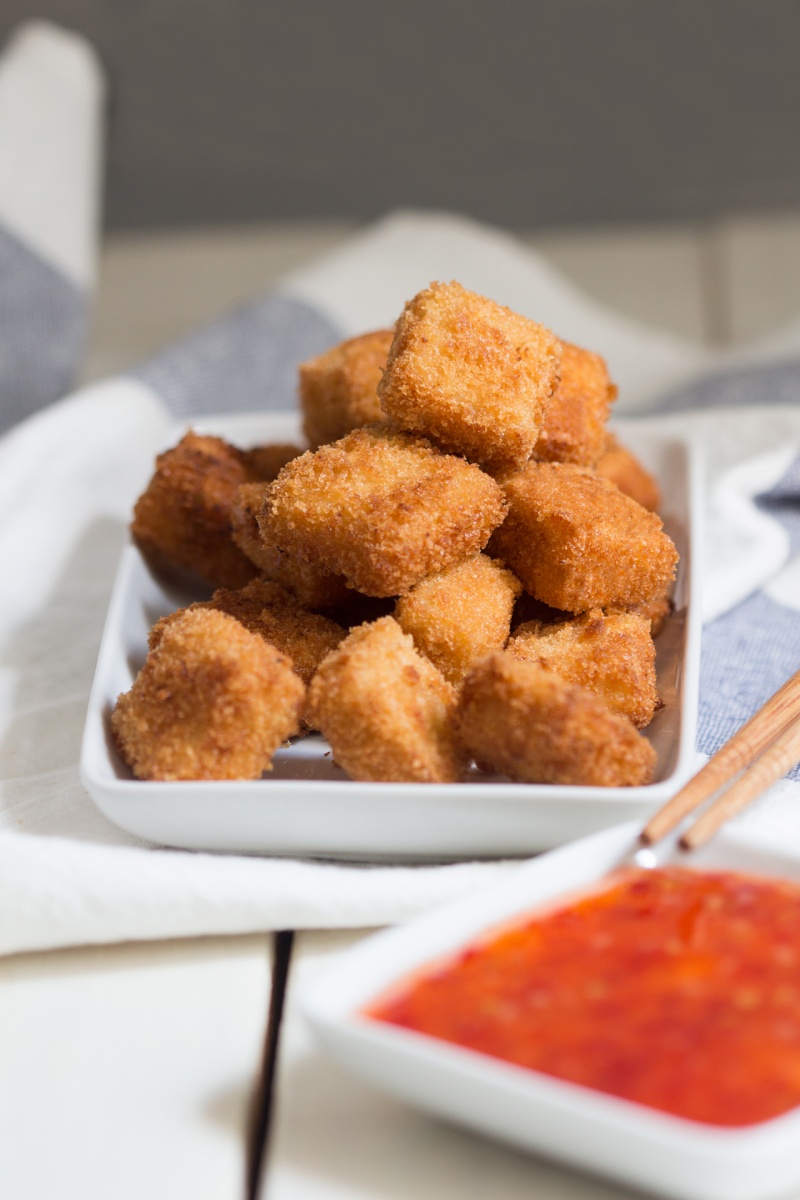 I admit that today's snack is a little naughty. Cubes of firm tofu, seasoned, coated in breadcrumbs (hence the name "tofu katsu") and shallow-fried until golden.
Man, they are crispy and absolutely irresistible – especially when dipped into a bowl of sweet chilli sauce. Don't get me wrong, I am not suggesting you should have fried tofu every day, but hey, it's Friday, it's been a long week and I think we all deserve a little treat.
You can enjoy them with some cold beer, sprinkle therm over a stir-fry, or cut tofu into slices rather than cubes and stuff them into a bánh mi sandwich.
Whatever you decide, make sure you fry these little golden nuggets directly before consumption as they taste best still warm. And stay vigilant as you place them on a paper towel to blot as there are bound to be self-proclaimed food tasters appearing out of nowhere.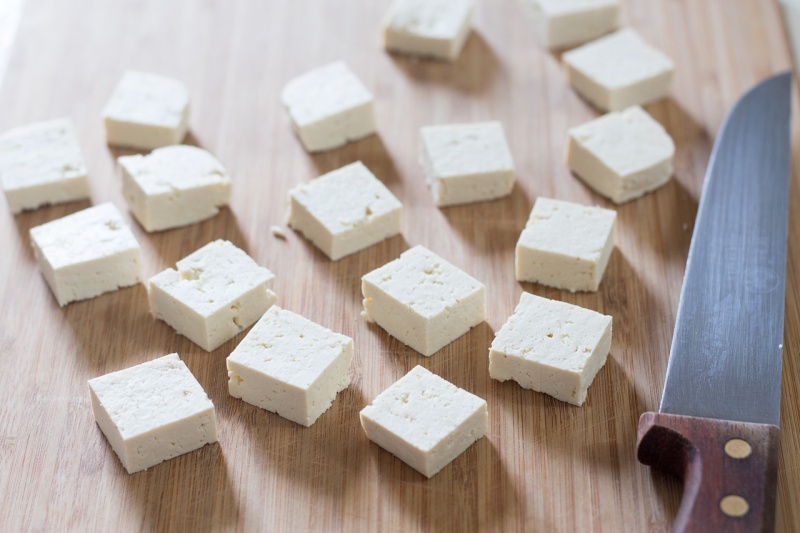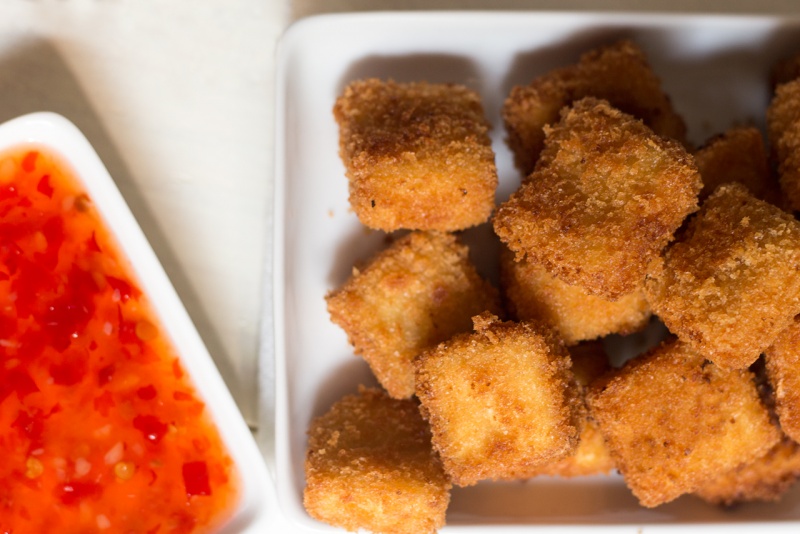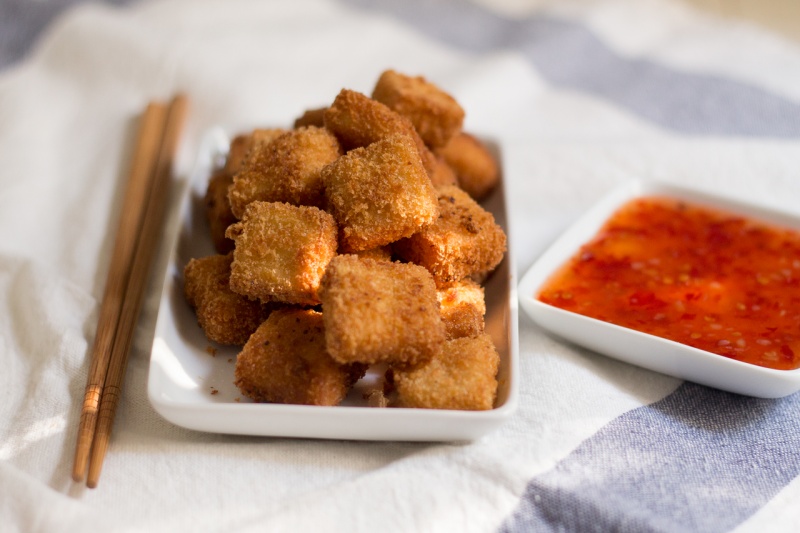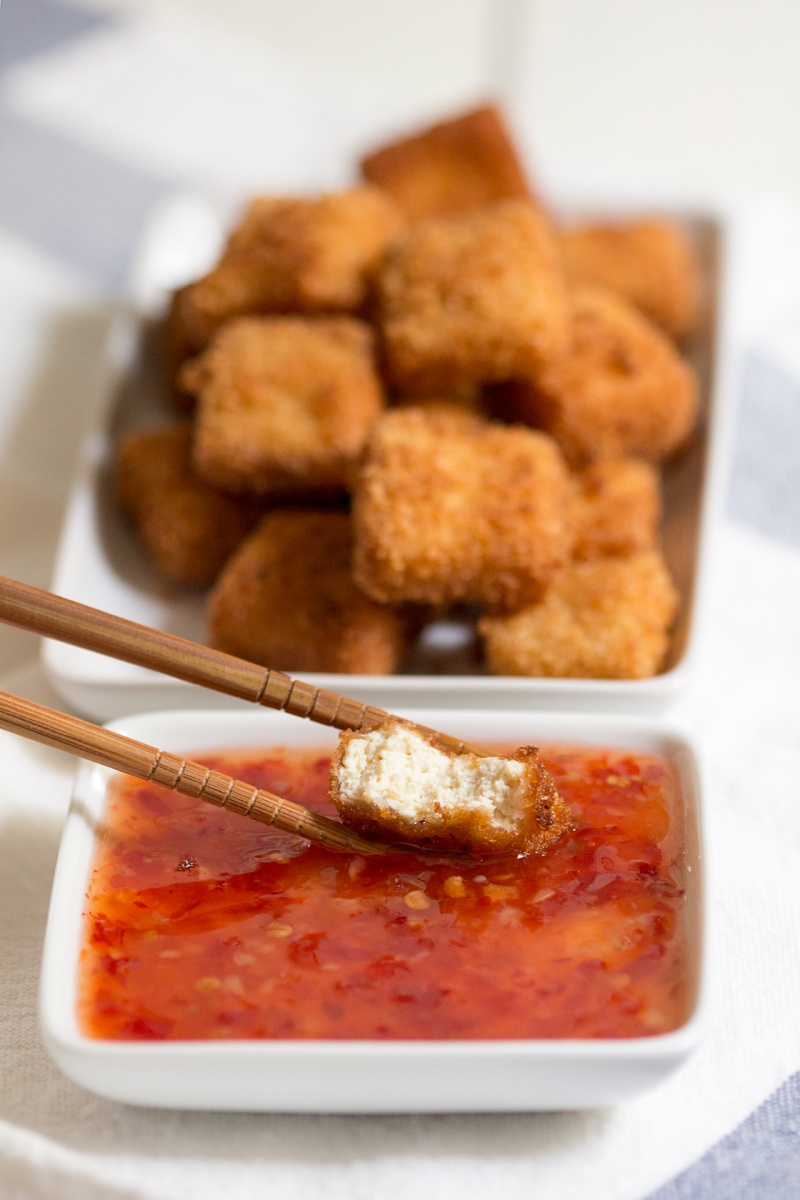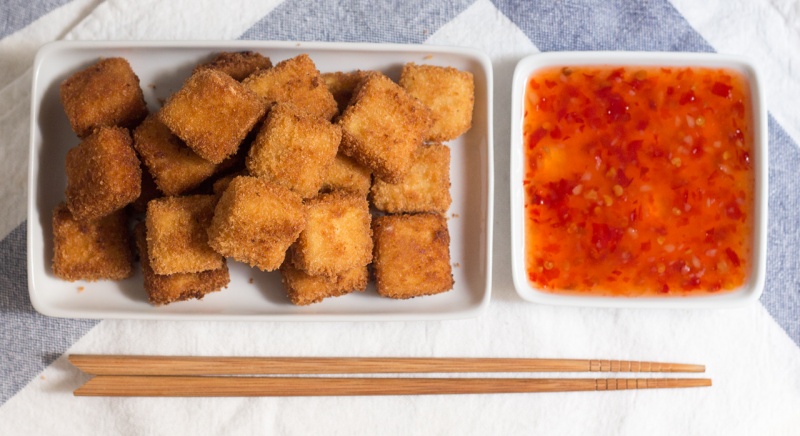 200 g firm tofu
soy sauce
2 tbsp plain flour
½ cup aquafaba / chickpea brine (from one tin of chickpeas)
½-1 cup breadcrumbs
sunflower or canola oil, for frying
sweet chilli sauce, to serve
METHOD
First, we need to 'press' the tofu in order to get rid of the excess moisture and make it absorb flavours better. Wrap your tofu in a piece of paper towel, place it on a plate and weigh it down with something heavy (like a can of coconut milk, for example). Once paper towel becomes wet, change it for a new one. Repeat a few times until paper towel stays almost dry.
Once tofu has been pressed, cut the block in half to end up with two 50% thinner blocks. Cut each block into 12 even pieces. Pour some soy sauce into a large, shallow bowl and tip all tofu cubes into it. Pour enough soy sauce to at least half-immerse the tofu. Leave it to marinate for 30 mins, then flip the tofu pieces over and keep in soy sauce for another 30 mins.
Prepare three large plates, one with plain flour, another with chickpea brine and the third one with breadcrumbs.
Coat each tofu square in flour, then in chickpea brine and finally in breadcrumbs. Make sure you press each side of the cube into the flour and breadcrumbs well to achieve an even coating on all sides.
Pour 1 cm of oil into a small frying pan and heat it up slowly (on low-medium heat). To test it, drop a few breadcrumbs in. If the oil sizzles when the breadcrumbs hit its surface it is ready for frying. Alternatively, you can measure the oil's temperature – it should reach about 175° C / 350° F. Pop a few tofu pieces into the oil but do not overcrowd the pan. Fry them on each side for about 2-3 minutes (until that side turns nicely golden) and then turn them over using BBQ tongs. Once the first batch is ready, spread the tofu on a piece of paper towel to blot excess fat and start frying another batch. Continue until you've fried all the tofu. Enjoy straight away with a side of sweet chilli sauce.