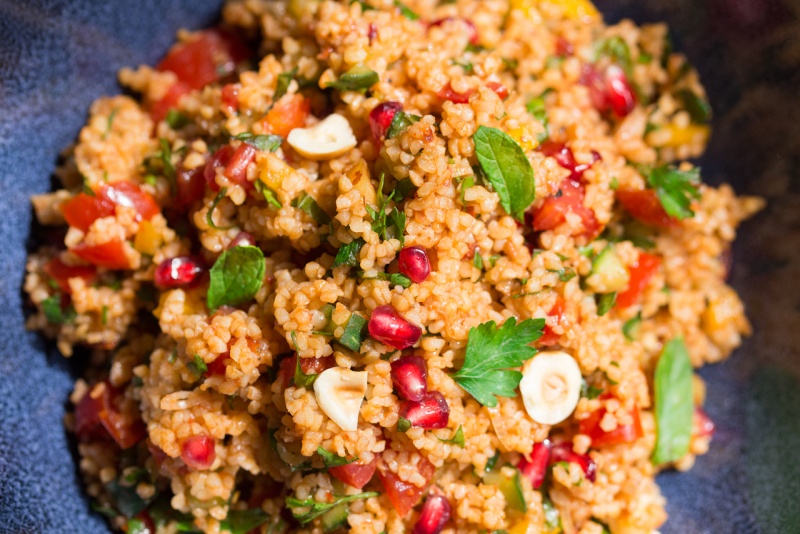 I don't often miss my London life, but I do miss variety of quality food available at every turn. I used to live down the road from some great Turkish restaurants and bakeries. My boyfriend and I used to love buying still warm Turkish pide bread, freshly baked at our corner store several times a day.
On Fridays, we would often pop down to Haringey Green Lanes for dinner and have a full spread of vibrant Turkish mezze, followed by some of the finest baklava I've ever tasted. The baklava was so good, in fact, that my parents went from saying they are not too keen on baklava to asking me if I can bring them some more each time I flew home.
So today it's a trip down memory lane. We are hopping off to Turkey for a quick, yet very satisfying lunch: kisir salad. It's super easy to make, all you need to do is pour boiling water over some bulgur wheat, chop a few veg and some herbs, mix, season and voilà! Easy, healthy and delicious!
Although, traditionally kisir is made with bulgur wheat, if you are avoiding gluten, you might want to use quinoa, millet or even rice instead. Kisir is one of these dishes that tastes even better the day after so it's great for making a big batch in advance and bringing it into work the next day. If, like me, you like mezze-style meals kisir makes a great addition to any mezze.
Its zingy, spicy, and fresh taste will excite your palate and its vibrant colours will brighten up your table.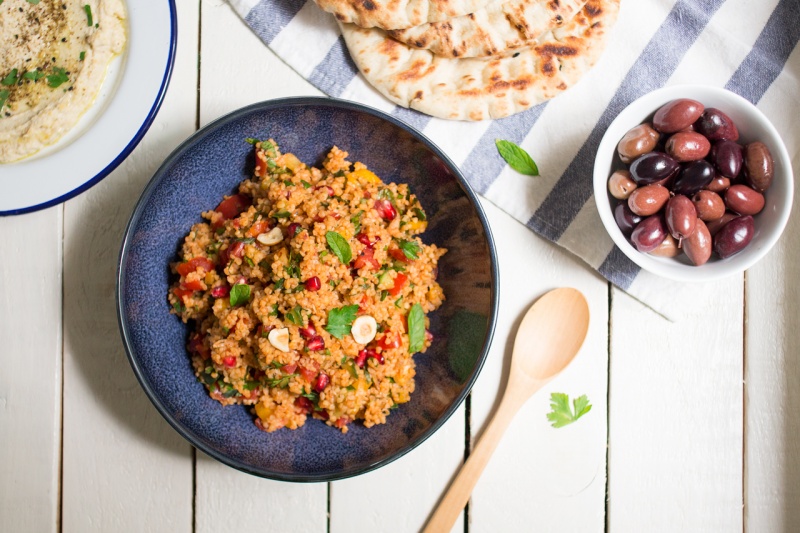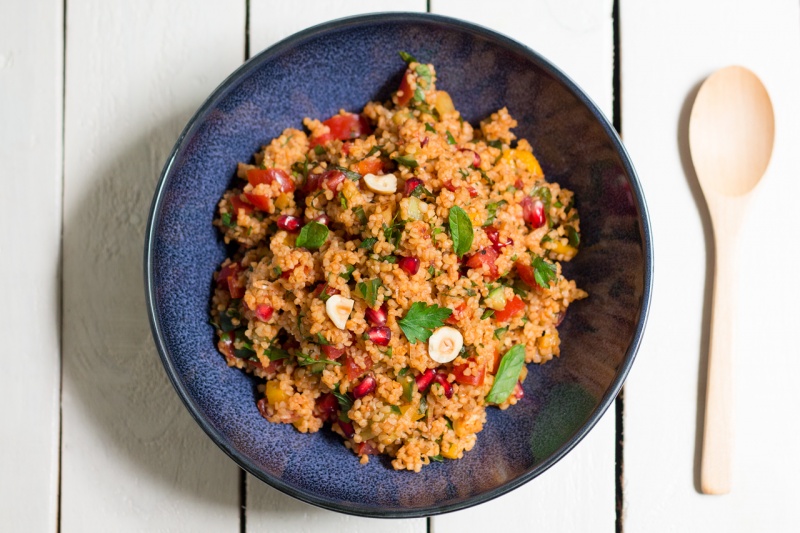 300 g / 1½ cup medium bulgur wheat
2 tbsp of tomato paste
25 plum tomatoes / 3 regular large tomatoes
1 Lebanese cucumber, diced finely
1 banana pepper, diced finely
2 spring onions, white part finely sliced
2 tbsp / 30 ml pomegranate molasses*
3 tbsp / 45 ml extra virgin olive oil
2 tsp sea salt + more to taste
3-4 level tsp pul biber (Turkish chilli) / other mild chilli
freshly ground pepper, to taste
seeds from ½ pomegranate
40 g of hazelnuts, lightly toasted (optional)
handful of fresh mint, leaves finely shredded
handful of fresh parsley, finely shredded
METHOD
Boil a kettle of water, you will need about 700 ml to pour over bulgur wheat. The best ratio in my opinion is 1 volume of bulgur wheat to a bit less than 2 volumes of water.
Place bulgur wheat into a large bowl, pour boiling water over it and cover immediately. Let it sit for 20 minutes without taking the lid off.
If you are using regular tomatoes, deseed them first and then chop into a fine dice. Plum tomatoes can be diced without deseeding as they contain much less water.
Mix tomato paste, olive oil and pomegranate molasses together. Once the bulgur wheat is ready, mix oil/tomato paste/pomegranate molasses mixture into it. Use your hands to incorporate it well. Now mix in diced veg, chopped herbs, hazelnuts and most of the pomegranate seeds. Season with salt, pepper and chilli. Start off with 1 level tsp of salt, taste and add more if needed.
Let it stand for about 20 mins for the flavours to marry up. Serve sprinkled with extra pomegranate seeds and a few whole mint and parsley leaves.
NOTES
*Pomegranate molasses have a sweet-tangy taste. If you cannot find any, substitute it with lemon juice and a tiny bit of maple syrup.