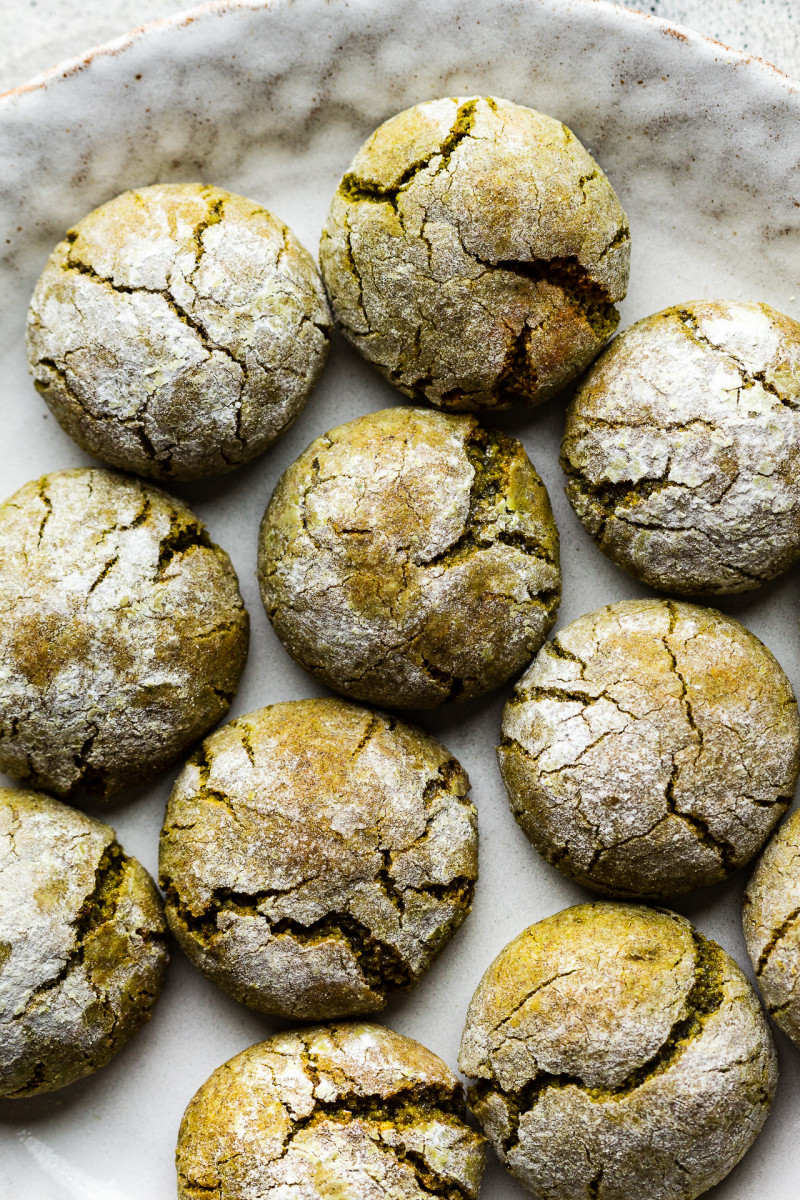 So have you already started on Xmas cookies? I have, although, due to this blog I start thinking about upcoming festivities a bit earlier than an average person, I guess. I was hoping to fly to see my mum for Xmas as I have not visited for two years but I've chickened out due to the new Omicron strain. We are all double vaccinated but still, mingling with lots of people at such a close proximity on the way there fills me with dread and I could not forgive myself if I made my mum sick.
So I am staying put and baking cookies like crazy. First up, Italian inspired amaretti with a twist. They are based on my previous recipe for classic almond amaretti but I've used ground pistachios to make these. They are moist and chewy on the inside and crispy on the outside, deliciously nutty and I won't lie – quite addictive. I could not get hold of any pistachio flour near me and I left it a little late to buy it online so I ground up whole pistachios in a coffee grinder and sifted them, returning whatever was left on the sieve to the grinder for another pass. It works well, but I am pretty sure you'll be fine using a food processor too, your cookies will be a little coarser, that's all.
I tried making these with both whipped and liquid aquafaba and both methods are pretty delicious, although with slightly different results. The whipped version produces taller, rounder cookies with a soft moist interior, which are more akin to the authentic Italian amaretti. The lazy version, which is far less involved produces flatter and therefore crispier cookies but I don't think you would say no to either version 😉 .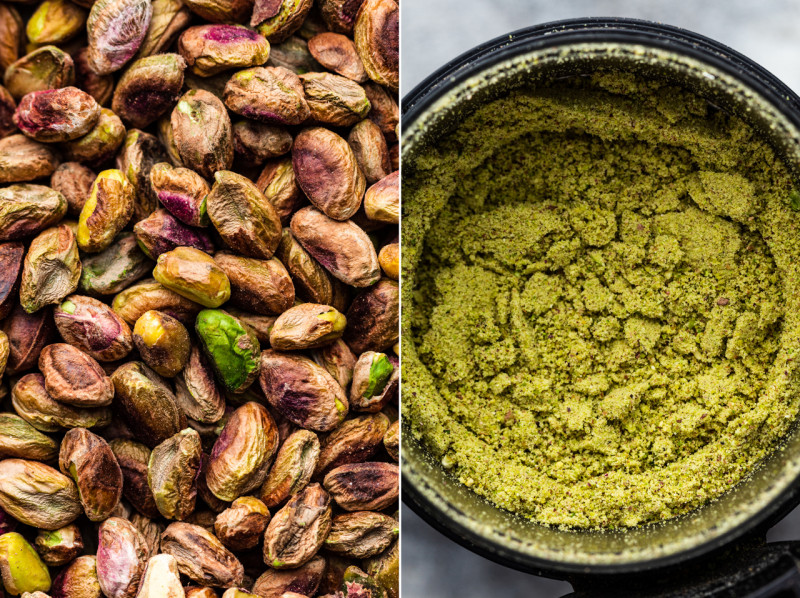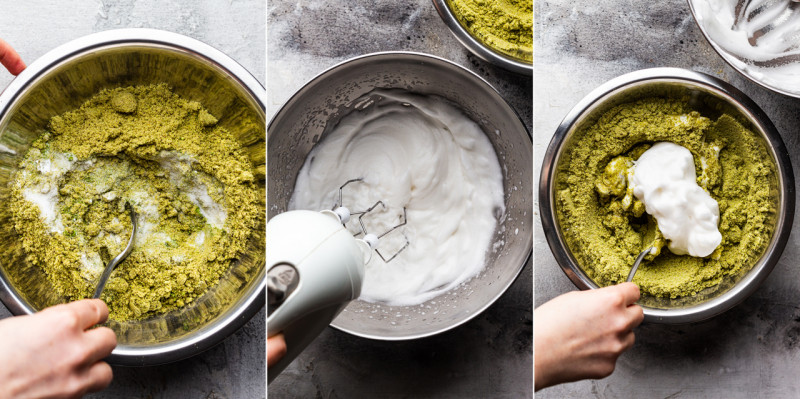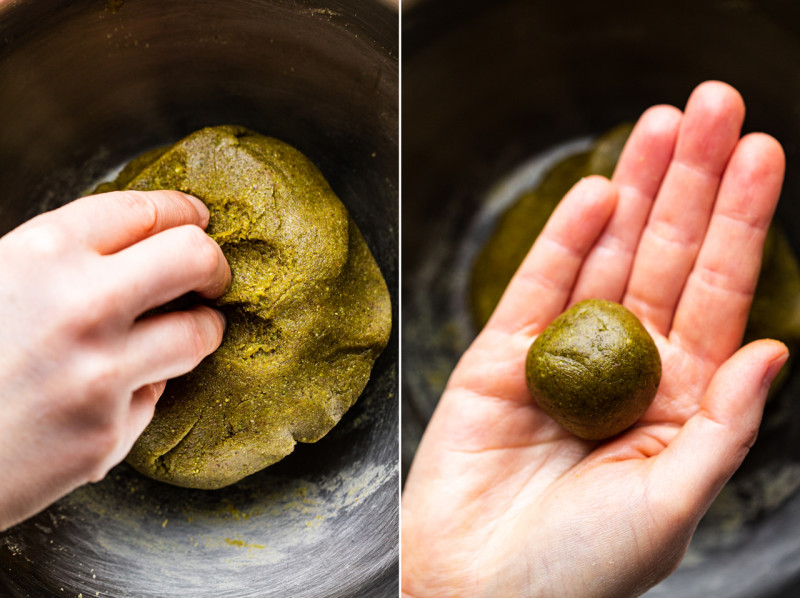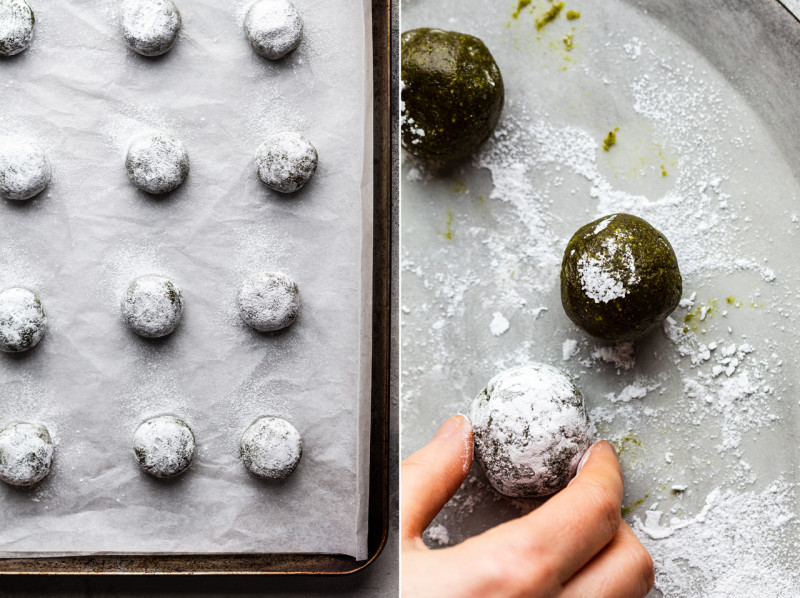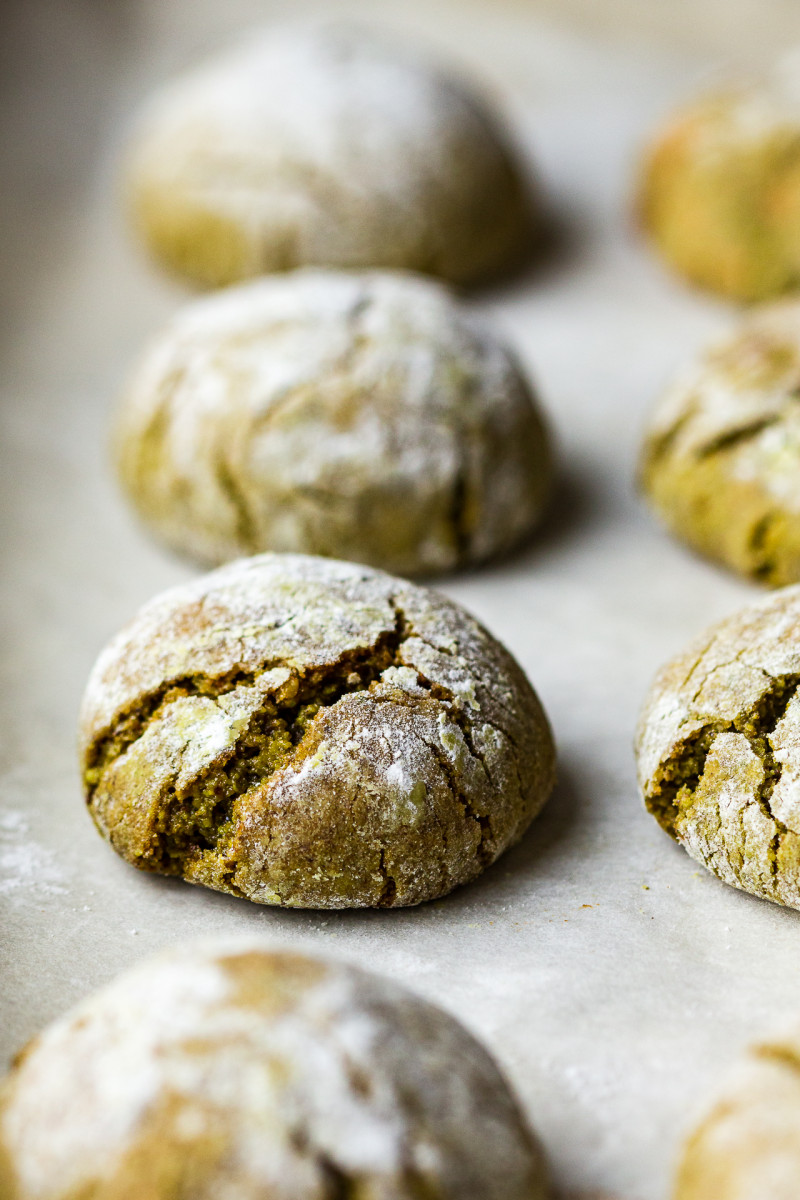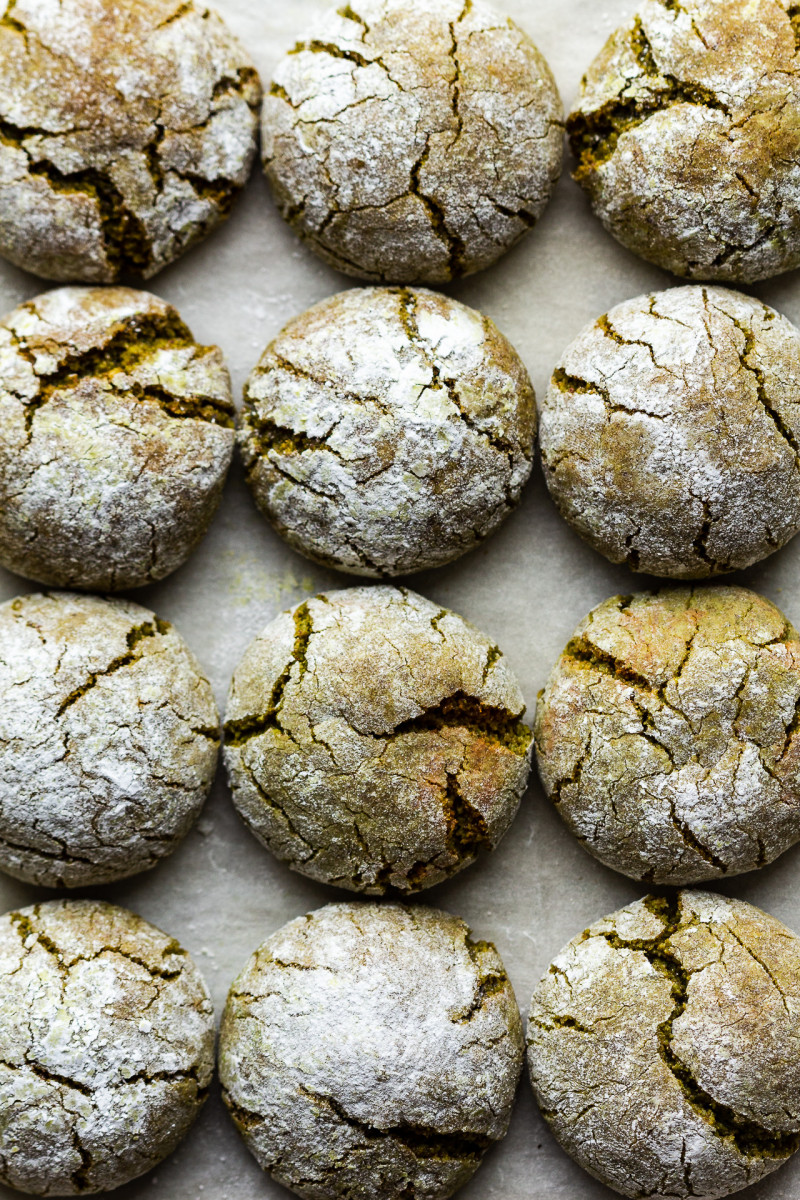 200 g / 7 oz finely ground pistachios* / pistachio meal
125 g / ½ cup + 2 tbsp caster (superfine) sugar
½ tsp baking powder
1 tsp matcha powder* (optional)
30-45 ml / 2-3 tbsp aquafaba* / chickpea brine
pinch of salt
1 tsp vanilla extract
½ tsp lemon or lime juice (if whipping aquafaba)
icing sugar, to coat (optional)
METHOD
Preheat the oven to 175° C / 350° F and line a large baking tray with a piece of baking paper.
In a large mixing bowl, mix the ground pistachios, sugar, baking powder and matcha powder (if using).
EASIER METHOD: If using aquafaba as a liquid, simply add it to the dry ingredients as is. Start with 30 ml / 2 tbsp. Next add in salt, vanilla extract and orange blossom water. Get everything well incorporated until you get thick playdough like dough (add a touch more aquafaba if necessary to achieve that consistency).
MORE INVOLVED METHOD: If whipping aquafaba, place 45 ml / 3 tbsp of aquafaba, a pinch of salt and lemon / lime juice in a spotlessly clean glass or metal bowl (even the tiniest grease residue will inhibit the aquafaba from reaching stiff peaks). Whip the aquafaba with an electric mixer until stiff peaks form – you need to be able to invert the bowl over your head and the mixture should not move at all. Gently fold in a portion of whipped aquafaba into the dry mixture and then fold in more (you may not need all of it so) in together with vanilla extract and orange blossom water. You should end up with thick, playdough like dough.
Form the mixture into balls (I made fifteen 25 g / ¾ oz balls) and roll them in the icing sugar.
Place the cookie balls on the prepared baking tray, making sure you leave enough space between them.
Bake for about 15 minutes, until the tops are cracked in places. Allow them to cool completely before removing from the tray – they will crisp up as they cool.
Store them in an airtight jar for up to 5 days.
NOTES
*PISTACHIOS – I ground 200 g / 7 oz pistachios in a coffee grinder into fine powder and sifted them prior to measuring (spooned and levelled off with a knife) – it resulted in 2 and 2/3 cups.
*MATCHA – I used matcha powder for colour, you can totally skip it.
*AQUAFABA – The amount you need depends on how coarse your pistachios are. Start off with less and add more if necessary.
*METHOD – For this recipe, you can either whip your aquafaba until it reaches stiff peaks or use it in its liquid form. The former results in taller, more authentic looking amaretti cookies, the former results in flatter, crispier cookies – they are both delicious.