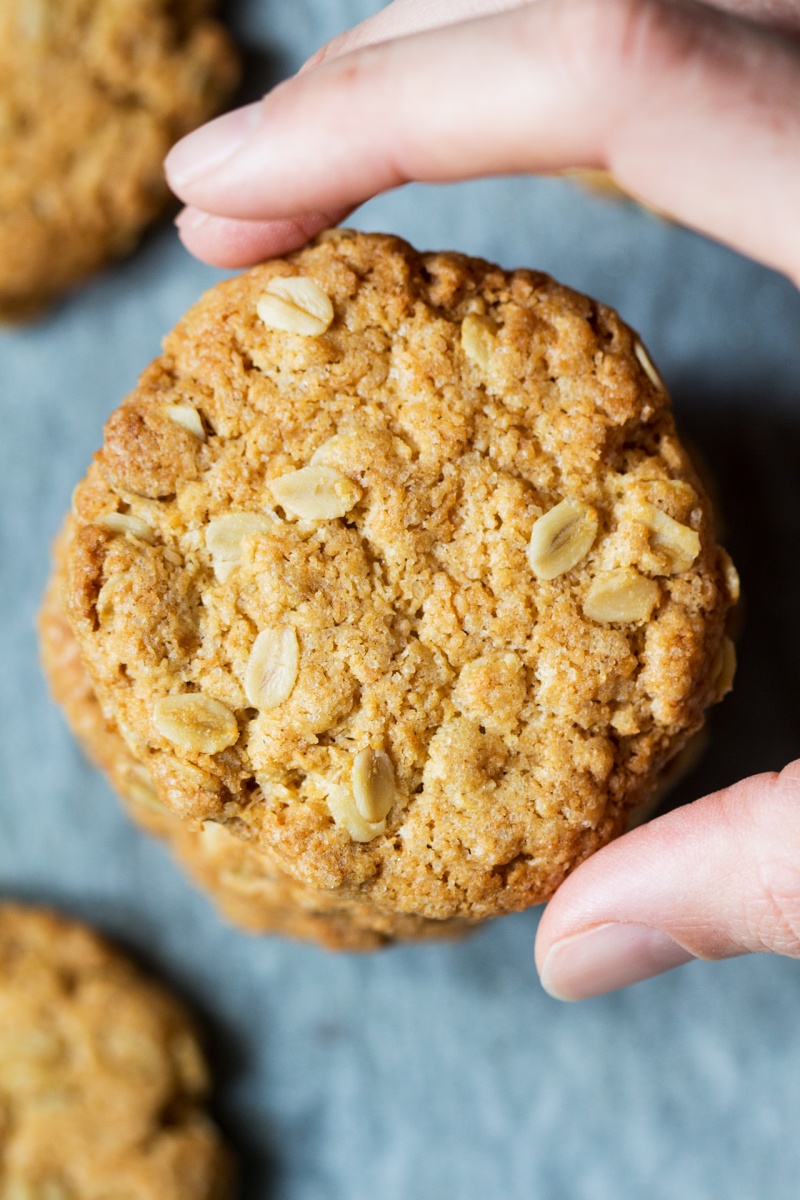 Even though I was born in Australia and lived there for 23 years, it has been a full 15 years since I moved abroad and I'm occasionally prone to a bout of homesickness. Now that I'm living in Greece, and previous to that I lived in London, my old life in Australia feels a very long way away.
I have a few things that I still follow that connect me to home, the first being cricket (which, according to Ania, is a sport based on standing in a field where everything is called a wicket) and the second being these delicious vegan Anzac biscuits.
As many Australians will know, the 26th of January is Australia day, which I'm always bittersweet about celebrating as it is the day that Australia was effectively taken from the aborigines by the British settlers. When I lived in London, Australians celebrated it by drinking copious quantities of Fosters (which is brewed in the UK) and dancing to Crowded House (which is founded by a New Zealander) in the Walkabout chain of Australian-theme pubs (owned by a British company). Naturally, I never saw the point of this, but making Anzac biscuits was a tradition I did enjoy every Australia day.
The word Anzac refers to the 'Australian and New Zealand Army Corps' and the reason the biscuits have adopted this name is because the legend has it that they were sent to the troops during World War I. As the biscuits don't contain eggs or other ingredients that spoil quickly, they were perfect to ship to troops because they would still be intact on arrival. I remember once being sent a piece of my cousin's wedding cake that I didn't receive until 2 months after it was sent and I have seen firsthand why sending a vegan Anzac biscuit would be a better idea!
Normally these biscuits are made nearer to Anzac Day (which is a war remembrance day – April 25th), but I like to make them for Australia day as well because they are soooo good.
Whether you are sending these biscuits to a family member in a war zone or just making them so you can eat them all by yourself on the couch, these biscuits are rich, oatey and delicious. So if you are missing Australia, bake a big batch of these and even people that don't come from Australia, don't care about Australia, and don't have any idea what an Anzac is, will be happy that you did…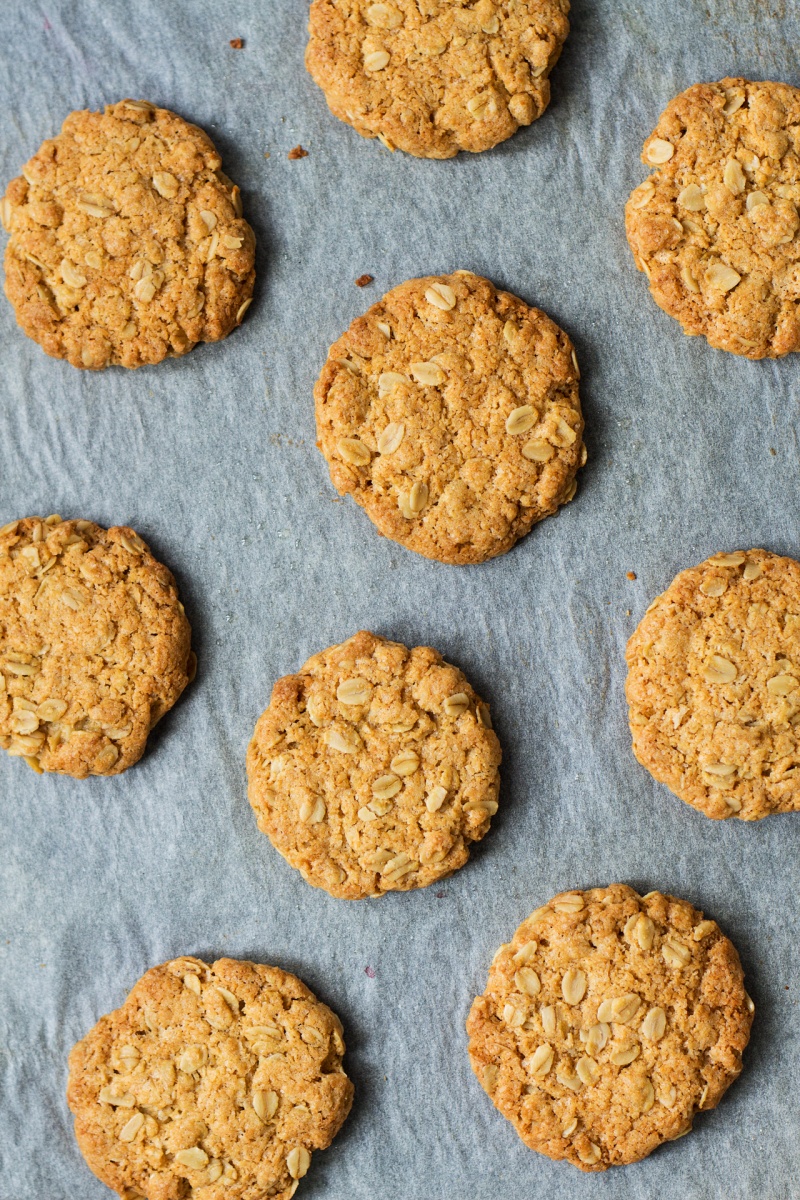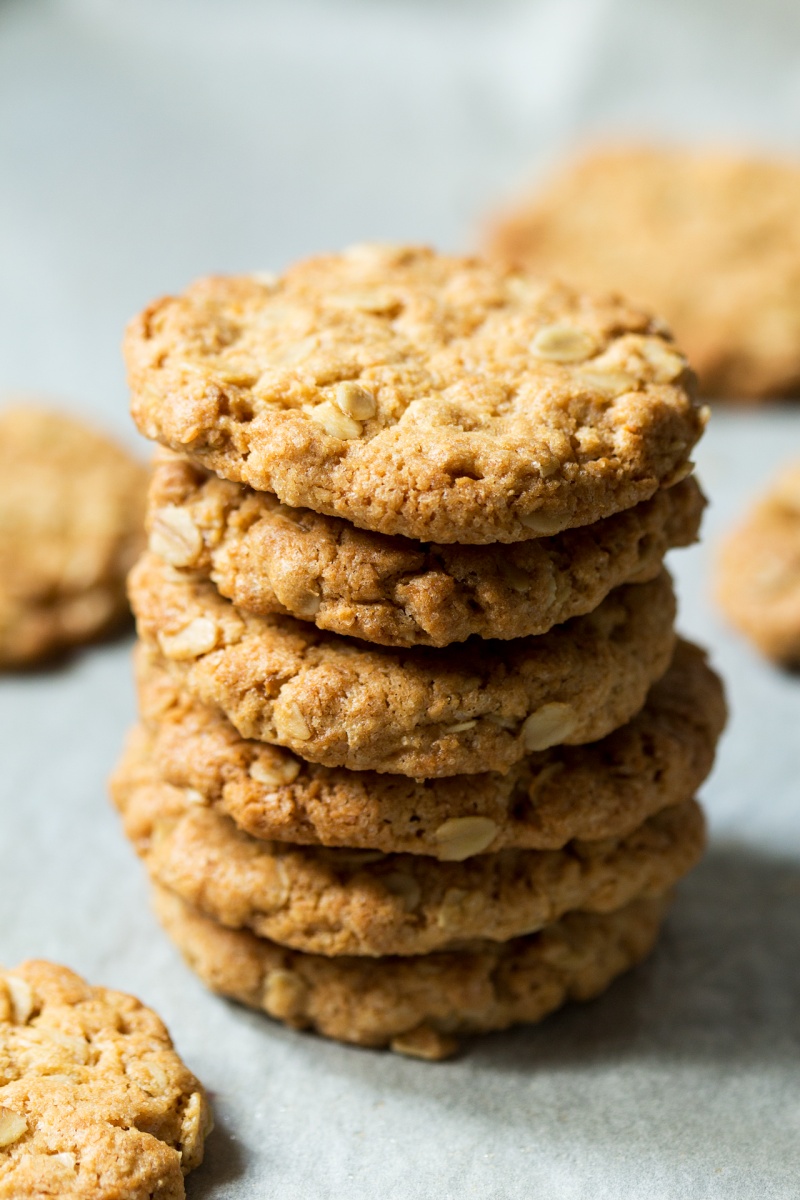 100 g / 1 cup oats
85 g / ¾ cup (slightly heaped) desiccated coconut
100 g / heaped ¾ cup AP wheat flour
100 g / ½ cup caster sugar
½ tsp baking soda
2 tbsp water, hot
100 g / 3.5 oz vegan butter, margarine or refined coconut oil
1 tbsp maple syrup or golden syrup
METHOD
Preheat the oven to 180° C / 355° F.
Put the oats, desiccated coconut, flour and sugar in a medium mixing bowl and mix well.
Melt the vegan butter in a small saucepan over a low heat, add the maple syrup and stir until combined.
In a small bowl, dissolve the bicarbonate of soda in the 2 tbsp of hot water and add to the melted butter mixture.
Add the melted butter mixture to the dry ingredients and stir gently until it is mixed well. At this point the mixture should stick together easily, but you may need to add a touch more hot water if you are having with that. Please be careful – add it very gradually, in small amounts.
Roll mixture into balls with your hands (it should make 20 at 25 g each), flatten each ball so that you have 1 cm / 0.4″ high cookies, and place them 2 cm / 1″ apart on a paper lined baking tray.
Bake for 18-20 minutes until golden and transfer to a wire rack to cool.