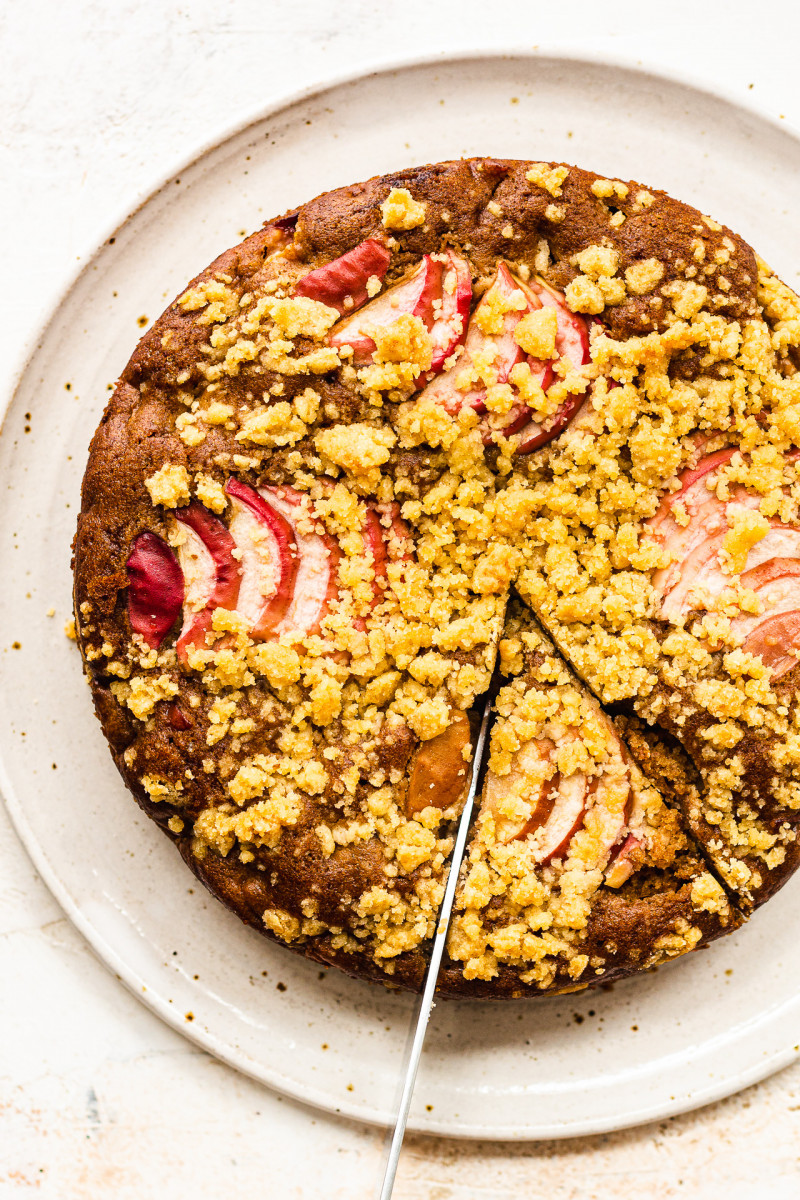 Welcome to autumn, with days getting cooler and darker and Christmas trinkets on display in most supermarkets, it's most certainly here despite me trying to be in denial 🙂 – I mean didn't we just have a heatwave a week and a half ago? I shall open the proceedings with a quintessentially autumnal dessert, which sits firmly amongst my personal favourites – vegan apple cake.
This vegan apple cake is really easy to make – one bowl kind of easy. It is moist, studded with apple pieces, fragrant with spices (I love both cinnamon and cardamom in my apple cake), with just the right amount of sweetness and topped with a layer of crunchy crumble. What's not to like? You can enjoy it on its own or with a scoop of vegan ice-cream or vegan custard if you are feeling exuberant. I hope you'll enjoy it as much as we have!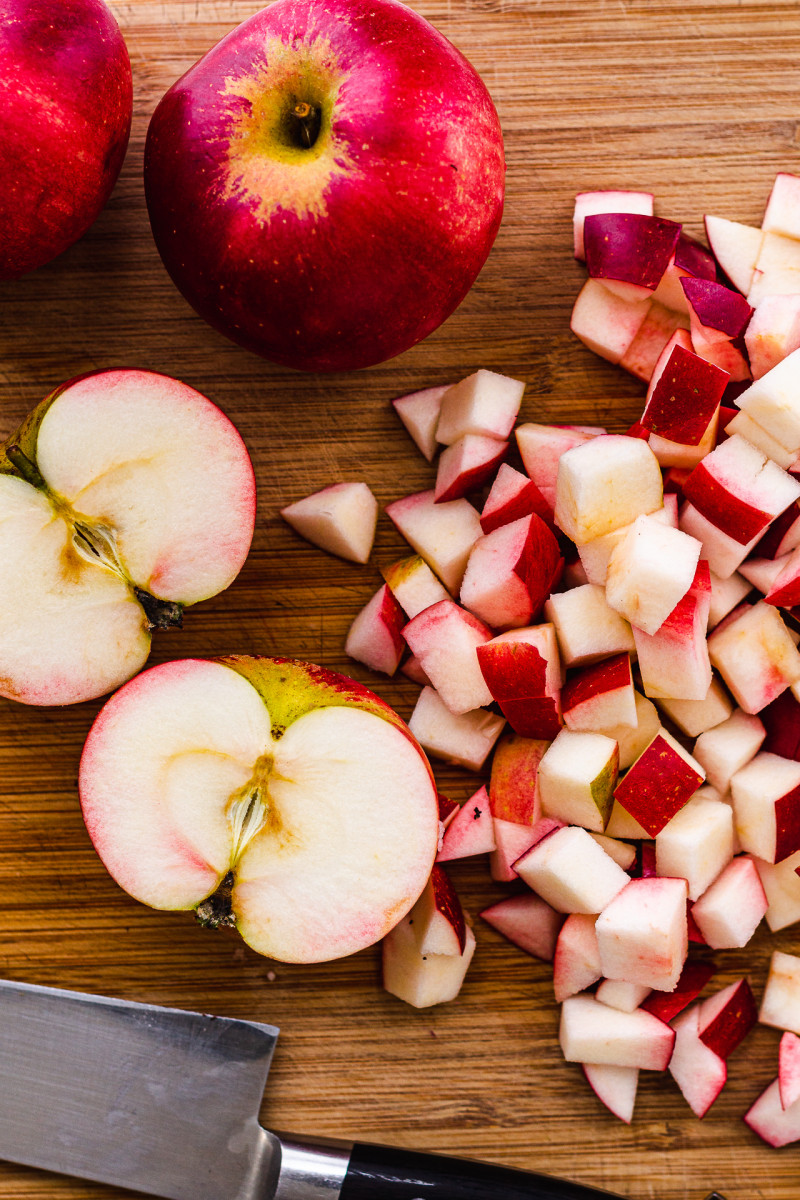 I made my cake with sweet eating apples from my garden (which somehow have survived my negligent reign) as we always get so many we struggle to eat them and give them away before they go off. You could use sour apples, like Bramley here in the UK, and perhaps a touch more sugar in the batter if you prefer a bit more sweet-sour contrast in your apple cakes.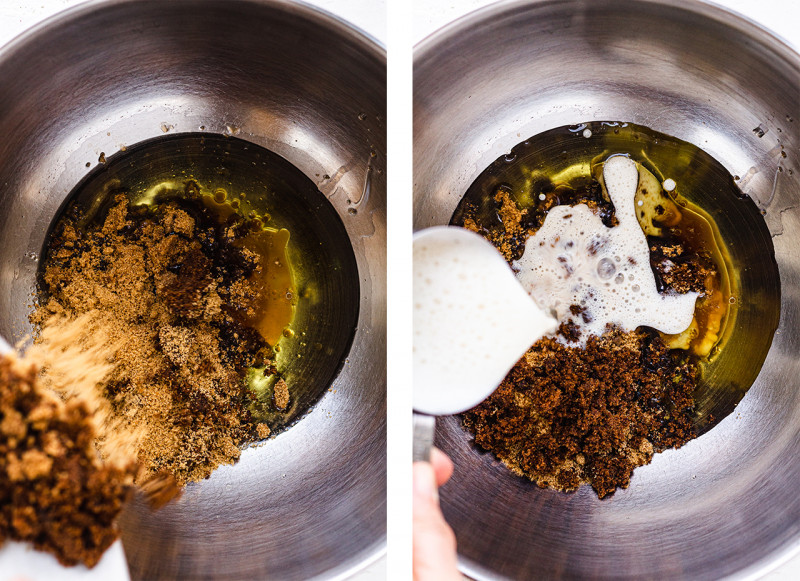 Prep the apples and combine wet ingredients in a large mixing bowl. If using muscovado sugar like I did, crumble it with your fingers first as it tends to clump up quite a lot, but don't sweat it if a few lumps get through.
Once you combine all the wet ingredients, sift through dry ingredients in two to three batches mixing well after each batch. To minimise lumps, mix by making small circles in the middle of the bowl, making them progressively larger and therefore incorporating more and more flour.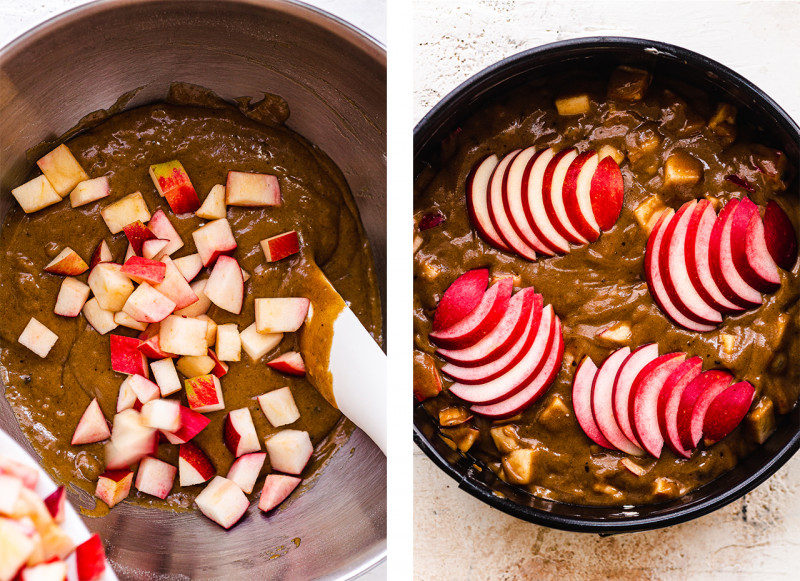 Add cubed apples, mix thoroughly then transfer to a prepared baking tin. Top the batter with fanned apple slices and move on to make the crumble topping.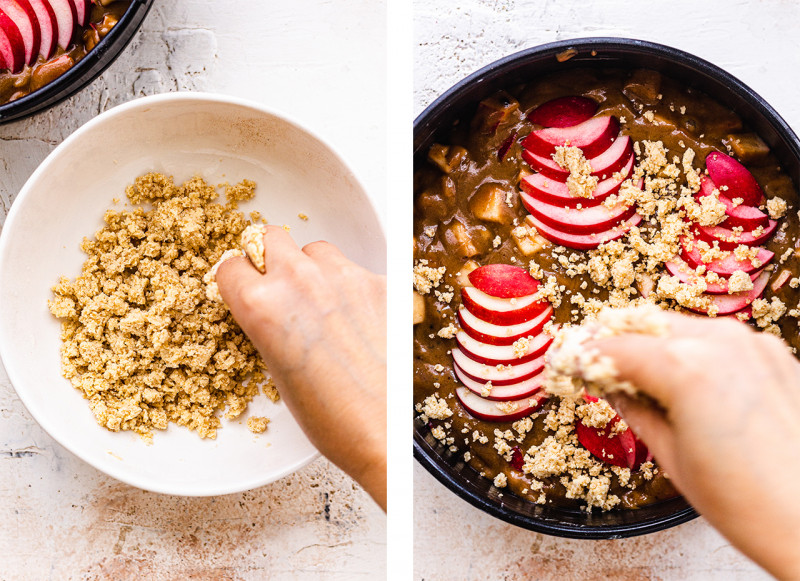 Make the crumble topping in a small bowl then scatter over the apples. Bake until the top is golden brown and the skewer comes out clean.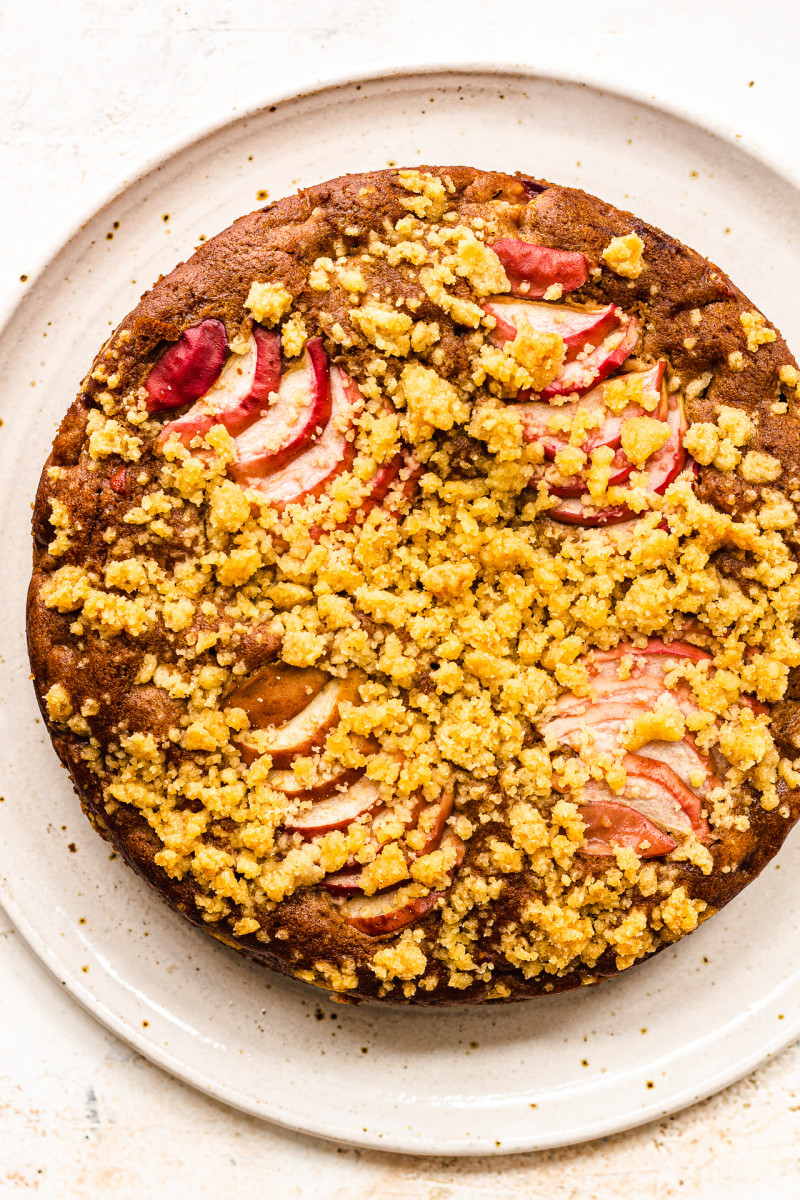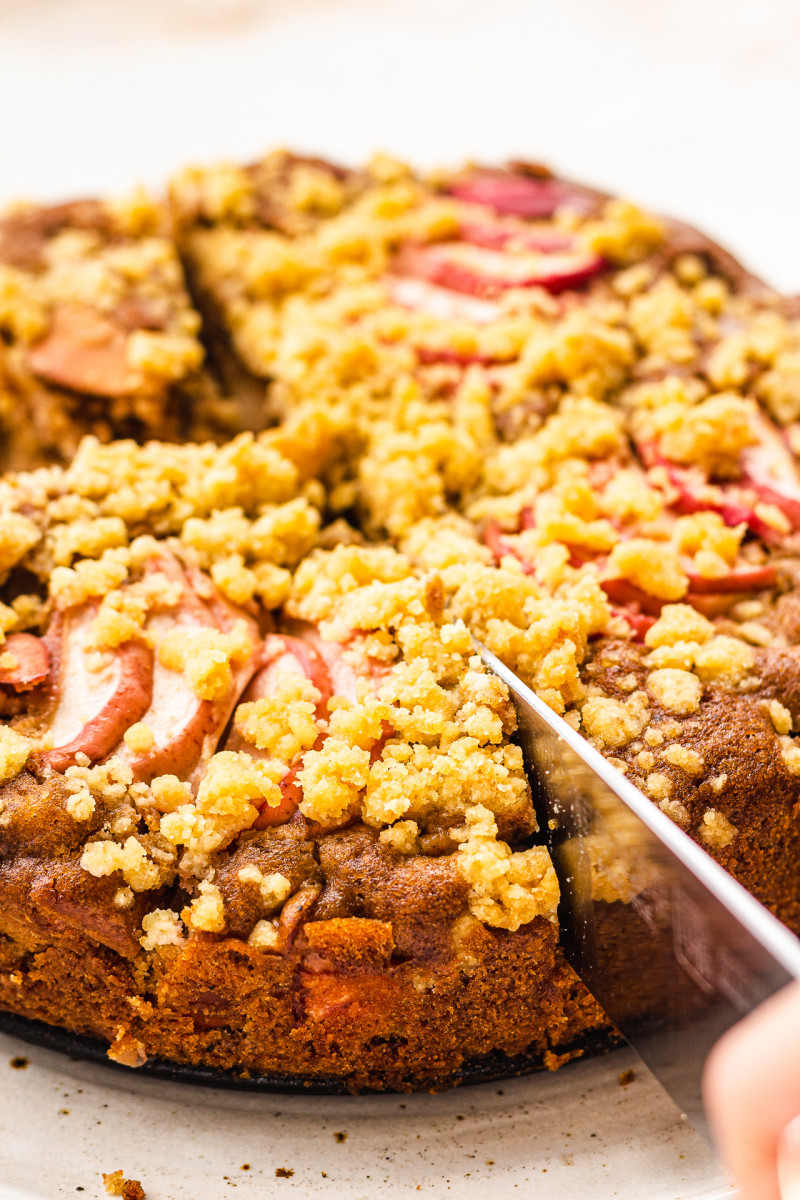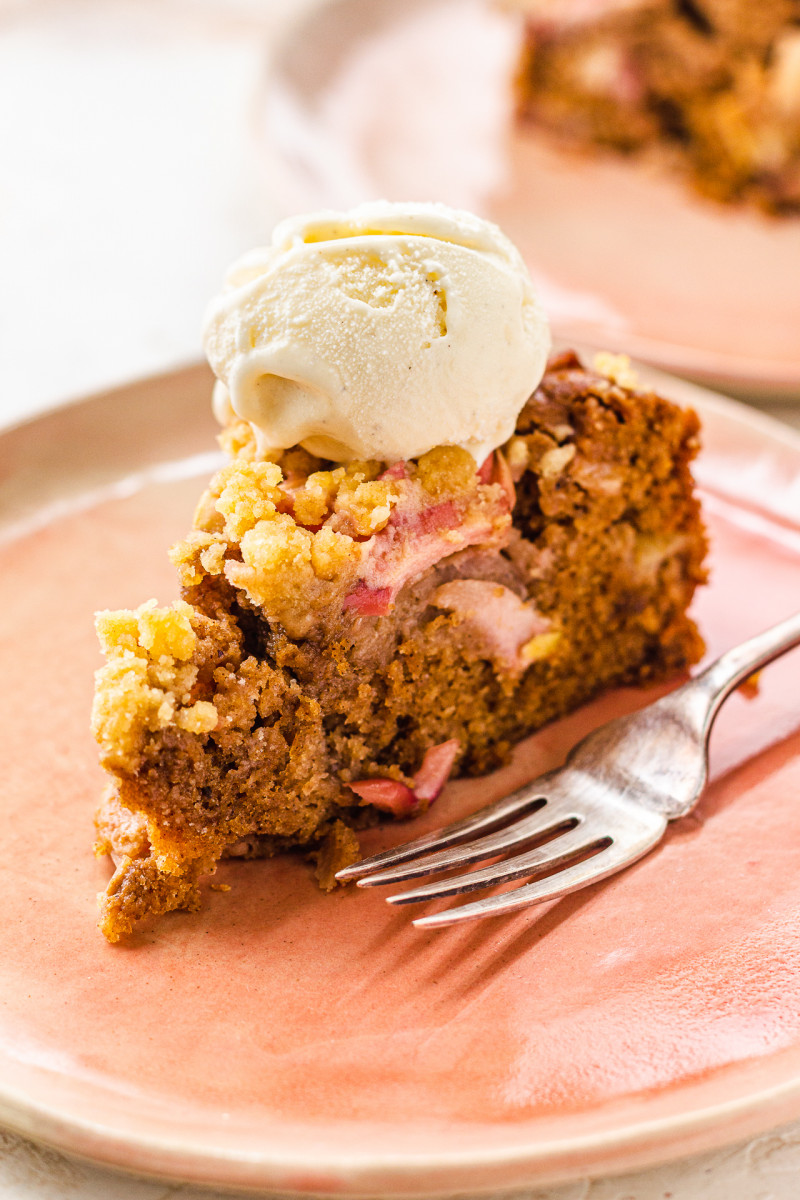 WET INGREDIENTS
300 g / 10.5 oz eating apples, plus 1 more to decorate
100 g / ½ cup neutral oil (I used mild olive oil)
175 g / heaped ¾ cup muscovado sugar, I used light and dark
7 ml / ½ tbsp apple cider vinegar
7 ml / ½ tbsp vanilla extract, (optional)
240 ml / 1 cup soy milk (oat or almond work too)
DRY INGREDIENTS
250 g / 2 cups all purpose flour
¼ tsp salt
2 tsp cinnamon + ½ tsp ground cardamom (freshly ground is best!)
¾ tsp baking soda (GF certified if needed)
1½ tsp baking powder (GF certified if needed)
CRUMBLE TOPPING
45 g / 1/3 cup flour
25 g / 2 tbsp sugar (I used demerara sugar)
35 g / 2 heaped tbsp softened vegan butter, I used Violife
METHOD
Set the oven temperature to 160° C / 320° F (no fan), grease and line a 20 cm / 8 inch round tin with baking paper.
Cut the apples for the cake into small (about 0.75 cm / 0.3 inch) dice. I kept the skin on but you can peel them if you'd rather. Cut the apple for decoration into thin slices. Set aside.
In a large bowl, combine, olive oil, apple cider vinegar and vanilla extract. Gradually mix in sugar – use your fingers to break up lumps but don't worry if there are a few lumps left. Add in soy milk and mix to combine.
Place a sieve over the bowl and sift dry ingredients into the wet ones in 2-3 batches, stirring gently after each batch. Use small circular motion from the middle of the bowl initially to minimise the risk of flour lumps forming.
Finally stir through diced apples and transfer the mixture to the prepared baking tin.
Combine flour and sugar for the topping in a small bowl, add cubed butter and use your fingers to rub the butter into the dry ingredients until it forms clumps.
Arrange apple slices on top of the cake and scatter crumble topping on top.
Bake in a pre-heated oven for 45-50 minutes, until a toothpick comes out clean.
NUTRITIONAL INFO
*per 1 out of 16 servings