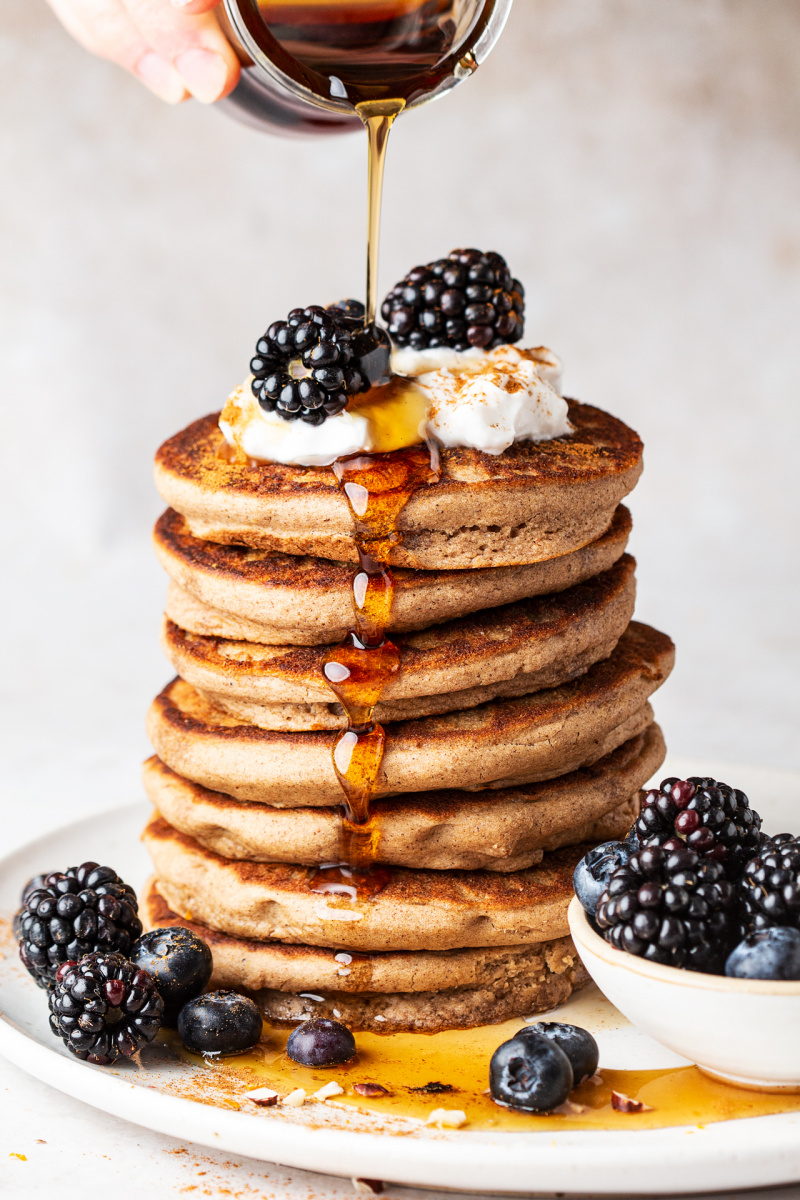 I don't know about you, but for me personally this past week has been hard. I have spent most of my time talking to contractors about costly repairs, painting (cleaning, caulking and sanding beforehand), and feeling that time is getting away from me and I am getting very little done. It took me 4 days (as opposed to the 2 I estimated) to nearly (without the ceiling and one feature wall) paint the living room. I did make a bit of a mistake and bought the most custard-like paint I could find, which meant that it has great coverage but it's very laborious to roll.
Oh well, I'm hoping the rest will go a bit more smoothly as I've caught a bit of a momentum now and Duncan is joining me for the next 3 days to lend a helping hand and to regale me with funny Tina stories, which I am so looking forward to. The thing that is stressing me out most is the state of my bathroom, which due to a neglected leak needs a near total refurb and it's only 8 years old. I am yet to see the quotes but speaking to the contractors I know that it is a massive job and I'm worried that once they pull everything apart they will discover water damage that's way more extensive than what can be seen right now.
Today I've decided that enough is enough and given that I will also be painting over the weekend, I've taken a day off to see a friend I have not seen in years. Last time I saw her was about 12 years ago when I visited her in Singapore. It was so nice to catch up over some nice vegan food and now that we live in the same country, I really do hope not to wait another 12 years next time.
After I said goodbye to my friend, I wandered the streets of central London and marvelled how much and how little has changed since I left here 7 years ago. It was really nice to stroll around and be reminded of why I fell in love with this city as a young adult. There is so much going on, lots of quirky characters everywhere, lots of languages spoken all around you, delicious food from all over the world (if you know where to look), a great transport network, cool art installations dotted around town, free galleries, so much colour, so much sound, so much history and character. It obviously has its drawbacks too, but there is a lot to love about the place. I think I will always be a Londoner at heart.
Recipewise, how about a stack of fluffy apple buckwheat pancakes with seasonal (they are still UK grown in the shops right now) blackberries and a drizzle of maple syrup (or use more apple sauce if avoiding sugar)? They are really easy to make, delicious and come out perfect every time. They also freeze well. I hope you'll enjoy them as much as we have.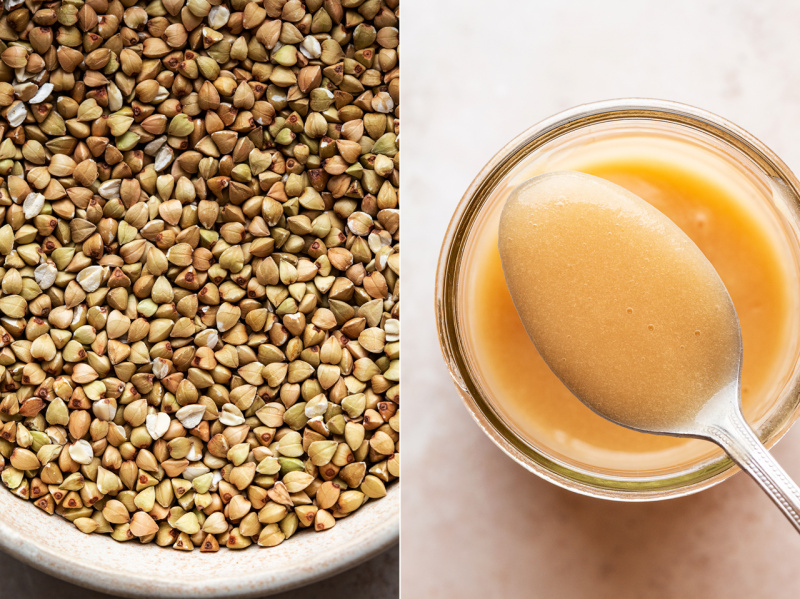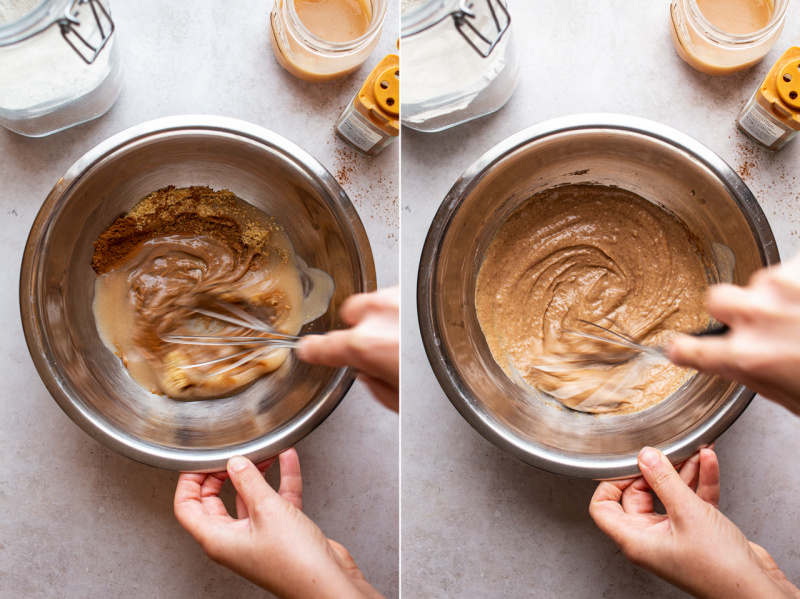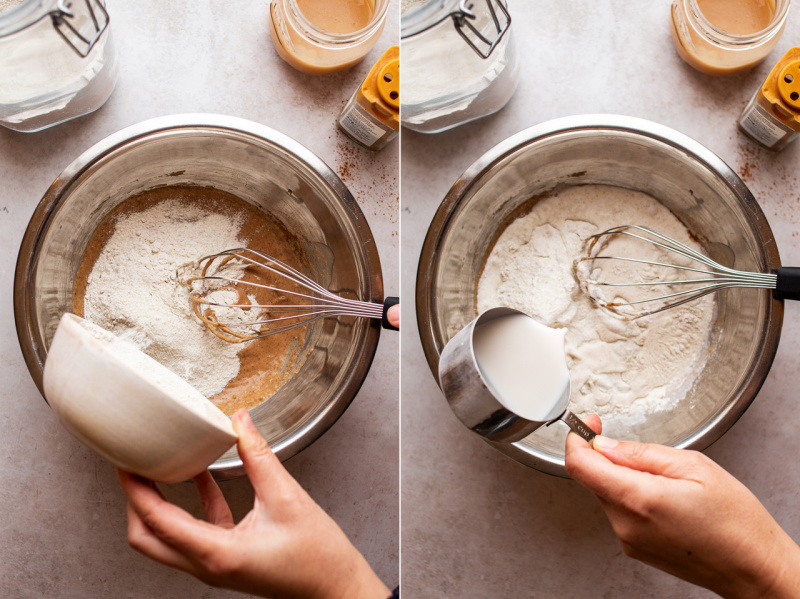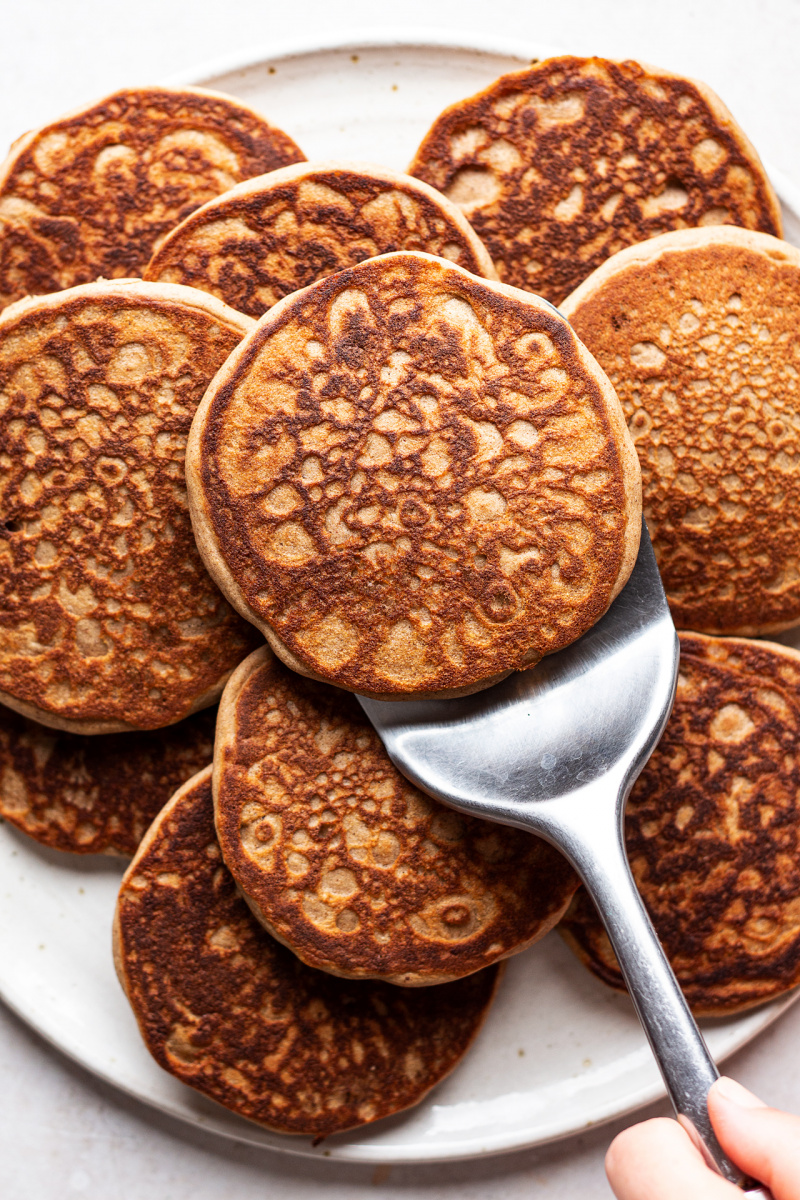 PANCAKES
120 ml / ½ cup smooth apple sauce
2 tsp acid (lemon, lime juice, apple cider vinegar)
30 ml / 2 tbsp smooth nut or seed butter (I use almond butter)
1 tbsp ground flax
approx. 135 ml / ½ cup + 1 tbsp almond (or other plant) milk
125 g / 1 cup buckwheat flour*
2 tsp baking powder
½ tsp (gluten-free if required) baking soda
½ tsp cinnamon
2 tsp vegetable oil, for frying
OPTIONAL EXTRAS
blackberries or other seasonal berries / fruit
thick vegan yogurt
METHOD
In a large mixing bowl, combine apple sauce, acid, almond butter, ground flax in a large bowl. Mix well.
Next, add in plant milk and buckwheat flour and whisk well until you have a thick, uniform batter. A thick batter means thick pancakes, if you prefer flatter ones, you could add a touch more plant milk.
Finally, fold whisk in raising agents and cinnamon.
Heat up a medium non-stick frying pan on the stove, but be careful not to get the pan too hot as the pancakes will burn before cooking in the middle.
Brush the pan with a bit (I found that ½ tsp is enough if you're using a non-stick pan) of oil using a silicone brush.
Ladle scant ¼ cup of the pancake batter per pancake. Cook each pancake for about 2-3 minutes (until tiny bubbles appear on the surface and burst) on one side and then flip. Cook for 1 minute on the other side.
Keep the cooked pancakes in a stack in a warm oven while making the rest. Serve with blackberries, maple syrup, nuts and a dollop of vegan yoghurt if you wish.
NOTES
*Buckwheat flour doesn't contain gluten, but it can get cross-contaminated during processing so if you are gluten intolerant make sure you buy a gluten-free certified brand.