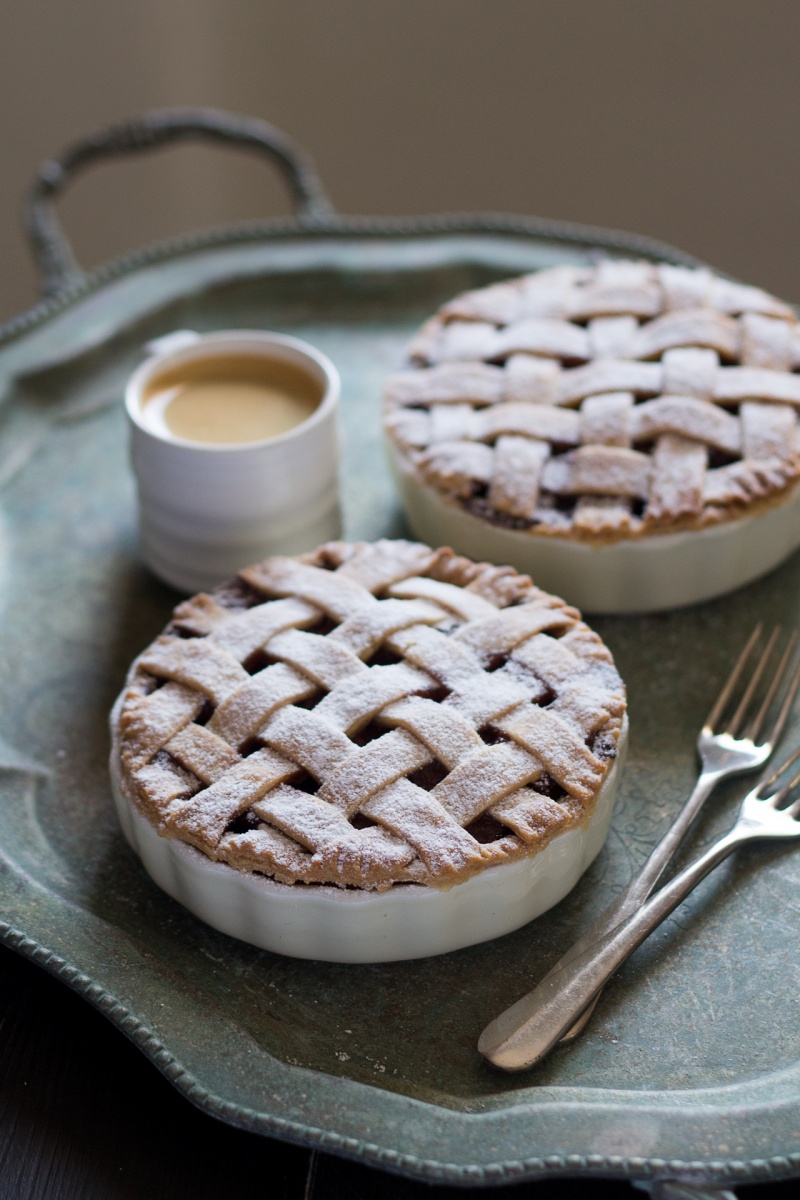 Nothing says autumn to me as much as the combination of apples and cinnamon and I simply love this pairing of flavours.
Maybe it's because it reminds me of being a kid. My grandparents had quite a few apple trees in the garden of their summer house, where my brother, my cousins and I spent lots of our childhood summers. Every year the whole family gathered there again in early autumn to help grandad pick all the apples and either eat them raw or make them into something delicious.
While I loved it there as a small kid, I started avoiding going there when I turned into a slightly stroppy teenager as I found it a bit boring being the oldest non-adult. I went there this summer (after over 15 years) to see my auntie who spends much of the summer there. Even though the place and the neighbouring area has changed beyond recognition, being there again brought back many happy memories and made me miss my late grandparents.
This year my auntie made us a delicious lattice apple pie which disappeared ridiculously quickly despite all of us being stuffed from a big lunch. This lattice apple pie, although different, is inspired by my auntie's pie, my grandparents' summer house and the buckets of apples I picked and ate as a child.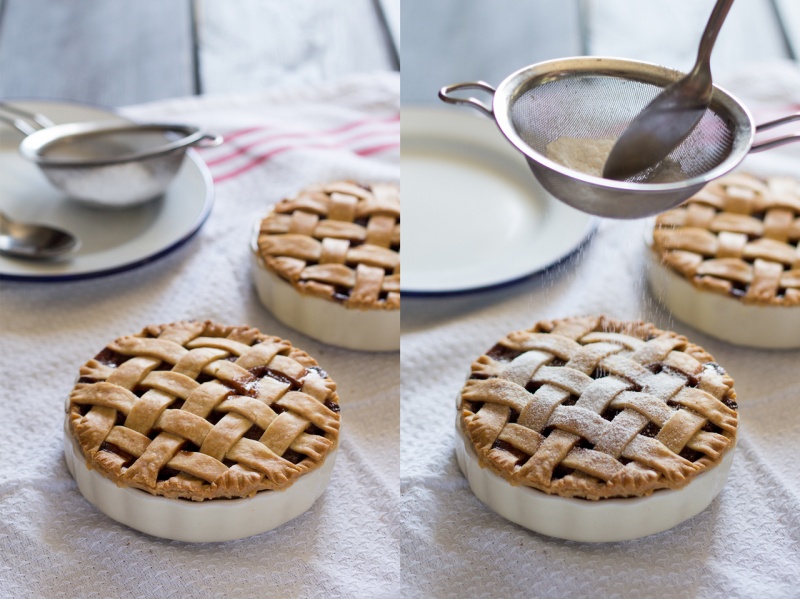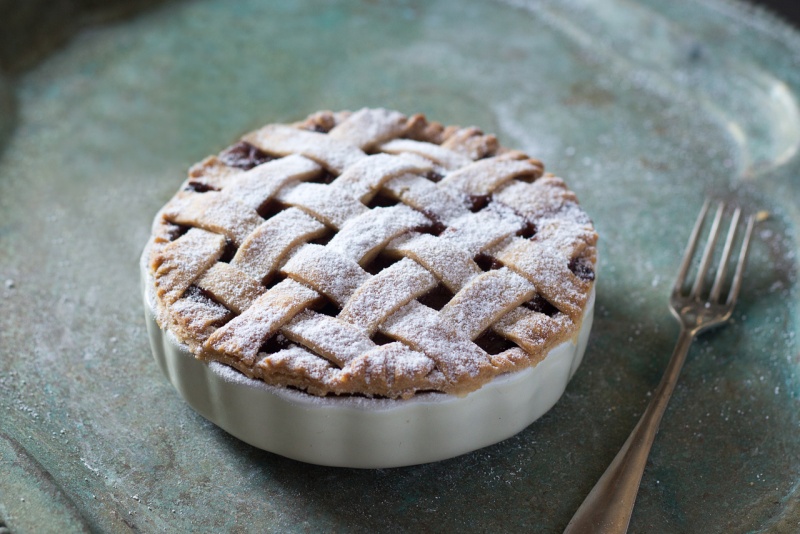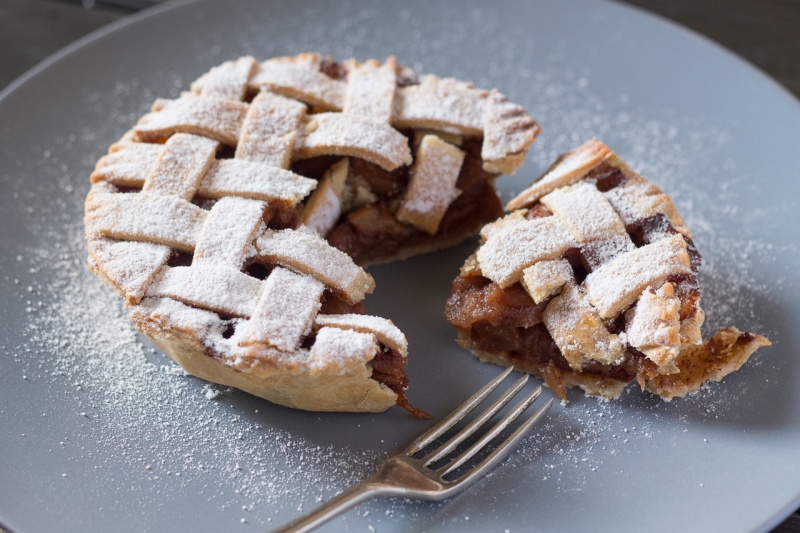 APPLE FILLING
2 Granny Smith apples
handful of raisins
2 tsp cinnamon
2 tbsp sugar (I used coconut sugar)
PASTRY
250 g white flour, sifted
pinch of salt
2 tbsp icing sugar + more for dusting
75 ml / 5 tbsp olive oil
METHOD
APPLE FILLING
Peel your apples, cut into quarters, core and slice into 2mm slices.
Coat apple slices in sugar and cinnamon and place in a small pot with a splash of water and a handful of raisins.
Simmer gently (covered) until apples release their juices and soften a little (about 15 minutes), but take off the heat before they start disintegrating. The point of simmering down the apples first is that if you put raw apples into your pastry, they will collapse too much during cooking and you will end up with an empty space under your lattice top. Trust me, I've tried it!
PASTRY
In a mixing bowl, combine sifted flour, salt and sugar. Add in olive oil. Incorporate the oil into the flour with your hands until the flour resembles coarse crumb. Now start adding the water, just enough to form pastry – the amount of water needed depends on many different factors so add it in bit by bit. Form a pastry ball, but do not knead. Wrap it into a piece of cling film and rest it in the fridge for 30 mins.
Divide the pastry into half. Now take 100 g out of the first portion of pastry (best to use scales for this) – this will be the bottom of one pie and the rest will be your lattice top.
Roll 100 g of your pastry between two sheets of baking paper until the pastry is about 2 mm thick.
Gently roll the pastry with a rolling pin so that it is big enough to cover the ramekin and its sides.
Put rolled-out pastry over the ramekin. Gently peel off the sheet of baking paper and work the pastry into the ramekin. Do not trim the edges yet.
Prick the bottom of the pastry with a fork in a few places.
Repeat steps 6-9 with the other half of the dough.
Now roll out the pastry for lattice tops. Roll them out into a rectangle shape that is a bit wider than the diameter of your dish. You'll need 10 x 1½ cm pastry strips for each top in so rolling the pastry into a rectangle maximises the number of strips you'll get.
Fill the pastry cases with cooled down apple filling. I like to use my hands for this to be able to cram as many apples as possible to avoid gaps once the pies have been baked.
Cut the first rectangle into 10 x 1½ cm wide strips. Place five of them on the top of the first pie like in the 1st photo below.
Weave the lattice by pulling back every second horizontally arranged strip, placing one vertical strip on top and then arranging pulled back strips over it – see my photos 2-4 below. Seal the edges by pressing down with a fork and cut off excess pastry using a sharp knife. Repeat with the 2nd pie.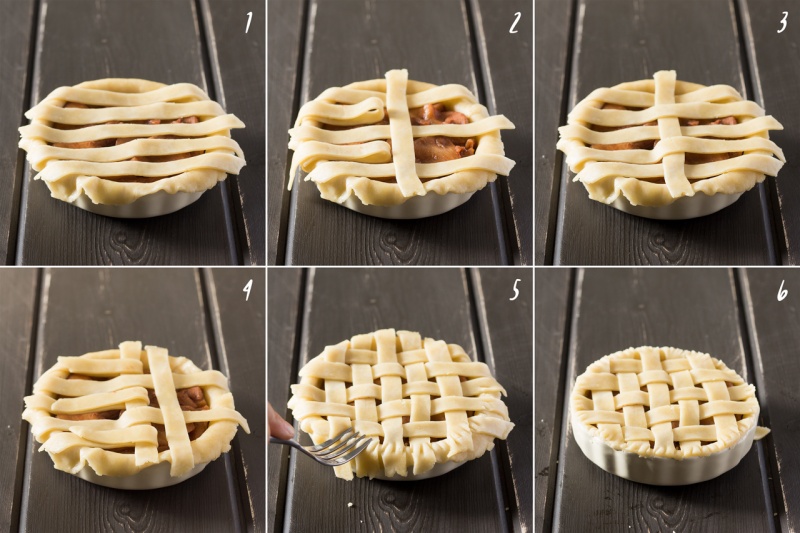 Place both pies in the fridge for 45 minutes. After 30 minutes, preheat the oven to 200° C / 390° F.
Place the pies on the lower shelf of the hot oven. After 20 minutes, decrease the temperature to 190° C / 375° F and bake for another 55-60 minutes or until the pies have browned nicely.
Let the pastry cases cool down. Once cooled, gently remove them from the ramekins and enjoy!
NOTES
*I used two 12.5 cm / 5″ diameter ramekins.