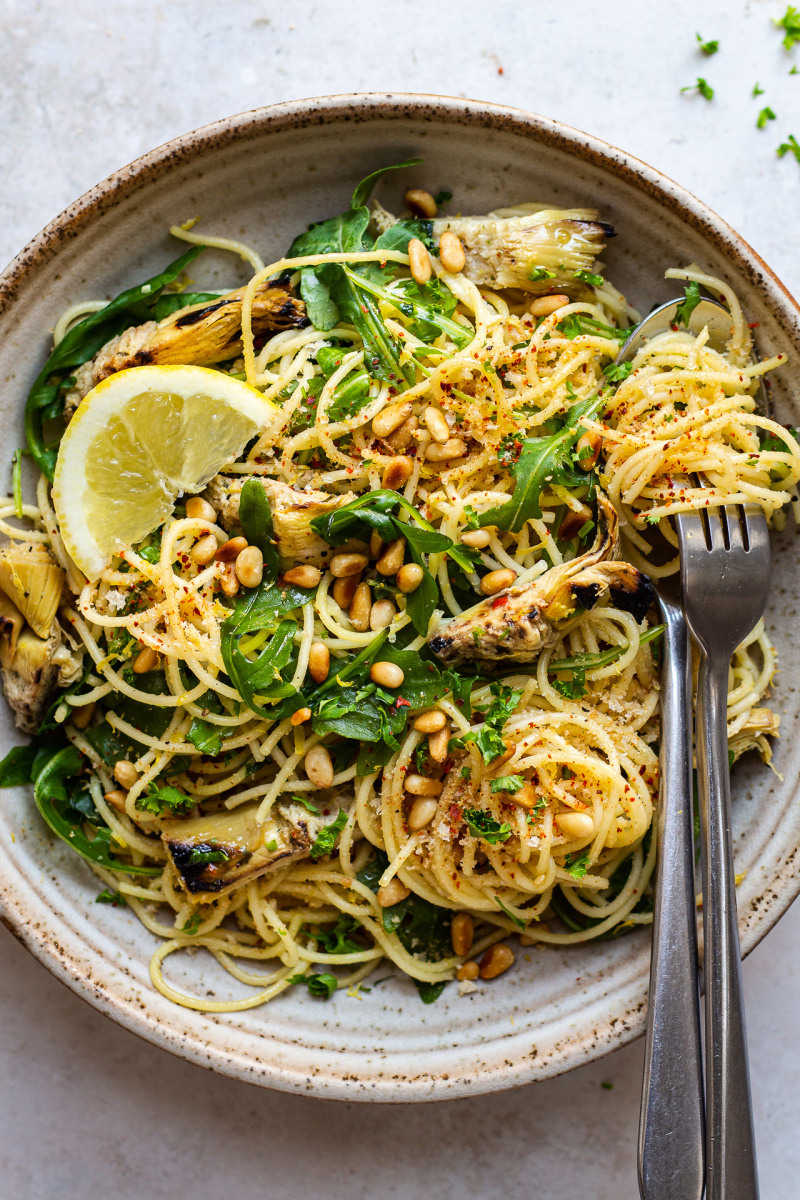 Happy Wednesday everyone! I hope you are getting some glorious sunshine today – we are and I'm hoping for another mini heatwave soon as, whilst pretty, it's quite cold at the moment – especially for the end of June. Cool temperatures have been great for my return to running though. I did my 4th run yesterday and while I still feel a bit like a running hippo, I can see an improvement in my stamina and recovery time already. Fingers crossed the second vaccine (due in a month) won't wipe me out as much again.
Recipewise I'm bringing you a super simple and super speedy dish that I've had on my to-publish list for ages, cos I'm pretty consumed with a side project and all my energy this week has gone into that. We have been planning to renovate our ancient bathroom for months now and after postponing the date once already cos the design wasn't ready, the work is finally going ahead on the 2nd of August and so I am focussed on finalising our vision and getting stuff ordered. We are beyond excited even though we only have one toilet 😉 .
After much deliberation, we have settled on pastel pink and white geometric tiles on the floor, horizontally stacked oversized white metro tiles on the walls to elongate the space and soothing yet vibrant green (although I really love a more demure shade called green smoke but I don't think I will get my way 😉 ) paint above the tile line and brushed brass fixtures. The thing we are most excited about is our future vanity unit.
We had nearly settled on a shop-bought Scandi-inspired oak specimen, but when I was going over the fine detail at the weekend I realised that we don't have enough clearance to open one of the unit's doors, rendering half of our storage space utterly useless! I was sad but also so relieved as we would have wasted a lot of money, delayed the project and probably annoyed our (lovely thus far) plumber / tiler.
Once I realised our near mistake, I went back online but despite hours of searching I only managed to find functional yet characterless units that still cost hundreds (and sometimes thousands) of pounds. One or two of them were fine, I guess, but they were not exciting. Then I started looking on Etsy and while nothing was in the style I was after, it gave me an idea to buy a second hand chest of drawers and convert it into a vanity unit ourselves. I ran it past Duncan and he was just as enthused so I went on a mission to find the perfect base cabinet.
After hours of searching and talking to various sellers, we finally settled on a beautiful rosewood chest with brass trumpet handles that is being shipped to us as we speak. It has bags of character! I then rang all of the stone suppliers in Bristol and I plan to get a piece of quartz to top this unit with, Duncan and I will mod the drawers to allow for the plumbing and we will install a vessel sink on top and the taps will be installed in the wall behind it.
Although this wasn't part of our initial renovation plan, we think this was a good move. Not only did we manage to use a second hand piece, but it has so much character that it will give our bathroom a lovely focal point and it will offset the otherwise fairly neutral backdrop rather beautifully. I cannot wait to see it in the flesh. We are a little apprehensive about the combined weight of the quartz slab and a basin, but the unit looks really solidly made so we hope it will be okay.
So all this has been keeping me very busy over the past few days and I've been loving it (I hope the result will be as good as I imagine it). One has to eat though so I have a super simple and quick pasta recipe for you today. I don't typically like to rely on shop-bought readymade products, but charred artichokes are an exception to this rule and they make this pasta so quick and so good – artichokes and lemon is such a dream flavour combo.
Fresh artichokes are not easy to get here, in the UK, and if you've ever tried to prepare them from scratch you'll know how much pain it is and how little yield you get from each globe. You can get delicious charred artichokes in most supermakets and delis. I like the ones with a fairly short use by date (Waitrose ones are my favs) rather than the ones in jars but both of them will work. Coupled up with garlic, lemon and a bit of bitter rocket they make for a such a delightful and super quick pasta – perfect for a laid-back dinner in the garden on a warm summer night. I hope you'll enjoy it! x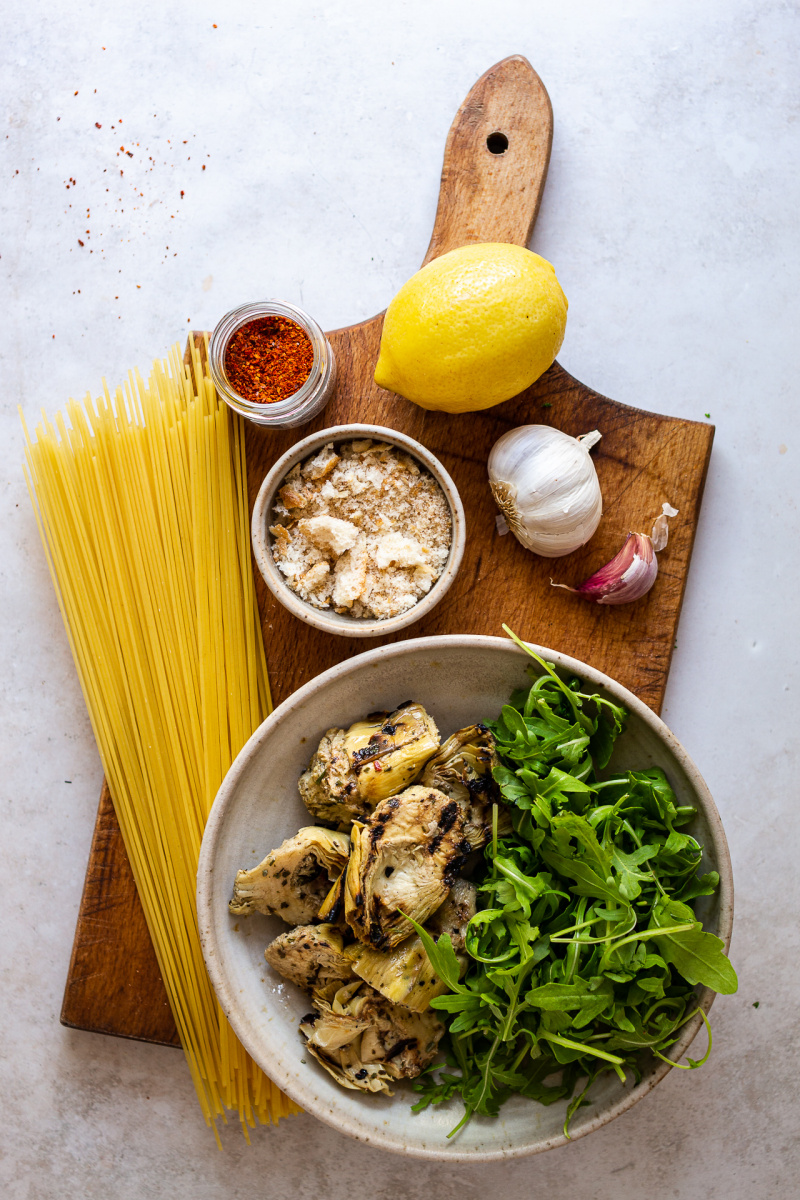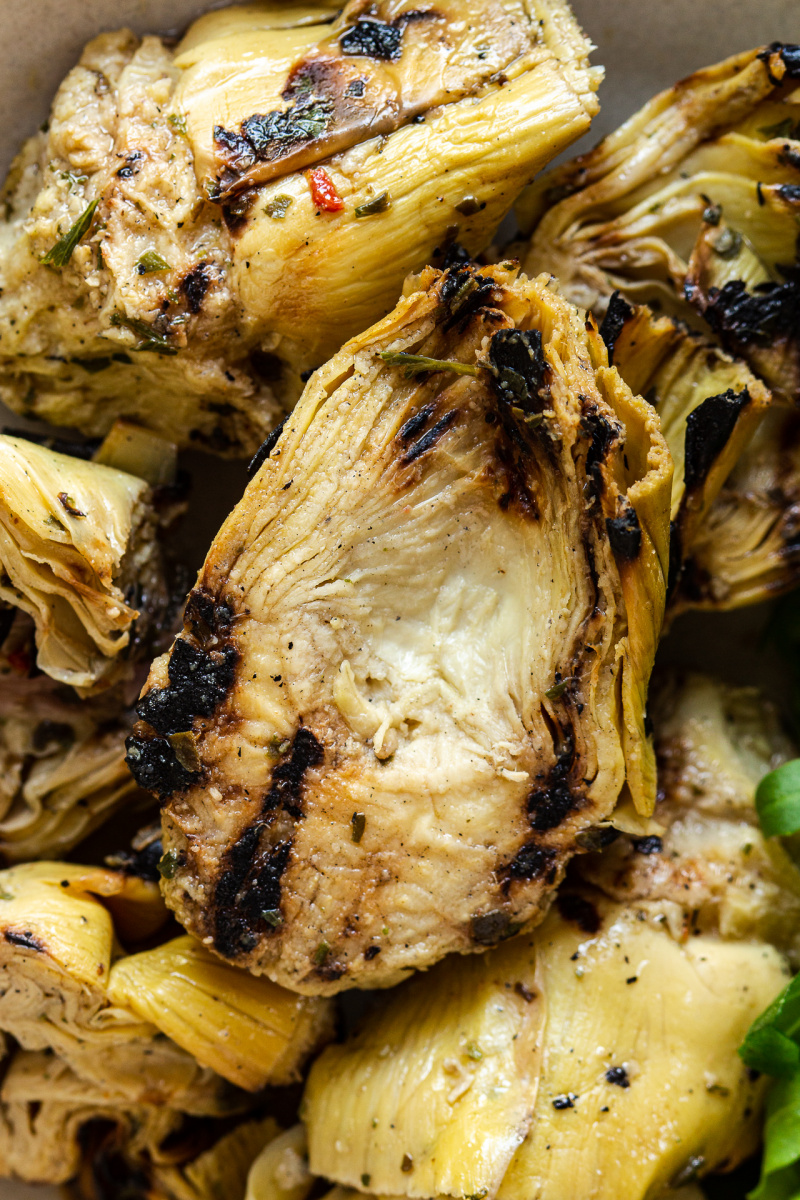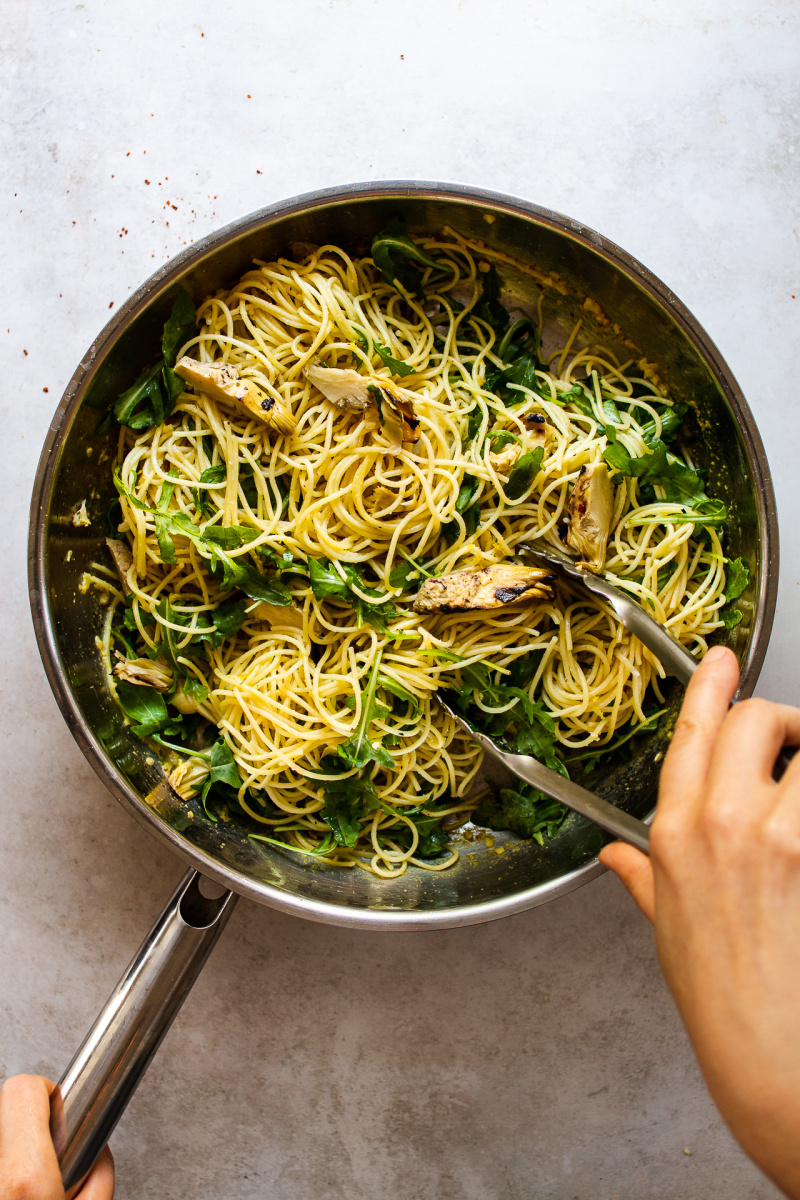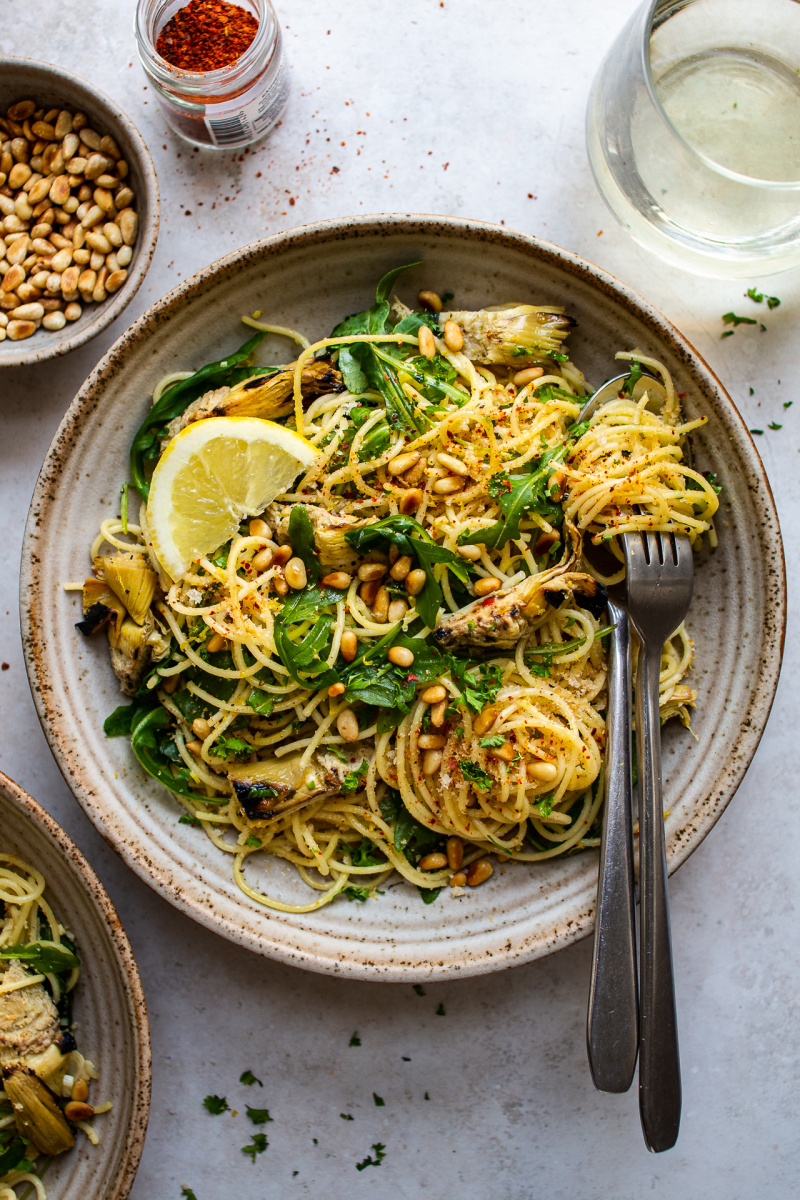 150 g / 5¼ oz ready grilled artichokes in oil*
200 g / 7 oz spaghettini or spaghetti (GF if needed)
30 ml / 2 tbsp extra virgin olive oil
2-3 garlic cloves, very finely diced
30 ml / 2 tbsp almond or soy milk*
2 tbsp nutritional yeast
zest of ½-1 lemon + 30 ml / 2 tbsp lemon juice, adjust to taste
salt and pepper
a good pinch of chilli flakes (I like fine Korean chilli flakes)
50 g / 1¾ oz baby rocket / arugula
2-3 tbsp pan toasted breadcrumbs, to serve (optional)
1-2 tbsp toasted pine nuts or walnuts, to serve
fresh parsley, to serve (optional)
METHOD
Remove artichokes from the oil and allow the excess oil to drain on a piece of kitchen towel. Chop into small chunks once drained of excess oil.
Cook the pasta just short of al dente (I used spaghettini, which takes 6 minutes, I cooked it for 5) in a small amount of water (to make the water starchy). Save 120 ml / ½ cup of pasta cooking water just before you drain your pasta.
Heat up the olive oil in a large frying pan. Once the oil is warm, add finely chopped garlic – it should sizzle gently once it hits the pan. Sauté garlic on a low heat, stirring often. Do not let the garlic brown as it will make your pasta taste bitter, you only want it to soften and flavour the oil.
Once the garlic is softened and fragrant, add in plant milk, nutritional yeast, lemon zest and juice, and a pinch of salt – stirring everything together so that you get a light emulsion that will coat your pasta. Allow it to bubble for a few seconds, adding a touch of pasta cooking water if the sauce is too thick. I used up just over 60 ml / ¼ cup of pasta cooking water in total, but use your judgement – exactly how much is needed depends on your evaporation rate.
Add drained pasta, coat all the pasta strands in the sauce, season well, including a sprinkle of fine chilli flakes (if using).
Stir in chopped up artichokes and rocket (chop it a little if the leaves are big). Allow the artichokes to warm up and the rocket to wilt slightly.
Divide between bowls, top with toasted breadcrumbs, toasted pine nuts and parsley.
NOTES
*ARTICHOKES: sub with chargrilled zucchini if you want to make it yourself.
*ALMOND/SOY MILK: I often like to use vegan cream or a splash of homemade cashew cream (½ cup soaked cashews blended with ¼ cup water) for more indulgence.