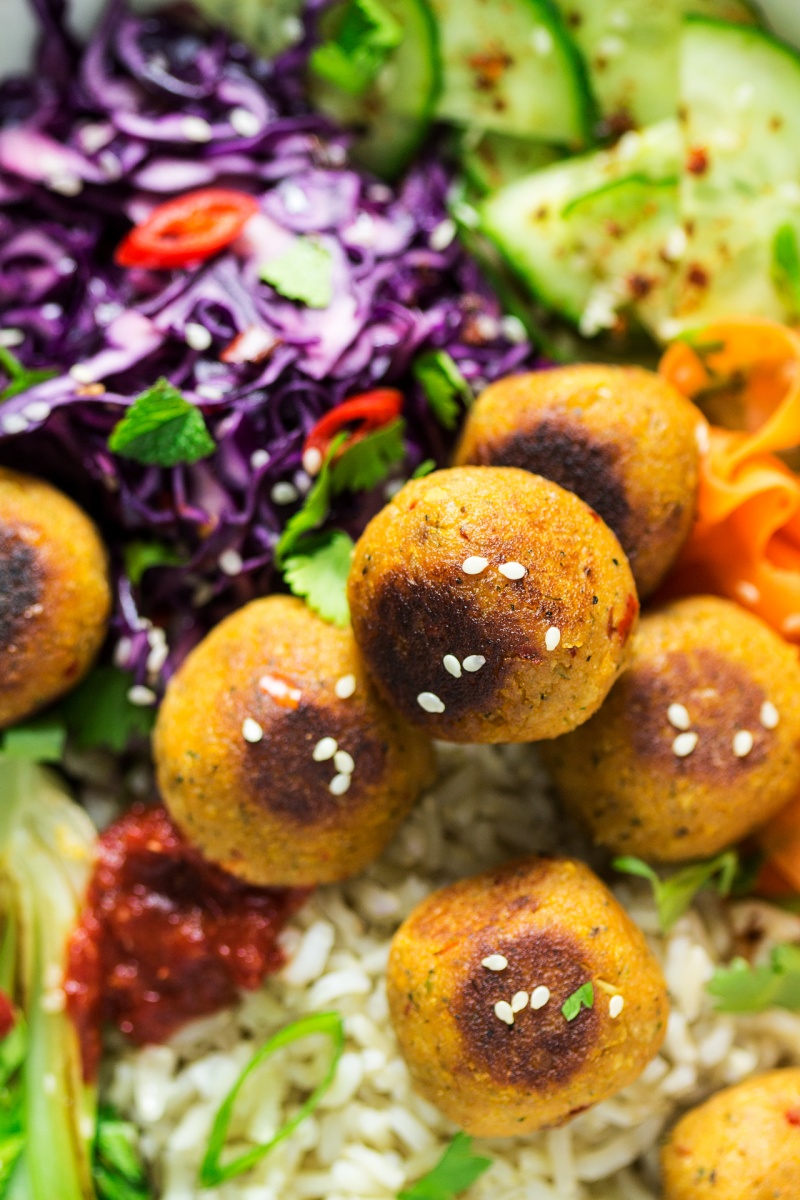 Happy Friday, guys! Hope your New Year's resolutions are going strong! I am so chuffed about how many people are signing up for Veganuary this year and how many eateries and restaurants are on board! It's amazing! If you don't live in the UK, you probably don't know what I am talking about… Let me explain…
Veganuary is an annual campaign asking people to cut out all animal products (go vegan essentially) for the month of January. A massive part of its success is the fact that it is so well timed – people tend to want to get healthy again after the excesses of Xmas and New Year and a wholefood vegan diet is known for its effectiveness when it comes to weight loss.
As the world is waking up to the reality of animal agriculture, Veganuary is going from strength to strength every year and many people who take the pledge stay vegan. Leaving animal products off your plate is simply the best choice for the animals, your health and the environment and I reckon that once you realise how not that difficult being vegan is these days, you tend to stick to it for life.
Today's recipe for Asian meatballs is dedicated to the new vegans as they may still be missing their favourite foods. It's a simple recipe that doesn't feature any novelty ingredients and comes together really easily. If Asian flavours are not your bag, you can flavour these with whatever else you would typically put in meatballs – smoked paprika, oregano, thyme, lemon zest and chilli for an Italian-inspired version, for example. The only important consideration is not to add any extra moisture as texture is key with this recipe. This is why I used salt rather than soy sauce (or gluten-free tamari), which would certainly fit the flavour profile well.
You can either pan-fry these (my preferred option) in a small amount of oil, on a non-stick pan or bake them. The former renders the meat balls crispy on the outside and firm and juicy on the inside. You can have them in a baguette (Bánh mì style) or on a bed of rice with lots of delicious greens and some pickles. Whatever takes your fancy really, and don't let anyone tell you that vegan food is boring. It is anything but!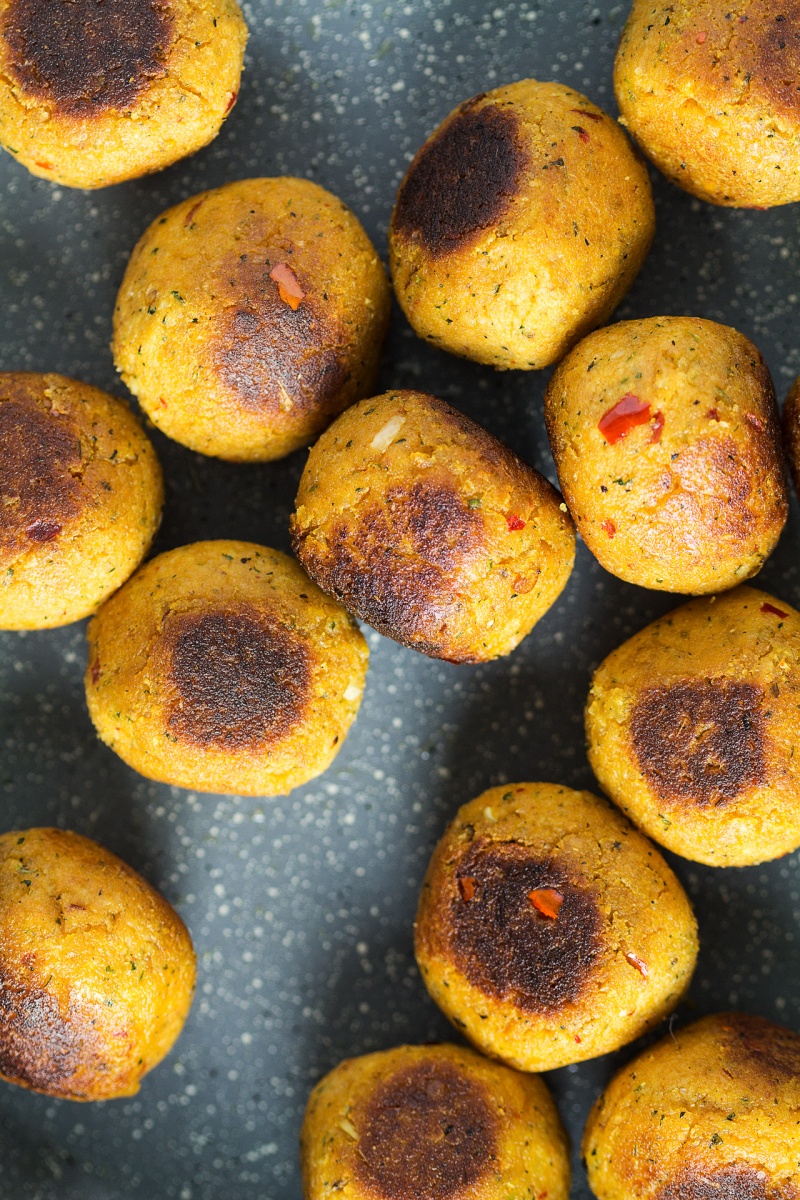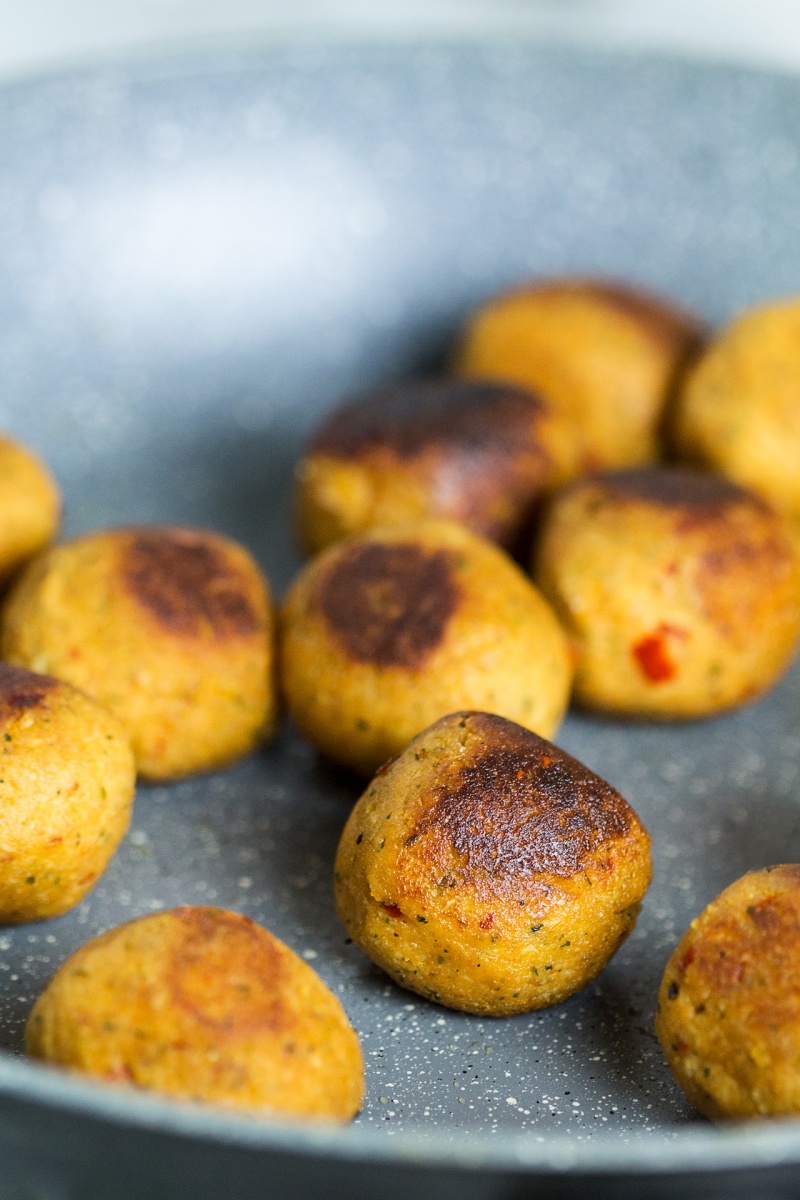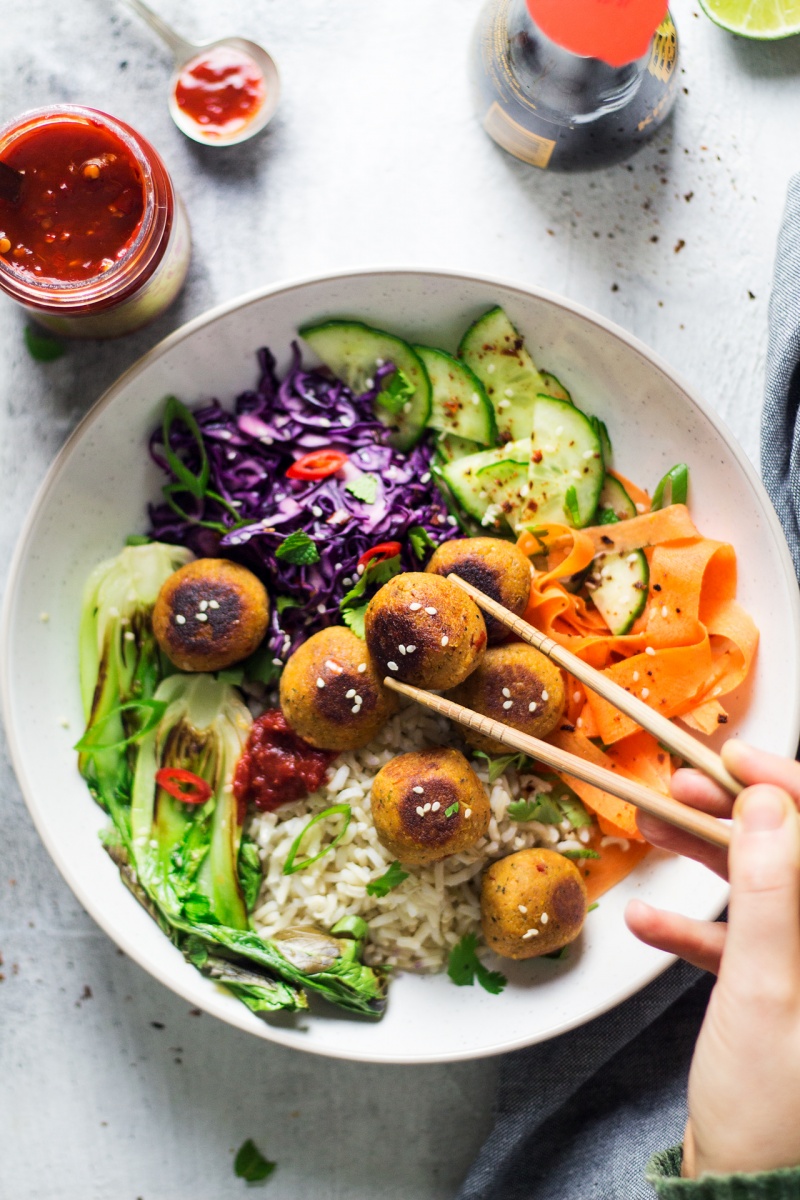 300 g / 0.65 lb sweet potato (1 medium)
1 large garlic clove, sliced
1 small shallot, finely diced
1 tsp ground coriander
1 lemongrass stalk, tender part finely chopped
2 tsp grated (fresh) ginger or ground ginger
10 g / 0.35 oz coriander / cilantro stalks*
¾ tsp salt, adjust to taste
generous grind of black pepper
200 g / 0.45 lb firm cotton (not silken) tofu
1-2 tsp hot chilli flakes or fresh chopped chillies, adjust to taste
25 g / heaped ½ cup panko or other coarse breadcrumbs (GF for gluten-free meatballs)
OPTIONAL ADD-INS
2 cups brown rice, cooked
a wedge of cabbage, shredded finely
½ cucumber, sliced thinly
2 carrots, shaved into ribbons
baby bok choi, pan-fried
2 spring onions, sliced finely
favourite pickles
fresh coriander leaves, to garnish
hot sauce, I like sambal oelek
soy sauce or tamari (GF)
METHOD
Heat up the oven to 200° C / 390° F (180° C / 355° F fan) and line a baking tray with a piece of baking paper.
Peel the potato and slice it into 1.5 cm / 0.5″ slices. Place on a baking tray and bake for about 30 minutes (until cooked through), flipping the pieces halfway through the baking time. Do not brush the slices with oil, dry potato is good for the overall texture of the meatballs. Let the sweet potato cool down completely after baking.
Place the baked potato in a food processor with all the ingredients apart from the chilli (you may want to add it gradually), tofu and breadcrumbs. Process until everything is well chopped. Use a spatula to bring any stray, large pieces back into the fold. Taste and adjust the amount of chilli (and salt) to your liking.
Add broken up (drained but not pressed) tofu. Process until well incorporated, but take care not to over process. The mixture should be pliable, but not overly wet.
Place the tofu and sweet potato mixture in a large mixing bowl and fold in panko breadcrumbs (or GF flour) with a spatula.
Place the mixture in the fridge for a few hours to make forming the meatballs easier. If you are in a rush, you can also just place the mixture in the freezer for about 30-45 minutes.
Take the mixture out of the fridge and roll it into meatballs. I used kitchen scales to ensure they are even – each meatball was 20 g / 0.7 oz (or about 1 level tablespoon) of the mixture.
Heat up a medium, non-stick pan on a medium heat. Add a tablespoon of oil (I use rice bran oil) and allow it to heat up before adding the meatballs in.
Swivel the oil around the pan. Add the meatballs to the hot oil – they should sizzle once they hit the pan. Pan-fry them gently until they are browned all over. Handle them with care as they are a bit fragile while hot.
If you would rather bake the meatballs, heat up the oven to 200° C / 390° F (180° C / 355° F fan) and brush a baking sheet with a bit of oil. Place the meatballs on the oiled tray and bake them for about 20 minutes, flipping them to the other side (and brushing the underside with oil again) halfway through.
Serve on a bed of rice, fresh salad and pickles drizzled with hot sauce and soy sauce.
NOTES
*I simply mean the bottom part of a coriander / cilantro bunch (it's okay if there are a few leaves included). Save the leaves for garnish.