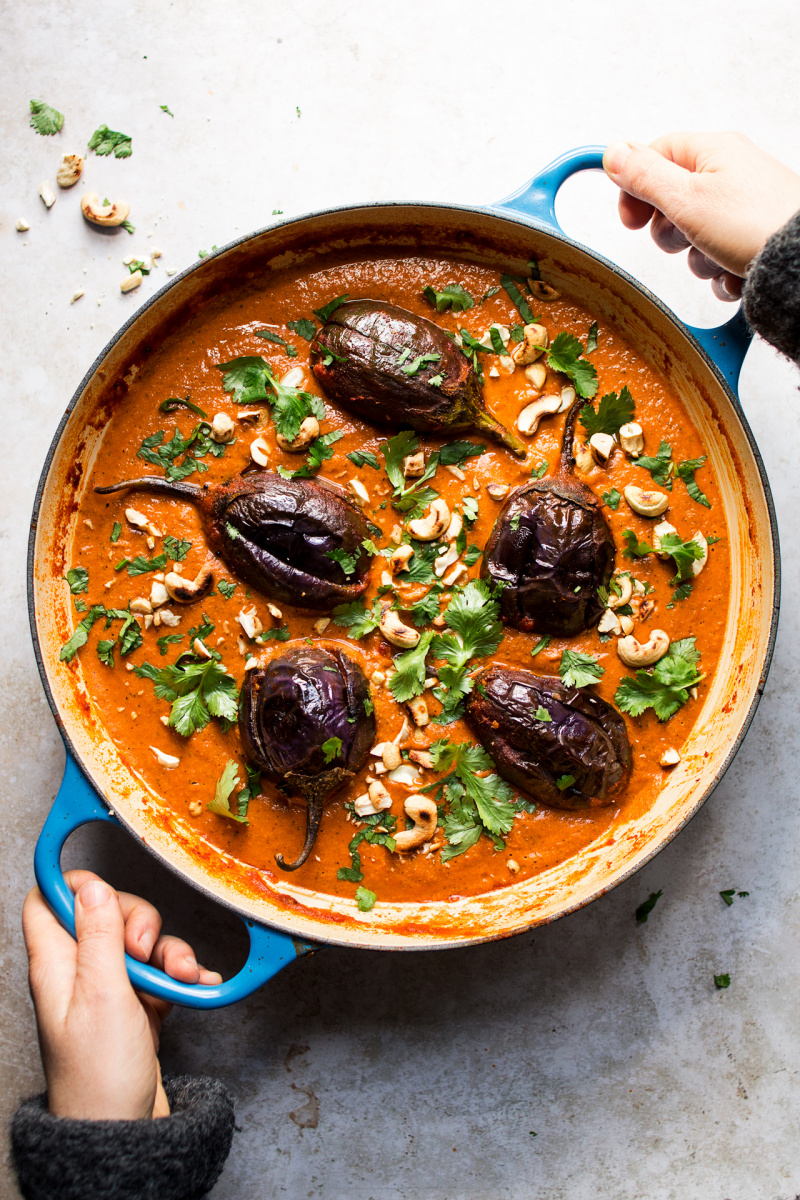 Hope your week has been peachy and you have exciting weekend plans ahead! As you probably already know, our roof is falling apart (well, I am being a tad dramatic here) and it's in need of a moderately urgent overhaul, so I've spent a lot of this week talking to roofers and getting educated on the roof's anatomy as a result. It's been useful and I wish I had made an effort to learn what I know now before we bought this house, as I would have spotted the issues straight away. Oh well! Hindsight is a wonderful thing, isn't it?
I have been a bit stressed as the repair comes with a hefty price tag. I have not been sleeping that well as I kept on blaming myself for not getting anyone to look at the roof when we were buying, but enough of that now. It's done and I have certainly learned from this experience. Now the challenge is to find an honest and competent roofer who won't let us down, yet won't rob us in broad daylight either. Some of the quotes I've had were way above the national average, so I am still looking in the hope that I will be able to strike this balance.
It's an interesting experience. I am learning a lot and learning to converse with tradies (as they are called in the UK), which is a useful skill when you become a house owner. Since I miss talking to people on account of working from home, I've been joking to Duncan that I don't mind doing this – at least I can talk to an actual human being now and then. Our cat – Tina, as much as I like talking to her like she is a human sometimes, is certainly not a very good conversationalist 😛 .
Recipewise, by sheer coincidence, I appear to be on an aubergine train. After Tuesday's baba ganoush, I have a delicious curry featuring baby aubergines for you today. This curry is inspired by one that I tend to order in our local restaurant. I absolutely love it and I must have had it about 6 times already, even though we've only been living in this area for just over a month.
It's fragrant with spices, well-balanced and with just the right amount of heat. As usually with curries, the ingredients list is long, but don't despair – most of it is dried spices, which are easy to get and dirt cheap too. If you have trouble finding baby aubergines, you can totally use regular aubergines instead. Simply cube them and bake them until soft and caramelised on the outside. I hope you'll enjoy! Have a great weekend! x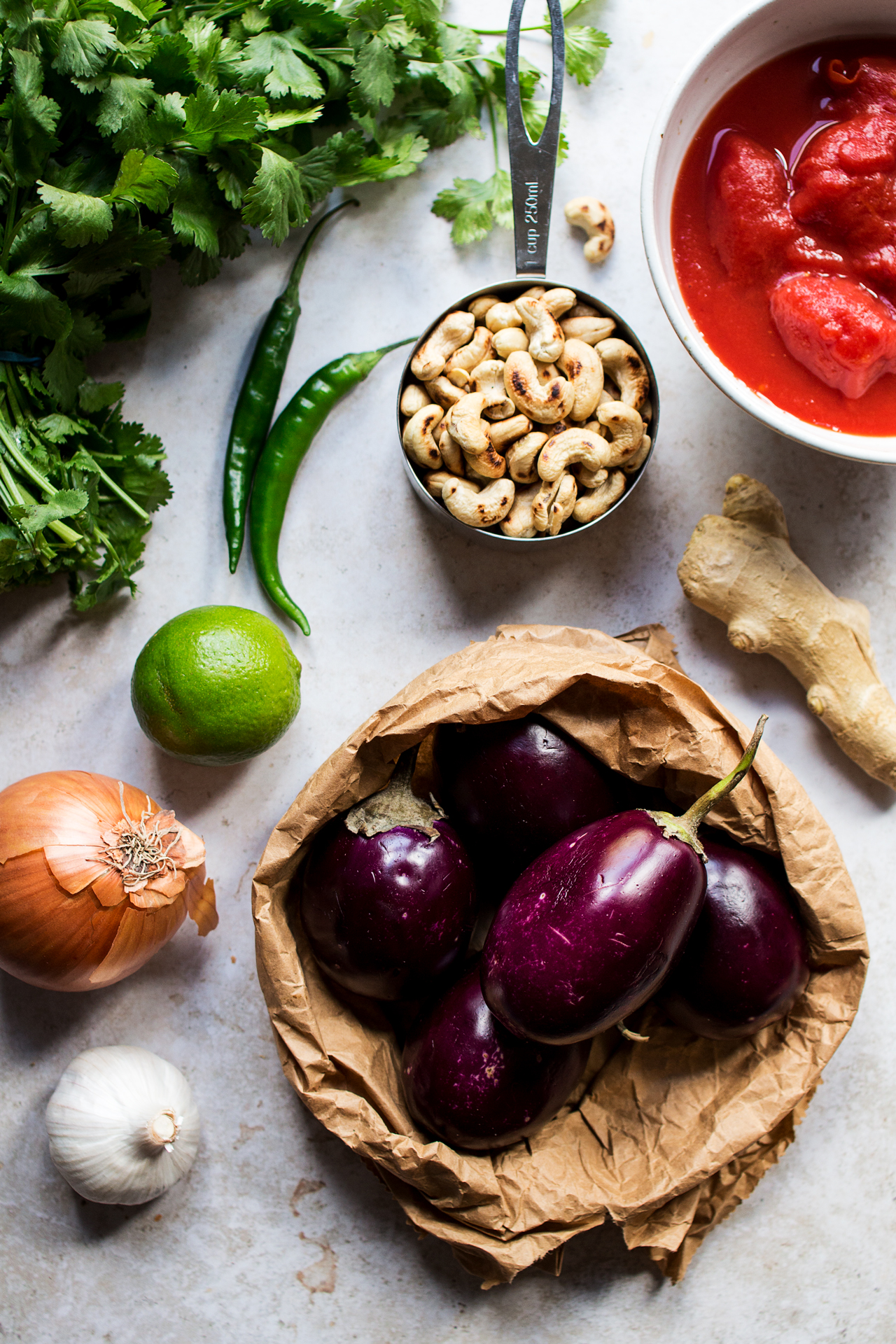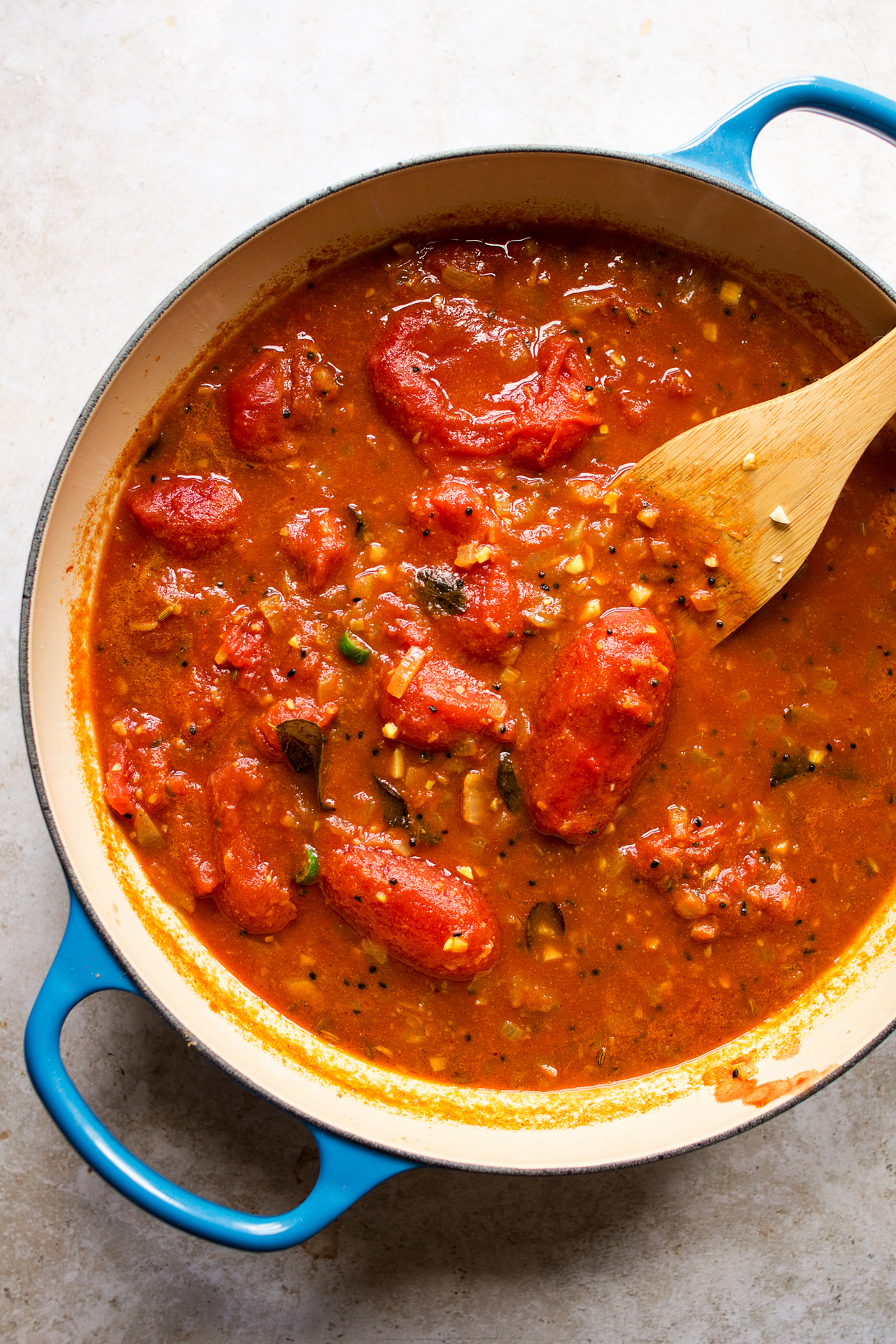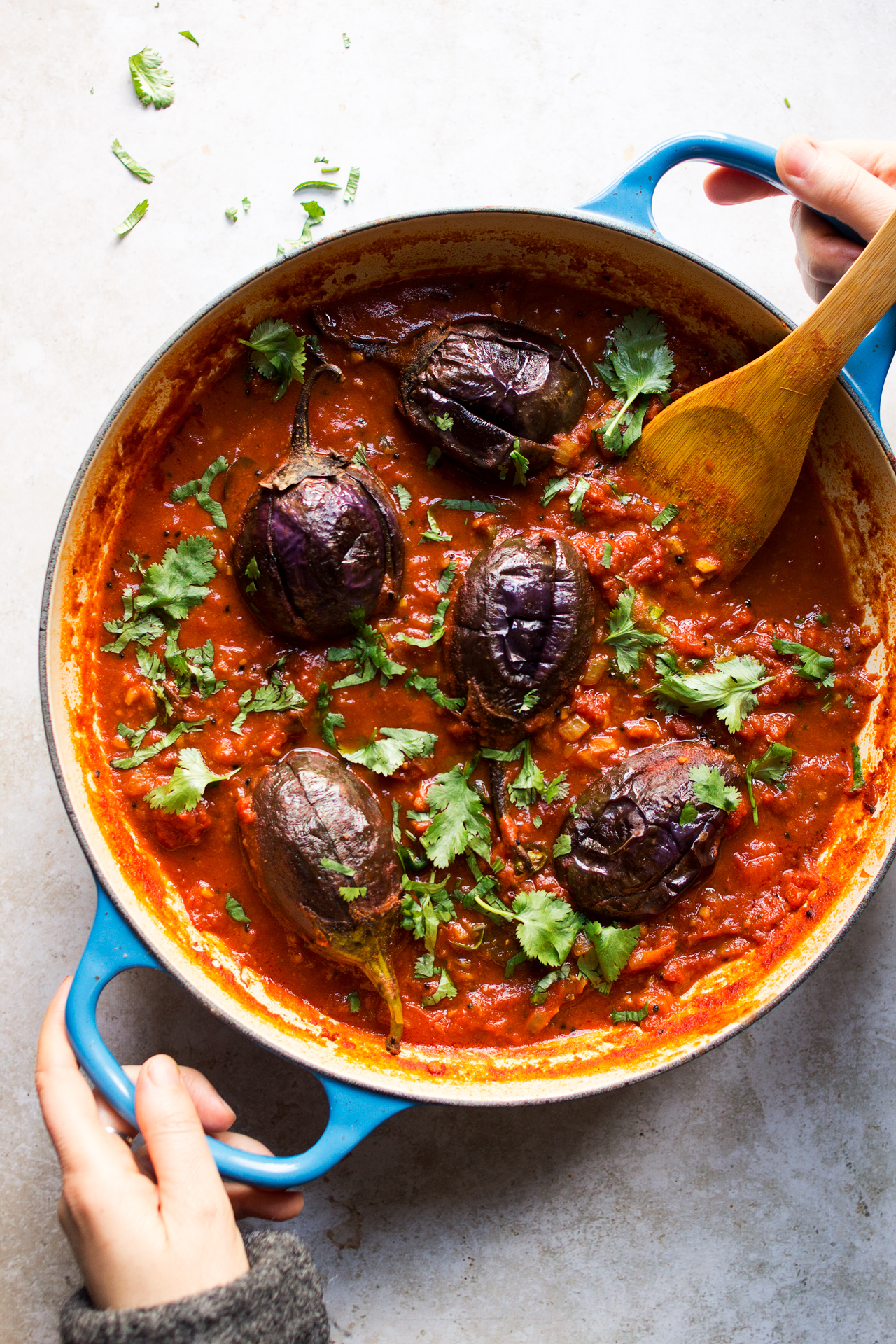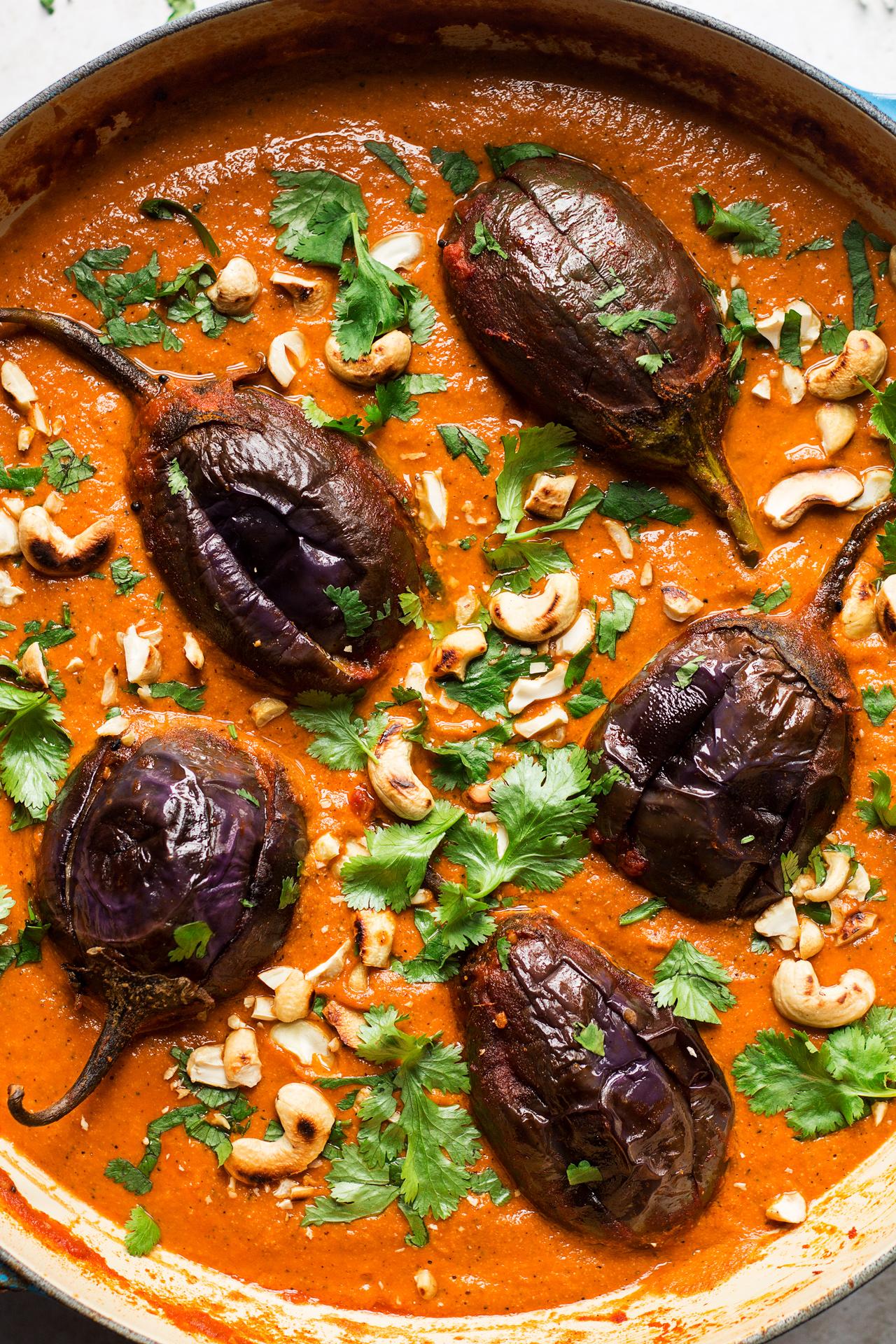 60 g / ½ cup pan toasted cashews*, plus more to garnish
3 tbsp / 45 ml vegetable oil, divided
1 tsp black mustard seeds
½ tsp nigella seeds
½ tsp fennel seeds
10 dry (or fresh ones if you can find them) curry leaves
1 onion, diced finely
3 garlic cloves, diced finely
3 tsp finely grated ginger (thumb-size piece)
1 fresh green chilli, sliced (adjust to your tolerance)
¼ tsp ground turmeric
½ tsp ground cumin
½ tsp ground coriander
¾ tsp garam masala
¼-½ tsp Kashmiri or regular chilli powder (adjust to your tolerance)
2 x 400 ml / 14 oz can of plum tomatoes**
6 baby aubergines / eggplants or 2 regular aubergines / eggplants
¾ tsp salt, adjust to taste
lime juice, adjust to taste
1 tsp sugar, adjust to taste
fresh coriander, to serve
METHOD
Soak ½ cup cashews (or desiccated coconut) in boiling water and set aside.
Heat up the oil in a heavy-bottomed pot and add mustard seeds, fry them off gently until they start to crackle.
Add nigella, fennel seeds and curry leaves, allow them to fry gently for 1-2 minutes.
Add the diced onion and fry it on a low heat until almost translucent (for about 5-7 minutes), stirring from time to time.
Next add in diced garlic, ginger and chilli. Keep on frying gently for a few more minutes until fragrant, stirring the whole time as they burn easily.
Add all of the dry spices to the onion / garlic / ginger / chilli mix and stir them around for a few seconds, making sure they don't burn – if the pan gets too dry, add a splash of water.
Add in the canned tomatoes, gently (so that they don't burst and splatter) squashing them with a fork once they are in the pan.
Next, add in about 480 ml / 2 cups of water and ½ tsp salt.
Cover the pot and allow the sauce to come to a gentle simmer. Simmer on a low heat until the tomatoes fall apart and the sauce becomes more uniform, without large tomato chunks in it.
While the sauce is simmering, cut each baby aubergine into quarters BUT don't cut all the way to the end – keep them on the stalk. If using regular aubergines, cube them into 1.25 cm / 0.5″ pieces.
If using baby aubergines, heat up a tablespoon of oil in a small pan. If using regular aubergines, heat up the oven to 210° C / 410° F and grab a large baking tray.
Place baby aubergines on the pre-heated pan and fry them on low heat for about 10 minutes, turning them regularly so that they fry on all sides. If using a regular aubergine, coat cubed aubergine in a tablespoon of olive oil and spread it on a baking tray. Bake for about 20 minutes, turning halfway through.
Put pre-fried baby aubergines in the curry, add a splash of water if the curry is getting dry, cover the pan with a lid and allow the aubergines to cook in the curry for a further 10-15 minutes (depending on size), until they can be easily pierced with a knife.
Remove the aubergines from the sauce and set aside. Taste the sauce and adjust the seasoning with more salt (if needed), sugar (if needed) and a dash of lime juice (if needed).
Drain the cashews and place them in a blender with a little of the curry sauce, blend until super smooth. Add the rest of the curry and blend until super smooth.
Return the curry to the pan, warm up and return the baby aubergines to the pan (or add baked aubergines if using regular ones).
Serve on top of rice (or/and with a vegan naan) garnished with fresh coriander and chopped roasted cashews.
NOTES
*If allergic to nuts, skip or use toasted desiccated coconut instead or tinned coconut milk / cream for a creamier curry.
**Replace half of the tomatoes with the flesh of 1 medium grilled aubergine for a less tomatoey curry.
If you can, allow the curry flavours to develop overnight as it always tastes better the day after it has been made. If you are making this dish a day in advance, I recommend not cooking the aubergines/eggplants until just before serving.
My recipe is adapted from this recipe.