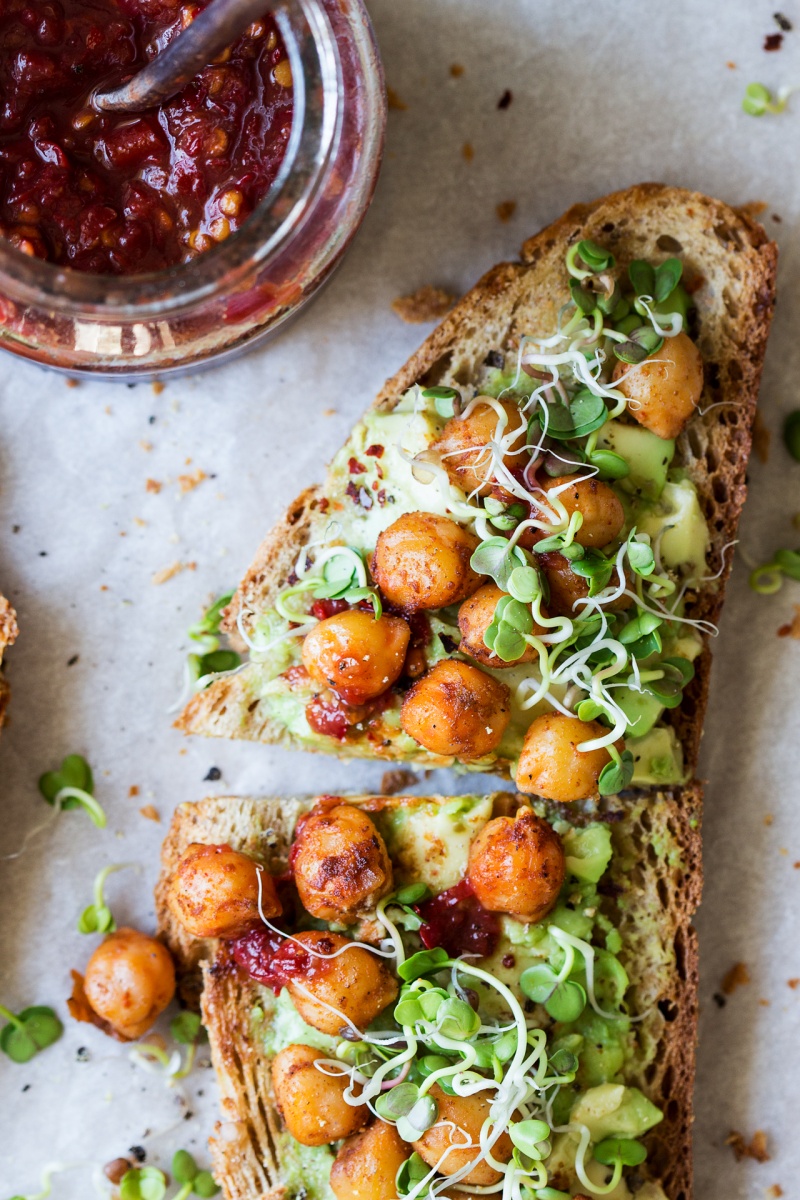 If the blog has given you the impression that I always eat elaborate dishes like vegan pulled 'pork' bao buns or homemade ravioli, think again!
What I did not know before I threw myself into blogging about food is that the life of a food blogger consists primarily of eating cold (or at least not sufficiently hot as it's hard warming up 'dressed-up' food) leftovers 😉 . Vegan avocado toast is closer to what I actually eat when I'm not hoovering up photoshoot props.
Ripe avocados and spiced chickpeas are two staples that I always have in my kitchen so it only makes sense to marry them together on a single plate, especially as they happen to go together so well. This simple dish is super easy to make, satisfying and, thanks to protein-rich chickpeas, extremely filling.
As I make my own sprouts and I'm particularly keen on the spicy radish ones, I included them too for an extra nutritional boost, but if you don't have those on hand, feel free to swap them for baby rocket or some fresh coriander or leave them out completely.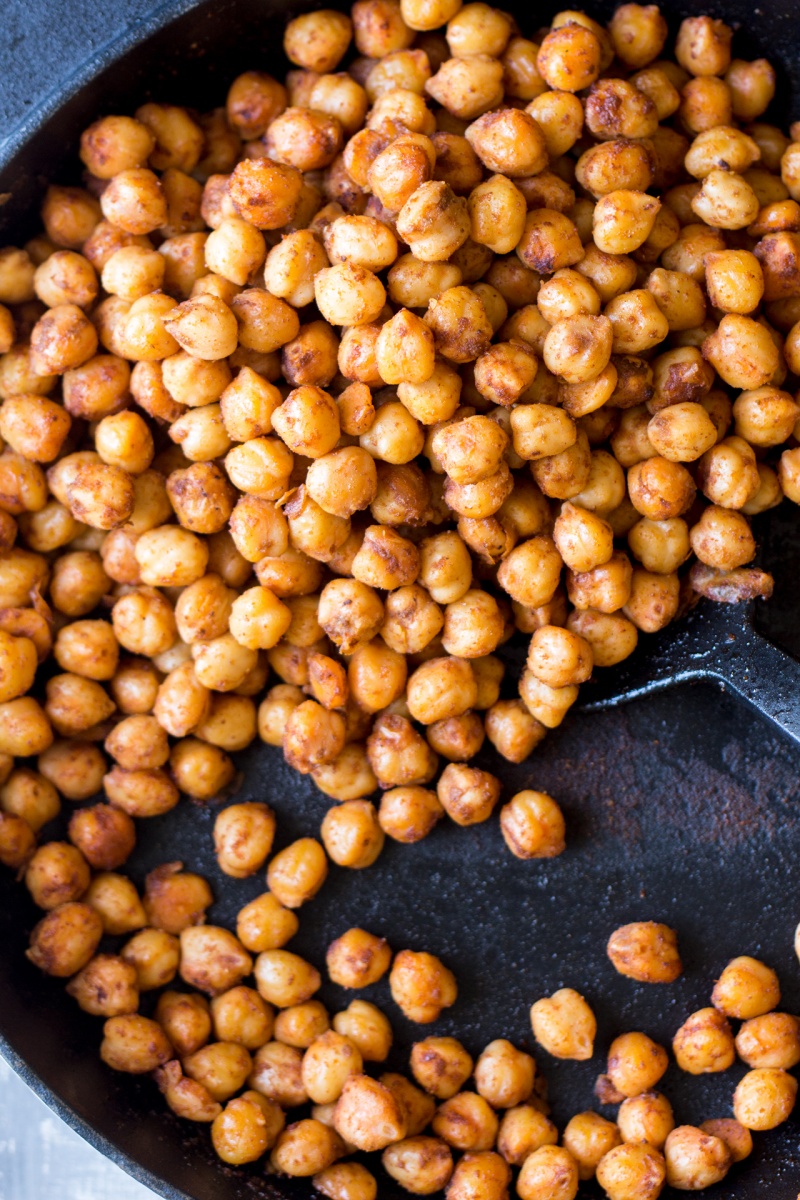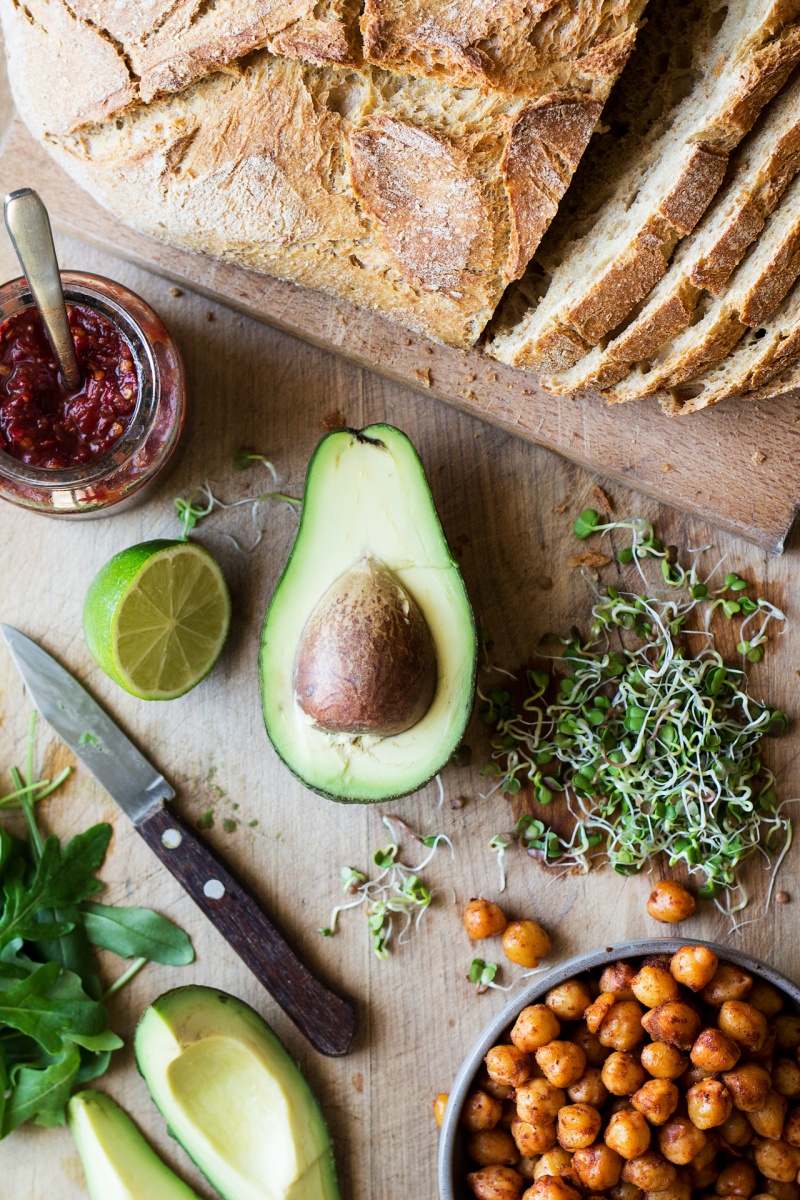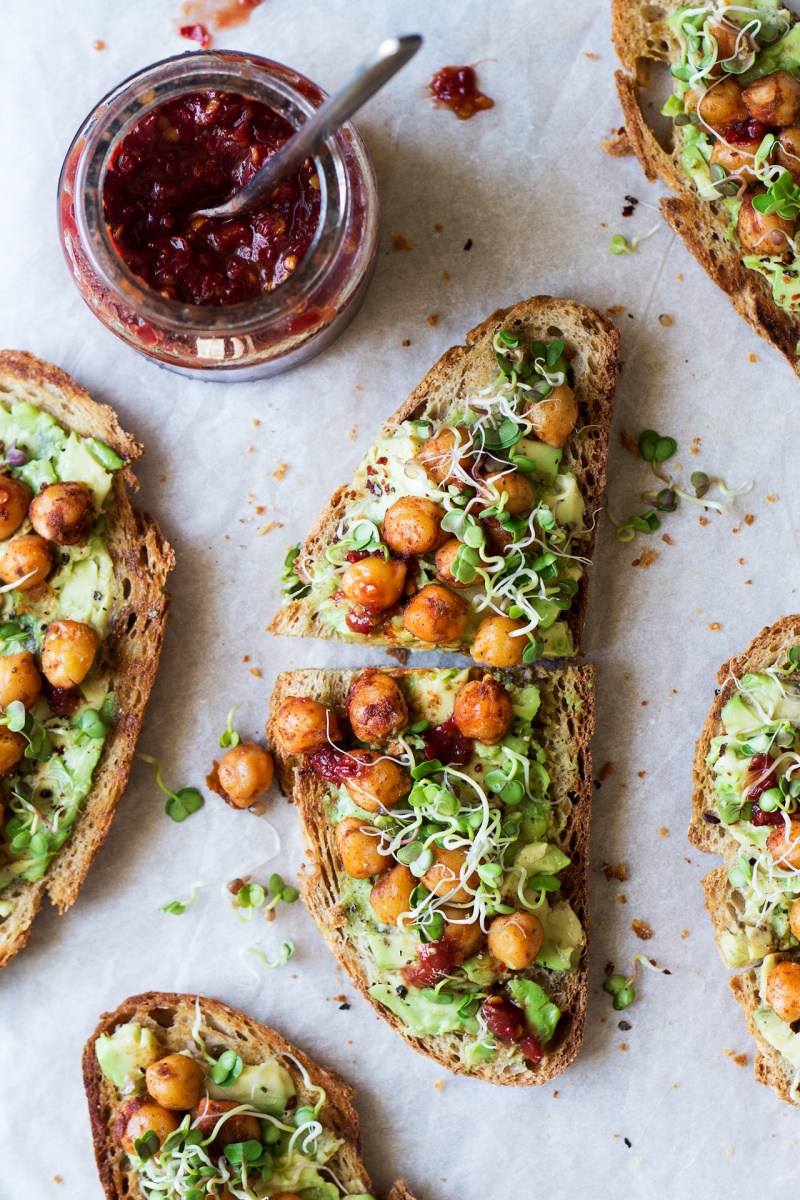 AVOCADO TOAST
4-6 slices of your favourite bread (GF if required)
1 ripe avocado
chilli paste (I used sambal oelek)
a handful of radish sprouts OR baby rocket / arugula (OPTIONAL)
½ lime or lemon (OPTIONAL)
salt and pepper to taste
SPICED CHICKPEAS
2 cups cooked chickpeas (about 1 cup dry)
2 tbsp olive oil
1 tsp ground cumin
2 tsp smoked paprika
½ tsp hot chilli powder
salt, to taste
METHOD
Place chickpeas in a colander for a few minutes to drain them well. You may want to save the canning or cooking liquid (if you cooked them yourself) for another use like a chocolate mousse or vegan meringues, for example. If you cooked the chickpeas yourself, let them cool down completely before pan roasting them.
Mix all the spices together with a few pinches of salt in a small bowl.
Heat up a heavy bottomed pan on a medium-high heat. Pour 2 tablespoons of olive oil on the hot pan and wait a few seconds for the oil to heat up. Chuck dry chickpeas into the hot oil. Stir the chickpeas from time to time so that they don't burn. Sprinkle chickpeas with mixed spices and stir the spices in. Turn the heat off but keep on roasting the chickpeas in the residual heat until they are evenly coated in spices and the spices become fragrant. Taste the chickpeas and adjust with salt if necessary. Stir frequently as ground spices burn really easily and become bitter. Take off the heat and set aside.
Toast the bread – I like to toast mine on a lightly oiled griddle pan.
Slice avocado and spread it on the toast. You may want to lightly sprinkle it with lime (or lemon) juice to prevent discolouration. Top with spiced chickpeas and radish sprouts (or baby rocket). Sprinkle with salt and pepper and dot with hot chilli sauce.