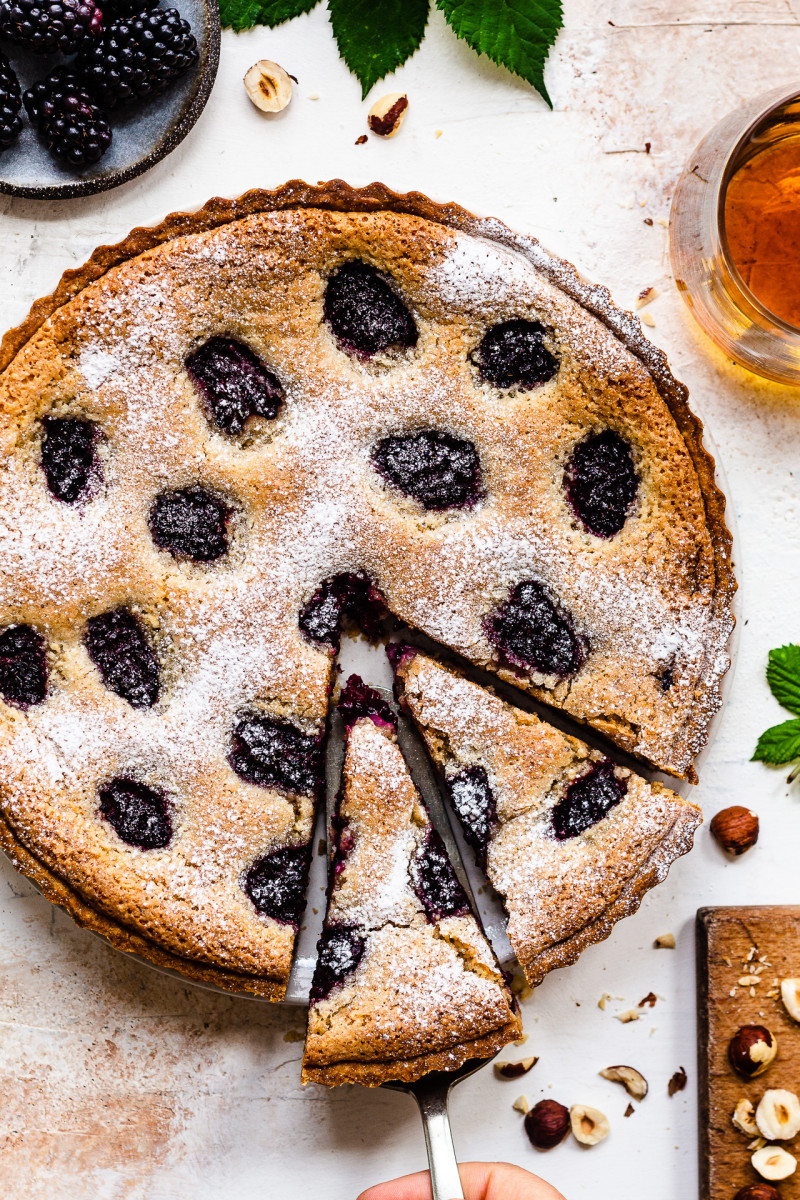 Happy weekend everyone and if, like me, you live in the UK Happy Bank Holiday! Hope the sun is shining on you and you have relaxing and invigorating things planned. We took some time out yesterday to sit by the river as the weather was nice, Duncan splashed around in his beloved kayak while I sat on the bank crocheting (which has become a bit of an obession of mine lately 😉 ) a chunky cardigan. We brought lunch, coffee and this blackberry bakewell tart with us and it really hit the spot.
This seasonal vegan bakewell tart with blackberries and a hazelnut frangipane is a subtle nod to early autumn which we are heading towards in the Northern hemisphere. Maybe it's because I am an October child but I really liken this time of the year. It's sunny yet cool, there is a warm breeze in the air, the trees start to look colourful.
MORE ABOUT THE INGREDIENTS
VEGAN BUTTER/COCONUT OIL: solid fat like vegan butter block (I like Naturli best) or coconut oil (I like using this fragrance-free version) are instrumental to keeping the pastry tender. You could use mild liquid oil instead, but the pastry does not come out as nice.
XANTHAM GUM: I use a small amount of xantham gum to stop gluten-free shortcrust pastry from falling apart.
FLOUR: this tart can be made with regular flour or with a good gluten-free flour mix containing a healthy dose of starches for binding. If using gluten-free flour, I recommend adding a touch of xantham gum to improve elasticity.
BLACKBERRIES: ideally, you want your blackberries to have a bit of tartness to them so that there is a nice contrast between the two layers of your tart. Foraged blackberries will work well. If your blackberries are sweet, add a bit of lemon juice to the filling or if they are very tart, you may want to add a touch of sugar to achieve perfect balance of flavour. If you cannot get blackberries, use fresh or frozen raspberries or any sour fruit you like.
LEMON: if your blackberries aren't sour, I recommend adding some lemon juice to the filling to achieve a delectable sweet sour contrast between sour blackberry layer and sweet frangipane layer. Foraged blackberries are usually quite sour so these would be the best to use here, but if there are very tart, you may consider adding a bit of sugar to the blackberry layer.
HAZELNUTS: hazelnuts pair nicely with blackberries and make this tart a celebration of late summer & early autumn produce. I recommend buying blanched hazelnuts, but if these are unavailable, below I tell you know to remove the skins. You could use 150 g / 1½ cups of shop-bought ground almonds instead – I find that they are more absorbent than hazelnuts ground in a food processor.
SUGAR: – I used caster (also known as superfine) sugar in this tart, but you could use coconut sugar or maple syrup if you are after a refined sugar free option. Using maple syrup will render the frangipane a bit runnier so you will need to bake the tart for a little longer.
AQUAFABA: – chickpea cooking water (also known as chickpea brine) is added to the filling to replace egg whites. You can use it straight from a can of chickpeas or from the pot of cooking them at home. If you don't want to use aquafaba, try soy milk mixed in with 4 g / 2 tsp of cornstarch.
BAKING POWDER – a little bit of baking powder gives the filling a little lift so don't forget to add it in.
WHAT CAN I USE INSTEAD OF HAZELNUTS?
You could use 150 g / 1½ cups of shop-bought ground almonds (also known as almond meal) instead. I find that they are more absorbent than hazelnuts ground in a food processor so that's why I say to use less.
I CAN'T FIND BLANCHED HAZELNUTS
There are two ways you could remove skins off hazelnuts.
1. Spread hazelnuts on a baking tray and place it in a 175° C / 350° F oven. Bake for 6 minutes, place them inside a kitchen towel and rub between your hands. Most of the skins should come off, but there will be a few stubborn ones – return them to the oven for another 2-4 minutes and try again. You don't want the nuts to brown, only for the skins to come off.
2. Place two cups of water (500 ml) in a small pot with 1 tbsp baking soda. Bring to a boil – watch it carefully as it likes to boil over sometimes. Add hazelnuts and boil them for 3 minutes, drain and rinse under a cold tap. Remove the skins once the nuts are cool enough to handle. Allow the nuts to dry in the sun or air dry before grinding.
DO I NEED TO REDUCE AQUAFABA?
Nope, there is no need at all. You can use it straight from a can or, if you cook your chickpeas, straight from the pot, but do make sure it's been cooled down.
CAN I FREEZE IT?
Yes, you can although as it's a pastry based dessert and it contains wet (blackberry layer) filling, it's the nicest eaten on the day it's been baked. If freezing for later, be sure to lock it away in an air-tight container to protect it from freezer burn and freezer smells.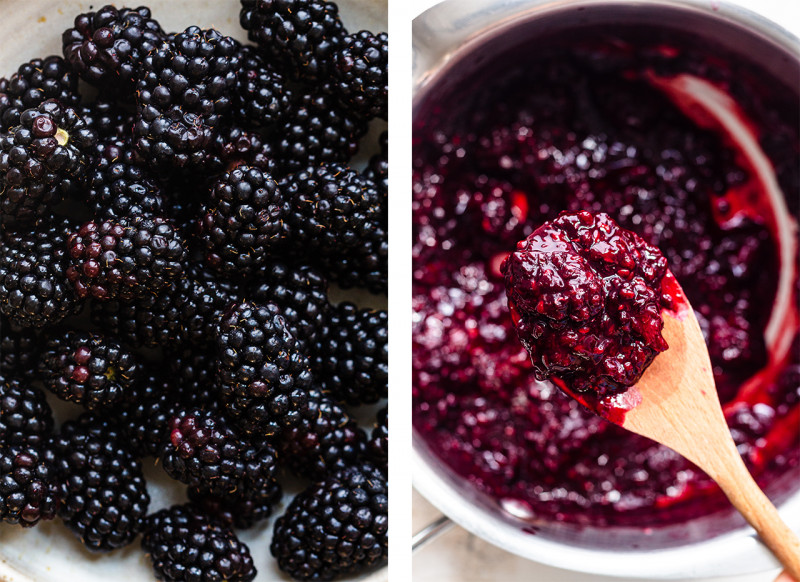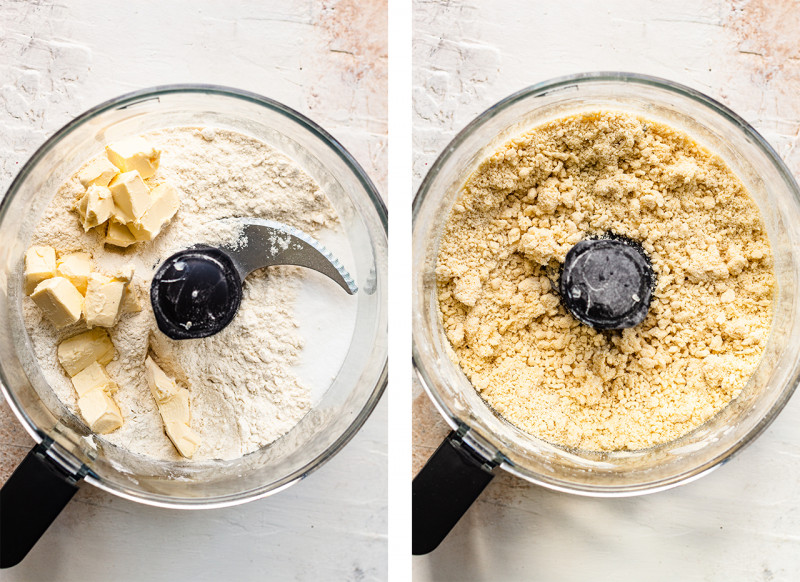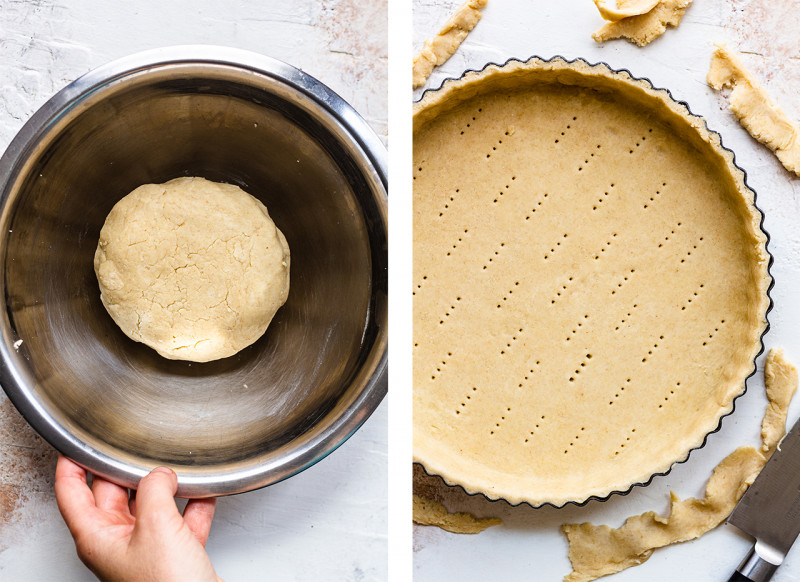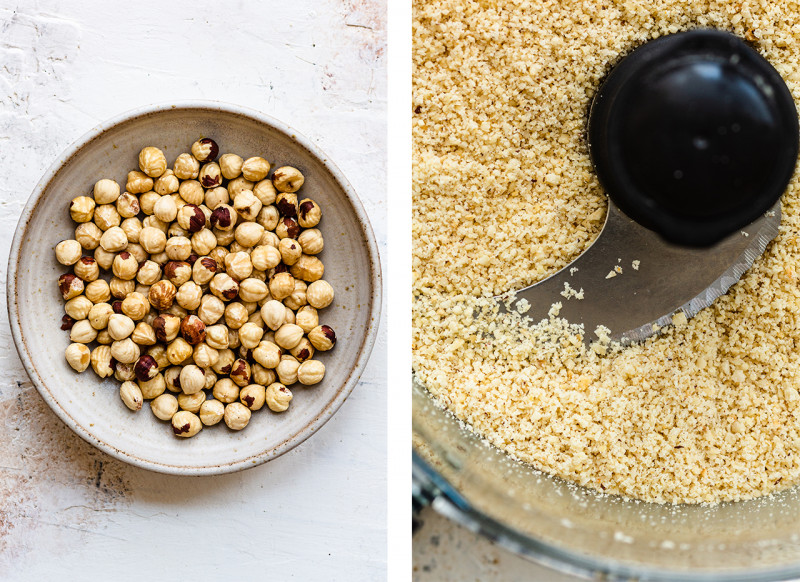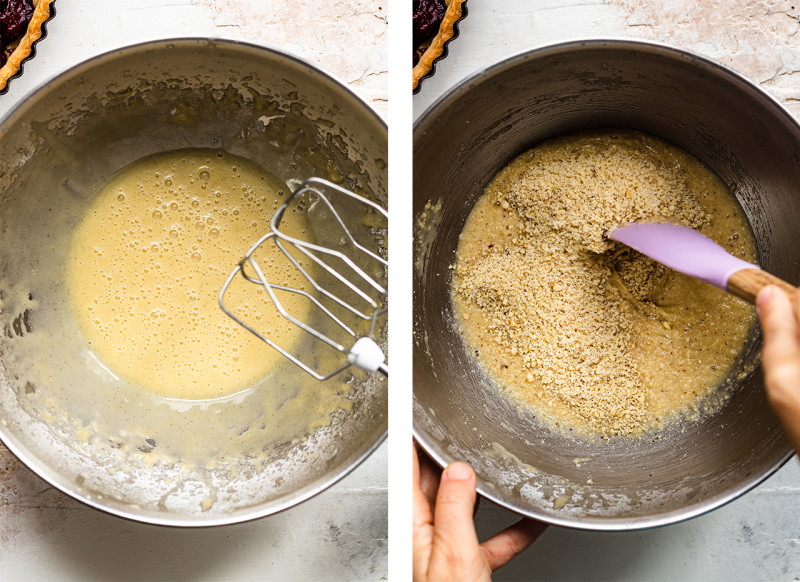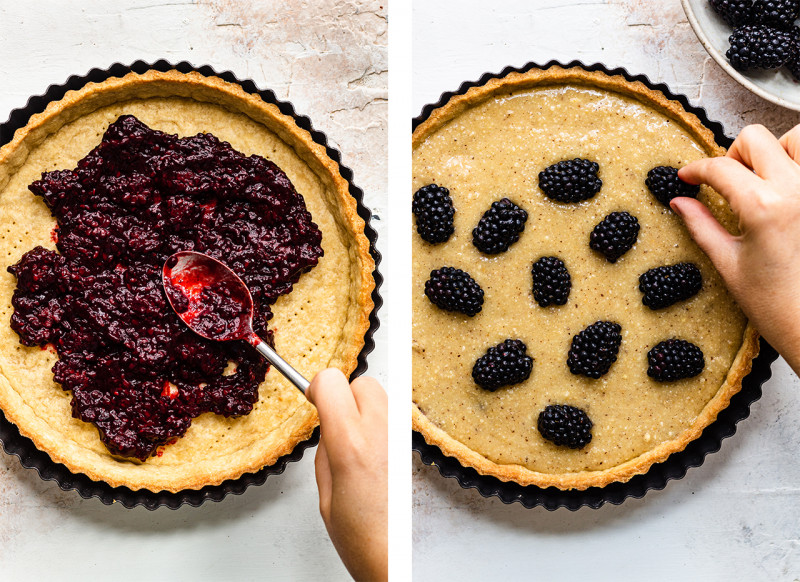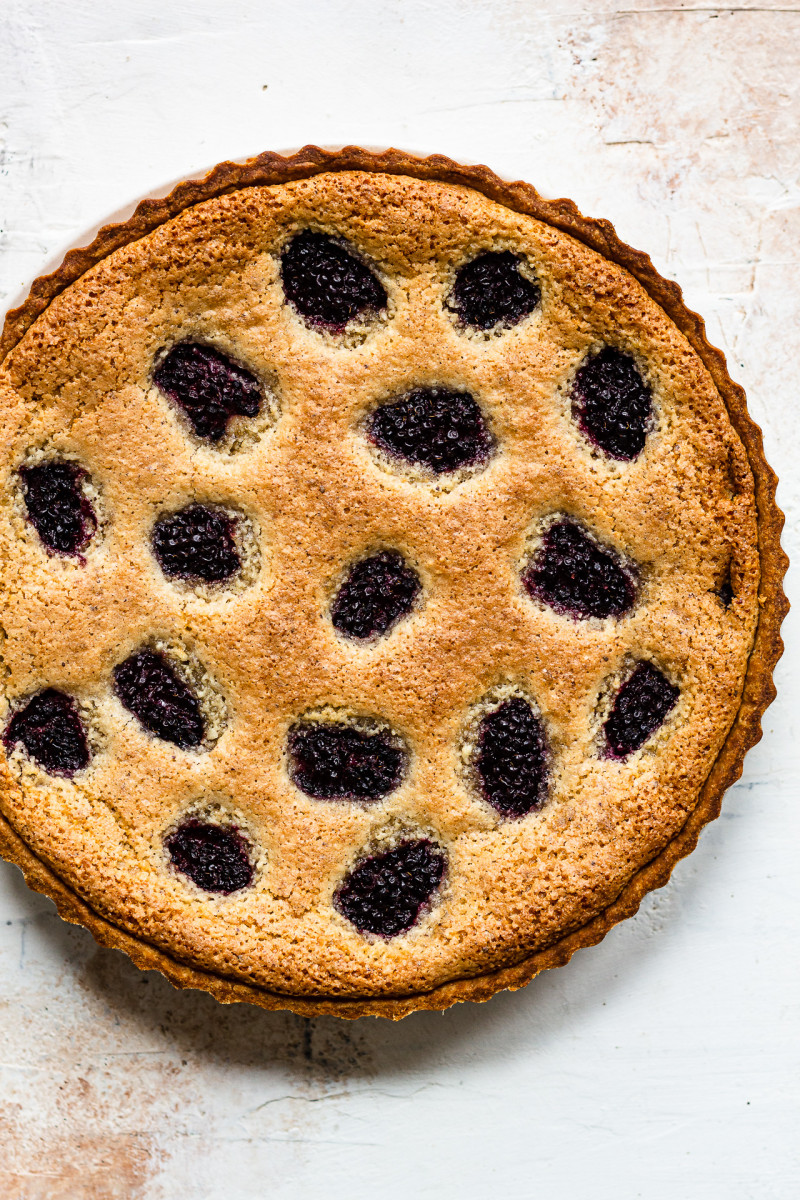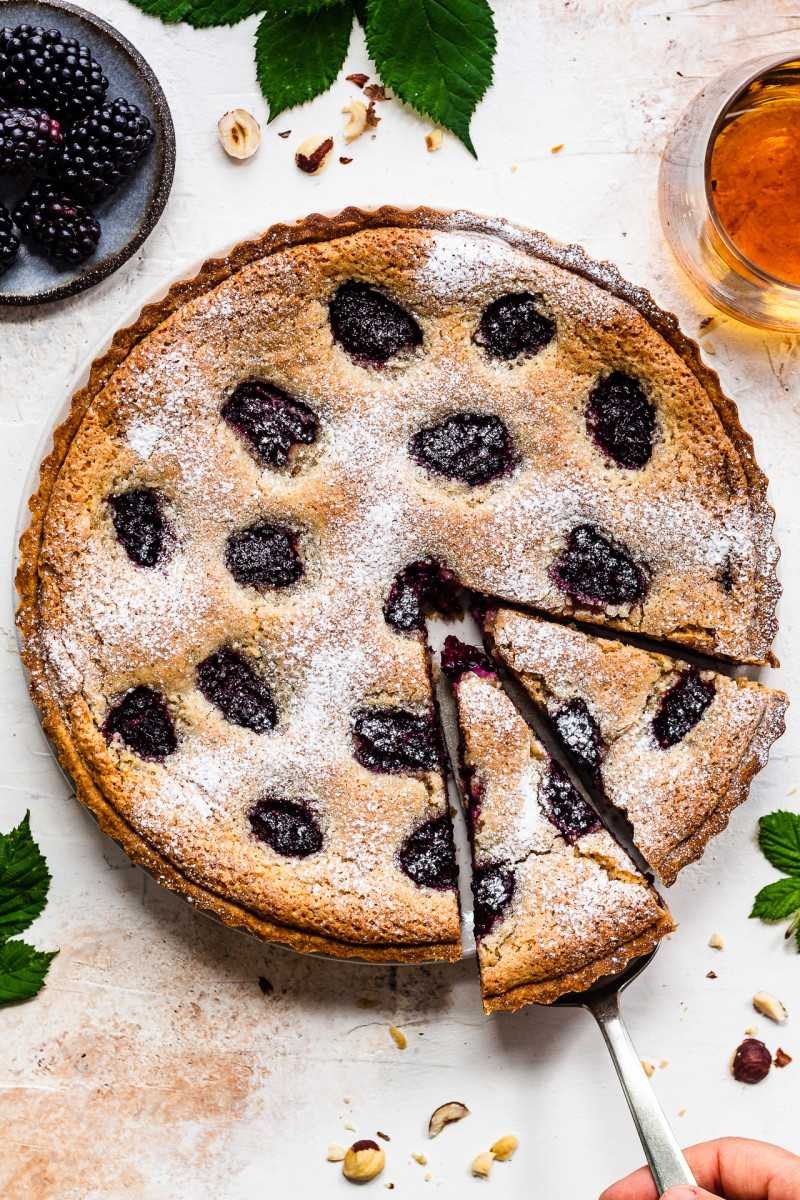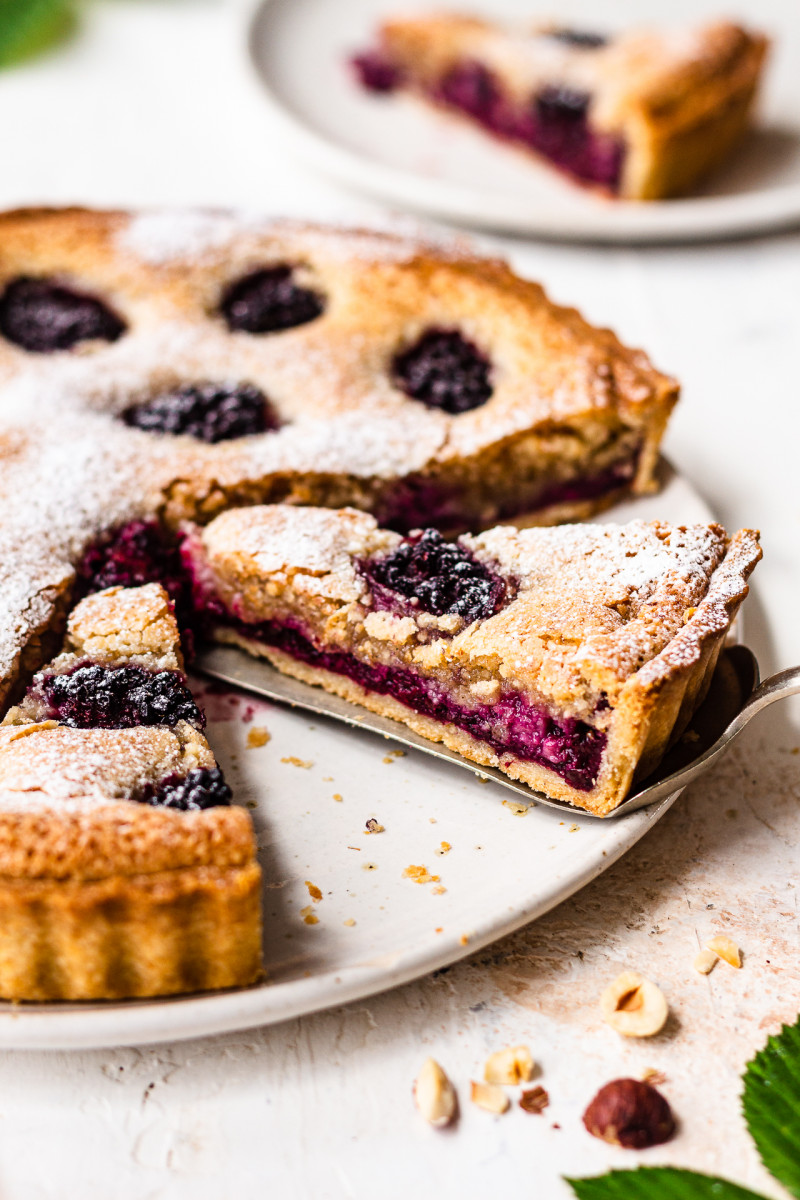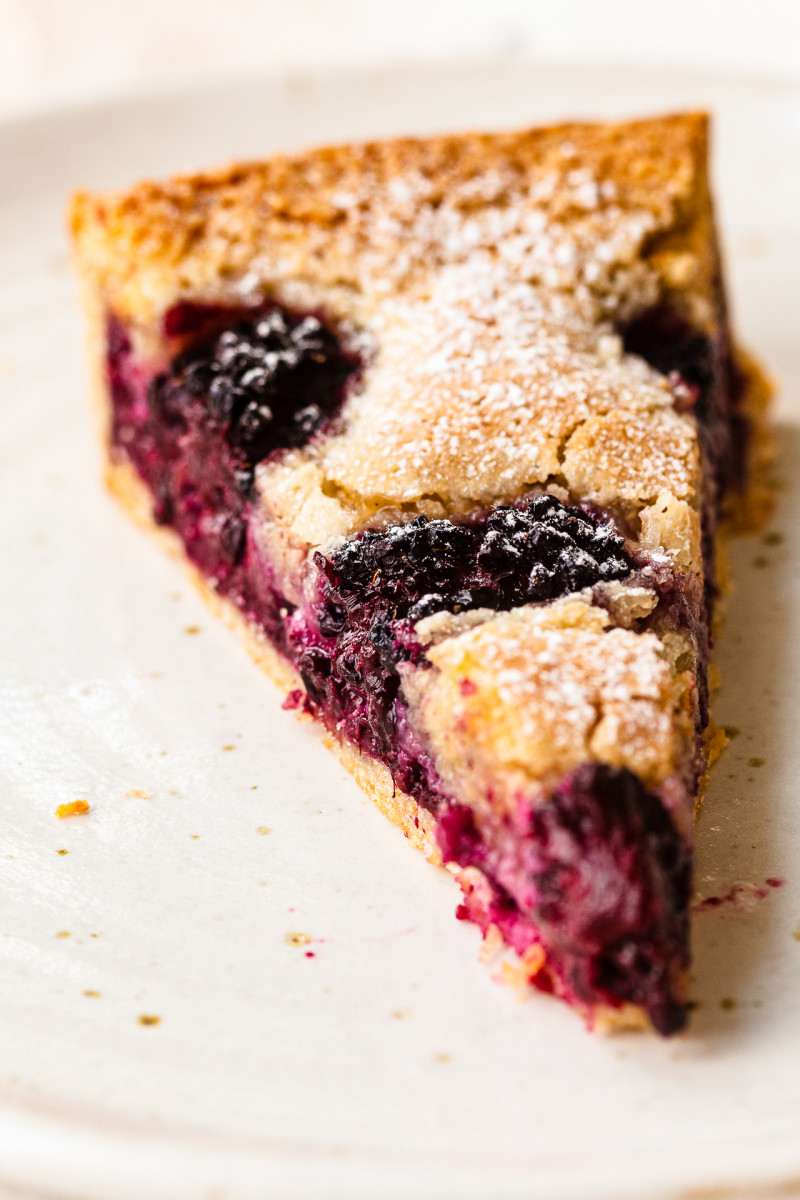 PASTRY
210 g / 1¾ cups all purpose flour or GF plain flour mix
25 g / 2 tbsp caster (superfine) sugar OR maple syrup
½ tsp fine sea salt
½ tsp xantham gum (only if using GF flour)
100 g / ½ cup vegan butter block or coconut oil, cold
approx. 50 ml / 10 tsp ice cold water
BLACKBERRY LAYER
300 g / 10.5 oz (2 heaped cups) blackberries*
7 g / 1 tbsp cornflour / cornstarch
juice of ½-1 lemon (if blackberries are sweet)
FRANGIPANE LAYER
200 g / 7 oz blanched hazelnuts*
50 g / ¼ cup vegan butter or refined coconut oil, melted and cooled
110 g / heaped ½ cup caster sugar OR maple syrup
15 g / 2 tbsp all purpose flour or GF flour mix
60 ml / ¼ cup aquafaba/chickpea brine, homemade or from a can of chickpeas, at room temperature
½ tsp baking powder
a good pinch of fine sea salt
2 tsp vanilla extract
100 g / 1 scant cup blackberries
METHOD
PASTRY
If using hazelnuts, go to STEP 1 of the frangipane filling first to minimise washing up.
Place flour, sugar (if using maple syrup, add it in step 2), salt, xantham gum (only if you are making a GF pastry) and cubed vegan butter in a food processor. Pulse a few times to combine. If you don't have a food processor, use a bowl and two knives to cut the fat into the flour (see process photos here).
Slowly feed cold water (if using maple syrup use only about 2 tbsp of water mixed in with maple syrup) through the chute while pulsing the mixture. Once the water has been added the pastry should resemble breadcrumbs (see photos in the post).
Transfer the mixture onto a work surface. Using your hands, bring it together and form into a disc – it should nicely stick together, if it's still too dry and crumbly trickle in 1 tsp of cold water at a time. Handle as little as possible and do not knead.
Wrap the pastry disc up in cling film and chill in the fridge for at least 30 minutes.
Remove the pastry from the fridge and roll it out on a lightly floured surface until you get a circle large enough to cover your entire tart case, about 2-3 mm in thickness.
Place the rolled-out dough over a tart case and gently line the inside of it with the pastry. Tuck the pastry in well, ensuring that it fits snugly into all the nooks and crannies. Trim the excess pastry with a sharp knife and patch any holes/or thinner bits with the cut-off excess. If making gluten-free pastry (which tends to be more crumbly), you may be better off placing the crumbled pastry in the tart case and simply moulding the pastry with your hands to the shape of the tart tin.
Pierce the bottom of the pastry with a fork in a few places and chill the pastry-lined tart case in the fridge for another 30 minutes. You can also just leave it in the fridge overnight if making ahead
Meanwhile, preheat the oven to 175° C / 350° F (regular, no fan setting). Line the pastry case with a large piece of crumpled baking paper and fill with baking beads (or dry beans) for a blind bake.
Blind bake the pastry for 15 minutes. Remove the paper and beads and bake for another 5 minutes – until cooked and egdes are only pale golden, not browned. Keep the oven on.
BLACKBERRY LAYER
Put blackberries into a small pot and set it on low heat stirring until they release juices. If your blackberries are sweet, I recommend adding a bit of lemon juice – to taste.
Place cornflour in a tiny bowl and some of the blackberry juice from the pot. Stir until well combined.
Once blackberries in the pot have almonst completely fallen apart, trickle in cornflour mixture whilst stirring.
Simmer for a minute or so – just until the jam thickens – then switch off the heat and allow the mixture to cool down completely.
FRANGIPANE LAYER
Grind hazelnuts in a food processor until finely ground, transfer to a bowl, dust the food processor off and go back to the pastry STEP 1.
To prepare the filling, cream vegan butter (or oil) and sugar (or maple syrup) with an electric whisk. Next, whisk in the flour. Add aquafaba, a small amount at a time. Whisk well after each portion of aquafaba.
Finally, gently fold in the ground hazelnuts, baking powder, salt and vanilla extract. I also like to add about ¾ tsp of ground cardamom sometimes.
Fill the pre-baked (and cooled off) pastry case with blackberry filling.
Next, gently spread frangipane filling over the blackberries making sure it reaches all the way to the edges.
Decorate the top with blackberries, placing them on top of the filling and pushing them only a tiny bit as the filling will rise during baking.
Bake the tart for about 40-45 minutes, until the filling is nicely browned. I found that the maple syrup filling tends to take a little longer in the oven (by 10 minutes or so). Remove from the oven and allow the tart to cool down before removing it from the tin and cutting it into slices. The top will crisp up nicely as the tart cools down.
NOTES
*BLACKBERRIES: you can use both fresh and frozen blackberries for the filling and for decoration. I used fresh as they are in season right now. If using frozen blackberries for decoration, dip them in some cornflour/cornstarch first to minimise them 'bleeding' all over the tart.
*HAZELNUTS: I used hazelnuts as I like the taste and I wanted this tart to be a nod to early autumn and its produce, BUT feel free to use 150 g / 1½ cups of shop-bought finely ground almonds (also known as almond meal) instead – I find that they are more absorbent than hazelnuts ground in a food processor. If you only have unblanched hazelnuts, see the post above on how to blanch them.
This recipe has been adapted from my earlier recipes for frangipane, bakewell tart and cranberry frangipane recipe.