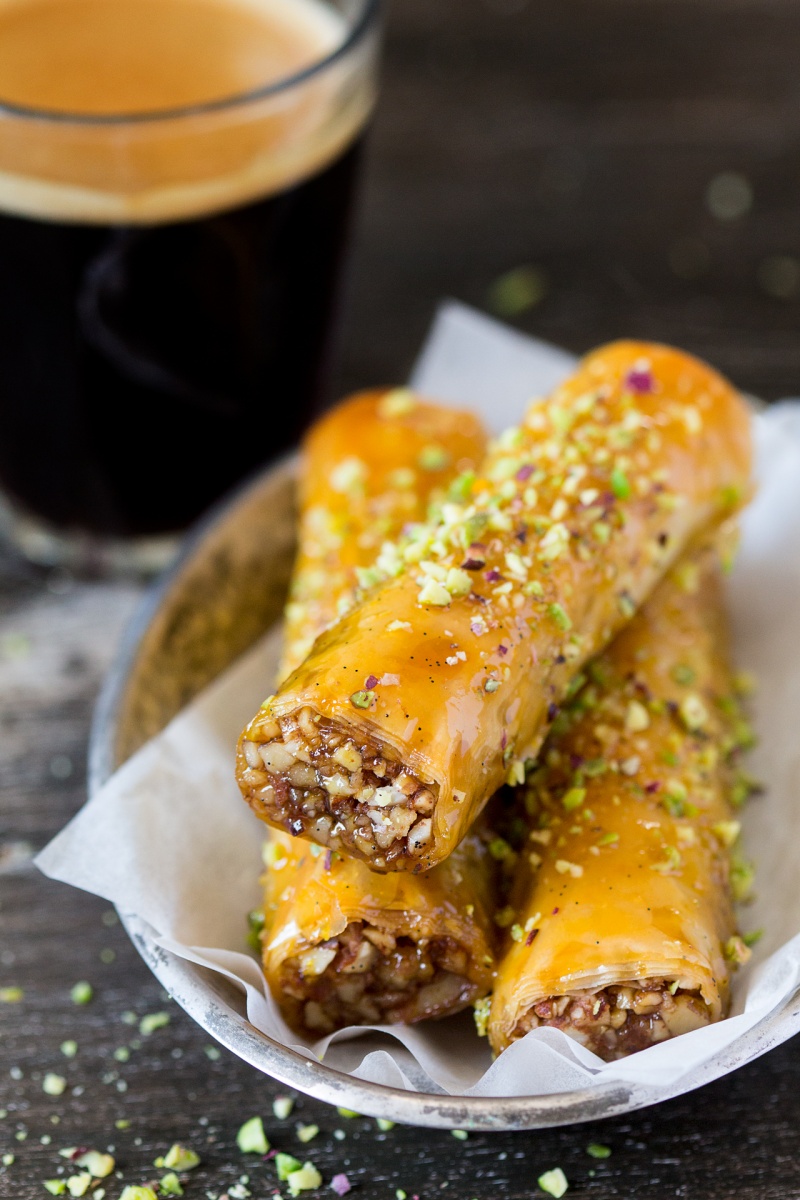 Baklava is one of these things that I did not use to like until I came of age. When my gran brought it back from one of her travels to Turkey when I was young, I pronounced it 'too sweet' (can you believe it?) while shoving a handful of nasty, perfumed, artificially-coloured, heart-shaped sweets into my face. Classy, eh? 🙂
When I moved to London, I got to taste this Middle-Eastern treat again and fell in love with it immediately. I was lucky enough to live near one of the most famous baklava destinations and going out for a piece of baklava and an espresso had become a weekend ritual for me and my then boyfriend.
I have to agree with my younger self, on its own baklava may send your taste buds into a sensory overload, but when paired with strong, black coffee it really hits the spot. Baklava is very popular in Greece too and if not for the fact that I'm vegan, I would be tempted to simply buy it from time to time. Unfortunately, as most baklava contains a prolific amount of butter (and often honey), I now make my own when the craving strikes.
It's really quite easy to make so please don't be intimidated. Plus, even though these vegan baklava cigars obviously aren't a health food, they are way healthier than traditional baklava (yet just as indulgent). I used a small amount of mild olive oil instead of melted butter and maple syrup instead of sugar and honey. Learning from my previous attempts, I brushed every pastry sheet with only a small amount of oil to get a crispy and grease-free end result and I'm pleased to say that all four of my taste testers made loads of approving noises during consumption so I'm confident you'll love them too.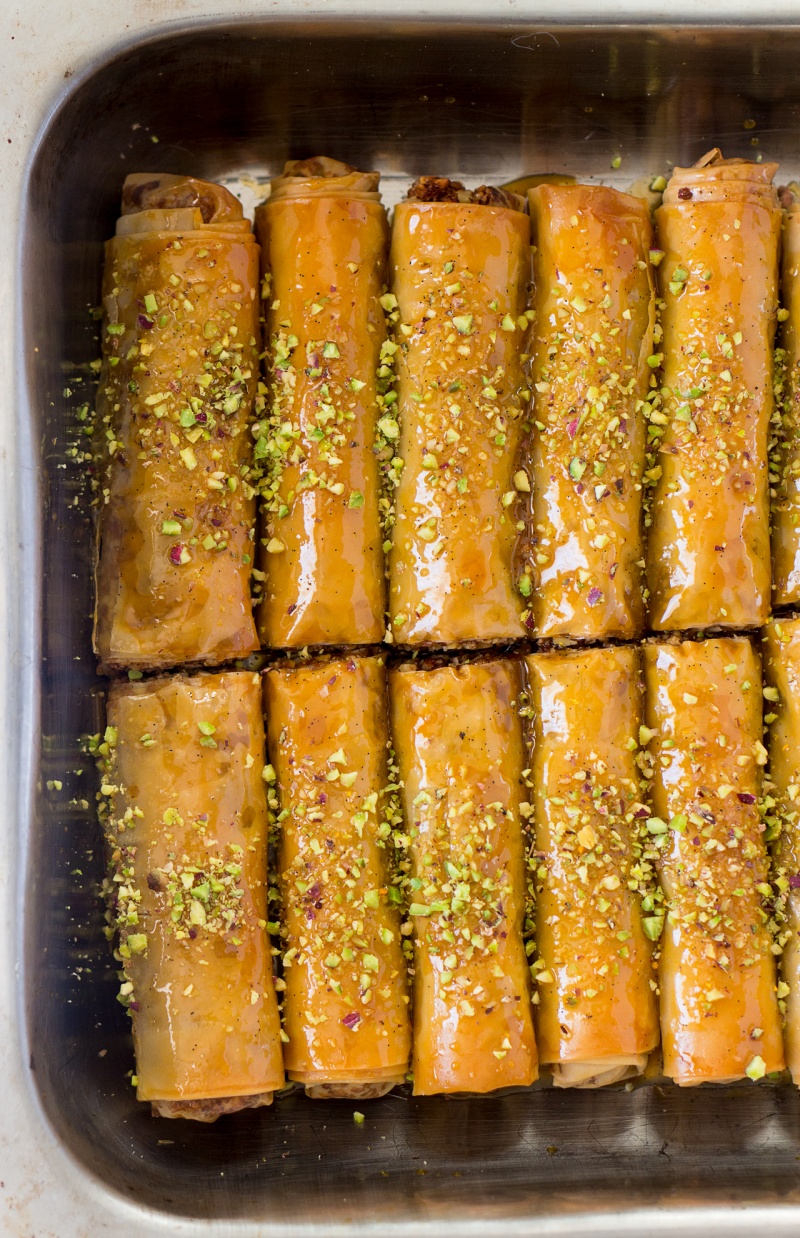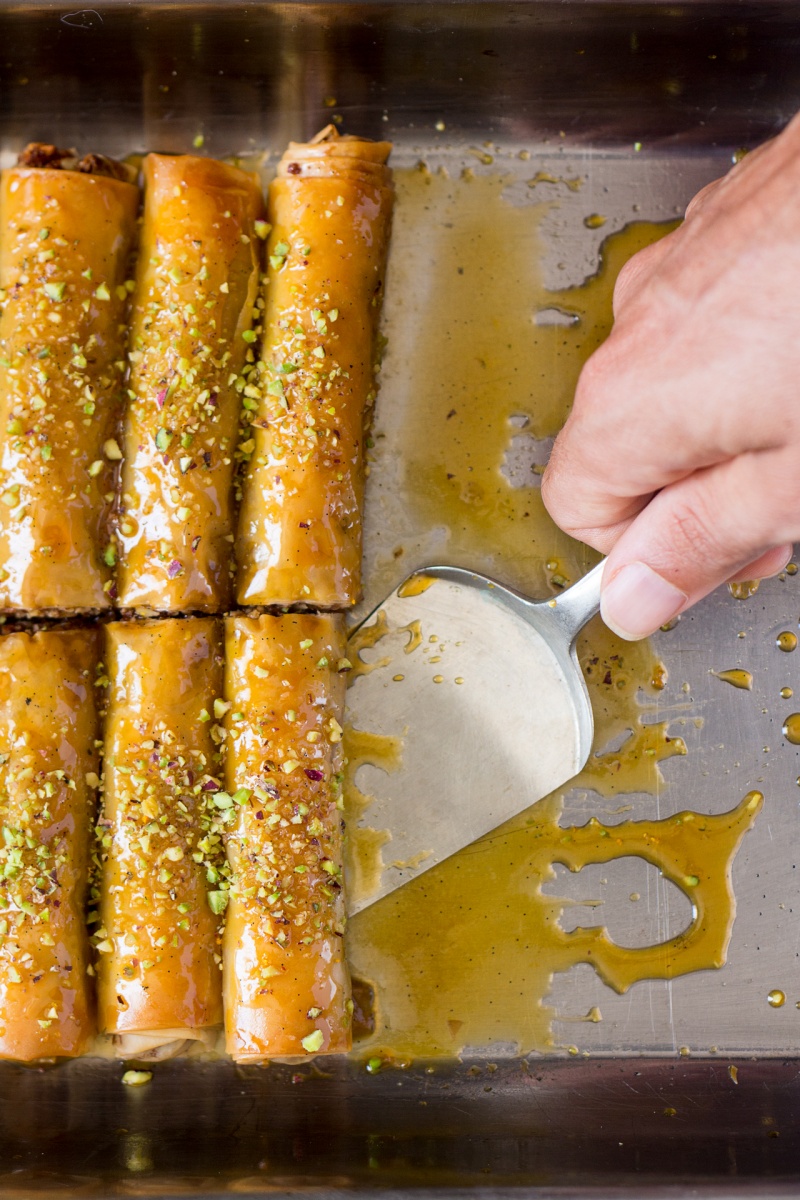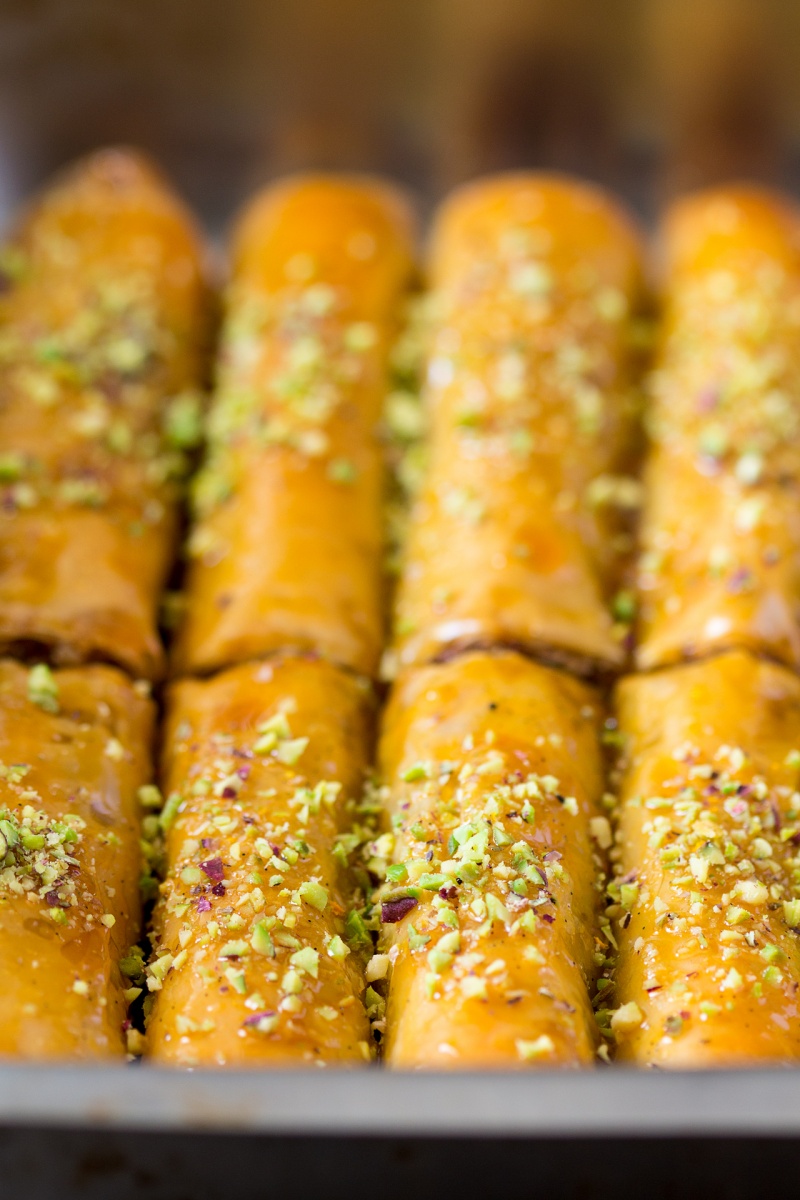 SYRUP
¾ cup / 180 ml freshly squeezed orange juice (or water + lemon juice to taste)
¼ cup / 60 ml maple syrup
½ vanilla bean, seeds scraped
BAKLAVA CIGARS
1 cup / approx. 130 g almonds
1 cup / approx. 100 g walnuts
zest of 1 lemon
zest of 1-2 oranges
1½ tsp ground cinnamon
1/8 tsp fine sea salt
¼ cup + 1 tbsp / 75 ml maple syrup
3 vegan filo pastry sheets (mine were 35 x 46 cm / 14 x 18 "), thawed*
2 tbsp mild olive oil
1 tbsp shelled pistachios, very finely chopped
METHOD
SYRUP
Put strained orange juice, maple syrup and vanilla bean (if using) into a small pot and gently bring to the boil. Simmer on a very low heat until you get a thin syrup that coats the back of a spoon. Set aside to cool.
BAKLAVA CIGARS
Grind nuts for the filling in a food processor until you get a coarse crumb. You can use any nuts you like, I went for a mixture of almonds and walnuts.
Place ground nuts in a bowl with salt, cinnamon, lemon and orange zest. Mix all the dry ingredients well and add maple syrup to bind.
Prepare a baking tin by brushing it with a small amount of olive oil. Wet two clean kitchen towels and wring them both out really well.
If you want your cigars to look identical, it's a good idea to weigh all the filling and then divide it into 6 equal portions.
Open a thawed packet of filo, gently remove one sheet and cover the remaining sheets with a piece of cling film and a damp kitchen towel to prevent the pastry from drying out. Filo tears really easily so you need to be very gentle with it and if it has small tears in it, it's still okay to use but make sure they are not located at the beginning of your rolls.
Cut the first sheet in half along the widest edge. Place one half in front of you with the longer edge perpendicular to you (with the shorter edge facing you). Put the other half with the whole sheets, under a damp towel.
Lightly dip a pastry brush in olive oil and brush the pastry with it. Go easy on the amount of oil as you don't want the cigars to be oily, but make sure you cover the entire sheet with light brush strokes.
Place about 2 generous tablespoons of the filling at the bottom of the oiled sheet leaving a 1 inch / 2.5 cm margin at the bottom and on the sides of the sheet.
Mould the filling with your hands (it should be sticking together easily) into a long sausage. Start rolling the cigar by folding the bottom margin over the filling, then fold the sides in (like you would with a burrito) and finally roll the cigar tightly around the filling. Apply a little bit more oil to seal the roll. Place it in a greased tin, seam down. Cover with the second damp kitchen towel while you roll the remaining cigars.
Repeat the last 3 steps with the remaining 2.5 sheets. If you want to use up the entire roll of pastry, you could fold each sheet in half and use a double layer of pastry for each cigar.
Pre-heat the oven to 180º C / 355º F.
Place the cigars in the tin snugly. Using a sharp knife cut each cigar into 2, 3 or even 4 (depending how big you want them) pieces. Brush the tops with a small amount of oil and bake for about 25 minutes, or until golden brown.
As soon as the cigars are ready, brush them with cold (that's important as otherwise they'll end up soggy) syrup. Sprinkle with finely chopped pistachios. If you made more than you are able to eat, just freeze the remainder.
NOTES
*The day before you intend to make your baklava cigars, place your frozen (unless you use fresh, in which case no need to worry about this step) filo into the fridge to allow it to thaw slowly. My filo came in 2 rolls of 6 sheets so I only thawed one roll for this dessert (and used 3 sheets) and kept the other one in the freezer.