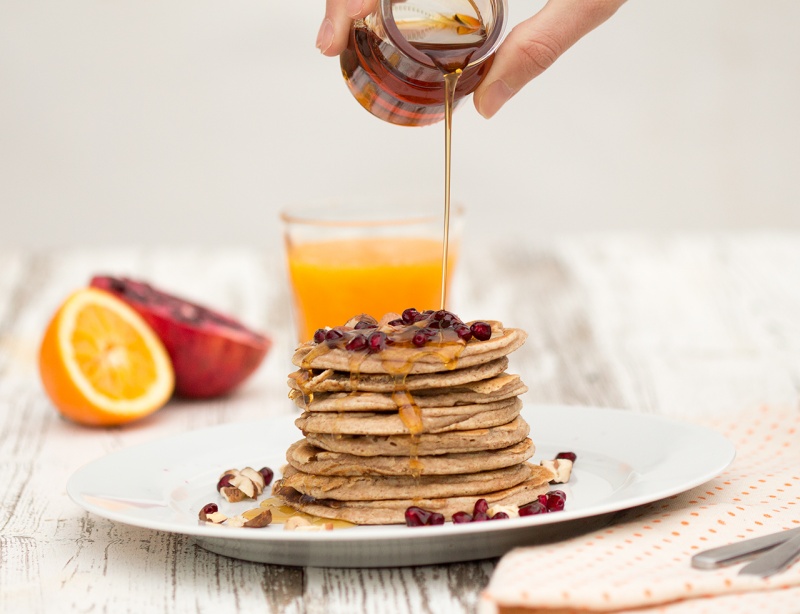 A few years ago, we went to Bali to attend Duncan's good friend's wedding. It was, honestly, one of the best weddings we've been to.  The setting was absolutely breath-taking, the wedding guests were a great bunch of like-minded people, the food was amazing and the wedding speeches brought a tear or two to our eyes. I'm not big on weddings, but this was one that I could go to again and again. After the big day, we got to hang out together for a few more days and then had to say our goodbyes; which wasn't easy and we really bonded with each other during that week. We planned to meet up in Bali again one day, but life got in the way a bit…
Following our goodbyes, Duncan and myself went on a trip round the island as we knew it will be a while before we will be able to see this stunning place again. The place we loved most was called Amed, up in the north-east of the island. It was stunning, not that touristy and the the food was the best we've had during the entire trip (which is saying a lot as the standard of food was already very high). We stayed in this cute little B&B with our hut set on the top of a steep hill. To get to the room, we had to climb hundreds of awkwardly shaped, stone-carved steps – which is good as we did need some exercise after eating so much. It was there that we fell in love with Balinese pancakes. They were delicious – pillowy-soft, slightly sweet and packed with the local fruit they had to hand, usually slices of banana or pineapple, which would get a bit of charring from the pan. This recipe is my attempt at recreating those dreamy banana pancakes and the mood of that carefree holiday.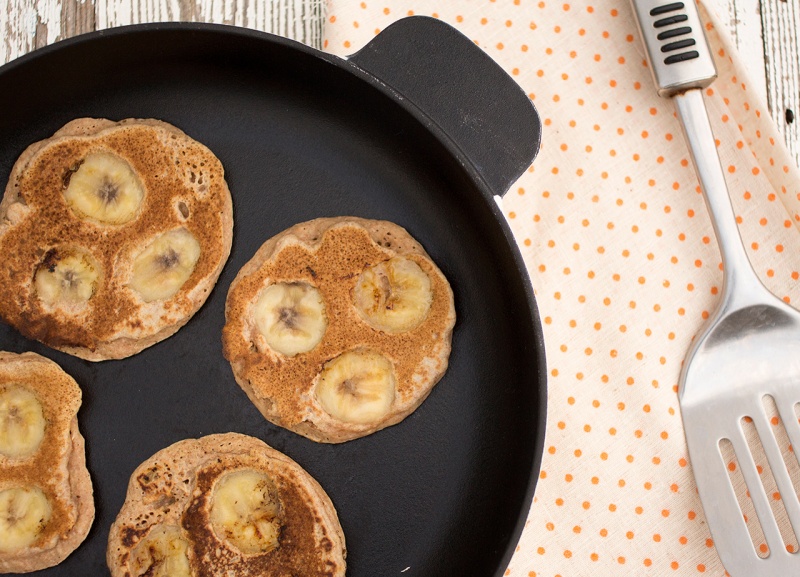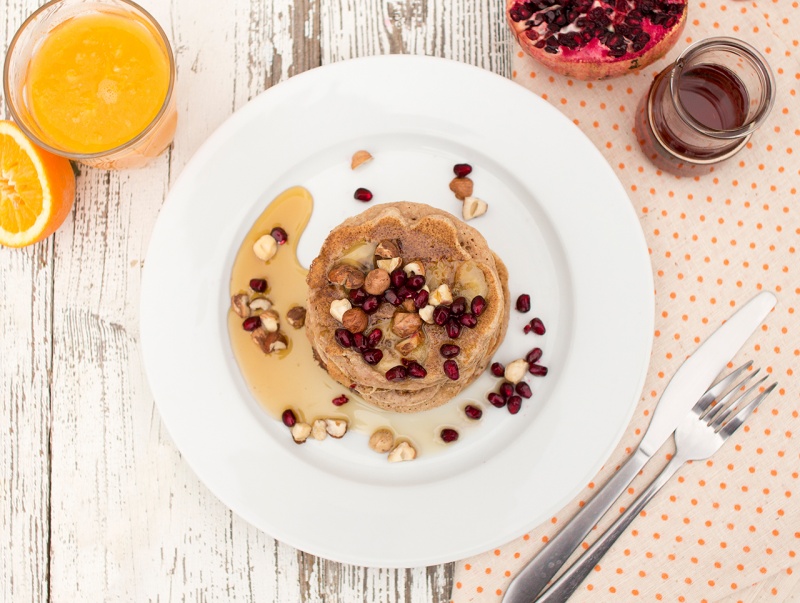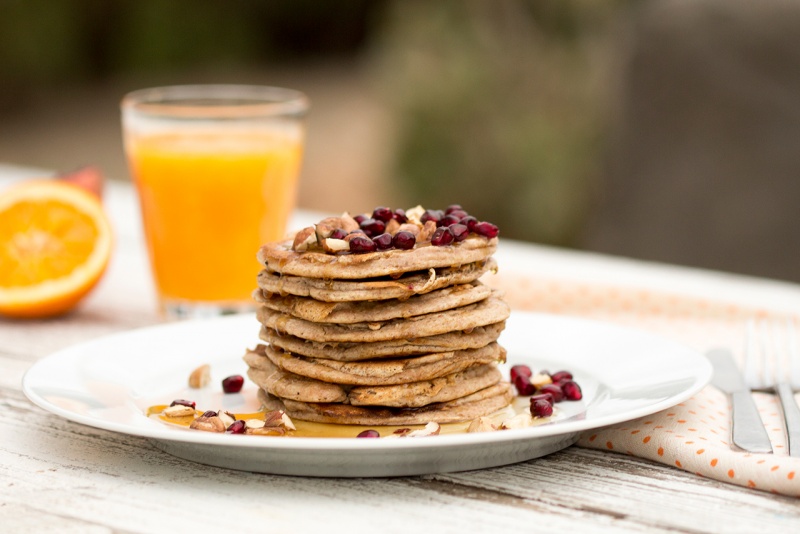 1 cup spelt flour*
pinch salt
½ tsp baking powder
½ tsp baking soda
1 ½ tbsp maple syrup
1 tbsp lemon juice
½ cup full fat coconut milk
½ cup + 1-3 tbsp water
1 banana, finely sliced
1 tbsp olive oil
1 tbsp oil for frying (I used sunflower oil)
TOPPINGS
pomegranate seeds
chopped hazelnuts
METHOD
In a mixing bowl, combine flour, salt, baking soda and baking powder.
In another bowl, combine all wet ingredients: coconut milk, ½ cup water, maple syrup, lemon juice and 1 tbsp of olive oil.
Pour wet ingredients into dry ingredients stirring until you get a homogeneous mixture, but do not over mix. Add more water (1-3 tbsp) as needed – depends on how thick your coconut milk was.
Heat up a frying pan on the stove, brush the pan with a bit of oil using a silicone pastry brush (you can also use an oil spray).
Ladle a tablespoon of the pancake mix onto a greased pan and with a back of a spoon shape it into a rough circle. Place banana slices in the batter and push them in gently with your fingers.
Once small bubbles start to appear in the pancakes, flip them gently. Fry for another minute or so (until nicely browned on both sides) and serve. Keep cooked pancakes warm in a 100° C oven while making the rest.
NOTES
*You can use wholemeal flour instead.