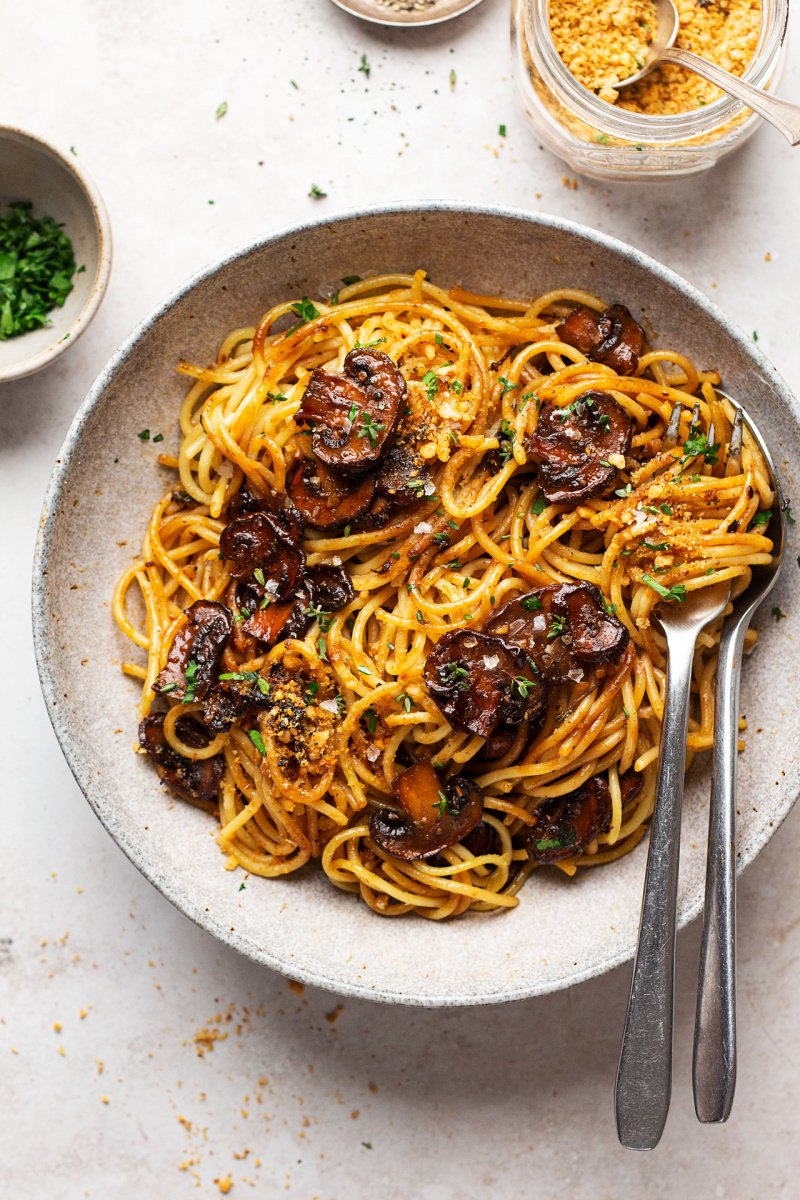 Hello from the land of the living. It has taken me almost a week to recover from a nasty cold, but I am finally out of bed and so happy to be out! I am not feeling well enough to resume running yet – in fact, running with a scratchy throat is what precipitated my illness, I am pretty sure. As soon as I returned home from my run, I was horrified to see my eyes shine like two high voltage bulbs back at me in the mirror…So I am sitting tight until I feel 100% well. I will ease myself in with some gentle yoga until I feel ready for a high energy workout. Hopefully next weekend!
I was especially gutted to be sick last weekend as Duncan and I had a beginner Lindy Hop course booked and we had been looking forward to it so much. Duncan went by himself and had an amazing time. He learned a bit of Lindy Hop as a twenty year old but wasn't that into it at the time. This time he loved it and and he seems to be quite good at it already given he has only had about 8 hours' tuition. He showed me the basic steps and I have been practising a little, with the cat looking on, alarmed. The Lindy Hop beginner's playlist has been playing in our house since Saturday and I am absolutely set on being well for the next beginner course.
When I was ill I was looking forward to cooking some comfort food, so today's recipe is all about comfort. I don't know about you but for me pasta is one of those dishes I gravitate towards when I want something simple, filling and satisfying. It's the best thing ever. When the idea first occurred to me, I made this balsamic mushroom pasta completely in a frying pan (so you can if your oven is broken or it's too warm to put it on – hello Oz readers!!), but later decided to try baking the mushrooms instead.
My conclusion is that getting them done in an oven is much nicer and also hands off, meaning you can practise 'rock step, triple step, triple step' (or something else if you are not into that 😉 ) while half of your dinner is taking care of itself. Then all you need to do is cook some pasta and make a super quick sauce to coat your pasta in. It takes no time at all and the result is really delicious. Duncan was a massive fan of this one and I hope you will be too.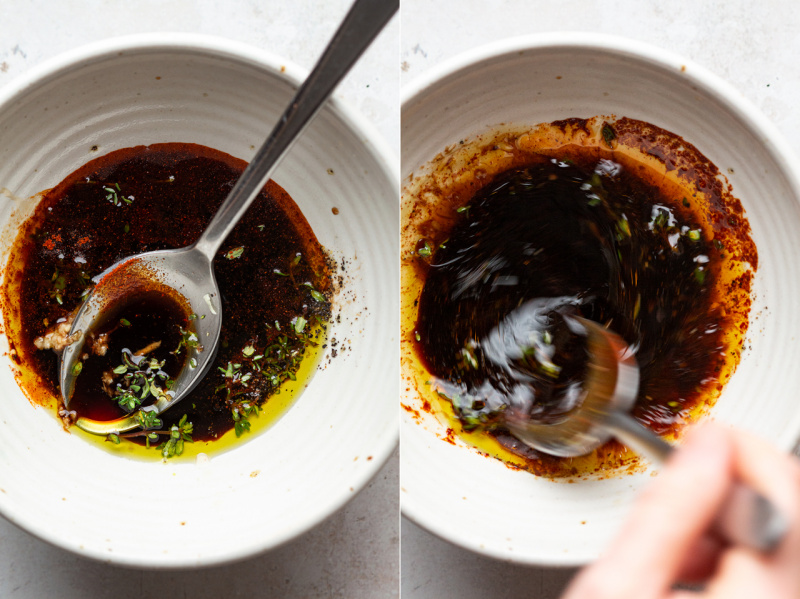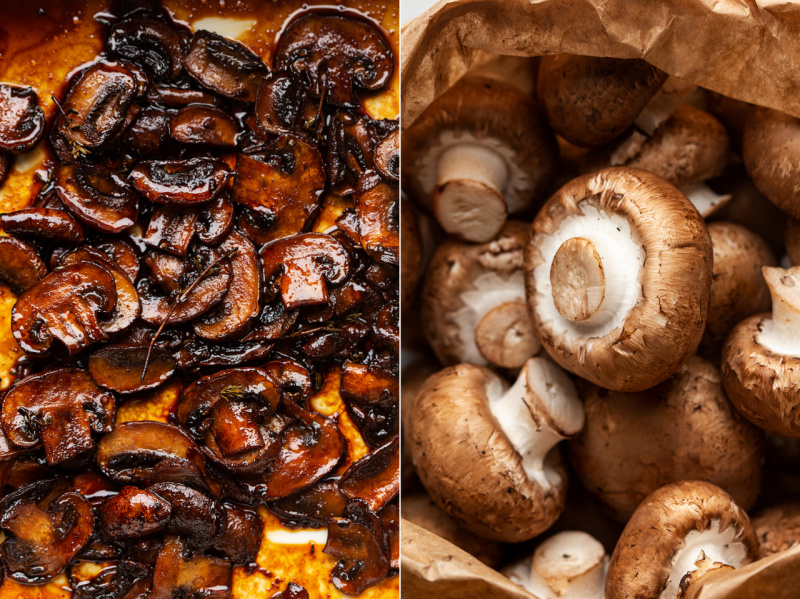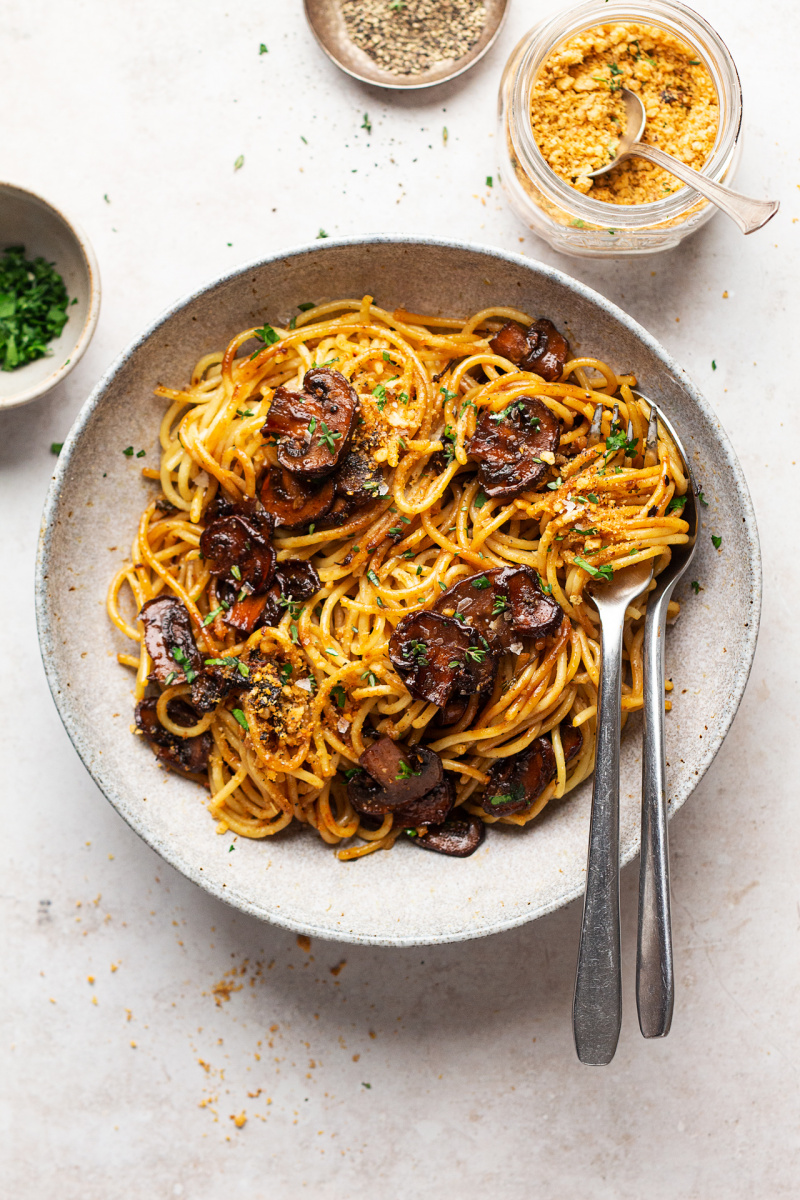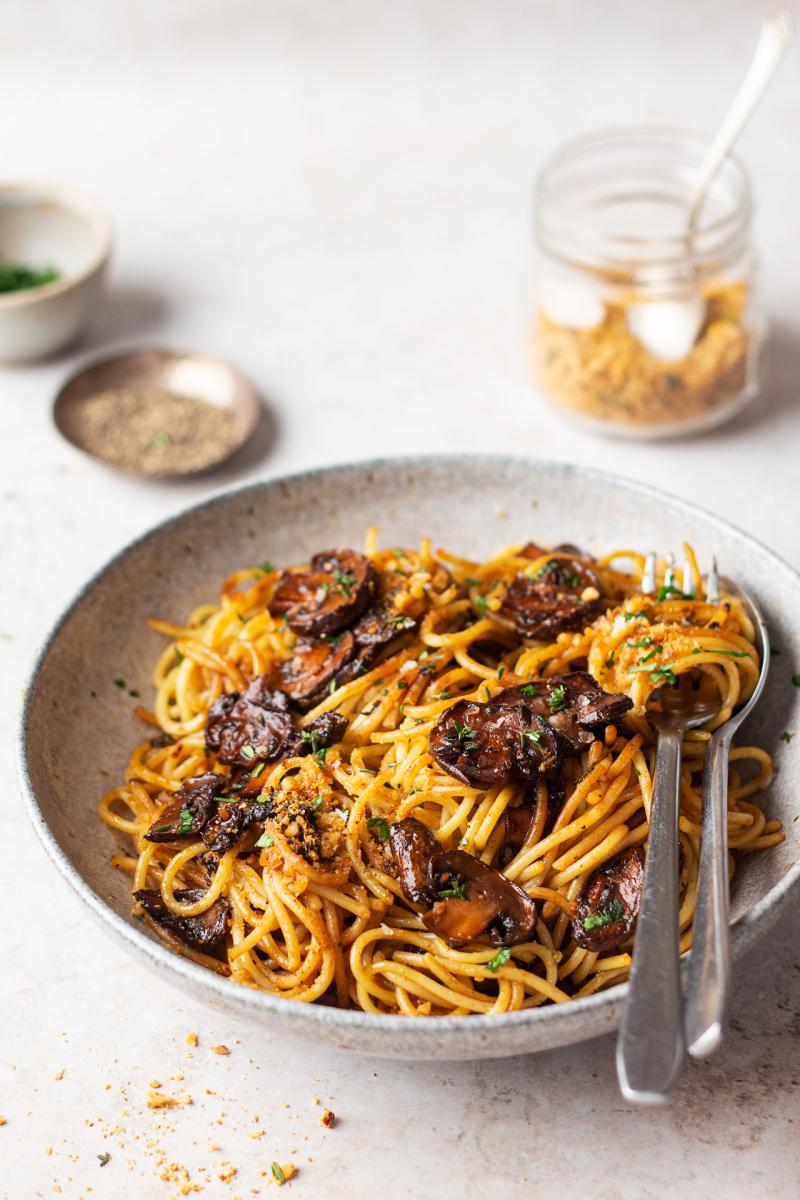 350 g / 12.5 oz chestnut mushrooms, cut into 7 mm / 0.25″ slices
45 ml / 3 tbsp olive oil, divided
approx. 45 ml / 3 tbsp quality balsamic vinegar*
1 tsp maple syrup
3 garlic cloves, 2 finely diced, 1 grated
a few springs of fresh thyme or ½ tsp dry thyme
½ tsp smoked sweet paprika, plus more to serve
freshly ground black pepper, to taste
3-4 tsp soy sauce or tamari (I used all purpose and mushroom soy sauce) or salt, to taste
200 g / 7 oz spaghetti (GF if needed)
2 tbsp nutritional yeast
toasted walnuts, chopped, or walnut crumb, to serve (optional)
METHOD
Warm up the oven to 220° C / 425° F (if using fan setting, decrease the temp by 200° C / 390° F) and grab a lasagne-size baking dish. You can use a baking tray, but not one that gets misshapen in high heat or else all the juices will run to one corner and burn (I know from experience 😛 ).
Place sliced mushrooms in the baking dish and put into the oven for about 10 minutes – until the mushrooms release their natural juices and most of these juices evaporate.
While the mushrooms are baking, put 1 tbsp of olive oil, approximately 3 tbsp balsamic vinegar, 1 tsp maple syrup, a grated garlic clove, fresh or dry thyme, ½ tsp smoked paprika, soy sauce (or salt) and pepper in a small bowl. Mix well and set aside.
Stir balsamic marinade through partially-cooked mushrooms and return the dish into the oven for another 10-15 minutes, giving them a stir halfway through. When done, the mushrooms should be fully cooked and there should be a little bit of thickened marinade still left in the dish.
Cook pasta short of al dente, drain reserving about 60 ml / ¼ cup of pasta cooking water.
Heat up a large frying pan on a low heat. Once hot, add oil and allow it to warm up before adding 2 finely chopped garlic cloves.
Sauté the garlic on a low-medium heat, until fragrant but do not let it brown. Stir the entire time.
Add approx. 2 tbsp pasta cooking water and nutritional yeast. Stir well to emulsify, season with a generous amount of salt and pepper.
Toss the pasta in the 'cheesy' sauce quickly. Then add baked mushrooms to the pan, together with all the pan juices – I like to use 1 tbsp of pasta water to deglaze the baking dish to capture all of the delicious flavours. Mix well.
Adjust the seasoning and sprinkle with a dash of smoked paprika, if you like.
Divide between two plates. Sprinkle with toasted walnuts (or walnut crumb) and fresh thyme leaves.
NOTES
*The exact amount of balsamic vinegar depends on the quality of it. I tested regular supermarket vinegar (25% of grape must), which needed about 3½-4 tbsp as well as a fairly expensive one (65% of grape must) and its flavour was noticeably more intense so I only needed about 2 tbsp. I reckon 3 tbsp is probably a happy medium, but please adjust to taste (remembering that the flavour will be more mellow after baking!).