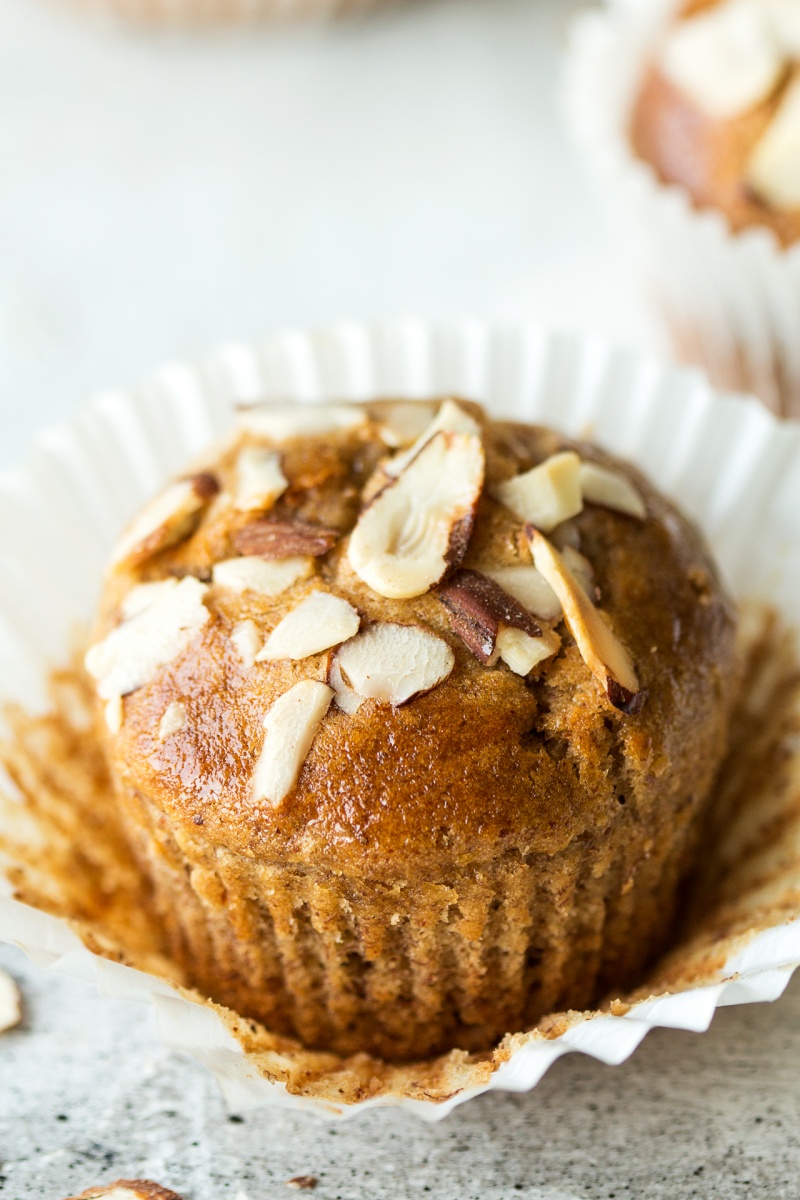 Even though vegan banana bread muffins are the last thing I would like to make right now, as we are currently in the middle of a mini heatwave, in Crete, I'm really happy with this 'emergency' recipe and I stand by it. Our current go-tos are fruit and veg salads, espresso freddos and an occasional summer vegetable pasta, as this relentless heat decimates your appetite completely. Luckily, there is plenty of sea to cool yourself in…
When I came up with these muffins, my reality could not be any more different. I was sitting in a cold house in Bristol where the summer has been dragging its feet so much that we've had to put our heating on for a couple of evenings (at the end of May) and these seemed perfect!
They are quick to make – they only use 6 ingredients and no equipment other than a bowl and a fork – as they were unashamedly borne out of one of my 'I really want something sweet' urges that I try to fight daily. Hence I'm referring to them as 'emergency' muffins.
They started their life as giant cookies (and later morphed into muffins), which I decided to come up with when I succeeded at not buying any chocolate, but not at giving a home engineered sugar hit a miss, sadly.
I excuse myself by saying it's the time of the month, but if that's not an addiction I don't know what is…The only line of defence I have is that these quick and dirty muffins are fairly healthy as they use no oil or refined sugar, so even if you are watching what you eat, you can easily get away with having one, for sure.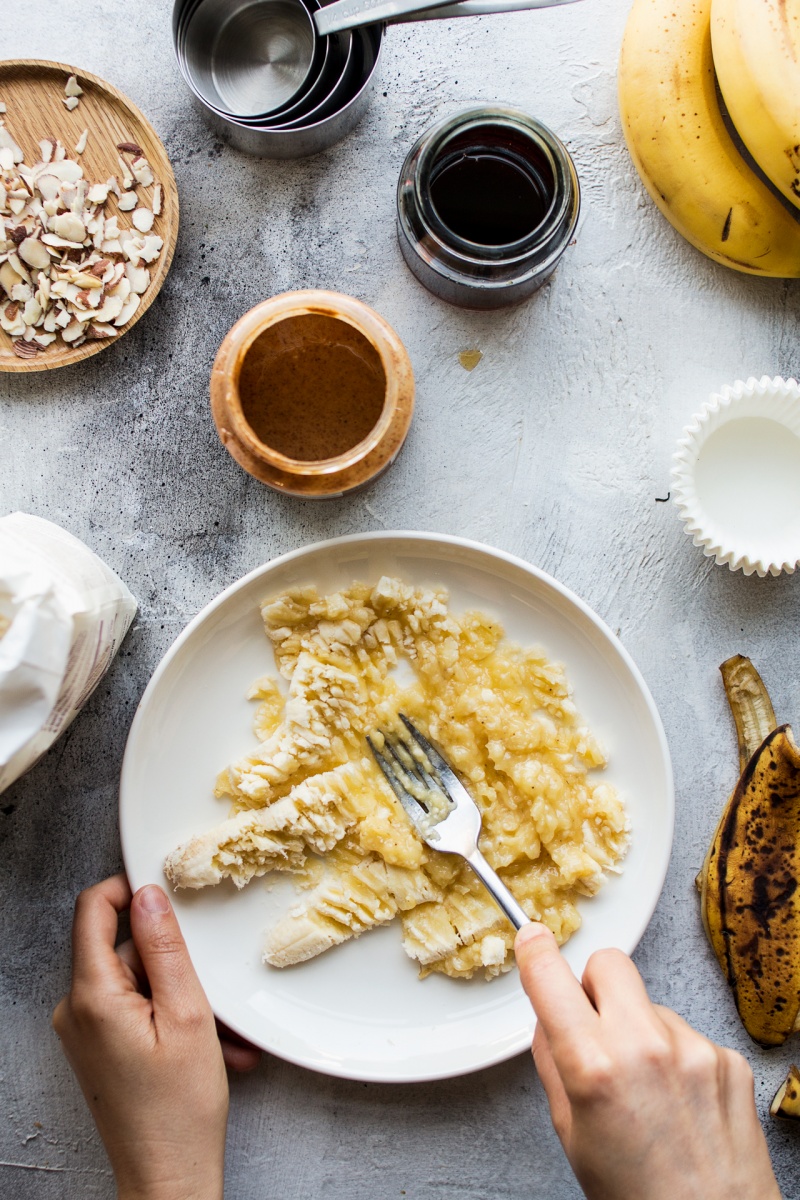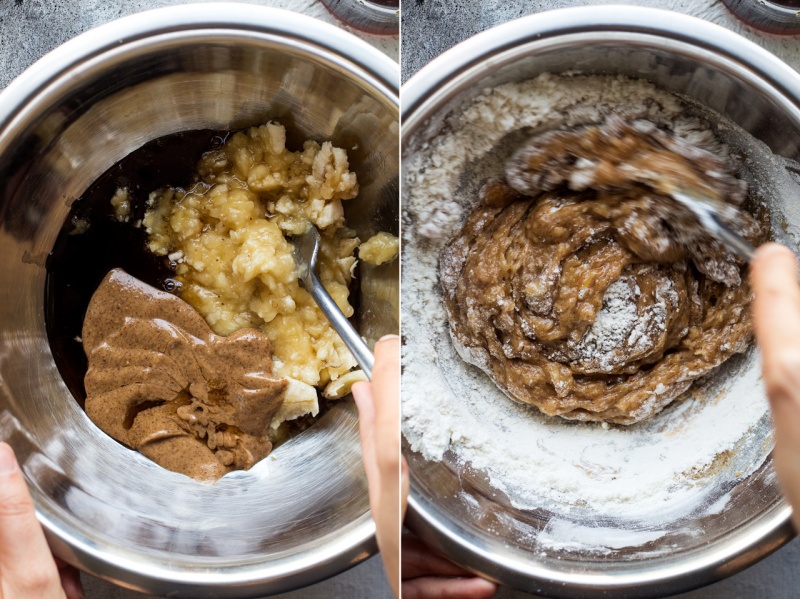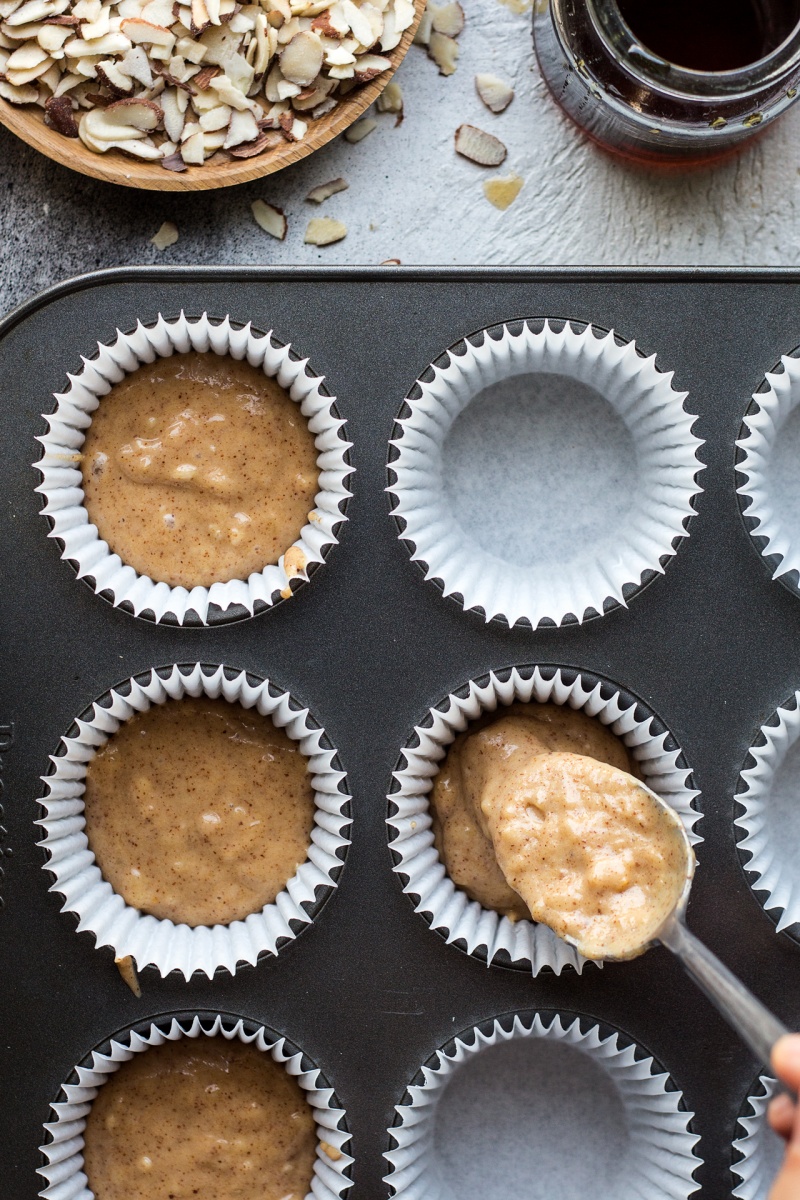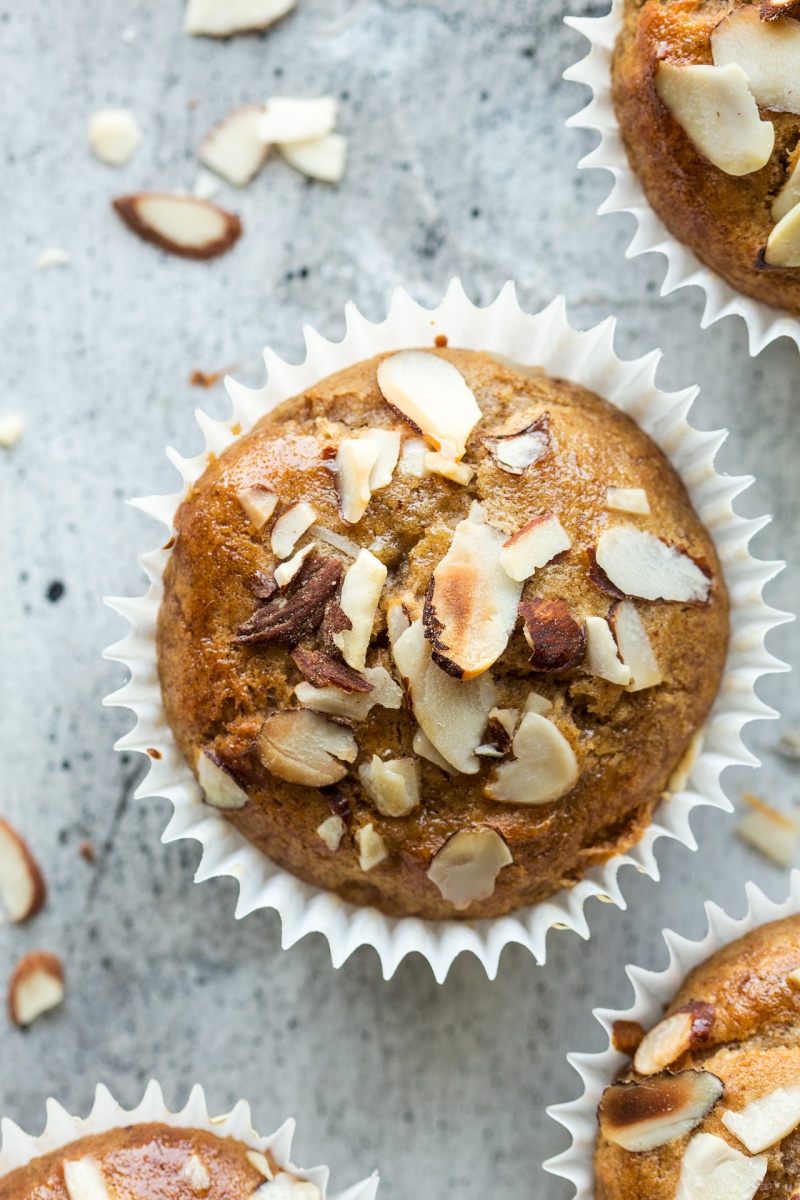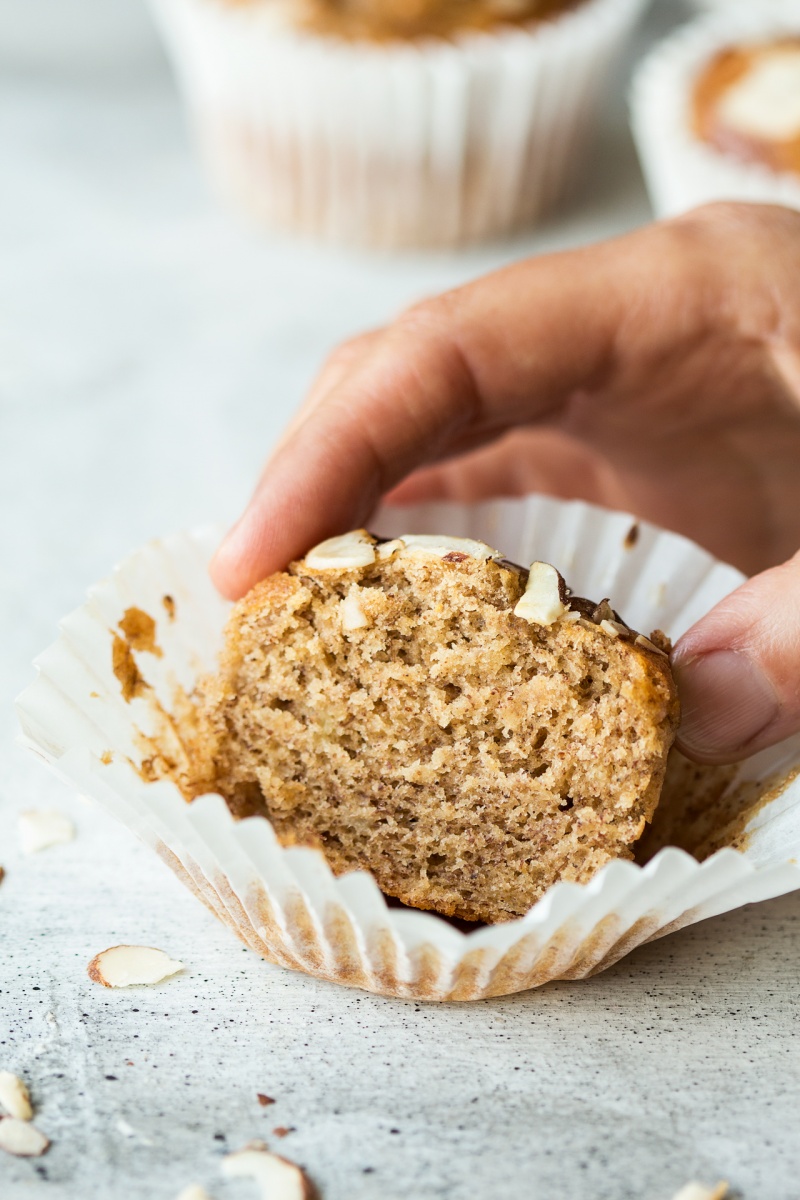 WET INGREDIENTS
DRY INGREDIENTS
EXTRAS
slivered almonds, to decorate (optional)
METHOD
Warm up the oven to 180° C / 355° F and line a muffin tray with paper muffin cases (or grease them with a bit of oil). Move the oven rack a notch down from the middle position.
Mash both bananas with a fork, mash one rather finely and leave the other one a little more chunky.
Combine the mashed up bananas with maple syrup and nut batter in a medium-size bowl. Mix very well.
Add the dry ingredients and mix them well until there is no dry flour left, but do not overmix (that's only important if you are using a flour containing gluten).
Transfer the cake batter into the prepared muffin tray. Decorate the tops with slivered almonds (if using).
Bake until a toothpick comes out fairy clean, about 22 minutes. Remove the muffins from the oven and allow them to cool down COMPLETELY before eating.
NOTES
*These are the three flours I have tried and they all yielded a very nice end-result. If you are gluten-free and want to use buckwheat flour, please ensure you use a brand that has been certified as gluten-free as otherwise there may be traces of gluten in it due to factory cross-contamination.
*BANANAS: it's a scant 1 cup mashed banana (1 cup mashed bananas = 225 g). This recipe was created using fresh, ripe bananas. If using bananas that had been frozen and thawed, be aware that they contain more moisture so you'll need to bake them for longer (one reader reported having to extend baking time by 10 minutes).
This recipe only makes 6 muffins, if you like the challenge of having an entire tray of them around you, simply double all the ingredients.