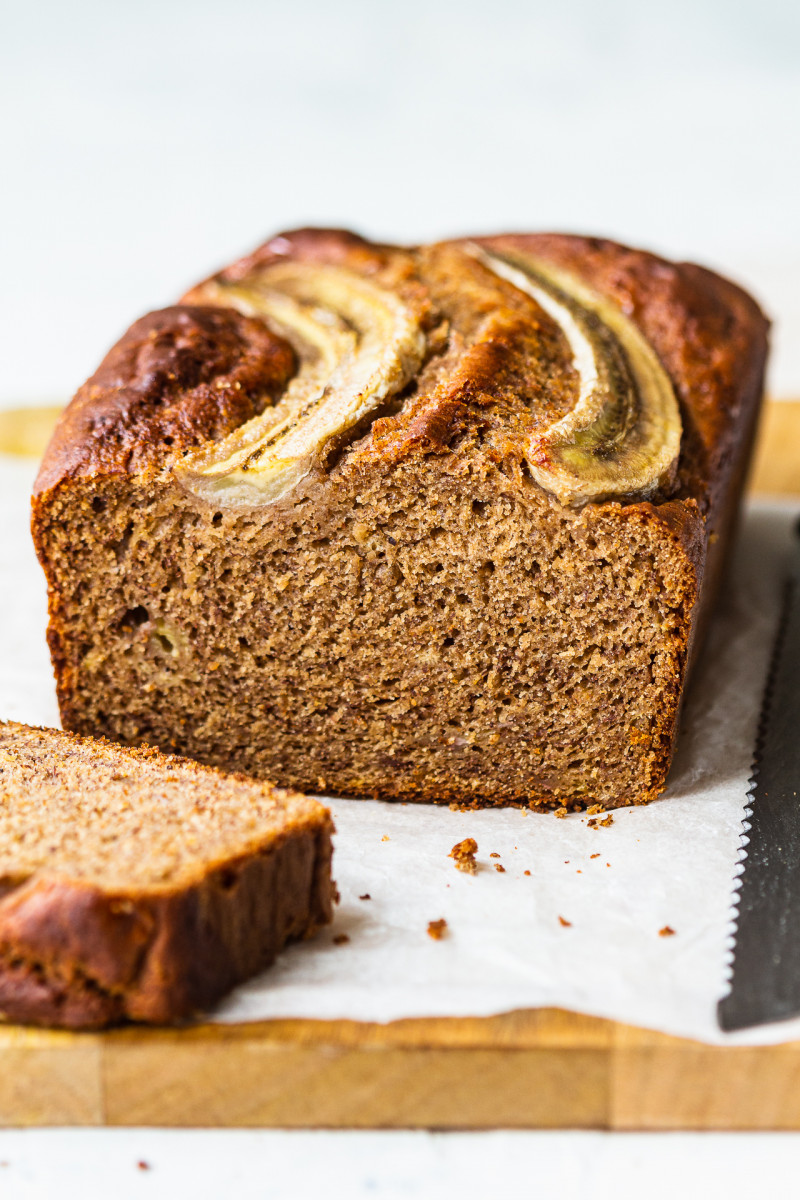 It's been a difficult week, I won't lie. I've injured my lower back quite badly and it took days of stretching and foam rolling until I wasn't in agony with every move. I'm still a bit tender! Back pain is the worst. Because of that, I've had to can the recipe I planned to shoot for today and bring out a backup recipe I prepared a while back. It's a crowd pleaser so I am sure you will enjoy it no matter the weather.
It's a simple and healthier take on banana bread that's easy to make, moist and has just the right level of sweetness. It's made simply, with plenty of ripe bananas, some maple syrup for extra sweetness and a glug of almond butter for nuttiness (which happens to be a healthy, wholefood fat source). You can make it with either plain flour, spelt flour or a good gluten-free flour mix too. Apart from a few cupboard staples, it only needs four key ingredients and it comes together really quickly, in a single mixing bowl.
It's a perfect thing to take on a long walk, as an afternoon snack to school or work or to nourish you while you are being active – apparently, it's been a big hit with Duncan and his kayaking buddies. I hope you'll enjoy it just as much.
MORE ABOUT THE INGREDIENTS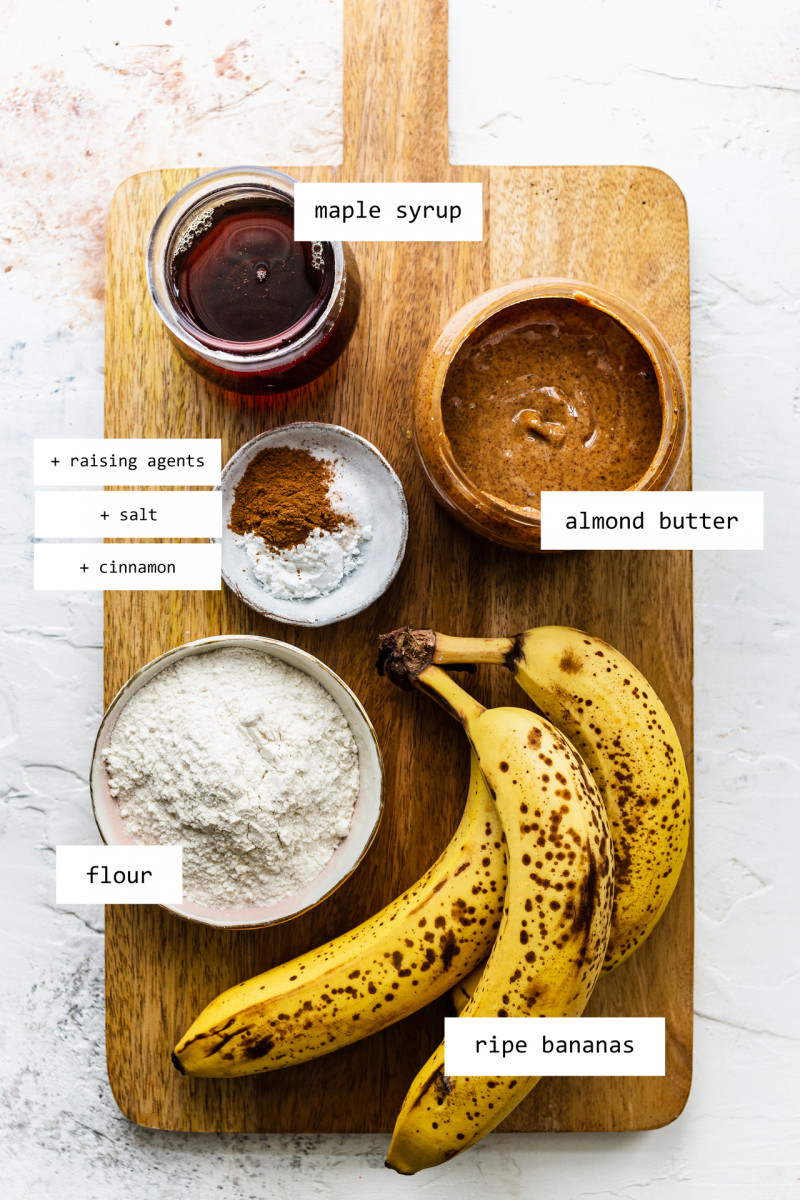 BANANAS: Perfectly ripe, spotty bananas make for a sweet and moist banana bread. If you are lucky, your greengrocers may be selling ripe bananas at half price or giving them away for free when they are in this state as many people do not appreciate the preciousness of a perfectly ripe banana. If that's the case, pounce – take as many as you can 😉 . And while I am pretty sure this recipe will work with frozen (and defrosted) bananas, they tend be wetter so you may need to extend the baking time a bit.
MAPLE SYRUP: I use maple syrup as that's what I have but any other neutral tasting sweetener will work, agave syrup or brown rice syrup would be my suggestions. You could also use shop-bought or homemade date syrup.
ALMOND BUTTER: I like almond butter here. Peanut butter also works, but I find that its flavour tends to dominate, so stick to almond butter unless you are a peanut butter fan. If you are allergic to nuts, tahini or sunflower seed butter will work. The key thing is for the butter to be drippy (i.e. to have some fat in it, not just solids).
FLOUR: All purpose white flour, spelt flour and GF flour mix work well. I tested a popular gluten-free flour mix (Dove's Farm) but other flour mixes that contain a good dose of starches should work just as well.
RAISING AGENTS: A combination of baking soda and baking powder gives this banana bread just the right amount of lift. A dash of lemon or lime juice will help with the leavening so do use it if you have any citrus to hand.
CINNAMON: An optional addition that makes everything (well, almost everything) taste better! Use if you like, skip if you don't.
SALT: A true cupboard staple that most cakes and desserts benefit from.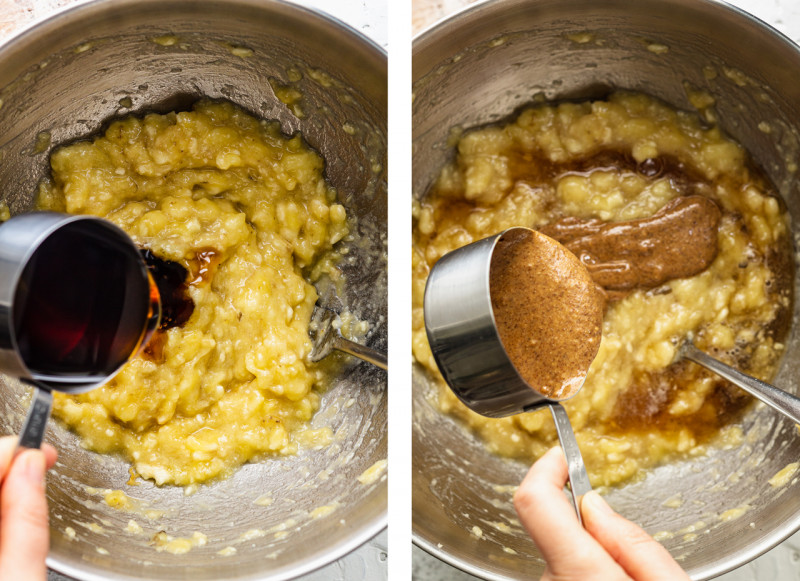 The process could not be simpler! In a single mixing bowl, mash bananas really well, add maple syrup and almond butter. Optionally, add a dash of lemon or lime juice to help with leavening.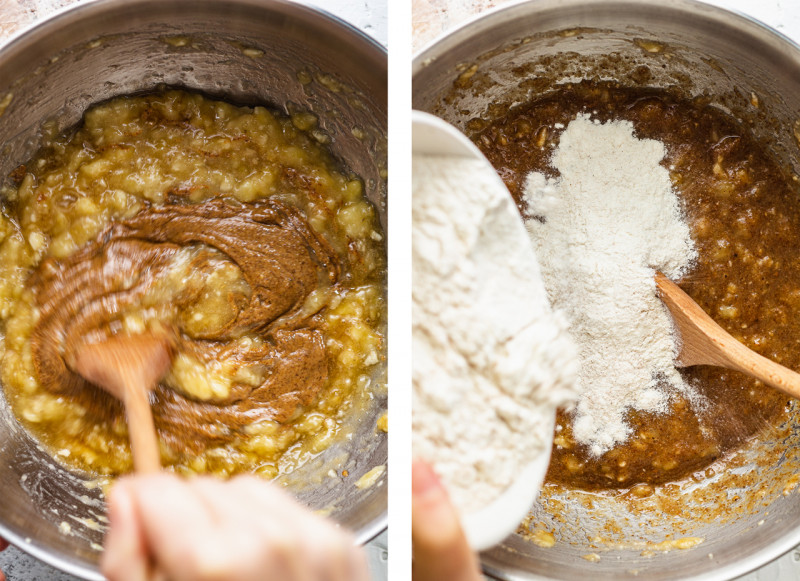 Mix wet ingredients really well. Slowly fold in all of the dry ingredients in two to three batches. I like to sift them in for an improved crumb but you don't have to if you are less fussy than I am.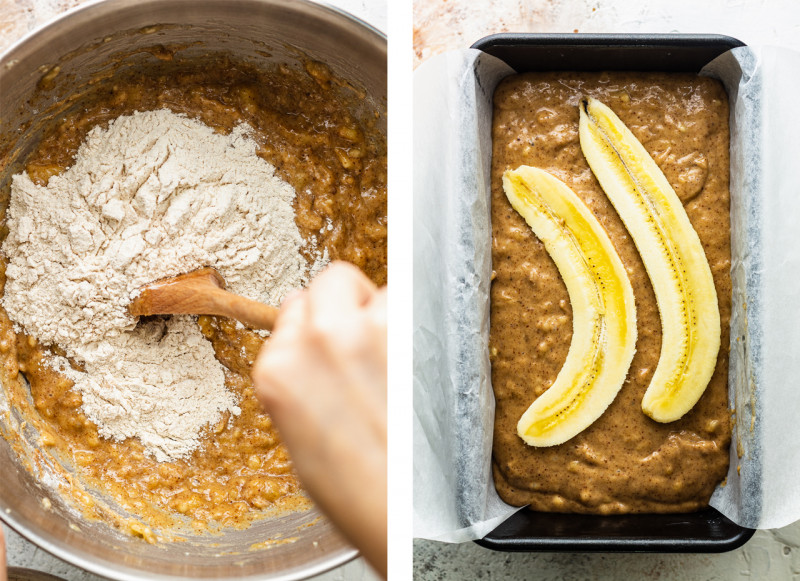 Transfer the batter to a lined baking tin and decorate with an extra banana sliced in half. Bake, cool, enjoy.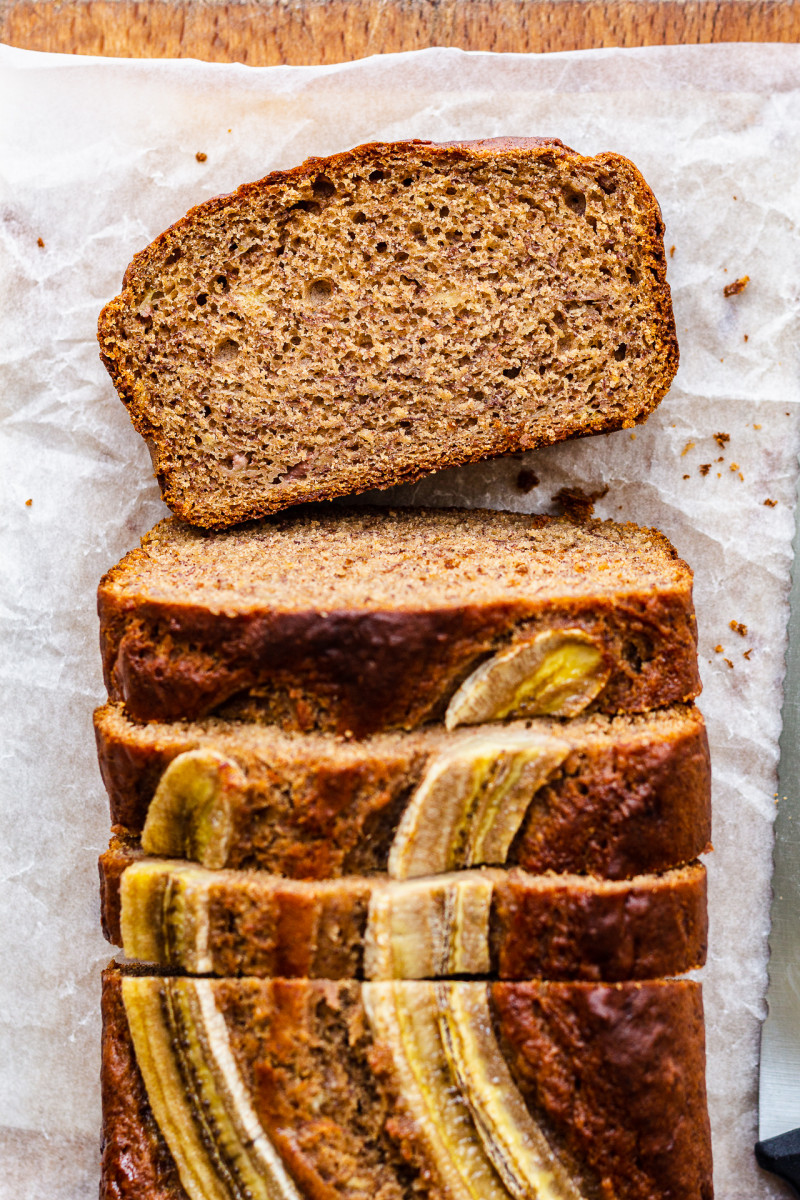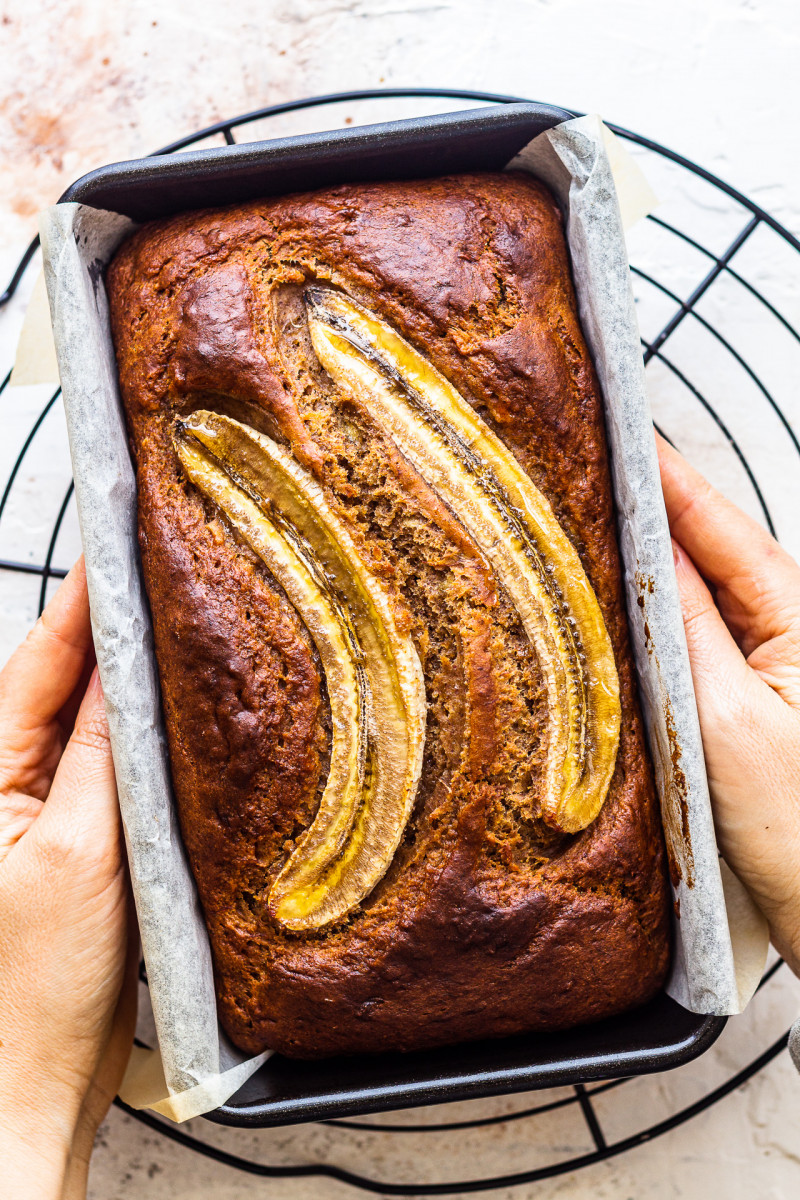 WET INGREDIENTS
400 g / 14 oz (about 1¾ cups mashed up) peeled ripe bananas* + extra to decorate
120 ml / ½ cup maple syrup or other liquid sweetener
120 g / ½ cup drippy almond butter*
5 ml / 1 tsp lemon / lime juice, optional
DRY INGREDIENTS
200 g / 7 oz (scant 1¾ cups) all purpose wheat flour, spelt flour or GF flour mix (I use this one)
1½ tsp baking powder
¾ tsp baking soda
½ tsp sea salt
1½ tsp cinnamon, optional
METHOD
Heat up the oven to 170° C / 340° F (regular, no fan setting) and line a 900 g / 2 lb bread tin* with baking paper. Move the oven rack a notch down from the middle position.
Combine mashed up bananas with maple syrup and nut butter in a large bowl. Mix very well.
Place a sieve over the bowl with wet ingredients and sift in flour, both baking agents, salt and cinnamon, in 2-3 batches.
Fold each batch of the dry ingredients into the wet ones slowly and gently making small circles in the middle of the batter, progressively incorporate more and more of the dry ingredients – this way, you won't have a lumpy batter.
Transfer the cake batter into the prepared baking tin. It should be fairly pourable. Decorate with another banana, cut in half.
Bake for about 45 minutes, or until a toothpick comes out fairly (this cake should be moist) clean.
Remove from the oven and allow it to cool down completely (warm cake will seem underbaked!) before removing it from the tin and slicing. Use a serrated knife to slice if you have one – I find that it produces neater looking slices.
NOTES
*BANANAS: 400 g / 14 oz peeled bananas is approximately 4 medium-large bananas, plus you may want to purchase one extra for decorating. Please do weigh your bananas once peeled, don't just eye ball them – baking IS science 😉
*ALMOND BUTTER: You can use peanut butter too but it's flavour comes through more so be aware of that. If you are allergic to nuts, tahini or sunflower seed butter are good alternatives.
*BAKING TIN SIZE: I used a 2 lb / 900 g cake tin of the following dimensions: 18.5cm x 8cm x 6cm, which holds 8 cups / 2 L liquid (to the brim), but the batter should fill no more than 2/3 – 3/4 of the 2lb cake tin or else the cake may not raise.
NUTRITIONAL INFO
*per 1 out of 18 servings