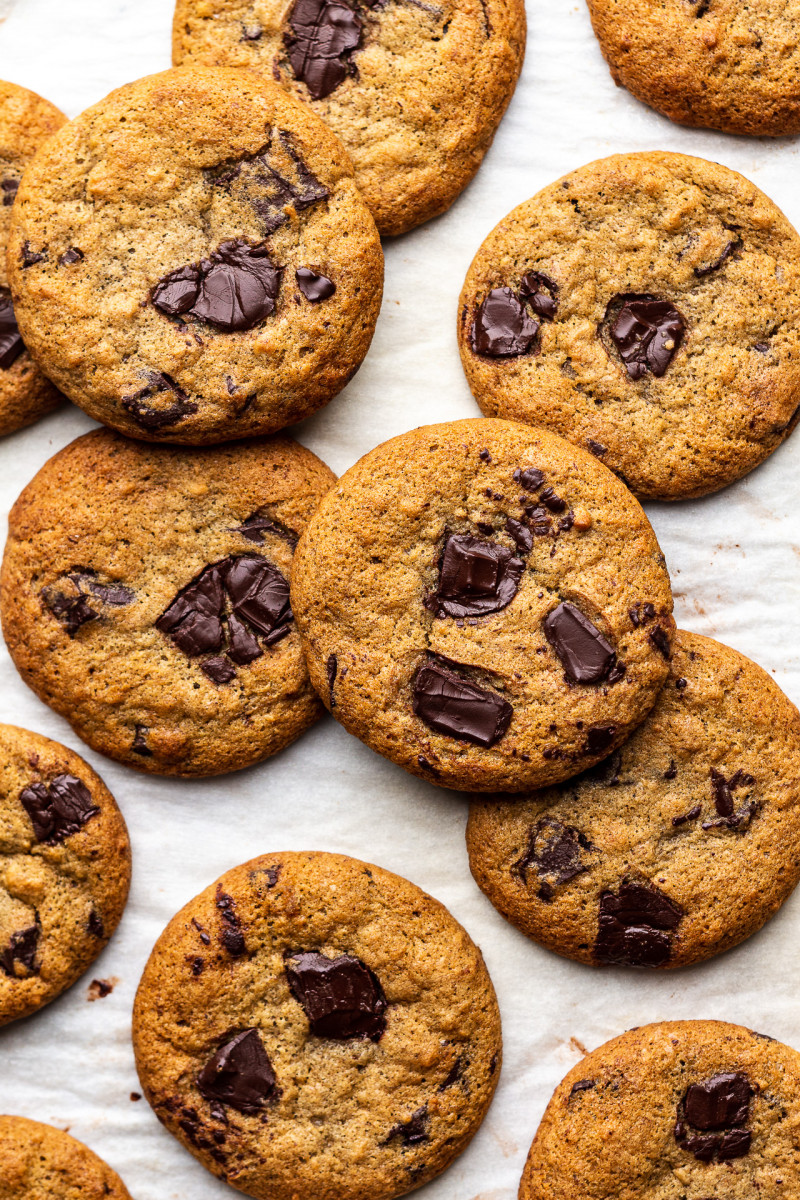 I have to confess, I have bit of a banana hoarding habit. When I see bunches of bananas, my mind immediately translates them into what they could be – moist cakes, muffins and pancakes and before I know it I have yet another bunch of bananas in my basket, ready to join the growing banana family at home! Don't worry, they never go to waste, I always find a delicious use for them.
Before I went away, I made several versions of these addictive banana chocolate chip cookies and after a few meh attempts, I finally struck gold. They are easy to make and do not require any special ingredients or egg replacers at all. The only tricky bit is having to chill the dough overnight. I know it's hard, but the cookies are so much better for it, trust me. I've tried skipping this step and the outcome was nowhere near as nice.
MORE ABOUT THE INGREDIENTS
BANANAS: Ripe bananas are integral to this recipe so be sure you have some on hand. They flavour the cookies, but also act as an egg replacer, giving them a moist, chewy texture.
SUGAR: I tried a few combinations, but ultimately a combination of caster (also known as castor or superfine) sugar and light brown sugar (known as light muscovado in the UK) gave me the best result so that is what I recommend. If you want to use something else, experiment at your own peril 😉 .
FAT: I recommend using a good vegan block (I like Naturli best) in these, but you can also use coconut oil if you wish. Just be aware that coconut goes rock solid in the fridge, so you'll need to warm the dough on the counter again after chilling.
FLOUR: Plain flour is all you need. If you want them gluten-free a tried and tested gluten-free flour mix that you normally use for cookies should work just as well.
CHOCOLATE: Dark (vegan) chocolate, chopped up small is what I used but if you can find chocolate chips you like, use those instead. Resist the temptation to overload these with chocolate though as once it melts it does make them a little more fragile. I used a total of 80 g (2¾ oz) and only three fourths of it in the dough.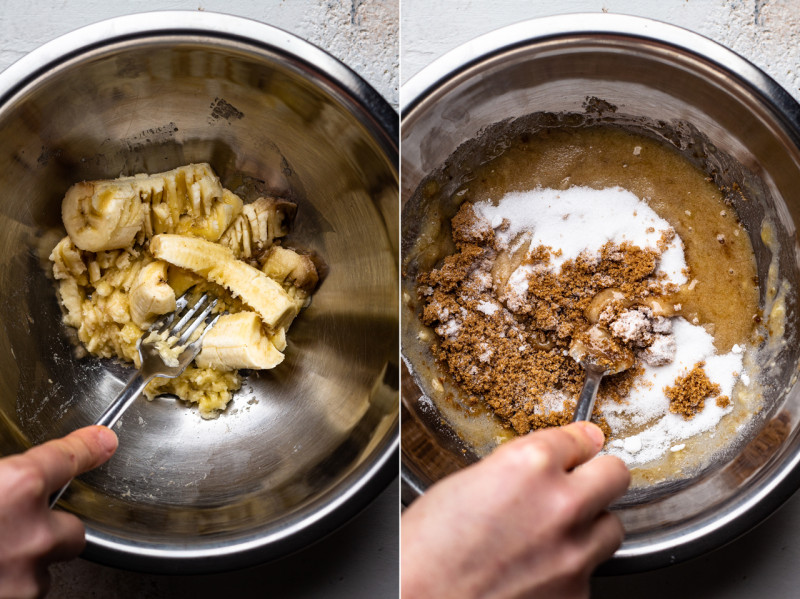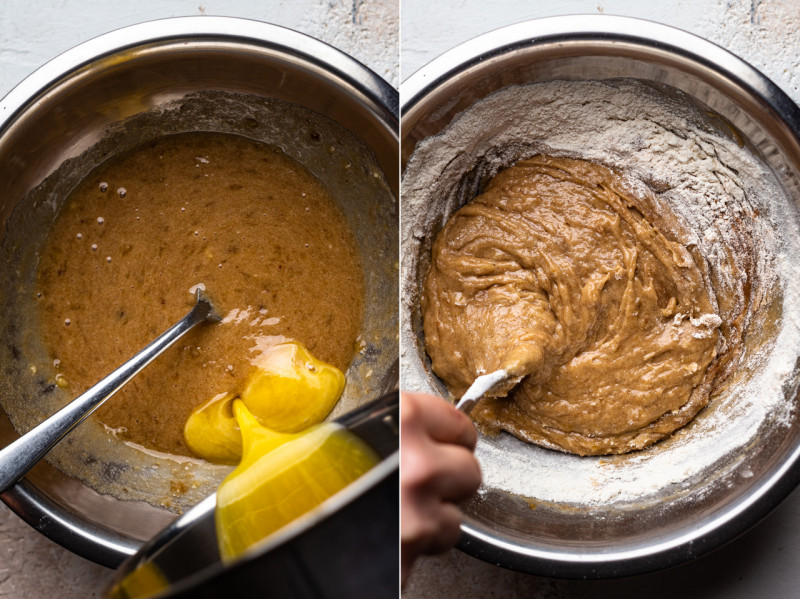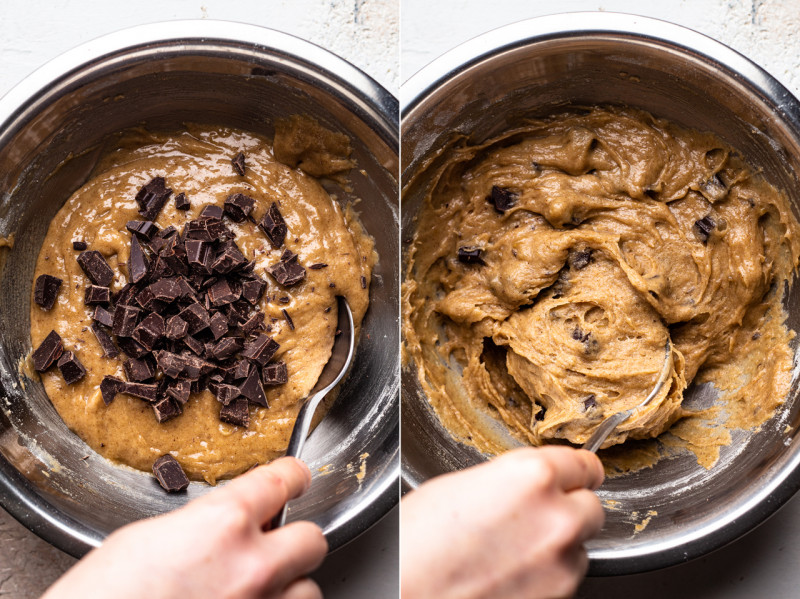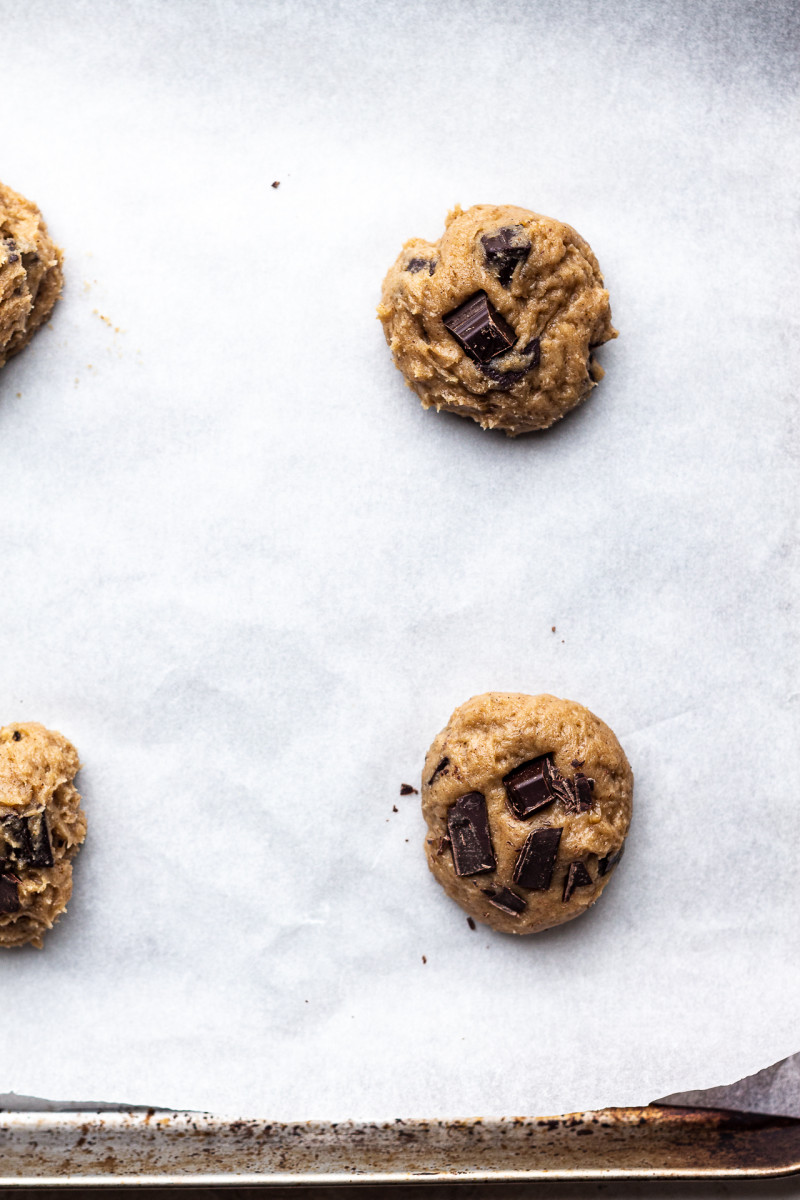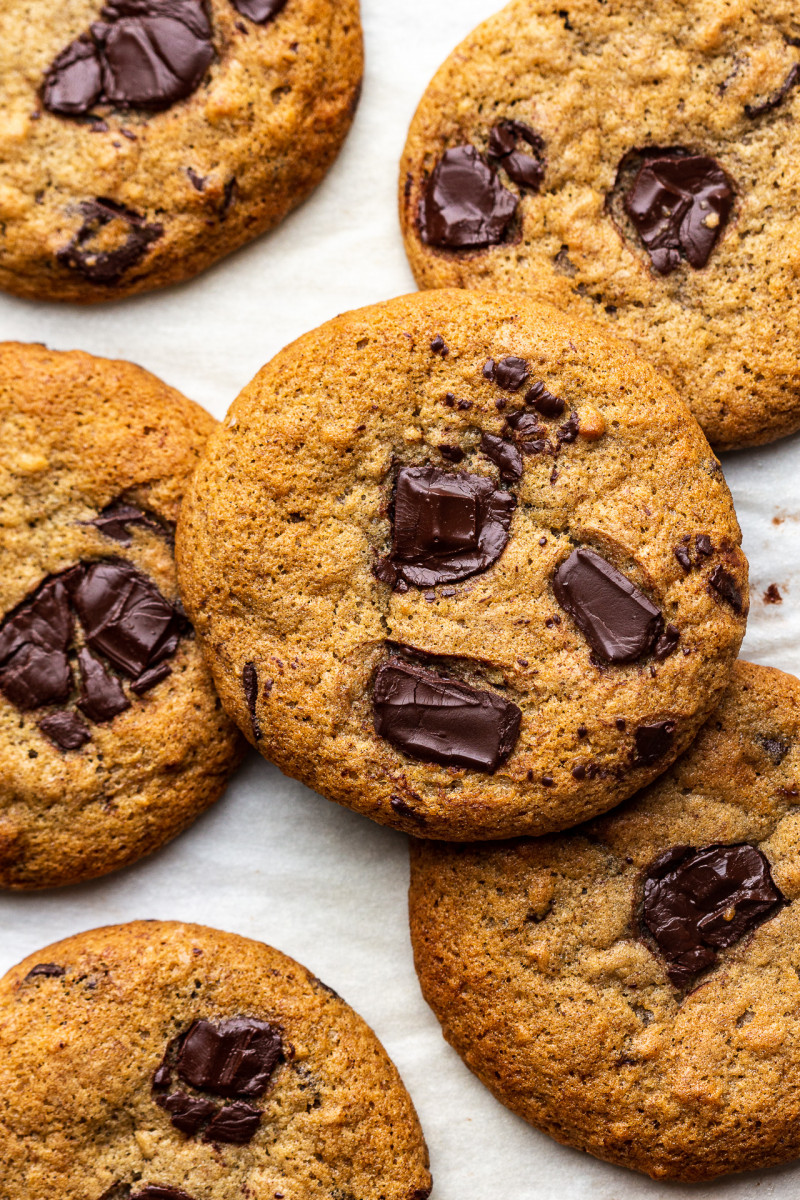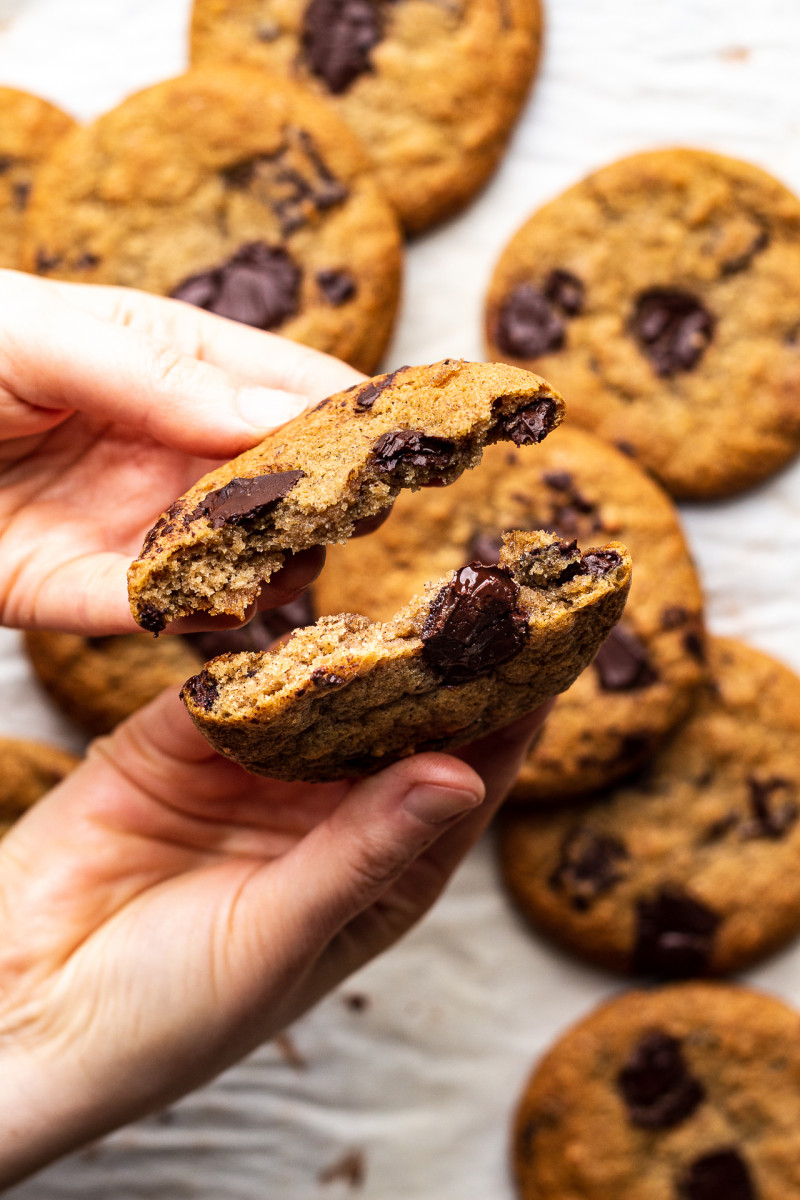 120 g / ½ cup mashed ripe banana (1 medium)
150 g / ¾ cup sugar*
70 g / 1/3 cup vegan block* (I like Naturli best), melted and cooled
1½ tsp quality vanilla extract
¼ tsp fine salt
1 tsp cinnamon
½ tsp baking soda (GF certified if needed)
160 g / 1¼ cups plain AP flour or GF flour mix
80 g / 2¾ oz vegan chocolate*, chopped into small chunks
METHOD
Mash banana really well with a fork.
Using the fork, work the sugar into the mashed banana until well combined.
Add in melted, but cooled, vegan butter. Whisk well with a fork to emulsify.
Add in vanilla extract, salt, cinnamon and baking soda. Give everything a stir.
Gradually add in flour and gently incorporate it into the wet ingredients (until no flour pockets remain) with a spatula.
Finally fold in ¾ (60 g / 2¼ oz) of chopped chocolate into the batter (adding too much stops the cookies from spreading and renders them more fragile) and save the rest to decorate just before baking.
Cover the mixing bowl with an upside down plate or a piece of clingfilm. Refrigerate the dough overnight (this step improves the texture of these cookies immensely).
Line two baking trays with baking paper and preheat the oven to 175° C / 350° F.
Divide the dough into 12 cookies (one cookie weighing approximately 45 g / 1½ oz), roll them between your palms and place 6 on each cookie tray – no need to flatten. Stick an extra 1-3 chocolate chunks into each cookie.
Bake a tray at a time (keep the other one in the fridge) for 10-12 minutes. If you want them extra chewy, you want to underbake them a little (10 minutes). I like mine golden so I baked them for 12!
As soon as the cookies come out of the oven, bang the entire tray against your countertop a few times – this will deflate the cookies and improve their texture.
Leave the cookies on the baking tray (their bottoms are fragile whilst warm) until they are cool enough to handle. Gently transfer them to a cooling rack and allow them to cool down completely. Store in an airtight container for 3 days.
NOTES
*SUGAR – A combination of caster / castor (superfine) white sugar and light muscovado makes for the best, chewy texture. I used 100 g / ½ cup caster sugar and 50 g / ¼ cup of light brown sugar (known as light muscovado in the UK).
*VEGAN BLOCK – You can substitute it with coconut oil if you prefer, but be aware that, as opposed to a vegan block, it goes solid in the fridge so the dough will need to rest at room temperature until you are able to form the cookies.
*CHOCOLATE – Any chocolate is fine but resist the temptation to overload these cookies with chocolate as once it melts it renders them more fragile.