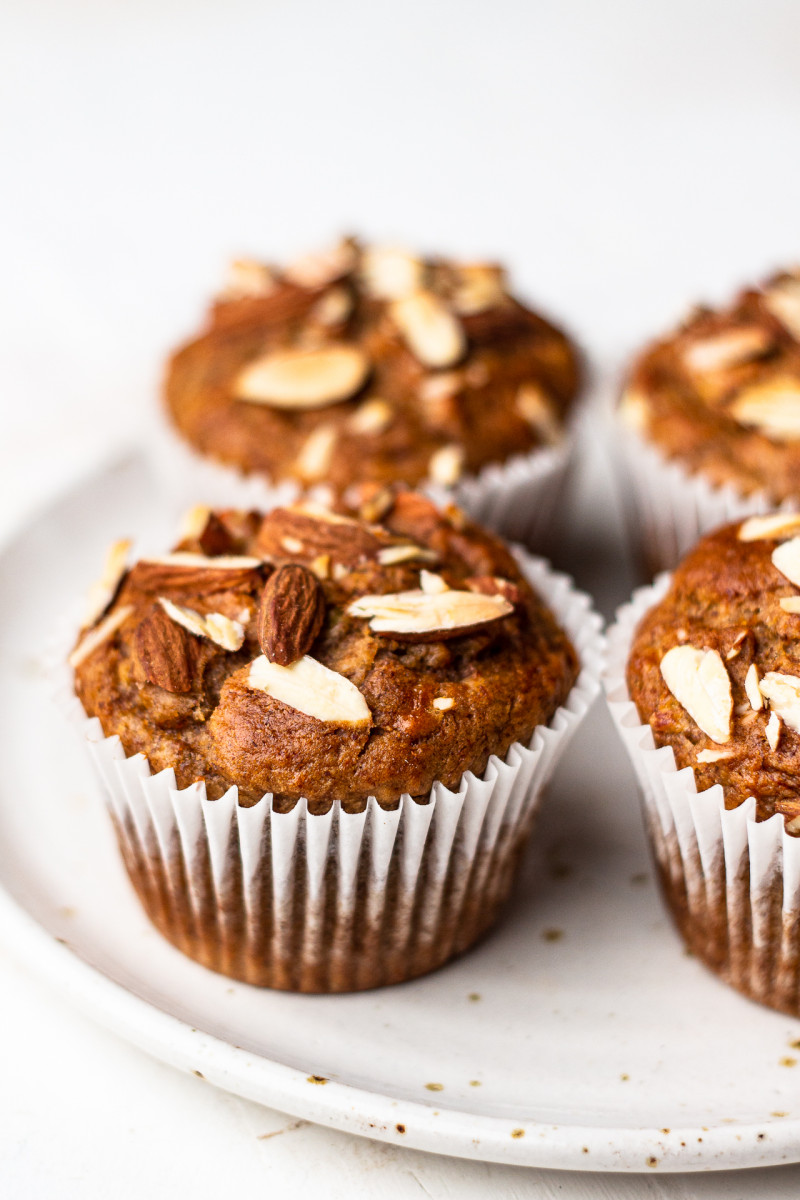 This recipe here is probably my favourite banana muffin recipe I have created so far! I know that's high praise indeed, but hear me out. It is ridiculously easy to make. You can either make it in a bowl, using a fork to turn ripe bananas into mush or you can totally make it in a food processor too! It's so quick. These muffins are perfectly sweet, but not too sweet, contain no vegan butter or oil and are ridiculously light and fluffy! Aaaaamazing! Try it!
This recipe was born out of my experimentation with banana cookies, but halfway through the experiment I realised that while my cookies are not quite the way I wanted them to be, I accidently created awesome banana muffins! Serendipidity or what? This recipe is so simple, only uses 4 key ingredients and there is hardly any process so there is not much to talk you through, but here are a few details about the ingredients and the method (to my madness 😉 )…
MORE ABOUT THE INGREDIENTS
BANANAS: As the recipe name suggests, bananas are a key ingredient here and I am not sure why you would want to use anything else (kidding), but no, they cannot be replaced with any other fruit or veg puree without extensive changes – trust me, I did have a go! The key is using perfectly ripe, spotty bananas and being rather precise about measuring them. When it comes to baking, please use kitchen scales!! If you are lucky, your greengrocer's may be selling ripe bananas at half price or giving them away for free when they are in this state as many people do not appreciate the preciousness of a perfectly ripe banana. If that's the case, pounce – take as much as you can 😉 . And while I am pretty sure this recipe will work with frozen (and defrosted) bananas, they tend be wetter so you may need to extend the baking time a bit.
MAPLE SYRUP: I use maple syrup as that's what I have but any other neutral tasting sweetner will work, agave syrup or brown rice syrup would be my suggestions.
ALMOND BUTTER: I like almond butter in these (PB works well too), but if you cannot have them, any nut or seed butter will work. The key thing is for the butter to be drippy (i.e. to have some fat in it, not just solids).
FLOUR: Both all purpose white flour and GF flour mix work well. I tested a popular gluten-free flour mix (Dove's Farm) but other flour mixes that contain a good dose of starches should work just as well.
RAISING AGENTS: A combination of baking soda and baking powder. Not much to say about these other than their amounts have been carefully calibrated to make these muffins light and fluffy.
SALT: A true cupboard staple that most cakes and desserts benefit from.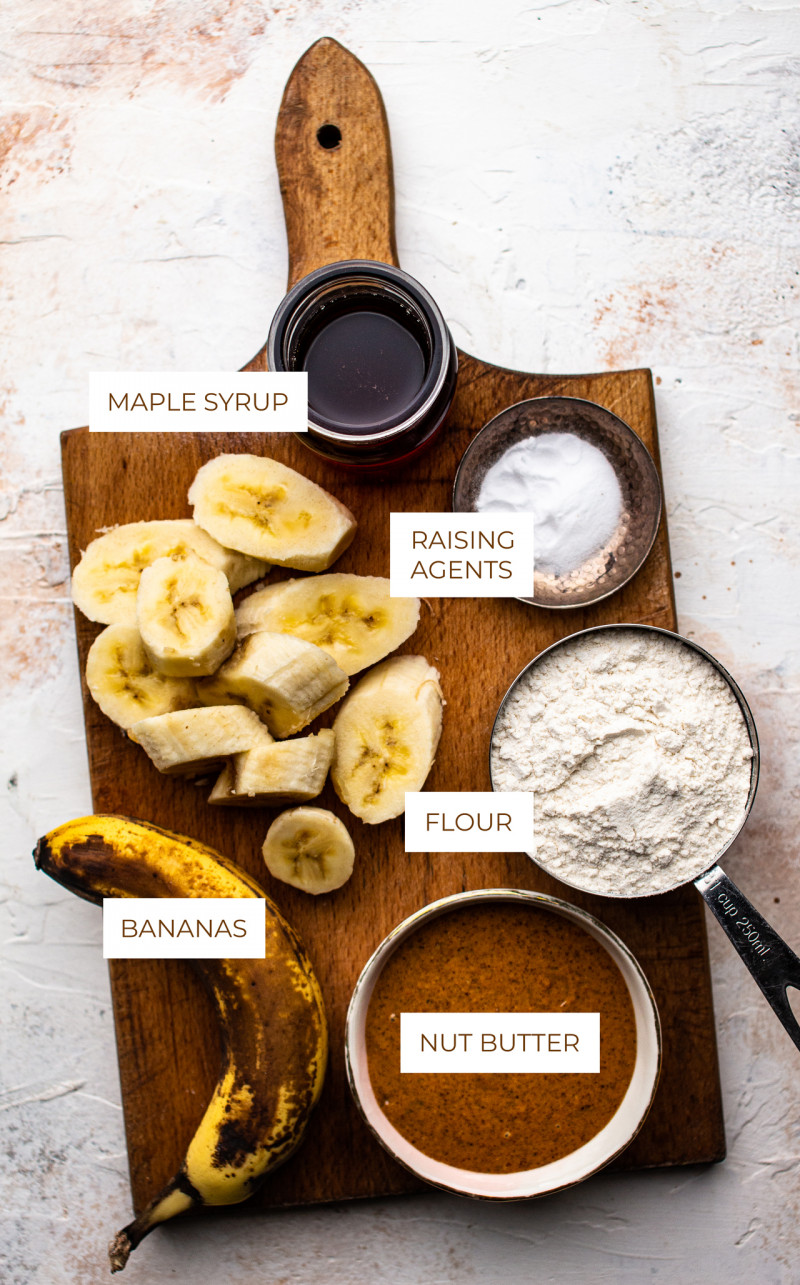 The beauty of this recipe is that it can be made both by hand and in a food processor and both versions are delicious.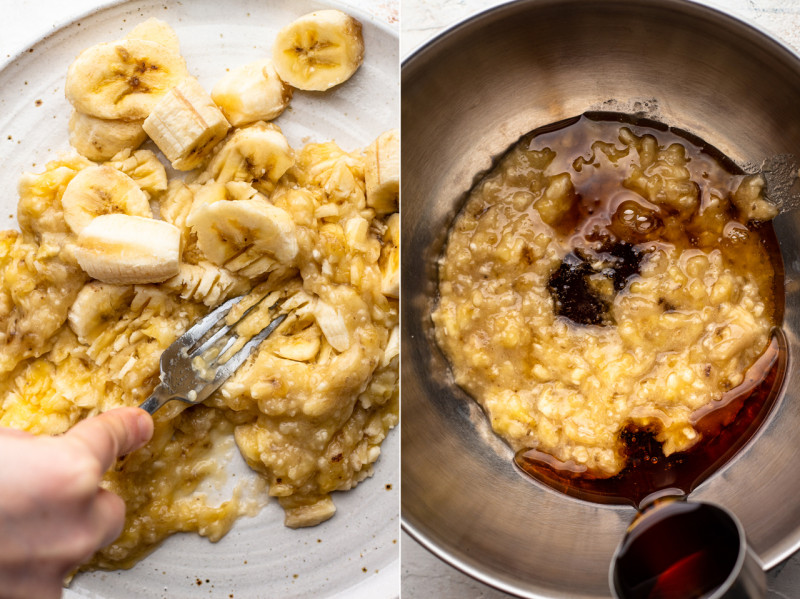 On a large plate, mash up your bananas well using a fork. Transfer to a big bowl. Add maple syrup and almond butter, stir until well combined.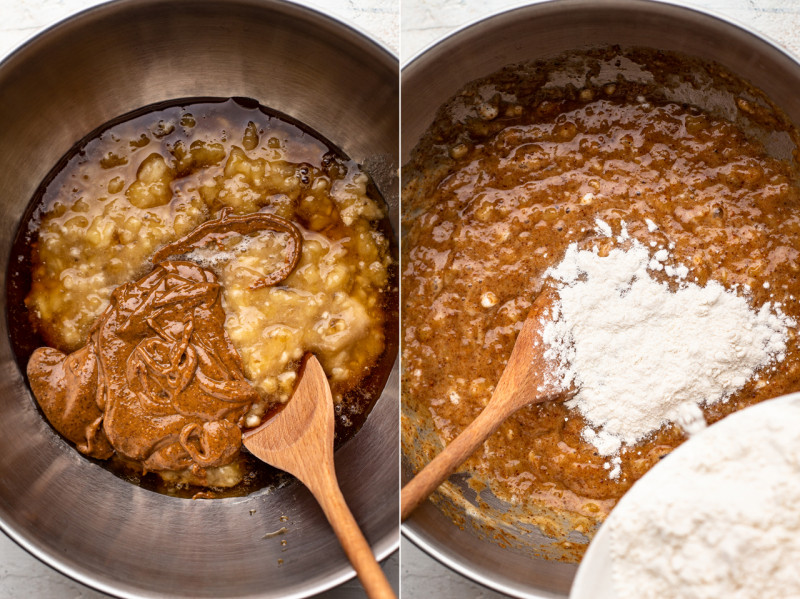 Next, add in baking agents, salt and flour in two batches, folding it gently into the wet ingredients using a spatula or a wooden spoon. By the end, your muffin batter will be quite runny (that's the way it is meant to be, trust me!) yet still a little chunky.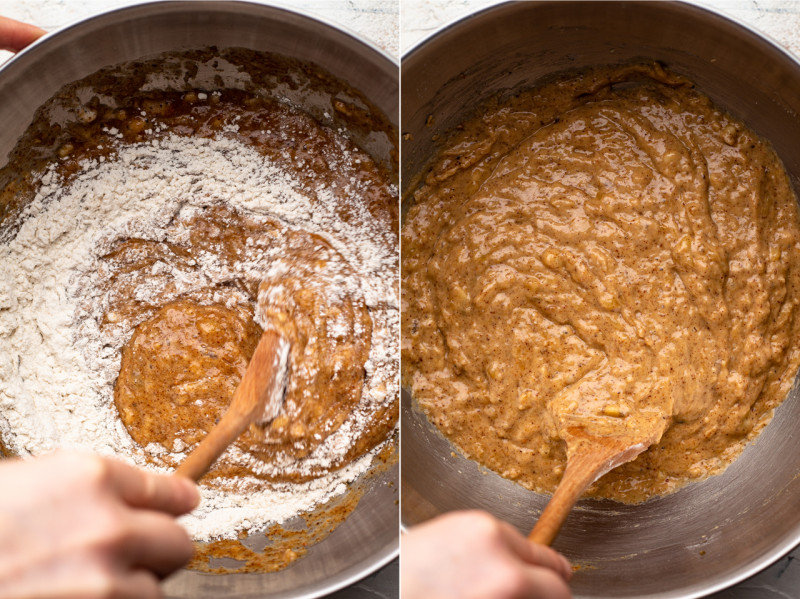 Alternatively, make the batter in a cinch, using a food processor (or blender!) Blend bananas until smooth, next add in maple syrup…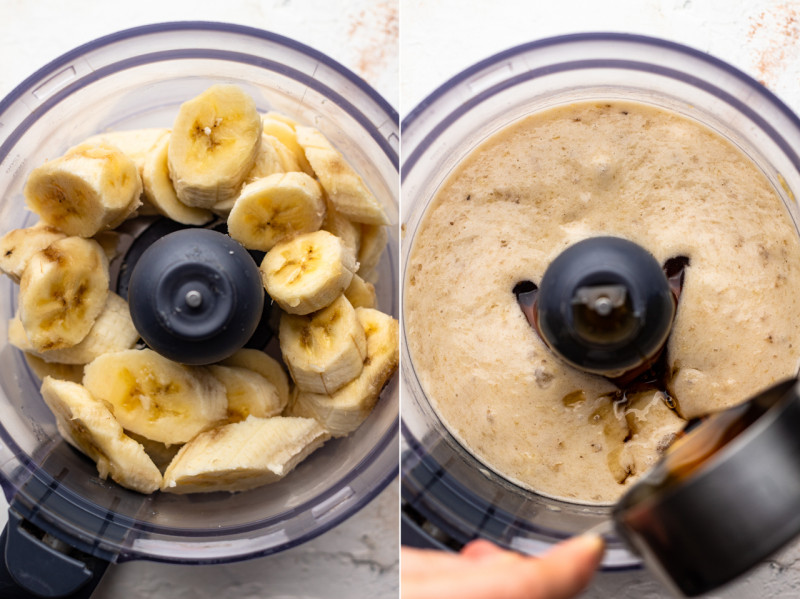 …and almond butter and blend until smooth. Finally add both baking agents, salt and slowly add flour (through the chute) while blending. Stop as soon as the mixture is homogenous although due to the batter being quite runny, you don't have to worry about overprocessing too much provided you measure the ingredients accurately.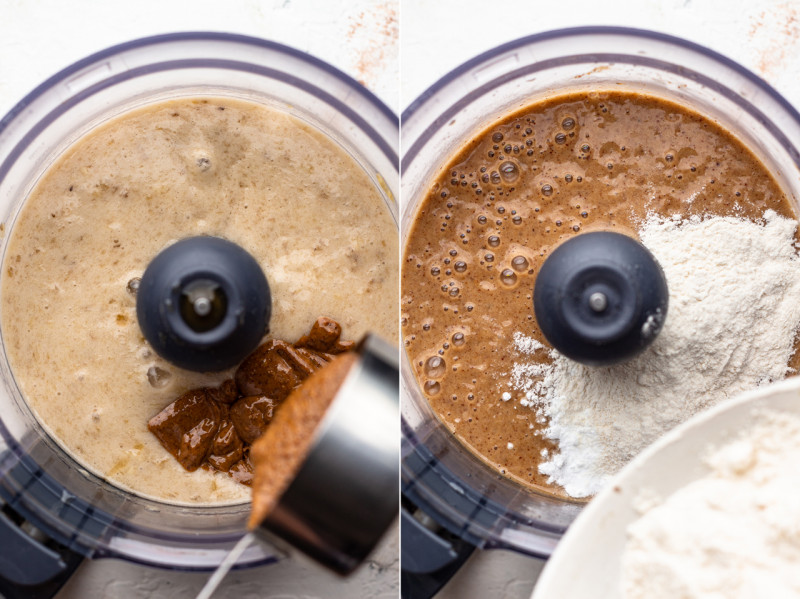 Distribute the batter between 10 (for taller muffins, like in my photos) or 12 muffins, decorate and bake. Allow them to cool down completely before judging – they may appear undercooked whilst warm.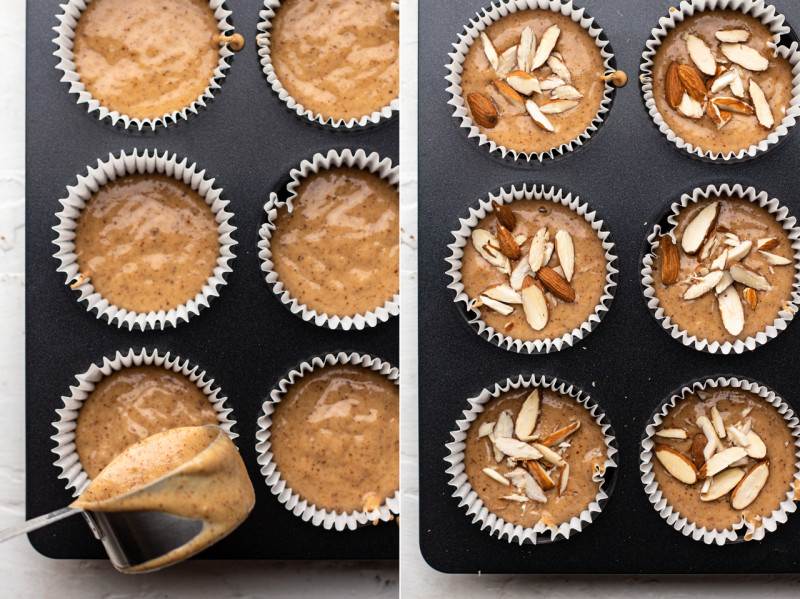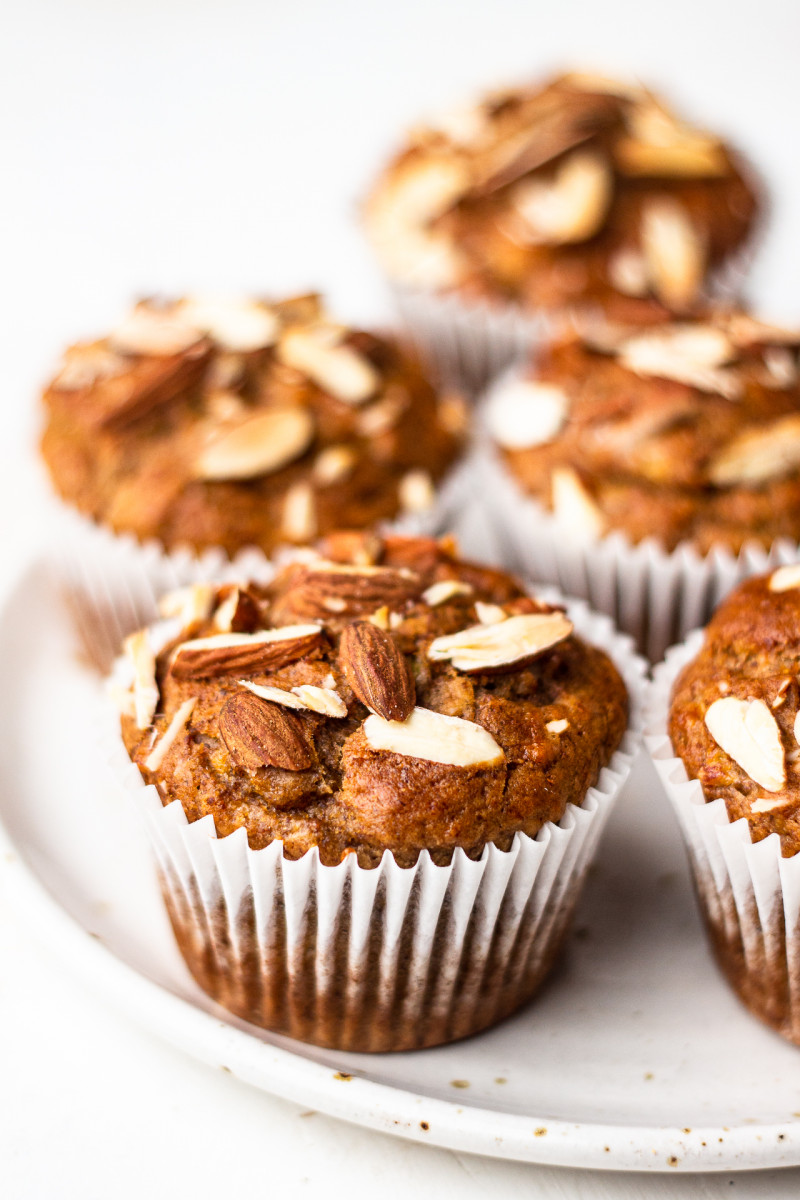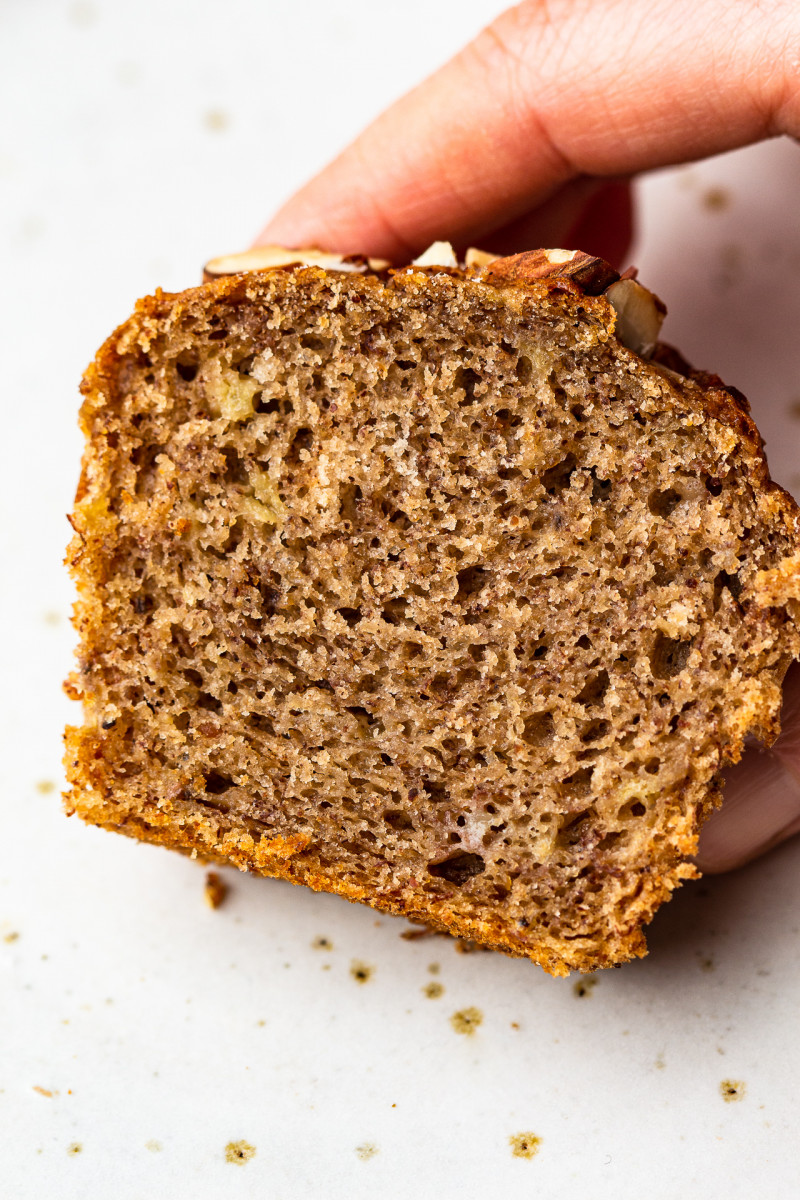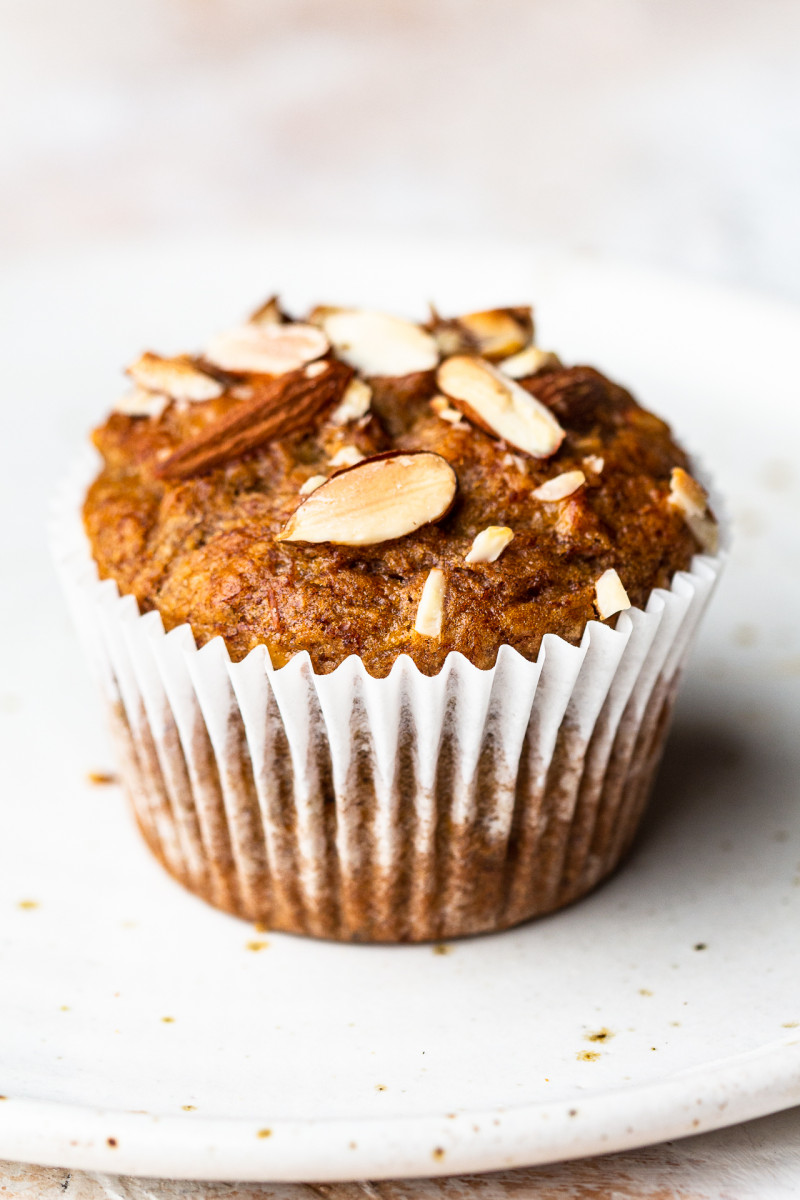 MUFFINS
400 g / 14 oz peeled bananas*
120 ml / ½ cup maple syrup
120 g / ½ cup drippy almond butter, peanut butter or other seed / nut butter
125 g / 1 cup all purpose wheat flour or GF all purpose flour mix (I tested Dove's Farm)
1½ tsp baking powder
½ tsp baking soda
heaped ¼ tsp fine sea salt
OPTIONAL EXTRAS
cinnamon or any banana bread spices you like (nutmeg, all spice)
slivered almonds, to decorate (optional)
METHOD
Heat up the oven to 180° C / 355° F and line a muffin tray with paper muffin cases (or grease them with a bit of oil). Move the oven rack a notch down from the middle position.
Mash bananas with a fork or use a food processor to blend them smooth.
Add maple syrup and nut (or seed) butter and stir well to combine. Again, you can also do that in a food processor.
Finally add in flour, both raising agents and salt. Gently fold them into the wet ingredients until there are no dry flour pockets left. You can also do this in a food processor, by adding the flour gradually through the chute. If you use a food processor, the batter will be rather runny, if you do it by hand, a little less so but still pourable.
Divide the batter evenly between 10-12 muffins. 10 will give you slightly taller muffins and require more like 21-22 minutes baking time. Decorate the tops if you wish.
Bake until a toothpick comes out fairly clean, about 20-22 minutes. Remove the muffins from the oven and allow them to cool down COMPLETELY before eating.
NOTES
*BANANAS: approx. 1 and ¾ cups mashed banana (2 full cups is 450 g) This recipe was created using fresh, ripe bananas. If using bananas that have been frozen and thawed, be aware that they contain more moisture so you'll need to bake them for longer (one reader reported having to extend baking time by 10 minutes).
NUTRITIONAL INFO
*per muffin (out of 12 muffins)